Worth the drive: Korean-style corn dogs in Ewa Beach
Two Hands' corn dogs are spicy, sweet, crispy and filled with sausage and cheese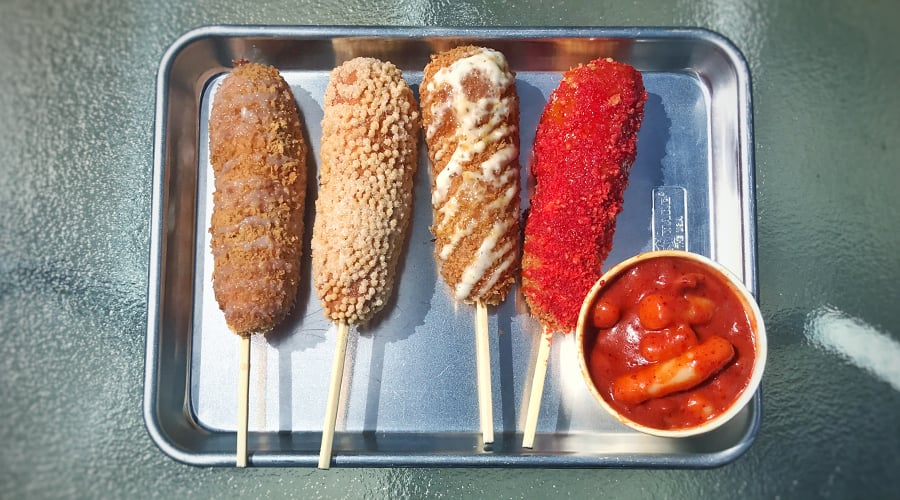 The summer before college, I went to South Korea for an entire month. Besides the sweltering heat and humidity, the one thing that I will never forget is the food, especially Korean hot dogs. Essentially corn dogs with cheese inside, they're deep-fried to perfection, coated with sugar and drizzled with ketchup, mustard or spicy sauce.
My first sight of a Korean hot dog was like seeing my food dream come true: sugar and spice and everything nice and deep-fried. I've dreamed of it ever since.
What I never dreamed was that Korean hot dogs would come to Ewa Beach. When Two Hands Corn Dog opened, a spin-off from the now-closed MyungRang Hot Dog at Ala Moana Center, I went as soon as I could.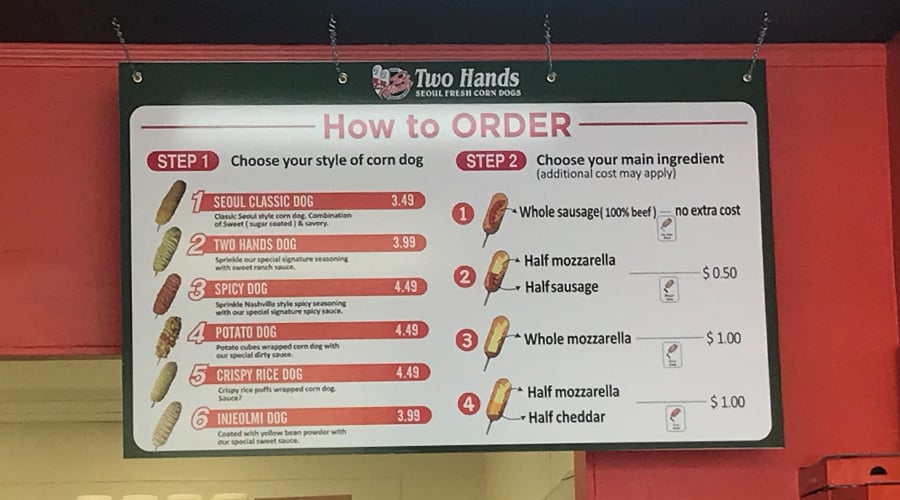 With six options for corn dogs and four fillings, the menu lets you customize your hot dog. Some of the options surprise me. There are some original styles from MyungRang, like the Seoul classic dog and potato dog. But then there's the Injeolmi dog, which is coated with a soybean powder and drizzled with condensed milk, and the spicy dog, sprinkled with a Nashville-style spicy seasoning and drizzled in a signature spicy sauce. For fillings, you can choose between a whole sausage, half sausage-half cheese, all mozzarella or half mozzarella-half cheddar.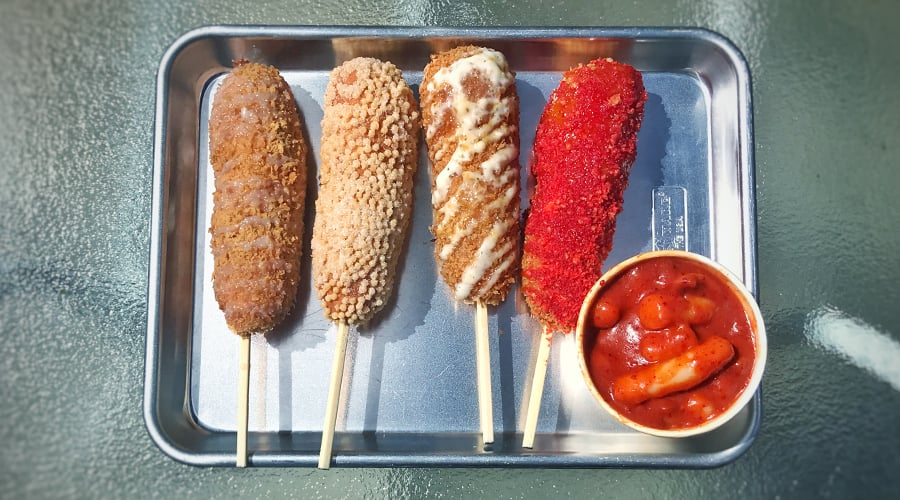 As I read through my options, all I can think is, "Can it Korean hot dog?" Classic Korean hot dogs are so good, how can anything improve on them? My curiosity gets the best of me and I order the Two Hands dog, the spicy dog, crispy rice dog and injeolmi dog all filled with half sausage and mozzarella. I add on an 8-ounce order of tteokbokki spicy rice cake stew to try.
See also: Battle of the chili dog plates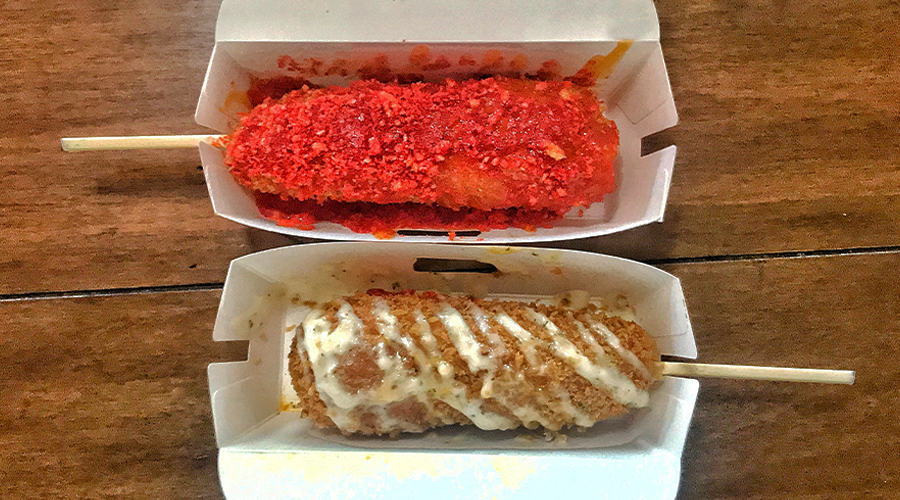 Ranch makes everything better, as the Two Hands hot dog proves once again. The dog is sprinkled in ranch seasoning and drizzled in a sweet ranch sauce, giving it a savory zest. This is a saucy dog, so be prepared with lots of napkins.
The spicy dog is also messy to eat, since it's encrusted with Flamin' Hot Cheetos, sprinkled with spicy seasoning and topped off with the signature spicy sauce. Contrary to its name, it's not that spicy. There's only a slight heat that the cheese helps to neutralize.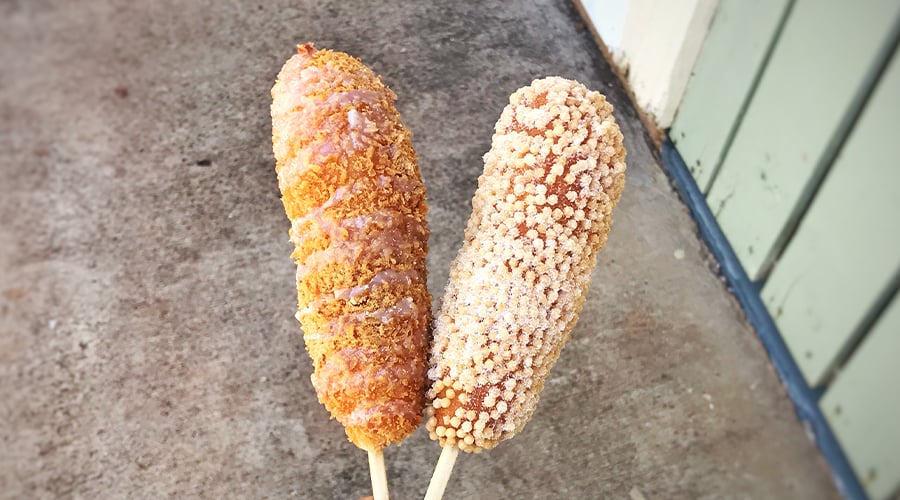 Biting into the crispy rice dog produces a satisfying crunch. Covered in little rice puffs and rolled in sugar, this dog is fun and addicting because you get so much crunch in each bite.
I'm most skeptical of the injeolmi dog, whose coatings of bean powder and sweet sauce make it sound like dessert. I'm happily proven wrong: The injeolmi powder is subtle and the sweetness pairs well with the mozzarella cheese and savory hot dog.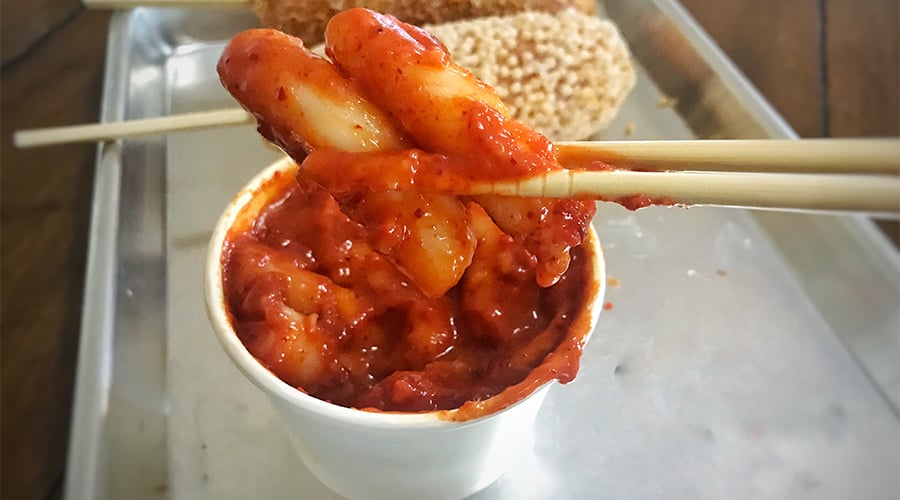 The tteokbokki is your standard street dish of rice cakes and fish cake smothered in a thick, sweet and spicy sauce. I've had spicier tteokbokki in the streets of Busan — so spicy I couldn't stop crying. Two Hands' version has a slight kick, but it's enough to up the heat level of the spicy dog if that's what you want.
Honestly, I can't choose a favorite hot dog from Two Hands. Each style is fried to golden perfection, generously coated and stuffed with the perfect batter-to-filling ratio. All the styles are unique and it really depends on what I'm craving that day. Which gives me plenty to dream about.
91-919 Fort Weaver Rd.
Ewa Beach
689-7429
Mon-Sat 10:30 a.m.-9 p.m., Sun 11 a.m.-7 p.m.
@twohands_hawaii on Instagram