Why you need to shop at farmers markets now
No crowds, ultra-fresh goods, plenty of sanitizer and social distancing — and we need local farmers to keep growing food for us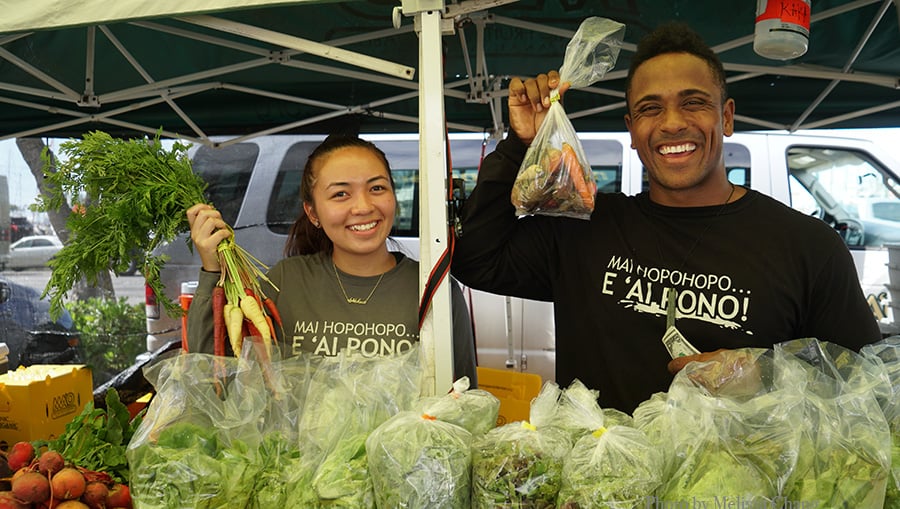 Editor's note: Melissa Chang manages the social media for Oahu's Farm Lover's Markets. She decided to write this post after what happened in the confusion surrounding new coronavirus regulations, when police shut down the Sunday Kailua farmers market. You'll find hours for the reopened Kailua market and others around the state at the bottom of her post.
No doubt you've gone to a supermarket or big box store lately and found the food picked over, if there was any left. People are hoarding ingredients almost as much as toilet paper as they shelter in place.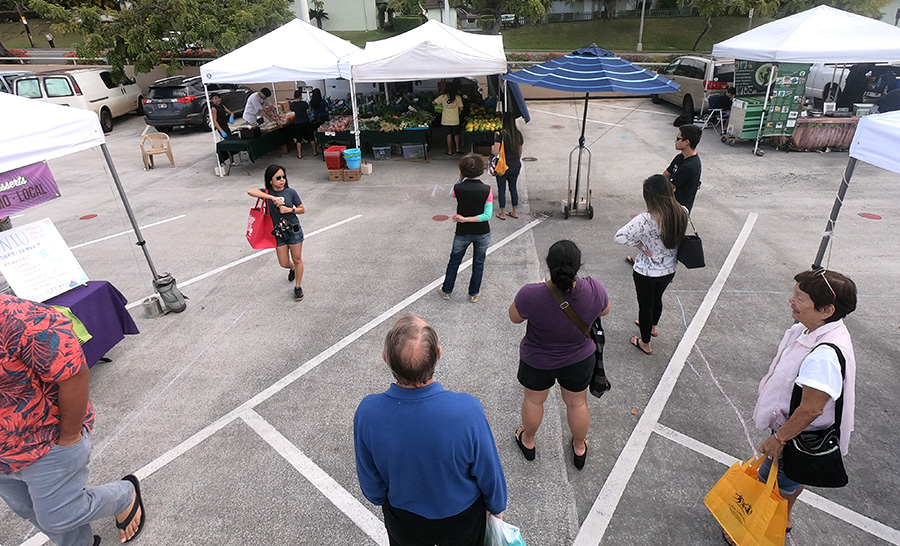 Here's the thing, though: We're trying to eat healthy and "support local," but the scene at the farmers markets last weekend was very different. There were no crowds. Customers had to stand in lines outside the produce tents, and no more than two people were allowed in at a time. Some farmers gave out disposable gloves, some pre-packaged their produce to minimize browsing, and most booths asked customers to only grab items they were buying. "You touch it, you buy it" was commonly heard. At these and other farmers markets, there are extra hand sanitizers and hand-washing stations.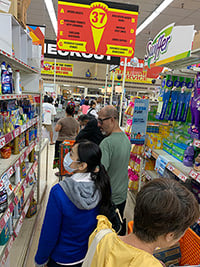 But due to the dismal turnout, the farmers went home with more produce than usual. The crowd was even lighter on Sunday in Kailua, when the police showed up at the market's opening and shut it down. HPD claimed the farmers market was an event, not an essential business, and deemed it illegal. Later that afternoon, the City and County of Honolulu gave the official word that farmer's markets are essential, since they are a food source. Too late for the farmers who harvested about 20,000 pounds of produce, brought it to market and set up their tents, only to have to take almost all of it back unsold.
Later that day I found myself inside my neighborhood supermarket. The store was packed with hundreds of people, all browsing and touching products and standing heel to toe in line.
Come on, people, get it together. Coronavirus or not, there are real benefits to shopping at farmers markets.
When you shop at a supermarket, about 11 people have handled your produce before your fellow customers start touching it. At a farmers market, at most three people have handled the produce before it hits the sale table. Usually the farmer who grew and picked the produce is the same person selling it to you.
The products at farmers markets are super fresh, usually picked the day before. Have you ever noticed that kale you buy in a store only lasts three days in your fridge? That's because seven to 14 days can go by between the time produce is picked and when it reaches shoppers. The kale from the farmers market lasts me all week — and if I am lazy, sometimes it lasts a week and a half. The person in the tent can tell me exactly why some items are so big or small this week, and what field or orchard they come from.
Our local farmers are the direct supply to our ingredients and their success helps our effort to be sustainable. If we don't have to depend so much on imported produce, we don't have to hoard so much during a crisis. And more importantly, when we support them, we truly support local and help our local economy.
But only when we directly support local farmers by buying what they grow — because if they can't sell their kale, Manoa lettuce, sweet corn and onions, they will stop planting them. And when we come out of quarantine, we'll have even fewer choices for supporting local.
Ready to shop? Here's a list of some markets that will be open this week.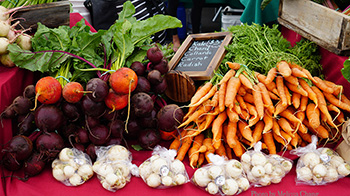 OAHU:
Farm Lovers Kakaako
1050 Ala Moana Blvd.
Saturdays 8 a.m to noon
Farm Lovers Pearlridge
Mauka by Macy's facing Moanalua Rd.
Saturdays 8 a.m. to noon
Farm Lovers Kailua
Kailua Town Center
Sundays 8 a.m. to noon
Hawaii Farm Bureau Mililani Farmers Market
Mililani High School
Sundays 8 a.m. to 11 a.m.
Hawaii Farm Bureau Honolulu Farmers Market
Neil S. Blaisdell Center
Wednesdays 4 to 7 p.m.
KAUAI:
Kauai Community Farmers Market
Kauai Community College
Saturdays 930 a.m. to 1 p.m.
Kauai Culinary Farmers Market
Kukui'ula Shopping Village
Wednesday 3:30-6pm
Keauhou Farmers Market
Keauhou Shopping Center
Saturdays 8 a.m. to noon
HAWAII ISLAND:
Hamakua Harvest
Intersection of Mamane Street and Highway 19
Honoka'a
Sunday 9 a.m. to 2 p.m.
Hawi Farmers Market
Corner of Akoni Pule Highway (270) and Hawi Road
North Kohala
Saturday 8 a.m. to 1 p.m.
Hilo Farmers Market
Corner of Mamo Street and Kamehameha Avenue
Daily 7 a.m. to 4 p.m.
MAUI:
Napili Farmers Market
4900 Honoapiilani Hwy, Lahaina
Wednesdays and Saturdays 8 a.m. to noon
Upcountry Farmers Market
Kula Malu Town Center, next to Longs Drugs
55 Kiopaa St., Pukalani
Saturdays 7 a.m. to 11 a.m.