Why I'm addicted to this salmon belly lau lau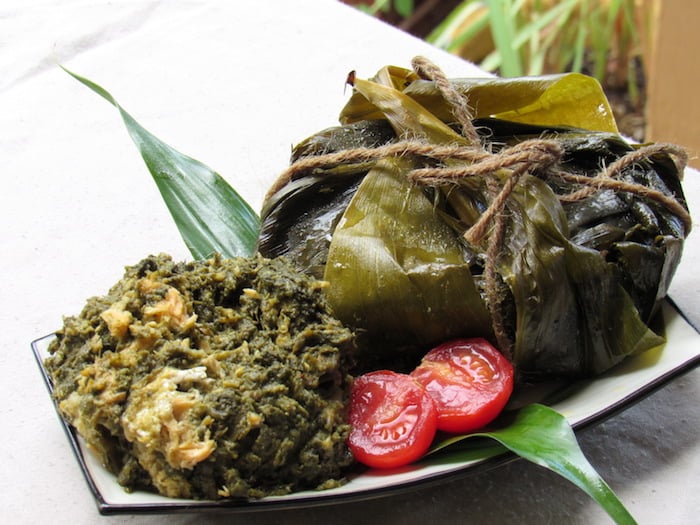 By Karen Iwamoto
Special to Frolic Hawaii
I'm usually not a lau lau fan. I've always found the pork too bland or salty and I just don't enjoy the texture of the pork fat. And that's the only kind of lau lau I've had—pork wrapped in taro leaves and steamed.
But I recently came upon a salmon belly and sweet potato lau lau by Taro Delight that changed my mind. The salmon is just salty enough and moist enough thanks to the fat (which unlike pork fat melts in your mouth), the sweet potato adds just the right amount of sweetness, and it all goes well with the steamed taro leaves.
You'll find it Saturday mornings at the Ward Warehouse farmers market, which runs from 8 a.m. to noon. You can eat the lau lau there (in which case it comes with a side of the taro root) or order it frozen and take it home for later. All you have to do is pop it in the microwave for about three minutes, unwrap and dig in. And it's only $8.
I've already become something of a lau lau mule. I've bought and delivered some to friends because I felt they had to try it and also because I wondered if it really was that good or if it was just me. The consensus is that it really is good.
Taro Delight's Tom Purdy seems like an interesting guy. He started out about 10 years ago making taro products like dips, sauces and a taro and limu "poke" that he used to sell at Whole Foods, other grocery stores and farmers markets. But he's a one-man show and realized there's only so much he can do, so he scaled back and now you can get his "poke" and dips at Tamura's only. The lau lau is exclusive to the Ward farmer's market. Just be aware that farmers market is moving across the street to the Ross Dress for Less parking lot at the corner of Ward Avenue and Auahi Street on July 15.