Where to score taco deals on Cinco de Mayo
It's the most taco-licious day of the year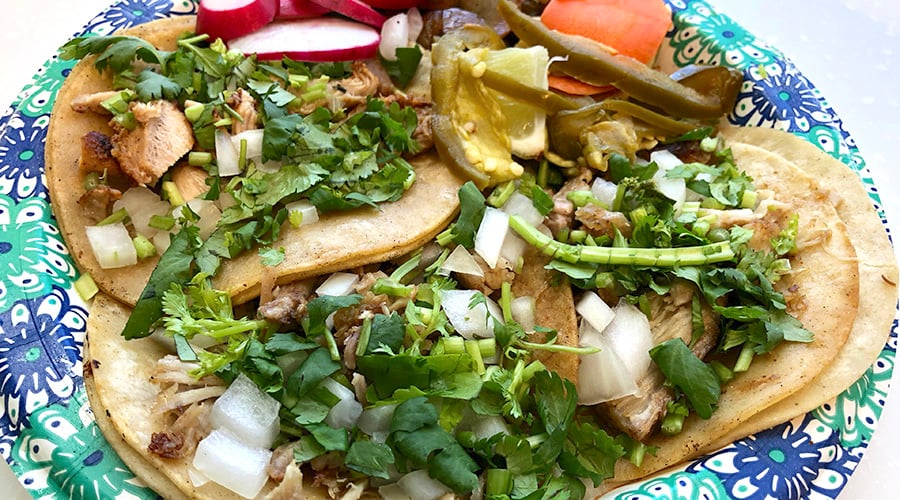 Ole! How often does Cinco de Mayo fall on a Taco Tuesday? Scroll below to see which restos have special Cinco de Mayo menus and other Taco Tuesday deals.
See also: The best Taco Tuesday deals on Oahu
Alejandros Mexican Food: 50 cents off tacos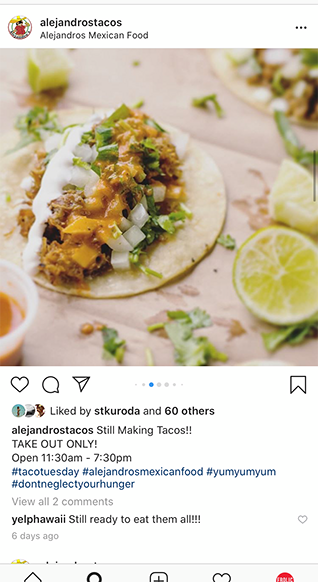 You get 50 cents off tacos every Taco Tuesday here. Meat choices include carnitas, beef and carne asada; all tacos come with cilantro, onions and salsa verde. Taco prices range from $2.75 to $3.50, depending on your meat of choice.
2831 Kalihi St. • Kalihi Valley • 777-0038
See also: Battle of Kalihi's massive burritos
Barrio Cafe: Salsa kits, Michelada and ceviche kits, Cinco de Mayo party packs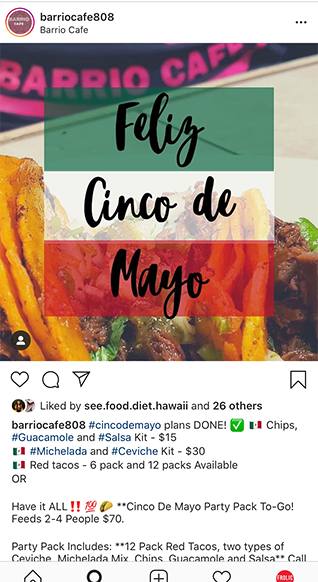 Barrio Cafe's $15 salsa kit comes with housemade salsas, guacamole and housemade chips. The Michelada and ceviche kit costs $30; 6- and 12-packs of red tacos are also available. Cinco De Mayo party packs are $70 and include a 12-pack of red tacos, two types of ceviche, Michelada mix, chips, guacamole and salsa.
672 Kilani Ave. • Wahiawa • 622-3003
Basalt Waikiki: Carnitas packs and plates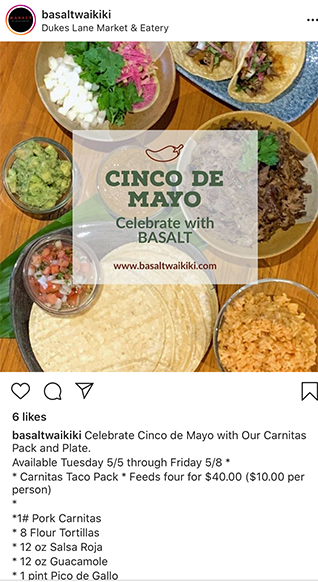 Basalt's Cinco de Mayo special is available from May 5 thru 8. Carnitas taco plates cost $12 and come with two assembled tacos, guacamole, pico de gallo, black beans and Mexican rice. The $40 carnitas taco pack feeds four with
1 lb pork carnitas
8 flour tortillas
12 oz. salsa roja
12 oz. guacamole
1 pint pico de gallo
1 pint black beans
1 pint Mexican rice
Onions, cilantro and radish lime garnishes
2255 Kuhio Ave. • Waikiki • 923-5689
Buho Cantina y Cocina: Special Cinco de Mayo menu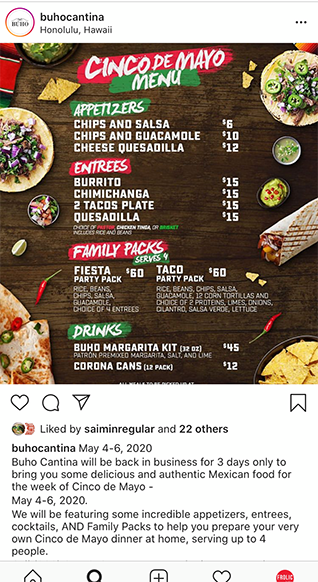 Buho reopens for Cinco de Mayo takeout May 4-6 with chips and salsa, cheese quesadillas, burritos, chimichangas, two tacos plates and more. Fiesta party packs ($60) come with rice, beans, chips, salsa, guacamole and choice of four entrees; taco party packs ($60) include rice, beans, chips, salsa, guacamole, 12 corn tortillas, choice of two proteins, limes, onions, cilantro, salsa verde and lettuce. Drink specials include a Buho margarita kit ($45) that features a Patron premixed margarita, salt and lime and 12-packs of Corona beer ($12).
Pre-order by calling 941-3701. Pickup for all orders is at Shokudo Japanese, 1585 Kapiolani Blvd.
2250 Kalakaua Ave. • Waikiki • 622-3003
Burgers on Bishop: Cinco de Mayo specials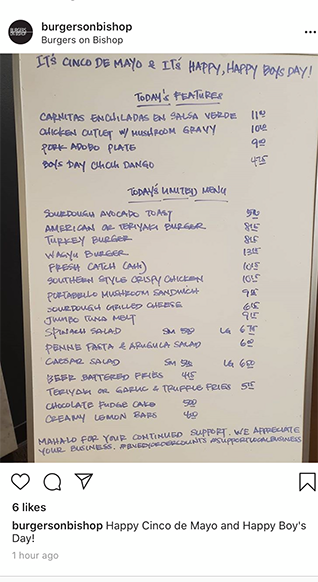 Enjoy specials like carnitas enchiladas en salsa verde ($11) and pork adobo plates ($9).
745 Fort St. • Downtown • 586-2000
Butcher & Bird: Taco pop-up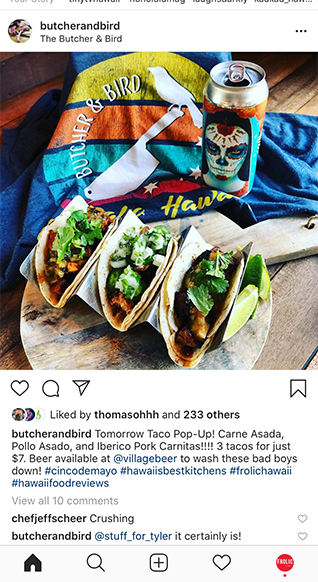 Butcher & Bird will have three tacos — carne asada, pollo asado and Iberico pork carnitas — for $7.
324 Coral St. • Kakaako • 762-8095
CDC Food Truck: Cinco de Mayo special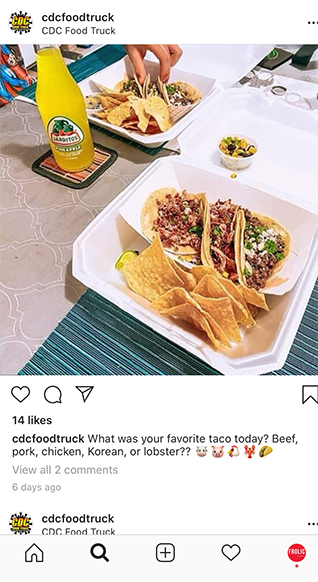 The taco special includes three tacos for $9 — pork, chicken, ground beef and Korean bulgogi tacos, chips, corn and black bean salsa — on Cinco de Mayo only.
1913 Dudoit Lane • Waikiki • Instagram
Chronic Tacos: Cinco de Mayo $5 two-taco plate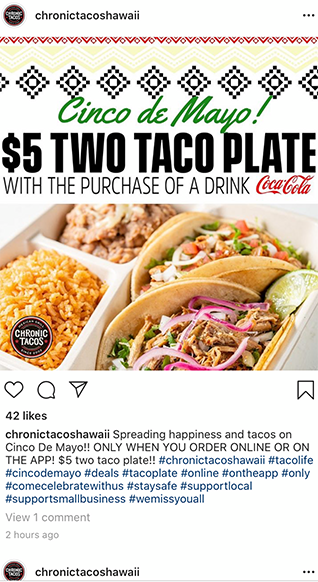 You can score a $5 two taco plate with the purchase of a drink when you order online or from the app. Visit Chronic Tacos Hawaii's IG for more info.
888 Kapahulu Ave. • Kapahulu • 376-2095
Encore Saloon: Cinco de Mayo party packs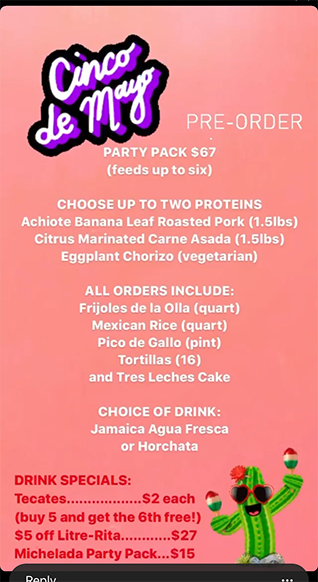 Encore Saloon's $67 party pack feeds up to six people with
Up to two proteins: 1.5 pounds of cochinita pibil (banana leaf-roasted pork with achiote), 1.5 pounds of citrus-marinated carne asada or eggplant chorizo (vegetarian)
Frijoles de la olla (quart)
Mexican rice (quart)
Pico de gallo (pint)
16 tortillas
Tres leches cake
Choice of drink: jamaica agua fresca or horchata
Drink specials include $5 off the Litre-Rita's original price ($27 discounted price) and a Michelada party pack for $15.
10 N. Hotel St. • Chinatown • 367-1656
Goen Dining + Bar: Goen de Mayo taco bar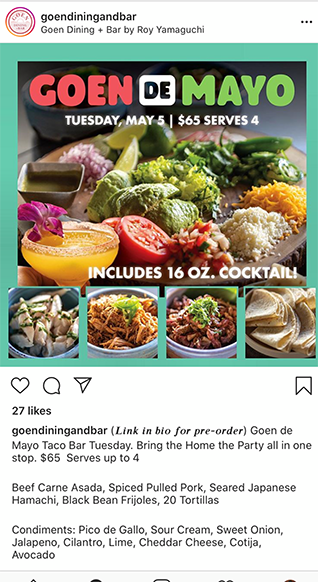 This $65 package serves up to four people.
20 tortillas
Beef carne asada, spiced pulled pork, seared Japanese hamachi, black bean frijoles
Pico de gallo, sour cream, sweet onions, jalapenos, cilantro, lime, cheddar cheese, cotija cheese, avocado
One 16-oz. jar of Howzit Goen cocktail: Tequila Blanco, housemade Hawaiian chili pepper syrup and mango
See Goen Dining + Bar's Instagram to pre-order.
573 Kailua Rd. • Kailua • 263-4636
Haleiwa Joe's: Tacos platter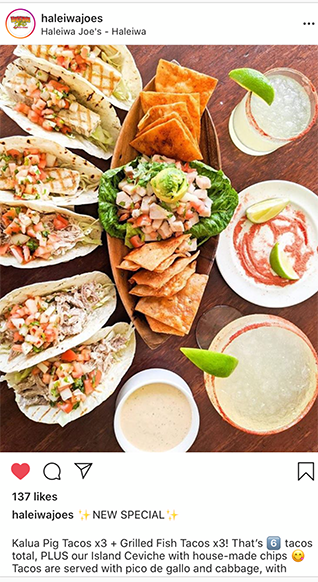 This new $40 special comes with three kalua pig tacos and three grilled fish tacos with Island Ceviche and housemade chips. Tacos come with pico de gallo and cabbage, Santa Fe Ranch and jalapeno crema. Margaritas to-go are $10 per jar and are designed for two, with limes and li hing powder.
46-336 Haiku Rd. • Kaneohe • 247-6671
Highway Inn: Margarita special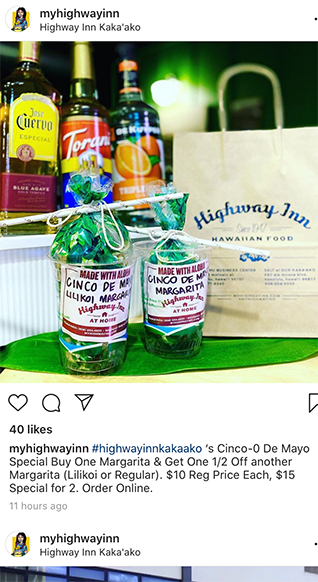 Buy one margarita and get another margarita half off (lilikoi or regular). Available for Cinco de Mayo only at Highway Inn Kakaako.
680 Ala Moana Blvd. • Kakaako • 954-4955
Hoakalei Country Club: Cinco de Mayo weekly special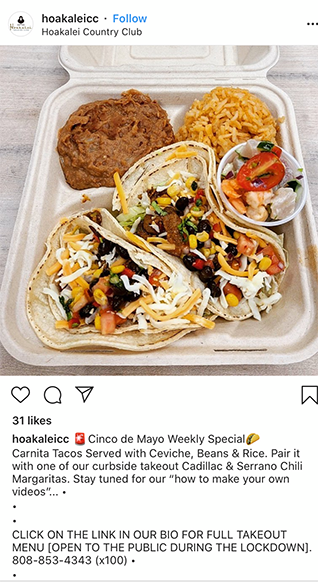 Hoakalei Country Club's Cinco de Mayo special features carnitas tacos served with ceviche, beans and rice. Call 853-4343 (x100) to order.
91-1620 Keoneula Blvd. • Ewa Beach • 853-4343
Koa Pancake House: $3 breakfast burritos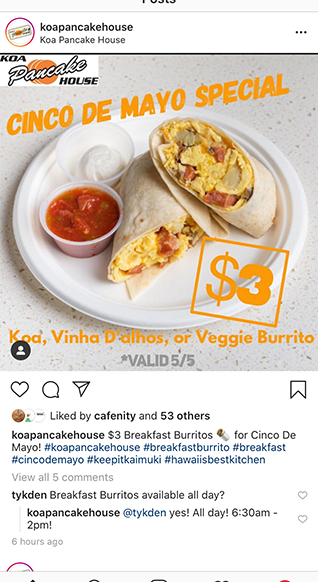 Enjoy one of Koa Pancake House's breakfast burritos — Koa, vinha d'alhos or veggie — for $3. Valid only on May 5.
1139 12th Ave. • Kaimuki • 739-7778
My Cafe: Cinnamon Toast Crunch churro pancakes, grilled carne asada taco rice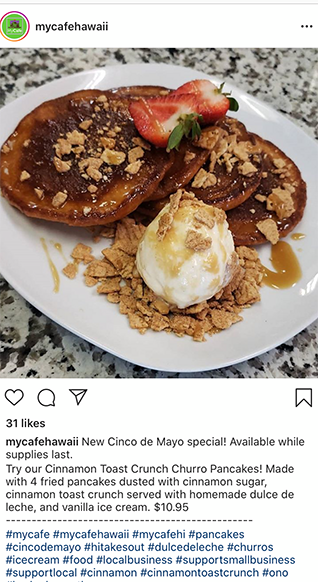 For $10.95, the Cinnamon Toast Crunch pancake features four fried pancakes dusted with cinnamon sugar and Cinnamon Toast Crunch and served with housemade dulce de leche and vanilla ice cream. There's also a $14.95 Cinco de Mayo special grilled carne asada taco rice with white or brown rice, carne asada steak, shredded lettuce, pico de gallo, crispy tortilla strips, queso fresco, a sunnyside-up egg and cilantro crema. Both specials are available while supplies last.
563 Farrington Hwy. • Kapolei • 200-5737
Morton's The Steakhouse: Two steak tacos for $8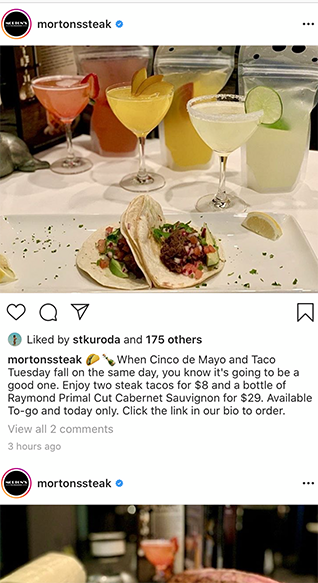 The two steak tacos are $8; a bottle of Raymond Primal Cut Cabernet Sauvignon is $29. This special is good for Cinco de Mayo only.
1450 Ala Moana Blvd. • Ala Moana • 949-1300
OMG (Oahu Mexican Grill): Taco family packs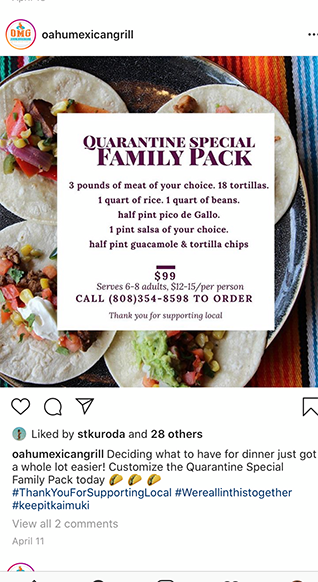 OMG's $99 family pack serves six to eight for $12-15 per person. There's three pounds of meat of your choice, 18 tortillas, one quart of rice, one quart of beans, a half-pint of pico de gallo, one pint of salsa of your choice, a half-pint of guacamole and tortilla chips. OMG's drink special is the $10.50 Jar-Go-Rita; refills are $9. Call 354-8598 to order.
3036 Waialae Ave. • Kaimuki
Ono Loco Tacos: Taco Tuesday special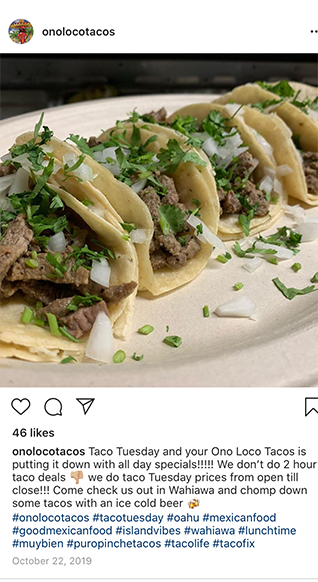 Ono Loco Tacos' regular Taco Tuesday special features $2 tacos topped with cilantro and onions and filled with diced chicken, shredded chicken, carne asada, ground beef, shredded beef, carnitas or al pastor.
4561 Salt Lake Blvd. • Moanalua • 487-1077
Otto Cake: Cinco de Mayo cheesecake flavors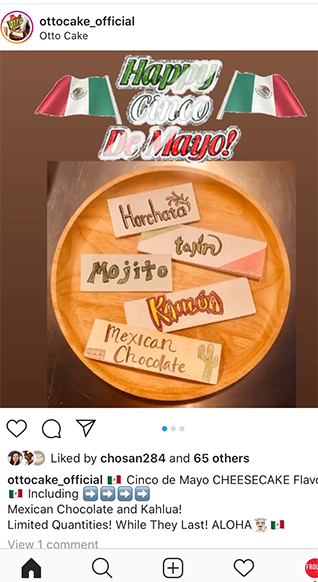 Cinco de Mayo cheesecake flavors include horchata, mojito, Mexican chocolate, Kahlua and tajin. Available while supplies last.
1127 12th Ave. • Kaimuki • 834-6886
Paia Fish Market Waikiki: $7 taco and draft beer combo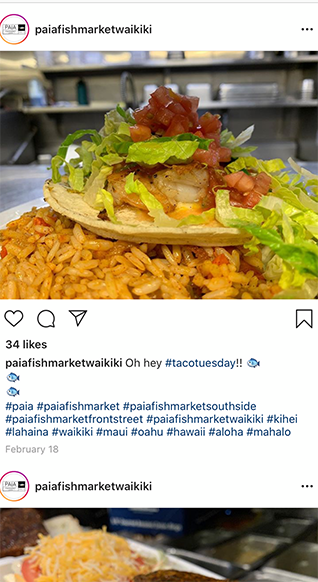 This is a daily special, meaning every day can be Taco Tuesday. Taco fillings include fish, chicken or shrimp.
2299 Kuhio Ave. • Waikiki • 200-0200
Quezada's Salsa: Taco Tuesday kits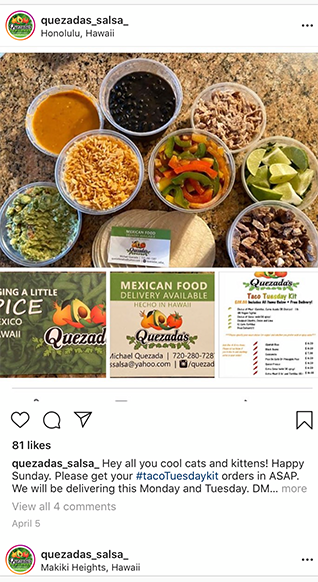 This $28.50 Taco Tuesday kit comes with your choice of meat (carnitas, carne asada, chorizo or vegan fajitas), choice of salsa (mild or spicy), chopped cilantro, onions, lime and 10 corn tortillas. Add-ons like black beans, guacamole and queso fresco are available. To order, call Jen Quezada at 702-812-7244; free delivery available.
Redfish Poke: Fish taco plates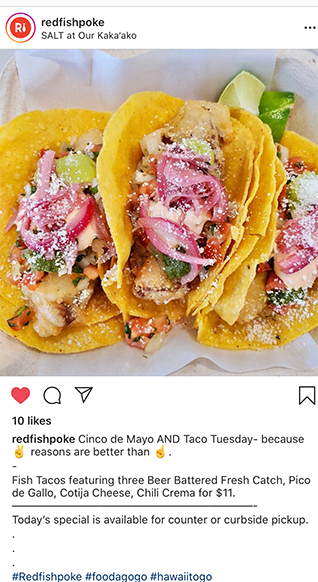 This $11 plate features three tacos with beer-battered fresh catch and pico de gallo, cotija cheese and chili crema.
SALT At Our Kakaako • 685 Auahi St. • Kakaako • 532-6420
Serg's Mexican Kitchen: $2 tacos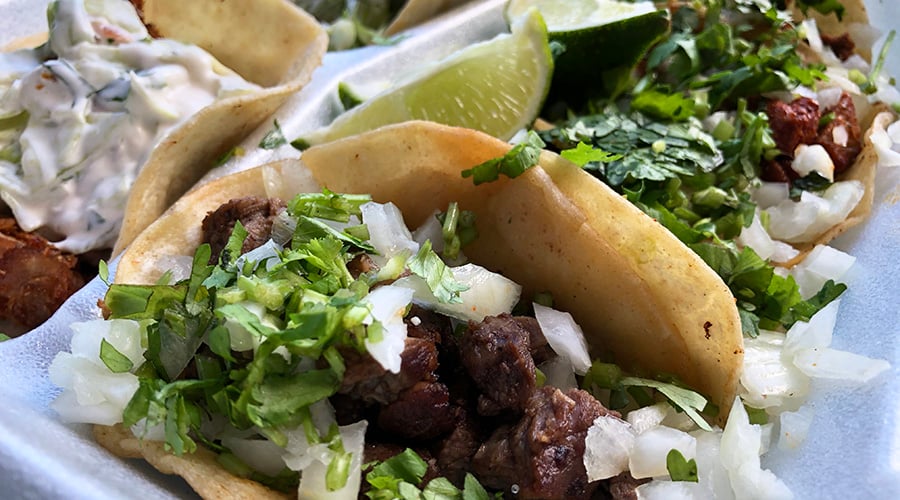 Tacos here usually cost $3.95, but they're $2 on Taco Tuesday from 4 to 9 p.m. Choose from carne asada, chile verde, chorizo, pork carnitas, al pastor, grilled fish, breaded fish or veggies. Meats come topped with onions and cilantro, while fish tacos are topped with housemade Mexican slaw. Tacos with upgraded meats like tripas, lengua and cachete are $3.
2740 E. Manoa Rd. • Manoa • 988-8118
South Shore Grill Hawaii: Tacos for $2.75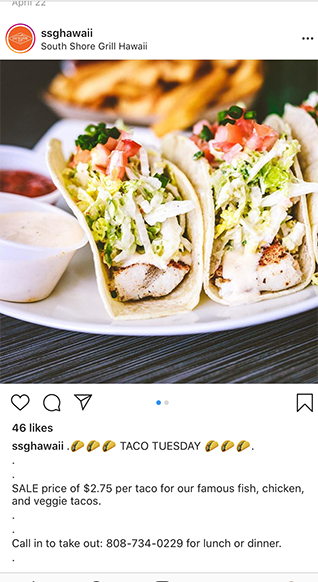 Every Taco Tuesday features chicken, fish and veggie tacos discounted from the regular price of $4.50. Each comes with housemade slaw, tomatoes and green onions.
3114 Monsarrat Ave. • Diamond Head • 734-0229
Taco'ako: Taco kits and Bevy cocktail kits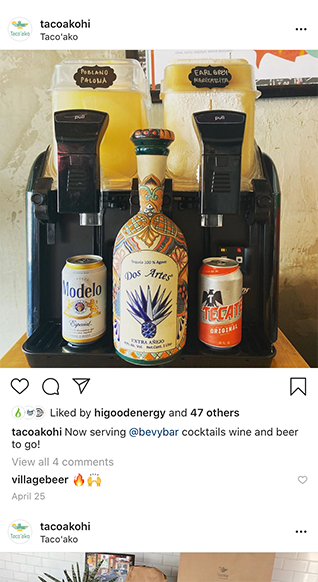 Select tacos are $3 and beef burritos are $10 on Cinco de Mayo. Bevy cocktails kits are available, as are $150 Big Taco Kits for 10-12 people and $60 Ohana taco kits for 4, with
Choice of two fillings: Beef, carnitas, chicken or vegetables
Salsa, crema fresca, tortillas and toppings
Rice and beans
For $3 more per wrap, you can make your taco kit a burrito kit. Side of chips and guacamole are also available. Pre-order is required; email info@tacoako.com to place your order.
SALT At Our Kakaako • 675 Auahi St. • Kakaako • 824-2547
Taco Kabana: Buy three tacos, get one free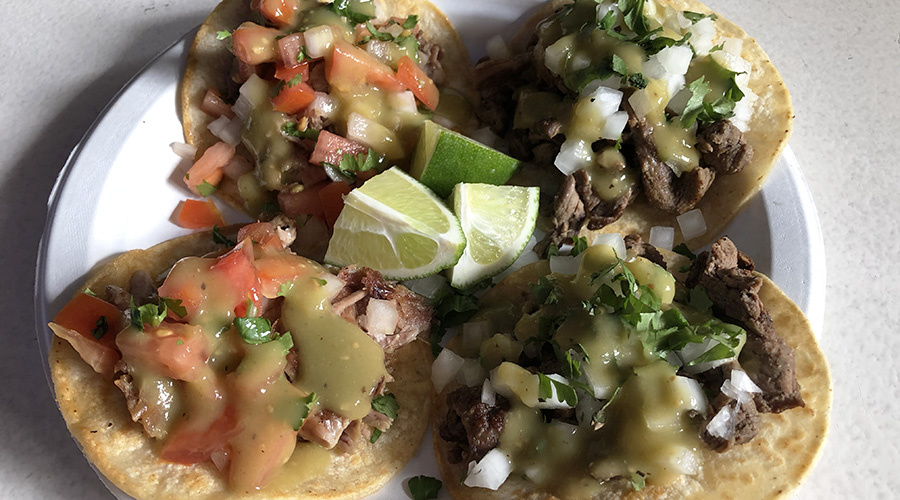 You get a free taco for every three tacos purchased every Taco Tuesday at Taco Kabana. Meat choices include carne asada, grilled chicken, carnitas, grilled fish or beef tongue. Other days, tacos are usually $2.55 apiece.
1121 Union Mall • Downtown • 585-8186
Taqueria El Gallo Rosa: Trio of tacos al pastor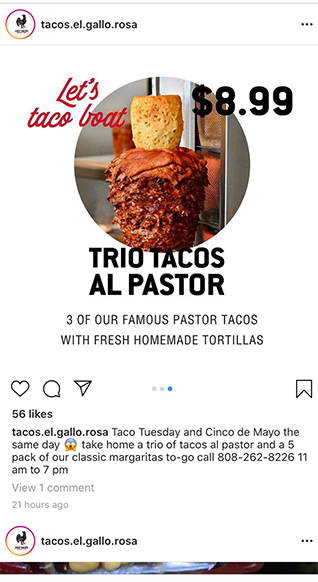 The tacos al pastor trio with housemade tortillas is $8.99; takeout margarita kits are also available for $23 and include a 200-ml bottle of Tequila Tromba Blanco and a housemade margarita mix. Each kit makes five classic margaritas; you just add ice.
108 Hekili St. • Kailua • 262-8226
See also: Kailua's new taqueria serves up Hawaii's best Mexican food
TBD: Cinco de Mayo to-go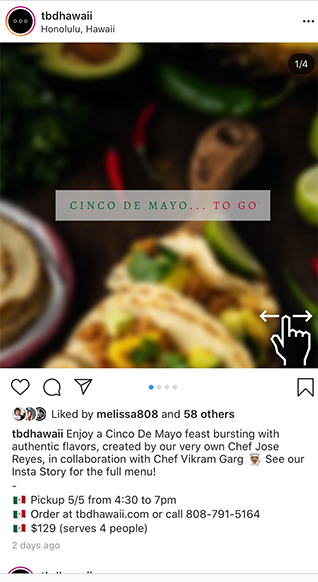 TBD's $129 Cinco de Mayo to-go menu serves four and is available 4:30 to 7 p.m. on May 5 only. Order online or call 791-5164.
The menu features
Salsa ranchero, corn queso fundido, tortilla chips
Build your own taco: Chicken mole or al pastor
Guacamole, pico de gallo, crema Mexicana, arroz rojo (Mexican red rice), flour tacos
Cinnamon sugar churros with coconut sauce
Cocktail kits to go include a $32 margarita kit for four with 24 ounces pre-mixed, limes and sea salt, or the Paloma for $60.
2885 Kalakaua Ave. • Waikiki
The Street Food Hall: Pork tamale plates, taco trio plates, fiesta kits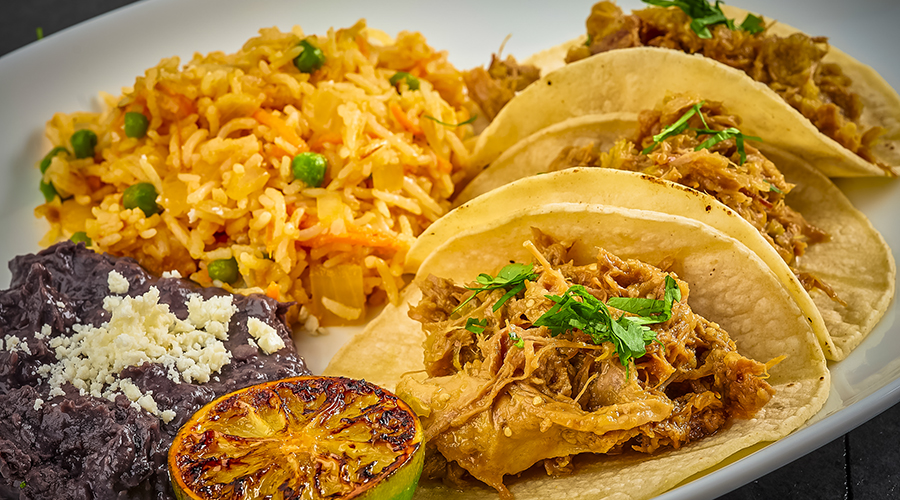 Pork tamale plates ($14) and taco trio plates ($16) are only available on Cinco de Mayo. The pork tamales plate comes with two pork tamales, rice and black beans, while the taco trio includes chicken, beef and pork tacos, rice and black beans.
Also only available on Cinco de Mayo, the $59 tacos, tamales and tecate fiesta kit include 10 build-your-own beef and chicken tacos, two pork tamales, chips, salsa and a six-pack of Tecate beer. Add on a Paloma cocktail mixer kit with your choice of tequila starting at $65 and get a complimentary tote bag from International Market Place.
Mi Almita Cantina's taco plates are available daily: Baja fish tacos ($16), shrimp tacos ($16) and pork carnitas tacos ($14) plates come with three tacos, refried beans and rice. All pickup orders are 10% off. Order online or call 896-2545.
International Market Place, 2330 Kalakaua Ave. • Waikiki
The Surfing Pig Hawaii: Cinco de Mayo party packs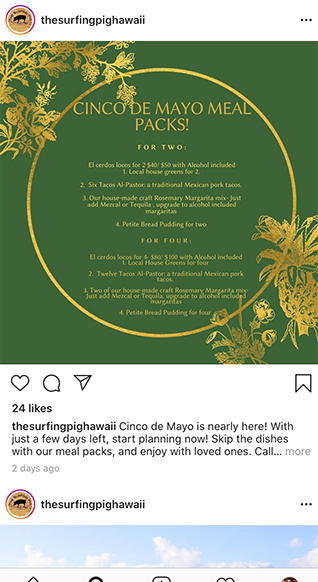 Cinco de Mayo meal packs for two are $40 ($50 if you get alcohol); larger ones for four are $80 ($100 with alcohol). This is what you get for two; portions are double for four:
Local house greens for two
Six tacos al pastor
Housemade craft Rosemary Margarita mix (just add mezcal or tequila)
Petite bread pudding for two
3605 Waialae Ave. • Kaimuki • 744-1992
Thyda's Tacos: $2 or $2.50 tacos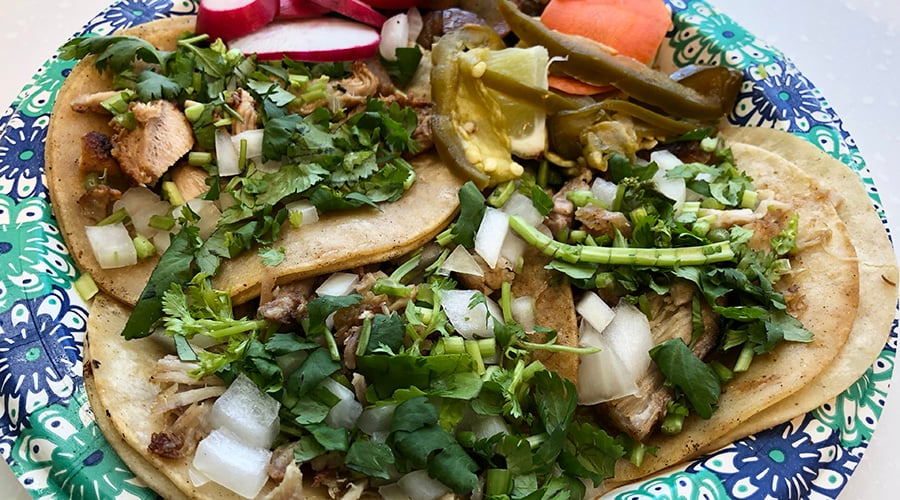 Thyda's is featuring its usual Taco Tuesday special of discounted tacos for $2 or $2.50 (usual prices are $2.75 to $4). Meat choices include pollo, carnitas, barbacoa, jackfruit and lengua. All tacos come with double tortillas.
1034 Queen St. • Kakaako • 310-666-4671