Where to find ultra-local pastries and meats in one place
Local General Store's pop-ups have croissants and cookies with local chocolate, honey and fruits, plus meat and butchery classes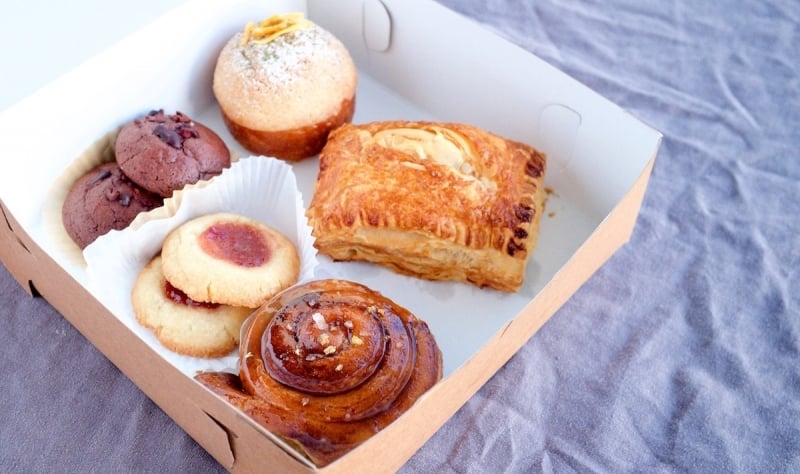 Perhaps it was inevitable that the butcher and baker would fall in love at a restaurant. The butcher, Jason Chow, and the baker, Harley Tunac, met at Āina, a now-shuttered Hawaiian restaurant in San Francisco. Chow was dining solo to consider working there, and Tunac, the pastry chef, ran his dessert out to him. He thought she was cute and the dessert one of the best he'd ever had. She thought it was a "super cheesy" ensemble of matcha butter mochi and caramelized mac nut ice cream. Within weeks, Chow was breaking down pigs into Spam and pork chops alongside Tunac's pastry station, and for the next three years, they worked in butcher shops and bakeries in the Bay Area and Chicago, with the end goal of returning home to Hawaii.
Chow had left Hawaii to learn butchery, with the intention of returning to open an all-local butcher shop, which doesn't yet exist on Oahu. He had helped launch Local Ia, connecting eaters to more responsible local seafood, and he wanted to do the same for land-based meats. Tunac discovered they had the same values  — she wanted to apply them to pastries. Bakeries certainly abound in Honolulu, but few use local ingredients and none showcase farmers the way restaurants do.
See also: Butcher & Bird opens in Salt Kakaako
Chow and Tunac came back last November, and while plans for a brick-and-mortar location have been delayed due to the pandemic, they've debuted The Local General Store through virtual butchery classes and pastry boxes. The insert that comes with Tunac's pastry boxes ($35) reads like a tasting menu: chocolate cardamom buckwheat cookies made with Manoa Chocolate, strawberry guava almond cookies with fruit foraged from Tantalus, and a Pirie mango and makrut lime bun. A lilikoi curd and ginger hand pie featuring Kolea Farm lilikoi is encased in layers and layers of crisp pastry, more like puff pastry than pie crust — Tunac says she never understood Chow's passion for butchery until she found her own joy in the form of croissants and laminated doughs (folded layers of butter and flour).
In the meantime, Chow has been hosting virtual butchery classes: the first with J. Ludovico Farm chicken, another breaking down a whole Mountain View Farms pig with Bob McGee of Pono Provisions, and another butchering a Molokai Livestock venison with Jess Rohr of Forage Hawaii. The class fees, ranging from $60 to $110, include fresh meat.
Since Chow left Honolulu, he's seen Hawaii's meat landscape improve, with more local meats available and a greater demand for them. There's now even Waimea Butcher Shop, which Chow says sells twice the volume of the butcher shop he worked at in Chicago. Meat purveyors like McGee and Rohr have also launched, but Chow says, "it's not really a competition because we're all doing it for the right reason. We're all trying to support the farmers. All the farmers they work with and that we will eventually work with, there's still a lot of product they can sell."
See also: J. Ludovico: The only Island-grown chicken found in Honolulu's best restaurants
Chow is working on hot dogs, fresh sausages and snack sticks made with locally grown meats to offer alongside fresh cuts at the Mililani farmers market and pop-up markets at Kaimuki Superette. And of course, there will be Tunac's pastries, cakes and cookies as well. Check The Local General Store's Instagram for updates and how to order pastry boxes.