Where to find lobster rolls in Honolulu
Luxe sandwiches have become a micro trend. Find out who has them and how much you'll be shelling out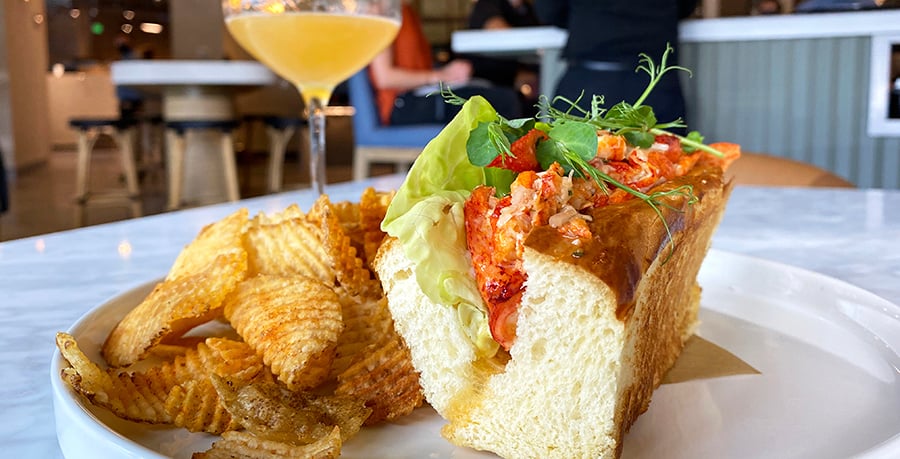 First there were blowout weekend specials at Earl Sandwich. Then Jolene's Market in Chinatown came out with one. And now, in the middle of a pandemic, lobster rolls are a micro trend in Honolulu. Here's the claw-some lineup.
12th Ave Grill Deli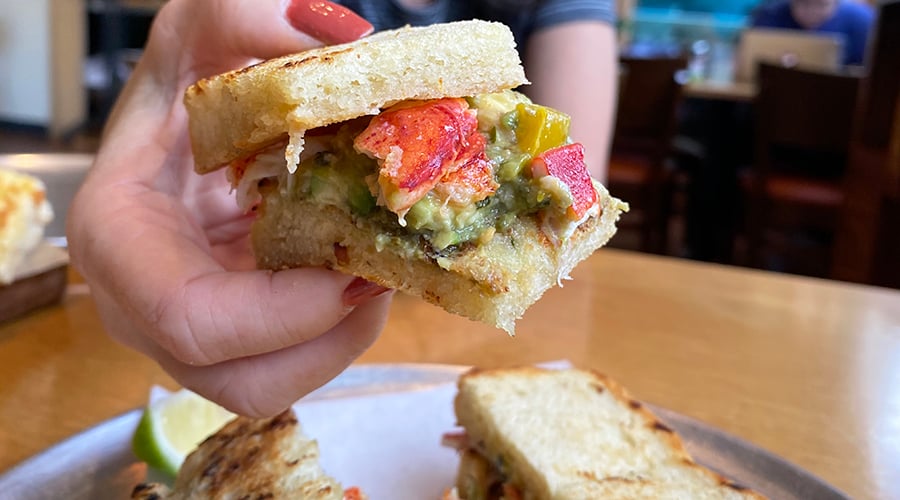 12th Ave Grill's new deli menu has a 12th Ave B.L.T. and the L stands for lobster. This sammie features nearly 4 ounces of butter-poached Kona Maine lobster and avocado roasted tomato basil-garlic relish on housemade bacon bread. Our server pre-cut our sandwich since our group of four all wanted to try it. This one looks more like a panini compared to the fluffier rolls below, but the savory medley — with meaty lobster chunks and especially that bacon bread — is to die for.
1120 12th Ave. • Kaimuki • 732-9469 • @12thavegrill • Wed-Sun 11:30 a.m.-7 p.m.
Chocolate + Vanilla Bakery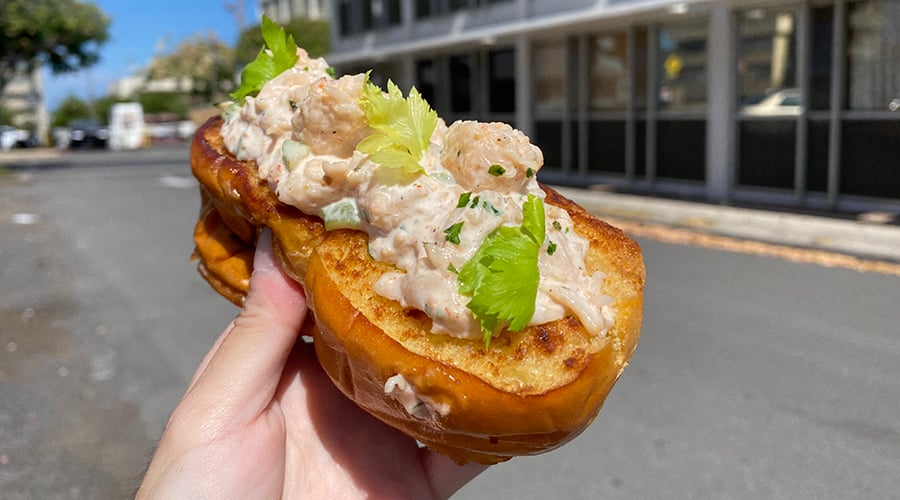 Savory Saturdays at Chocolate + Vanilla pair the Kaimuki bakery with other local businesses. The rotating menu has featured biscuits and gravy, tomato bisque, shrimp and crab rolls, and these $15 lobster rolls. The dishes are made and sold at the bakery.
These lobster rolls come from JMR Food Concepts, owned by Jason Ramirez, a chef who does private catering. The chilled lobster salad is refreshing with onions, cilantro and secret spices, though the bakery wouldn't divulge how much goes in each roll.
Lobster rolls are usually available on Savory Saturdays, but check the bakery's Instagram for updates.
1115 12th Ave. • Kaimuki • 737-2462 • @chocolateandvanilla808 • Tues-Thurs 10 a.m.-6 p.m., Fri-Sat 10 a.m.-7 p.m., Sun 10 a.m.-3 p.m.
Earl Kakaako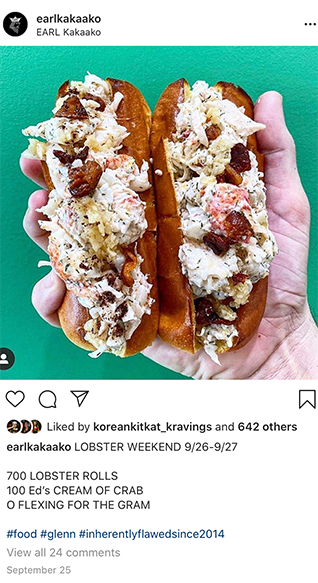 The Kakaako sandwich shop sometimes features lobster rolls as a weekend special. It's become so popular that the last weekend of September, they made 700 of them; customers went wild on Instagram. The $24 roll has 4.5 ounces of lobster, sauteed garlic, bacon and brown butter. It's served with coleslaw, a pickle, lemon wedge and potato salad.
400 Keawe St. • Kakaako • 744-3370 • @earlkakaako • Mon-Sat 10 a.m.-8 p.m., Sun 10 a.m.-4 p.m.
Et Al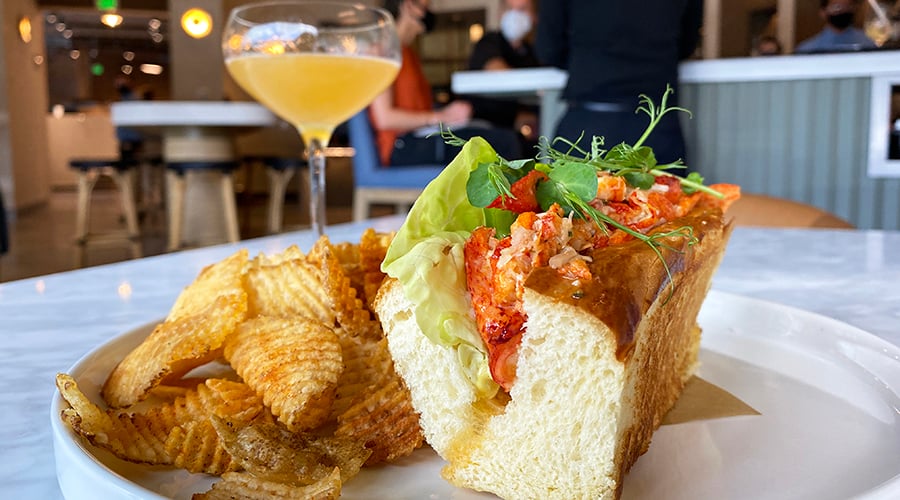 The lobster roll at Foodland's new Kahala restaurant is a must-have. It's made with 4 to 5 ounces of lobster claw and knuckle meat tossed with curry aioli and brown butter in a toasted bun. The lobster is treated simply, without much filler, and the curry aioli gives it an oomph.
4230 Waialae Ave. • Kahala • 732-2440 • @etalhawaii • Breakfast 6-11 a.m., lunch 11 a.m.-2 p.m. Mon-Fri, dinner 4-8 p.m. daily, brunch 6-11 a.m. Sat-Sun
See also: Sneak peek: Foodland's new restaurant and Kahala store
Feast by Jon Matsubara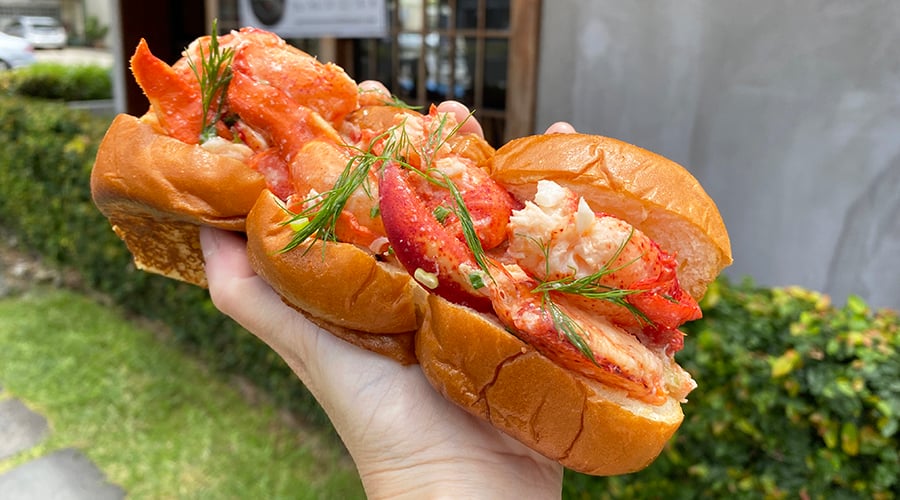 This $21 Maine lobster roll started as a weekly special at Feast and did so well it's there pretty much every day now. Four ounces of chilled lobster meat are mixed with umami mayo and brushed with butter, then sprinkled with scallions, dill and Shinsato Farms Meyer lemon juice. It's served on toasted King's Hawaiian rolls and comes with shoestring fries. It's the closest thing I've had to the meaty lobster roll I devoured a few summers ago in Boston.
2970 E. Manoa Rd. • Manoa • 840-0488 • Tues-Sat, 11 a.m.-2 p.m., 4-6 p.m.
See also: How a lobster roll changed the game at Feast in Manoa
Jolene's Market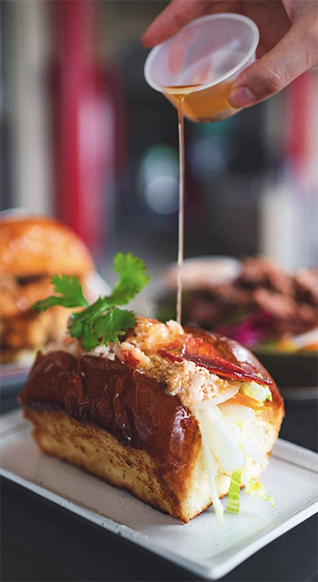 Jolene's Market's buttah lobster rolls swam onto the scene in summer 2019 with an Asian twist: They're topped with Cajun sauce, lettuce, onions, carrots, butter, slaw, mayo — and lemongrass, garlic and cilantro. The $16 lobster roll weighs in with 5 ounces of Maine lobster meat from Chun's Meat Market on King Street; the rolls are baked in-house.
Jolene's Market followed up with lobster melts ($16) that feature meaty chunks with ooey, gooey melted mozzarella and cheddar.
See also: Honolulu's newest lobster roll is in Chinatown
Jolene's Market • 100 N. Beretania St. • Chinatown • 540-1000 • Mon 10 a.m.-5 p.m., Tues-Sun 10 a.m.-8 p.m.
See also: Droolworthy: Now there's lobster grilled cheese at Jolene's Market
Livestock Tavern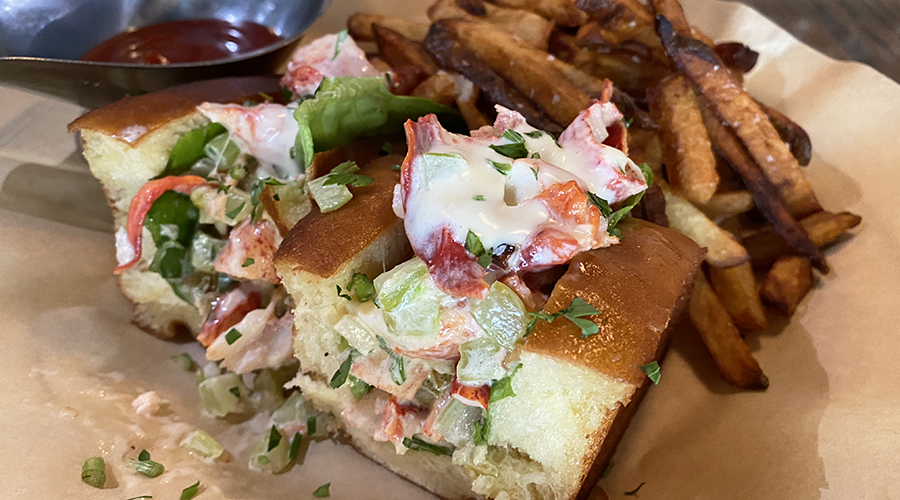 The Maine lobster roll from Livestock Tavern's dinner menu is now served at its new weekend brunch for $23: 3.5 ounces of lobster meat and green onions, celery and parsley all mixed with lemon aioli in a buttery, grilled, house-baked brioche bun. There's also a $45 takeout lobster roll kit for two with lobster, brioche buns and side salads packaged separately; you'll need to preorder these a day in advance.
49 N. Hotel St. • Chinatown • 537-2577 • @livestocktavern • Mon-Sun, 5-10 p.m., brunch Sat-Sun 10 a.m.-2 p.m.
See also: Livestock Tavern makes a case for weekend brunching in Chinatown
The Espresso Bar at Neiman Marcus Hawaii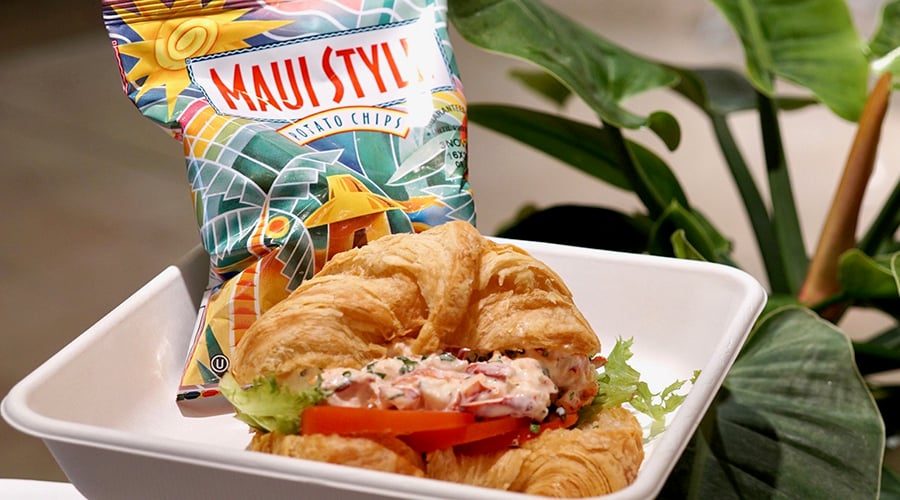 The new menu at Espresso Bar at Neiman Marcus Hawaii features entrees like this $22 lobster salad sandwich served with potato chips. The 4 ounces of lobster claw and knuckle meat are seasoned with mayonnaise, garlic, lemon juice and herbs and follow a Neiman Marcus recipe. It's served in a buttery, flaky croissant baked in-house daily.
1450 Ala Moana Blvd. • Ala Moana • 951-3445 • Mon-Sat 11:30 a.m.-3:30 p.m., Sun 12-3:30 p.m.