Where to Find Hawai'i Versions of America's Most Popular Craft Beer
Think you know your American IPAs? Try these.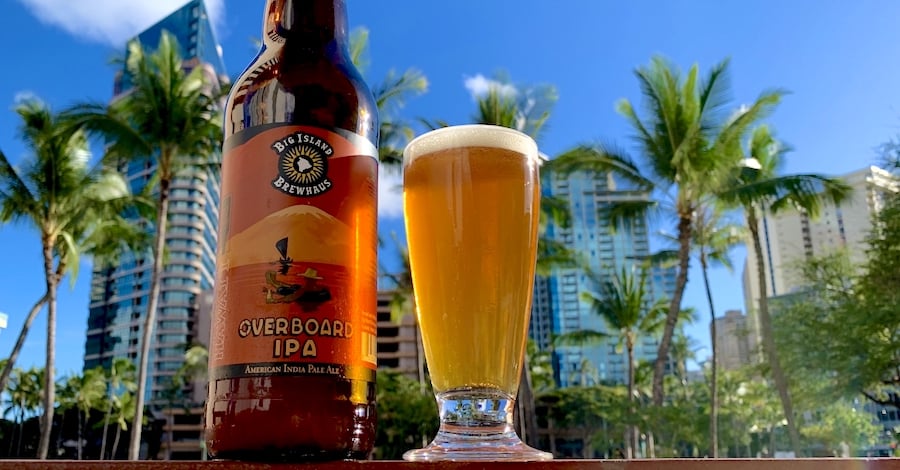 The world of beer is diverse and exciting. Far beyond just fizzy bitter liquid, there is a wide range of tastes, colors and ingredients. Unique beer styles developed due to geographic limitations, water chemistry and availability of grain and hops. The remoteness of Hawai'i poses extra challenges for brewers in added shipping costs and freshness of ingredients that cannot be grown locally. This article series is an introduction to the rainbow of flavors out there and where you can buy local examples to enjoy.
India Pale Ales or IPAs are undoubtedly the most popular style of craft beer today. Styles of the beer today include White, Black, Red and Brown IPAs, to name a few. Ingredient differences led to Rye IPAs, and geographic preferences influenced the flavor and development of Belgian and modern English variations. Hawai'i has excellent examples of arguably the most popular substyle today, the Hazy or New England IPA. Double and Triple IPAs amplify the strength and intensity of the hops to maximum levels.
Let us start with just the American IPA, the beer that kicked off the craft beer movement in the United States. The Beer Judge Certification Program describes the style as "decidedly hoppy and bitter, showcasing modern American or New World hop varieties, they are hop-forward, clean, finish dry, and supporting malt character." IPAs are all about showcasing the hops, with American hop breeds focusing on citrus, floral, piney, resinous and tropical fruit flavors and aromas. They are often bright gold to amber and should be clear, with maybe a little haziness.
---
SEE ALSO: World of Beer Brewed Here in Hawai'i: Blonde Ales
---
The history of the India Pale Ale is long and often argued over, but many believe the story that a strongly hopped pale ale was developed in England to withstand the long voyage to India in the 1700s. Hops have natural antiseptic and preservative qualities that keep beer from spoiling. By the 1830s brewers in Burton upon Trent, England were using the name India Pale Ale and dominating the beer market due favorable water in the area. Some American beers followed this style but were pushed aside in favor of macro-lagers. By the mid-1900s, the style mostly vanished around the world. Then in 1975, Anchor Brewing in San Francisco released their Liberty Ale, which is widely believed to be the first IPA using all American Cascade hops. Into the 1980s and beyond, American IPAs were developed by the first craft breweries such as Sierra Nevada and quickly took hold as a popular style for beer drinkers.
If you want to dive into the country's most popular craft beer style while supporting Hawai'i breweries, pick up these beers to go and enjoy them at home:
---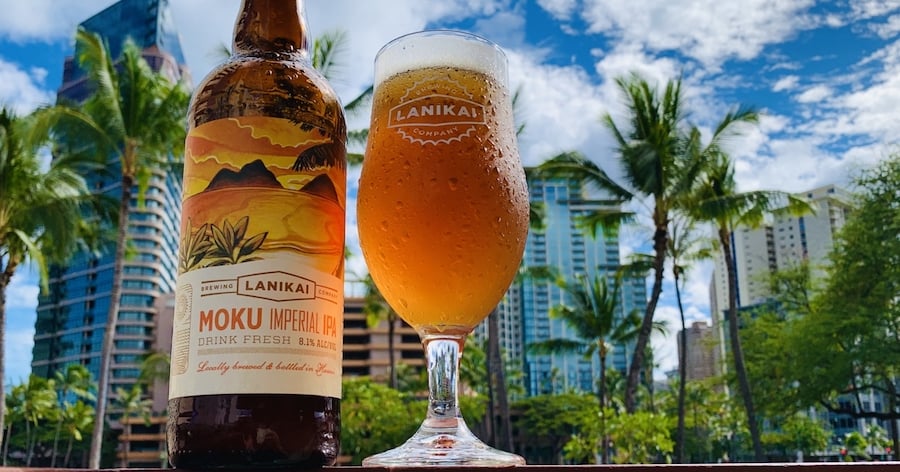 Moku Imperial IPA – Lanikai Brewing Co.
ABV 8.1% IBU 75
The Moku Imperial or strongest variety IPA is described on Lanikai's website: "Pikake flowers contribute to the citrus, mango, grapefruit and floral notes … the hops are balanced with a touch of malt in the body." One of Lanikai Brewing Co.'s three flagship bottled beers, it is widely available at grocery stores such as Foodland and Safeway as well as beer stores like Village Bottle Shop, Tamura's Fine Wine & Liquors and Haleiwa Bottle Shop for $10-12 for a 22-ounce bottle. To check out their other locally sourced offerings, go directly to the brewery for growler and crowler fills to enjoy at home.
167 Hamakua Dr., lanikaibrewing.com, @lanikaibrewing
---
SEE ALSO: World of Beer Brewed Here in Hawai'i: American Barley Wines
---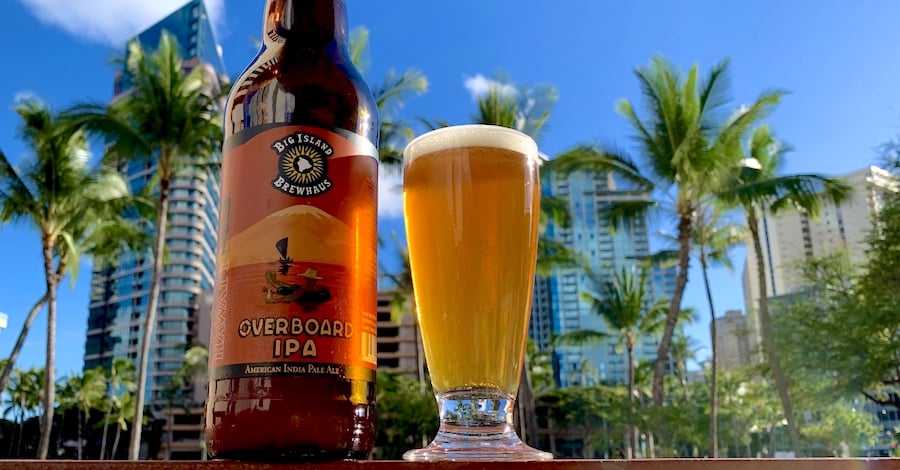 Overboard IPA – Big Island Brewhaus
ABV 6.9% IBU 56
For residents of the Big Island, Big Island Brewhaus offers food, margaritas, and food to go; luckily for the rest of the Islands, their bottled beer is available all over the state. As the brewery describes the beer: "Waves of sensual, tropical, pine hop aromas and flavors lead to slightly silky malt and a lingering, pleasant hop bitterness." Look for it at most independent and chain liquor and grocery stores including Walgreens and Whole Foods Markets at around $9 for a 22-ounce bottle.
64-1066 Mamalahoa Hwy, bigislandbrewhaus.com, @bigislandbrewhaus
---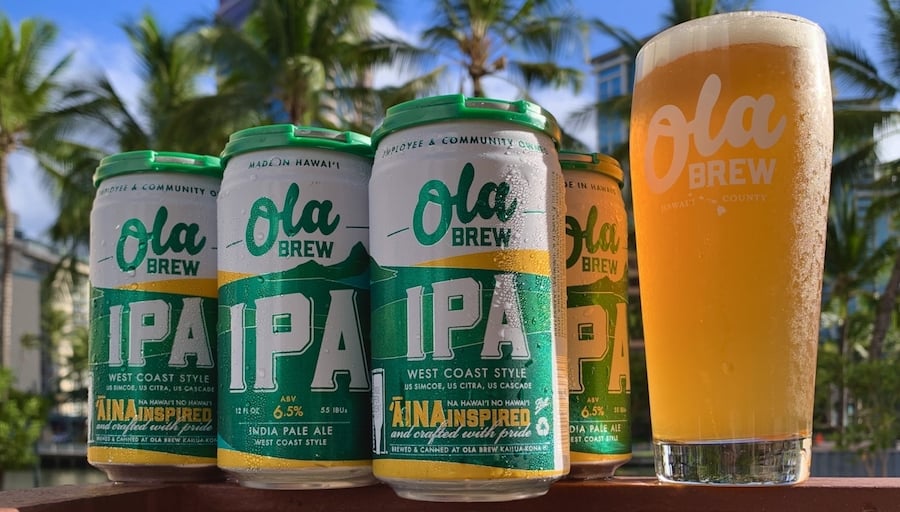 Ola IPA – Ola Brew Co.
ABV 6.5% IBU 55
All brewed and canned on the Big Island, Ola Brew Co.'s first packaged beer has become a mainstay on beer shelves across the islands. As they describe their original IPA: "Our homage to the classic, infamously hoppy, west coast IPA. Think tropical on the nose with some nice citrus and spicy, herbal finish." Available for around $11 for a 6-pack of 12-ounce cans, it is easy to find at Don Quijote, Walmart and independent liquor and grocery stores right across from your favorite beach.
74-5598 Luhia St., olabrewco.com, @olabrewco
---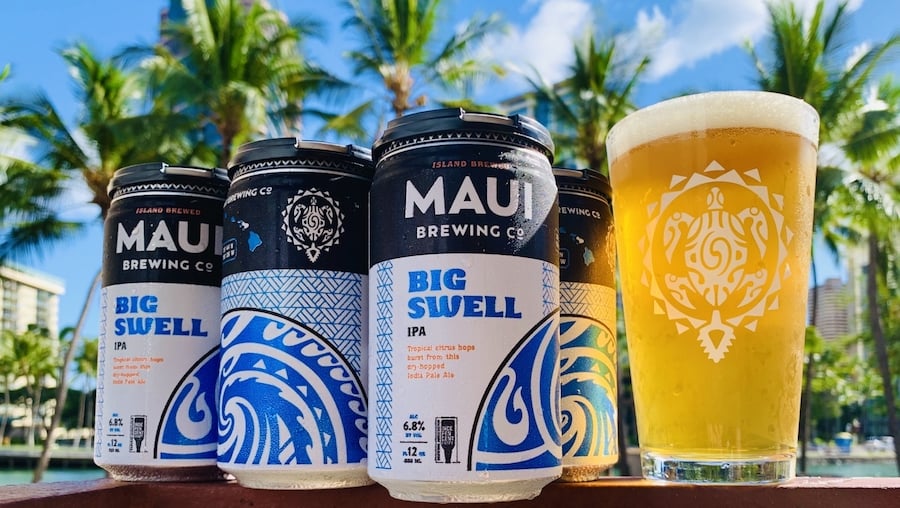 Big Swell IPA – Maui Brewing Co.
ABV 6.8% IBU 82
The state's largest independent brewery, Maui Brewing Co.'s offerings are widely found on tap as well as canned selections in all major retail locations making it an easy option to grab a local beer in a pinch. "Tropical citrus hops burst from this dry-hopped IPA" as described by the brewery. It can be found for around $10 for a 6-pack of 12oz cans, along with their other five year-round beers, which include a Pale Ale and Double IPA. When open, their restaurants in Kihei, Lahaina, Kailua and Waikīkī offer crowler fills to go, which often include other limited IPAs.
605 Lipoa Pkwy, mauibrewingco.com, @mauibrewingco
As this is not an exhaustive list of super popular American IPAs brewed in Hawai'i, look for the style name on your next brewery visit or beer purchase.