Where to find Christmas macarons, gingerbread men and more holiday treats
'Tis the season to indulge in all things peppermint, chocolate and more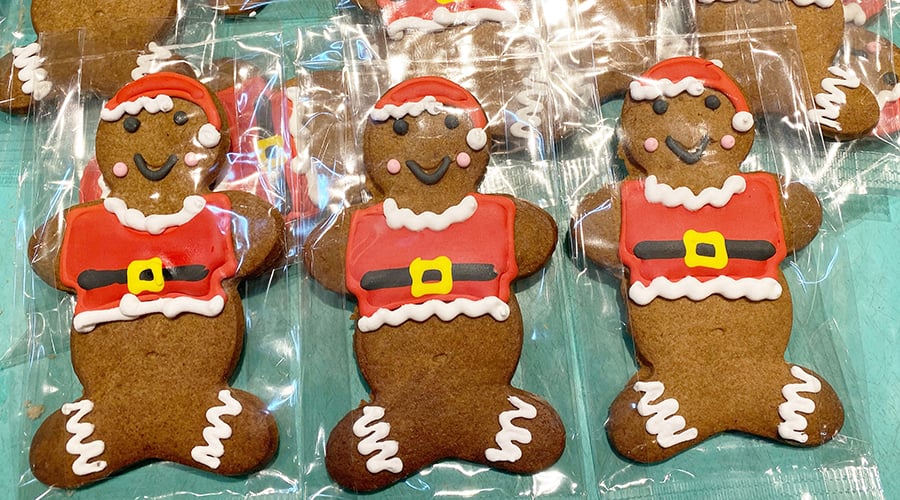 Sugar, spice and everything nice … that's what holiday treats are made of. Christmas has always been my favorite time of the year, especially because of seasonal holiday flavors like gingerbread and chocolate peppermint in festively decorated cookies and much, much more.
Whether you're looking to indulge in something ultra-sweet or are embracing the spirit of the season, scroll on for a list of tasty holiday goodies. But don't wait too long – these sweet and savory snacks are only available through the end of December.
Apple pie bread pudding
Where: Chocolate + Vanilla Bakery, 1115 12th Ave., Kaimuki, 737-2462
Cost: $5.50
Details: This Kaimuki bakery's apple pie bread pudding is back for the holidays. If you're feeling indulgent, order it a la mode.
Assorted Christmas pastries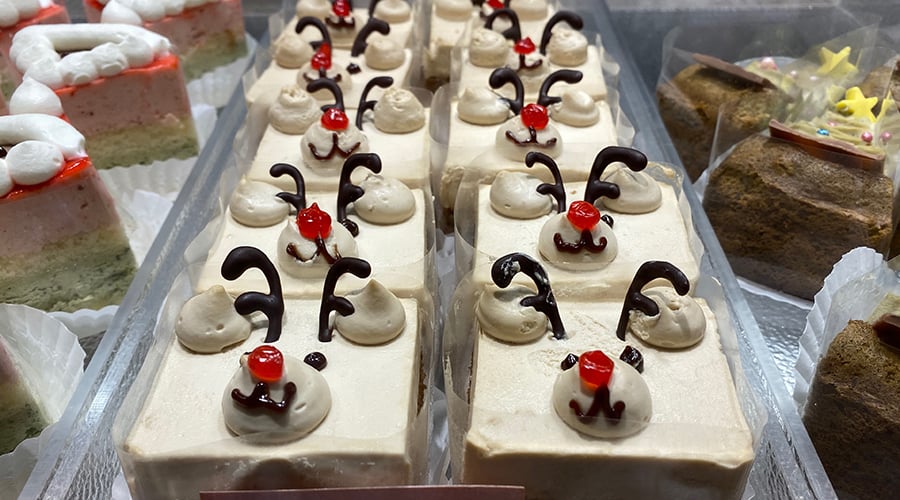 Where: Kulu Kulu Cake, various locations
Cost: $4.75-4.95
Details: Ring in the spirit of the season with the festive pastries at Kulu Kulu Cake. Choose from strawberry Santa Clauses ($4.95), caramel coffee reindeer ($4.95) and green tea chocolate trees ($4.75).
Caramel-and-chocolate dipped apples
Where: Foodland Farms Ala Moana, 1450 Ala Moana Blvd., Ala Moana, 949-5044
Cost: $5.99
Details: These limited winter treats can only be found in the bakery section of Foodland Farms Ala Moana. The apples are dipped first in caramel and chocolate then sprinkled with a housemade pumpkin spice snack mix, sprinkles, gold dust and edible decorations.
Chocolate cake with peppermint frosting
Where: Rise and Shine Cafe, 95-1057 Ainamakua Dr., Mililani, 260-9312
Cost: $5.50
Details: This chocolate cake with peppermint frosting is available by the slice for all of December. Whole cakes are available by pre-order only and must be made at least two days in advance.
Chocolate peppermint cake bombs, peppermint ice cream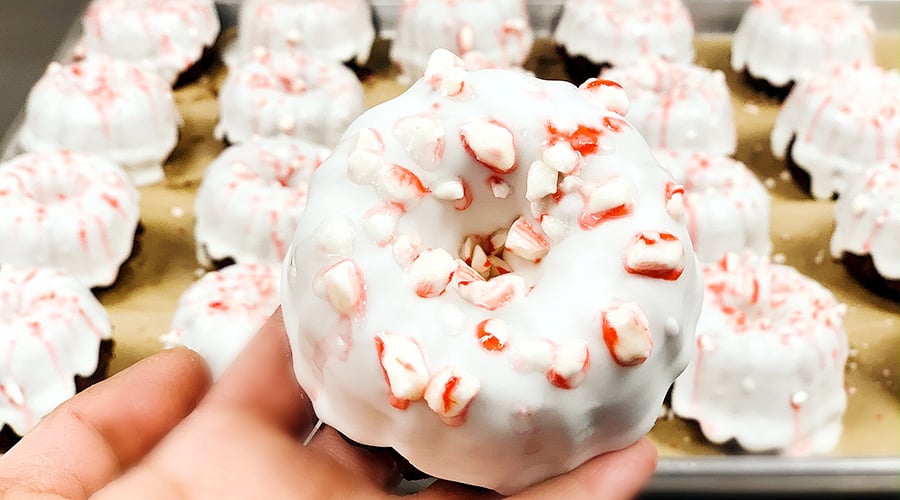 Where: Pipeline Bakeshop & Creamery, 3632 Waialae Ave., Kaimuki, 738-8200
Cost: $4.50 for cake bombs, ice cream varies by size ($3.50 to $6.50)
Details: A variety of seasonal treats are available on a rotating basis through December. Enjoy chocolate peppermint cake bombs and Peppermint Wonderland and Hopscotch Butterscotch ice cream flavors. Chocolate peppermint cake bombs feature chocolate cake dipped in peppermint glaze and candy cane topping.
Christmas cakes
Where: Malu Honolulu, 661 Keeaumoku St., Ala Moana, 600-7104
Cost: $37
Details: Assorted Christmas cakes are available at Malu Honolulu. Take your pick from 6-inch chocolate or strawberry shortcakes with festive decorations.
See also: Malu pairs quirky kimbap, kawaii dessert in one shop
Christmas gingerbread bubble waffle
Where: Double Three, 1284 Kalani St., Kalihi, 650-2733
Cost: $9.80
Details: This gingerbread bubble waffle is stuffed with your choice of ice cream and topped with Christmas icing, sprinkles, KitKat, a lollipop, condensed milk and whipped cream.
Cinn-amman
Where: La Tour Cafe, various locations
Cost: $4.90
Details: La Tour Cafe's December special is the creatively named Cinn-amman, the bakery's kouign amann twist on a cinnamon bun. This pastry is stuffed with a cinnamon-ginger spiced cookie and topped with a cream cheese glaze.
Chewy gingersnaps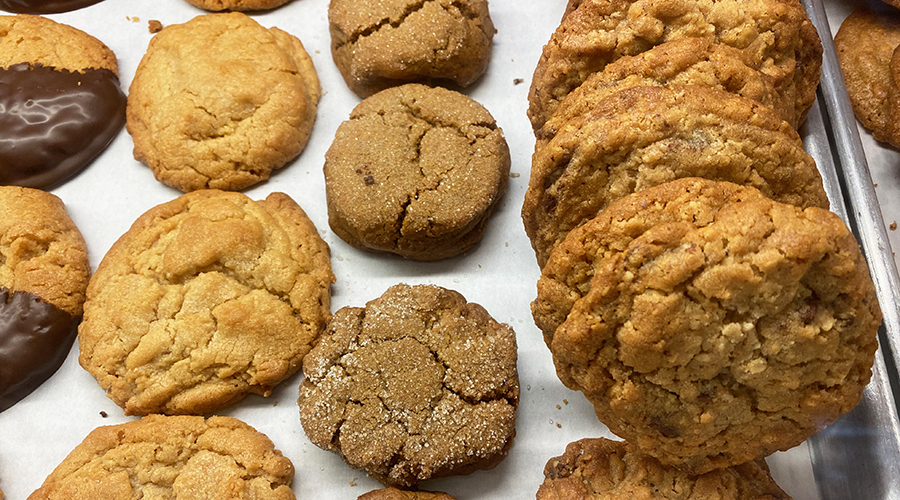 Where: The Cookie Corner, various locations
Cost: Around $1.95; price depends on cookie weight
Details: Keep an eye out for these chewy ginger snap cookies in your neighborhood The Cookie Corner's display cases. The cookies are small, soft and chewy with sugar crystals dusted on top. They're available for all of December or until supplies last.
Dark chocolate-covered peppermint brownies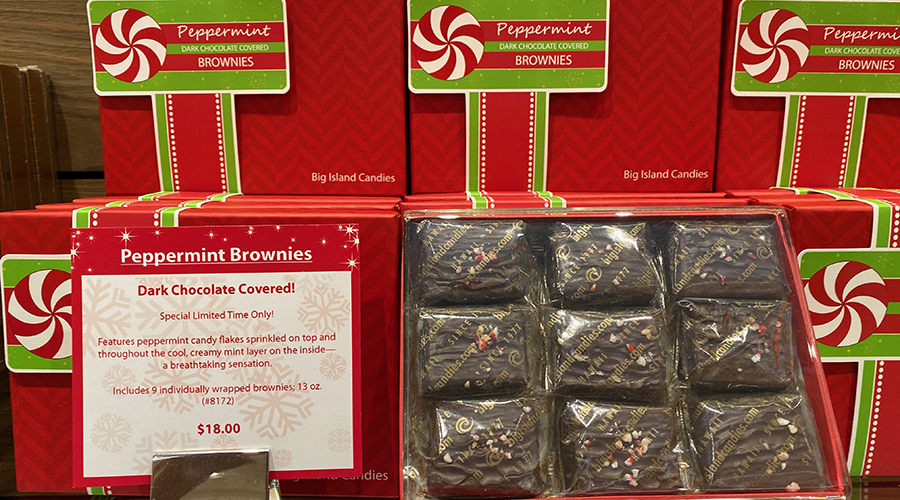 Where: Big Island Candies, 1450 Ala Moana Blvd., Ala Moana, 946-9213
Cost: $18
Details: Dark chocolate-covered peppermint brownies are at Big Island Candies for December only (while supplies last). Packs of these seasonal treats come with nine individually packaged brownies. The brownies have a cool, creamy mint layer inside and festive peppermint candy flakes sprinkled on top.
Fruitcake, stollen bread and decorated cookies, gingerbread and cupcakes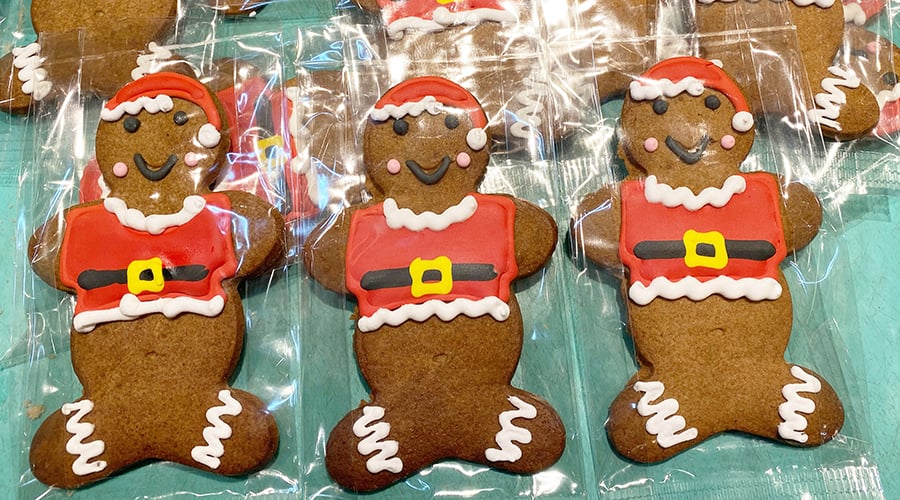 Where: Liliha Bakery Ala Moana, 1450 Ala Moana Blvd., 944-4088 (other locations: Kuakini Street and Nimitz Highway)
Cost: Prices vary
Details: Liliha Bakery has a smorgasbord of seasonal treats available through the month of December or while supplies last. Fruitcakes cost $19.55 (one pound) or $31.60 (two pounds). Other holiday treats include Christmas-themed cakes (prices vary according to size), cupcakes ($2.99), gingerbread cookies ($3.65), stollen bread ($10.85) and Christmas-decorated cookies ($3.29).
See Also: Foodflash: Liliha Bakery opens in Ala Moana Center
Gingerbread waffles with candied pecans
Where: Pancakes & Waffles Hawaii, Kalihi and Waimalu locations
Cost: $10.95
Details: These gingerbread-flavored waffles come topped with candied pecans and whipped cream and will be available through December.
Holiday-themed macarons
Where: The Sugar Hut, 87-070 Farrington Hwy., Waianae, 722-7539
Cost: $2.25-$3
Details: These chocolate peppermint Rudolph macarons have a festive peppermint flavor and cost $3 each. Gingerbread macarons ($2.25) are also available. Both flavors are being featured daily until Christmas.
Holiday soft-serve ice cream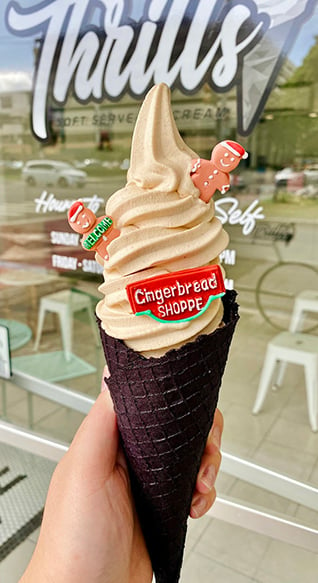 Where: Thrills Soft Serve, 510 Piikoi St., Ala Moana, 888-6860
Cost: $5
Details: Thrills' holiday flavor line-up includes eggnog, Santa's Milk & Cookies, peppermint hot cocoa and gingerbread.
See also: Just in time for summer, meet Honolulu's newest soft serve parlor
Hot sipping chocolate, various Christmas chocolate specials
Where: Choco le'a, 2909 Lowrey Ave., Manoa, 371-2234
Cost: $5.99
Details: European-Style Hot Sipping Chocolate and Chips ($5.99) are back for December. This signature Choco le'a dessert is available daily while supplies last. Other Christmas specials include: Crunch a le'a Christmas Cheer mixes ($5.99 small, $19.99 large); Hot Cocoa Wonderland ($3.99); Christmas chocolate-covered Oreos ($3.49 each); boxes of assorted holiday truffles (gingerbread, peppermint, candied hazelnut, spiced hot cocoa, butterscotch liquor, Grand Marnier, champagne and sugar cookie truffles); and The More the Merrier mixed bag of nuts ($10.99).
Mele Kalikimatcha and other holiday drinks
Where: Honolulu Coffee Company, various locations
Cost: Varies depending on size
Details: Mele Kalikimatcha features sweet amai matcha and a house-made jasmine mint syrup. The limited-edition brown sugar rosemary latte and Christmas house blend are also back for December.
Merry Berry Marshmallow pancakes
Where: M.A.C. 24/7, 2500 Kuhio Ave., Waikiki, 921-5564
Cost: $16
Details: The holiday seasonal short stack is back. What it entails: Two huge buttermilk pancakes topped with fresh raspberries, blueberries and blackberries, toasted marshmallows, chocolate chips, chantilly whipped cream, light ginger syrup and a maple bourbon glaze.
Mickey-shaped holiday treats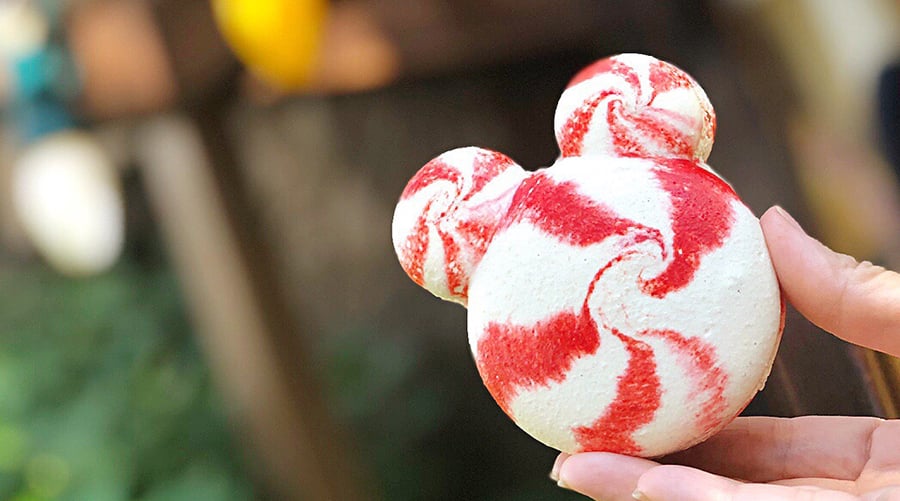 Where: Aulani, A Disney Resort & Spa, 92-1185 Aliinui Dr., Kapolei, 866-443-4763
Cost: Various prices
Details: Throughout the month of December, indulge in a smorgasbord of seasonal treats at Aulani. Treats include candy cane Mickey macarons, chocolate decorated holiday rice crispy treats, holiday caramel apples, spiced gingerbread cream cheese coffee cake, seasonal Mickey cupcakes, giant s'mores pops, DIY gingerbread house kits, Mickey Mont Blanc, gingerbread yule logs and peppermint brownies.
Peppermint chocolate, dark chocolate peppermint, white chocolate ginger spice shortbread cookies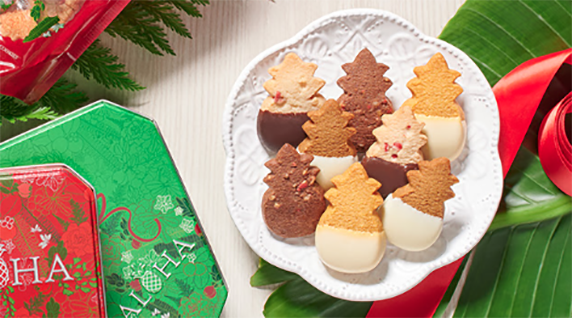 Where: Honolulu Cookie Company, various locations
Cost: Prices vary per cookie box
Details: Peppermint chocolate, dark chocolate peppermint and white chocolate ginger spice shortbread cookies are available at Honolulu Cookie Company while supplies last. These chocolate shortbread cookies feature bits of peppermint candies baked inside. Dark peppermint cookies are the company's signature shortbread cookie dipped in dark chocolate and studded with peppermint bits, while white chocolate ginger spice is inspired by the seasonal hot, spiced drink.
Peppermint gelato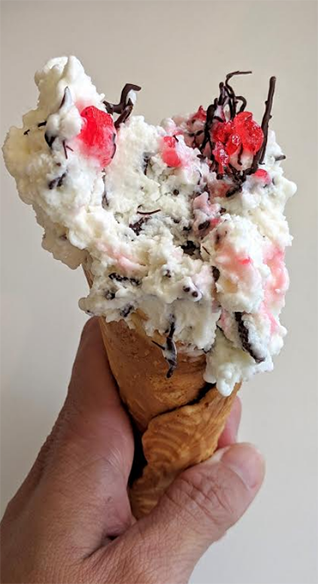 Where: Via Gelato, 1142 12th Ave., Kaimuki, 732-2800
Cost: Prices vary depending on size
Details: Via Gelato has a flurry of festive flavors that rotate throughout December. Featured flavors include peppermint mocha, peppermint chocolate chip, marbled peppermint chocolate with chocolate pretzels, gingerbread with dulce de leche, peppermint oreo, snickerdoodle with Speculoos butter, peppermint flurry and chocolate orange.
Rum cake, coconut cloud cake, holiday cream puffs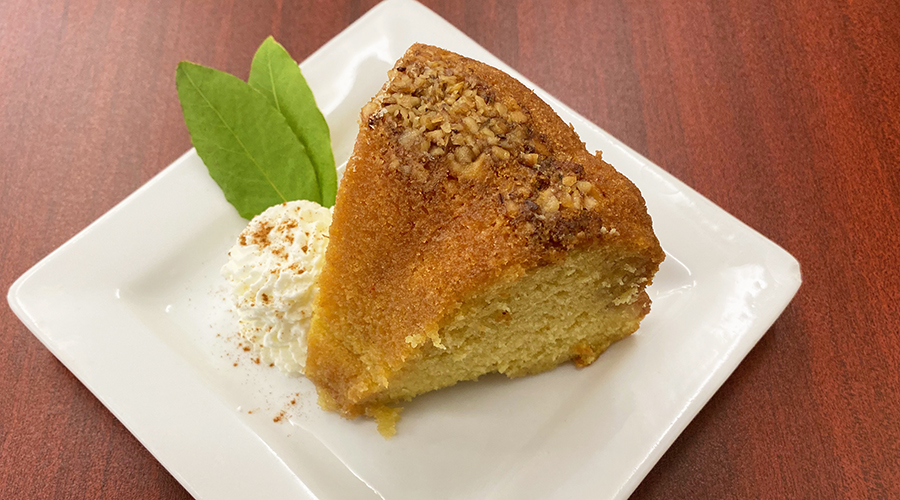 Where: Burgers on Bishop, 745 Fort St., Downtown, 586-2000
Cost: $5
Details: Rum cake with mac nuts, coconut cloud cake and holiday cream puffs are available throughout December. Cake slices are available daily, while supplies last. Holiday cream puffs are dipped in chocolate and are topped with sprinkles.
Winter Cookieland ice cream
Where: Lappert's Hawaii, 2005 Kalia Rd., Waikiki, 943-0256
Cost: $3.85-6.75 (depending on cup size)
Details: December's featured flavor is peppermint ice cream studded with Oreo cookies.