Where the food trucks aren't — and what you can do to help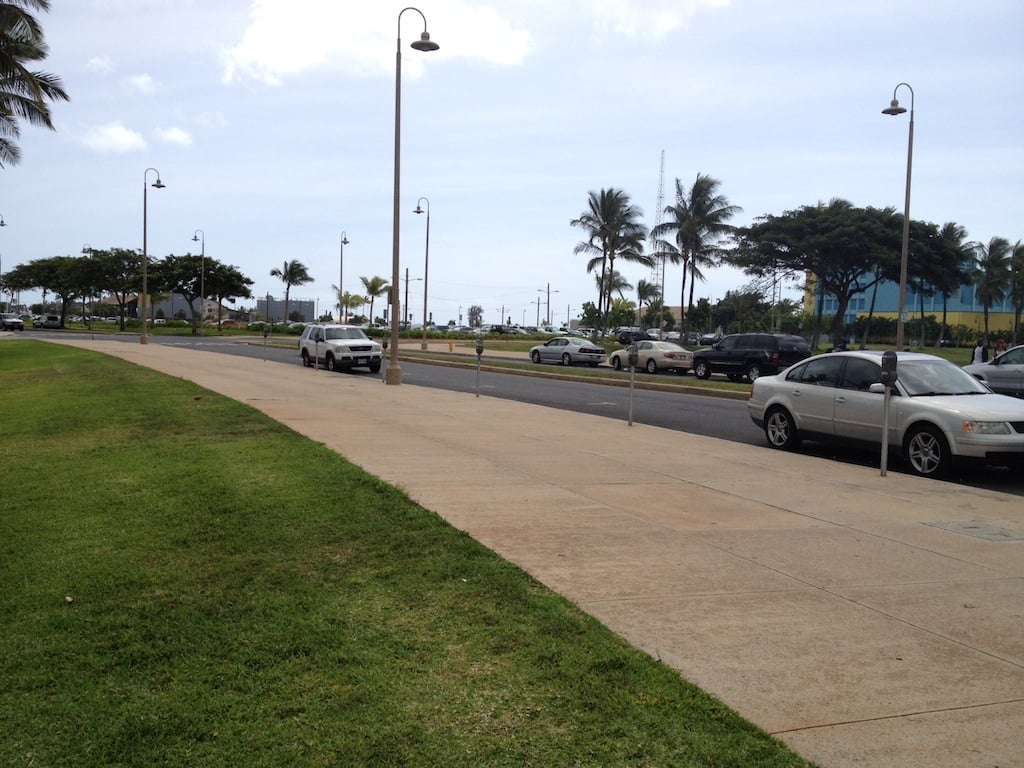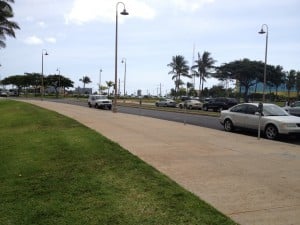 I went to Tacoako Tuesday yesterday, half-knowing in my heart what I'd find, but still stunned at the sight when I got there: at 12:15 p.m., the entire block along Ilalo Street devoid of food trucks, and only two parked on Cooke Street.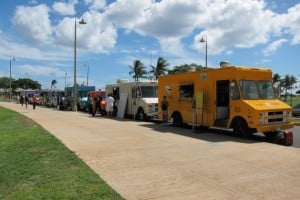 Why I nearly cried: Here's the same street last Oct. 12, when my happy blog about the spontaneously growing weekly confab across from the UH Medical School assured food truck fans they had a solid reason to drive to Kakaako every Tuesday at lunchtime.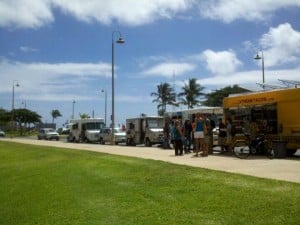 There were a dozen trucks that day last fall (including Inferno's Wood Fire Pizza's tent); one vendor told me there had been 14 the week before. Even last week, with Tacoako regulars Shogunai Tacos, Momo Burger and The Curb truck diverted to UH-Manoa on temporary contracts, eight or nine trucks showed up. Below is the scene last week, shot by @harrycovair.
So what happened? For months now, police have been enforcing an old law that prohibits "any itinerant vendor, peddler or huckster" from doing business in the same spot on any public street for more than 15 minutes. Word is police showed up at Tacoako last Tuesday, took down license plate numbers and driver's license info, and drove away. Nearly everyone got the message. Tacoako Tuesday is all but dead.
Already cited: Aloha Ice Cream Tricycle, Tiki Truck and a handful of others. The penalty? A date in traffic court, a possible fine of up to $1,000 and up to 30 days in jail. Aloha Ice Cream's Kathy Sills had her second day in court yesterday; her case is still pending. Tiki Truck's Abe Jazzmin went to court this morning. He's already said he has more time than money, so if it comes down to it, will have to take the jail sentence over the fine. The prosecutor agreed to wait to find out the broader fate of all the trucks.
At this point, the outcome of individual court cases doesn't matter. Aloha Ice Cream is effectively off the street. Among Tacoako regulars, Inferno's temporarily moved to a private lot. Da Ala Cart set up in a different part of town. Other trucks are scrambling to find safer places, looking at private lots where monthly rents are often prohibitive, or simply shut down.
Like Puffettes, a dessert waffle truck that sold out at last Friday's massively successful Eat the Street food truck rally: "I just closed," owner Kent Lee told me. "I can't afford to hire a lawyer or (pay) the ticket. It destroyed my business."
Does this seem wrong to you? Food trucks cross the same t's and dot the same i's as every other startup, and as food businesses have the added requirements of securing commercial kitchens, state Department of Health approvals and motor vehicle insurance. Then they source ingredients, shop, cook, market themselves through social media or any other low-cost means they can think of, build up followings — and get chased off the streets. Legally.
"It could kill an industry," says Poni Askew, who organizes Eat the Street. The monthly street food rally started in January 2011 with 10 food trucks; last Friday it drew nearly 30. Askew says she's seen the number of registered mobile food vendors similarly triple in the same period, from about 100 islandwide to about 300 today. They're tiny, industrious startups, they diversify our foodscape with down-home to upscale mobile eats, and judging from the way they sell out at Tacoako Tuesday and Eat the Street, we still can't get enough of them.
So now what?
"This law is vague," says Marcus Landsberg, the attorney representing Aloha Ice Cream and Tiki Truck. "And a law being void for vagueness is one way we get laws changed."
You can help change this law. It's not hard: Just phone or email the City Council and let them know you support the amendment to Bill 59, which would let mobile food vendors do business on public streets for up to three hours.
If you really feel strongly, you can come down to Honolulu Hale (the historic Spanish-style building at Punchbowl and King) at 1 p.m. this Thursday, March 1, for the Transportation Committee's hearing on Bill 59. The hearing room is at the top of the wide staircase on the second floor. Park in the municipal garage underneath (entrances on Alapai and Beretania), in the metered parking lot in front of the court building across King Street, or in metered street parking in the Kawaiahao area.
If you come to Thursday's hearing, you will not have to speak unless you want to. You can just sit with me and other supporters. I've just called the City Council about my support, and I'm about to email now.
"We need essentially the biggest amount of support for this hearing," says Askew. This is the second of three hearings on this bill, and like any bill, the revised Bill 59 could be killed at any of these hearings. "The second hearing is most vulnerable. It's the make-it-or-break-it hearing. If it passes second, then something drastic probably has to happen for it not to pass on the third."
Call: Office of Breene Harimoto, City Council Transportation Committee chairman, 808-768-5008. Say you support the amendment of Bill 59 on food trucks.
Email: gmurayama@honolulu.gov, jtachibana@honolulu.gov, gkim@honolulu.gov, AND bharimoto@honolulu.gov. Say you support the amendment of Bill 59 on food trucks.
Email testimony: Go to http://www1.honolulu.gov/council/emailtrans.htm. And cc: bharimoto@honolulu.gov on the email. Subject line: "Transportation Committee Testimony in SUPPORT of Amending Bill 59." Include your name and address in the email. Say why you support the food trucks.
Come in person to show your support: Thursday, March 1 at 1 p.m.
Honolulu Hale, second floor City Council Hearing Room
530 S. King Street