What's the deal with Slow Art Friday?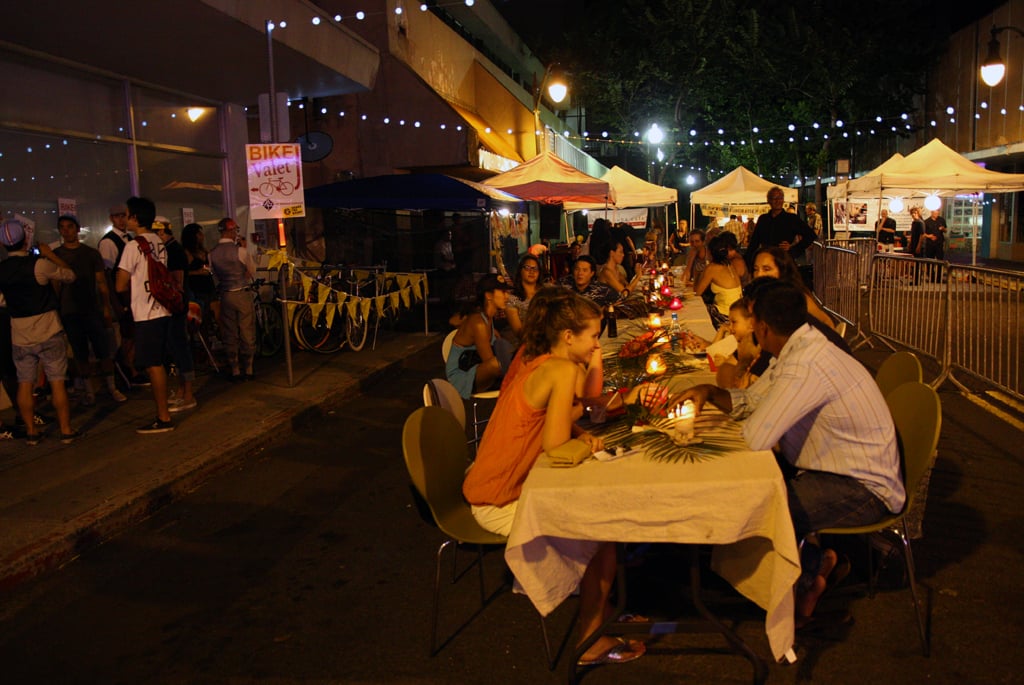 So last Friday, I headed down to Chinatown early in hopes of catching the action at Slow Art Fridays, held on Bethel and Pauahi streets in the alley outside of SoHo Mixed Media Bar every third Friday of the month. Trouble was, it was a little too slow.
Granted, the concept is great. A part of the Slow Food Movement, Slow Art Friday started in January (they've held four so far) as an alternative, chill, pedestrian-friendly night with culture. Live DJs playing lounge music, yummy organic food and wine from local businesses, a bike valet (where you're likely to find the fixed gear kids in their caps and impossibly skinny jeans hanging out), and cool acts like fire dancers, aerialists, live bands and acrobats. As one employee from Brasserie du Vin said, it's similar to how First Friday started out; as a small local arts & culture night. And now that First Friday has become more of a packed, late-night party to dress up and be seen at, the concept of Slow Art Friday is one of an anti-First Friday.
But when I went at 7:20 p.m. (the event is supposed to go from 6-9 p.m.), there was little to no art to be found. The crowd was in the process of dying down, a couple of the 4-5 food booths in attendance were out of most of their offerings, and most people, with the exception of a few groups chatting or eating at the 40-foot table, were standing around looking bored. Last month about 600 people showed up… so what happened this month?
Well, first, the time was changed from 6-8 p.m. Secondly, although nearby restaurants and galleries are supposed to extend their hours and host participating events with the street party as an added bonus, most of Chinatown was dead, and I didn't hear much about anything other than the street festival happening. Okay, I think to myself, this thing is pretty hit or miss. Does it still have enough community support to continue? If this few people and vendors show up, what are they gonna do with it?
So I called up Rich Richardson, the creative director for The ARTS at Marks Garage, and a man who's personally put a lot of work into starting Slow Art Friday. "I almost gave up… it's so much work," he said. "I set the whole thing up with volunteers; we're waiting now to see if it works."
Despite some reluctance from nearby businesses to get involved or take the event seriously (at one point they had to move it because Hawaii Theatre wasn't happy about Slow Art Friday setting up shop in the street next to them), Richardson is determined to continue the night, and hopefully extend it into Fort Street Mall. He also talked about teaming up with Art & Flea, Fresh Cafe's monthly night that brings local designers and artists together.
I guess it's wait-and-see time now. Whether Slow Art Friday succeeds in being what it was conceptualized as depends on vital support from businesses and the community, and whether it catches on with more people.
What do you guys think?
—
Follow Tracy on Twitter at @chant808, on Foursquare (Tracy C.) or email her at tracy@nonstophonolulu.com.