What I found at Walmart: Millennium Falcon ice cream sandwiches
May the Fourth be with you in your quest for this Star Wars treat
What I found at … is a series that tests and vets intriguing store-bought foodie finds.
What: Millennium Falcon ice cream sandwiches
Where: Walmart Pearl City or Walmart Keeaumoku
Cost: $7.13 for a box of 6
Q: Is The Force strong with these ice cream sandwiches?
Ever since Disney Food Blog announced that Star Wars Millennium Falcon ice cream sandwiches were coming to galaxies — I mean, grocery stores — across the U.S. earlier this year, I've been on the lookout. That meant searching Target, Foodland, Times, Safeway and any other grocery store but particularly Safeway, because that's where I found Mickey Mouse ice cream bars.
See also: What I found at Safeway: Mickey Mouse ice cream bars
I knew it was just a matter of time. Then I saw an alert on Disney Hawaii Moms' Instagram that Millennium Falcon ice cream sandwiches had landed at Walmart Keeaumoku.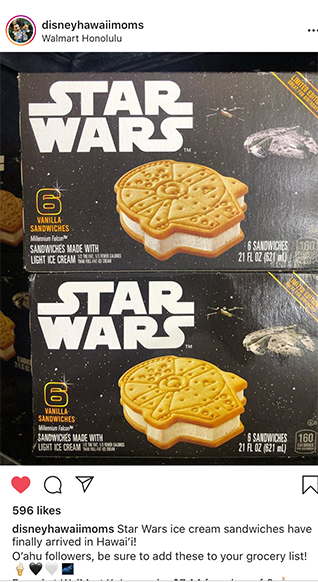 The Force was with me, because when I checked the Walmart app the next day, they still were in stock. I stopped by Walmart Pearl City, ignored the stocks of bread, toilet paper, Kleenix and paper towels filling other wagons and went straight to the freezer section.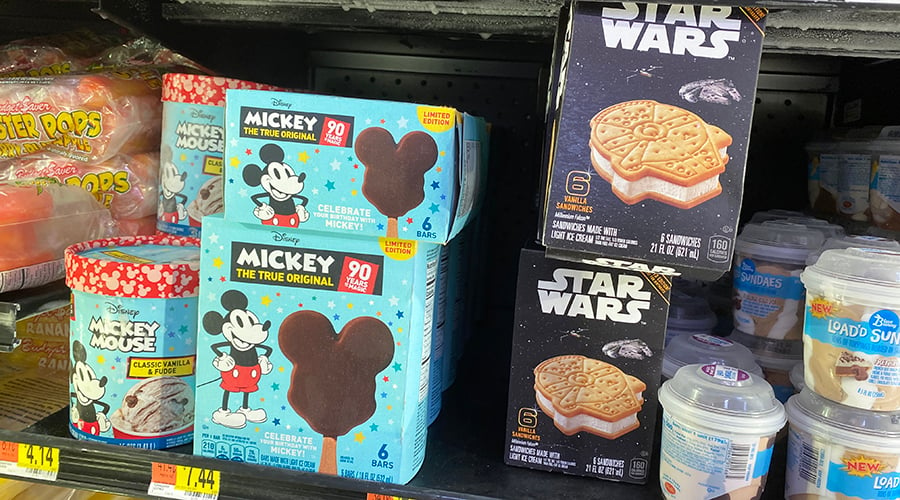 The boxes were smaller than I imagined — we're talking about the Millennium Falcon, after all — but I was excited nonetheless. I felt like I'd struck gold.
Walmart was fully stocked with these limited-edition treats, but there's no telling when they'll disappear.
Similar to the Mickey-shaped ice cream bars, Millennium Falcon ice cream sandwiches are a collab between Disney and Nestle. Each box contains six vanilla ice cream sandwiches "made with light ice cream." Each sammie is 160 calories, which shouldn't add much to fears of gaining the quarantine 15.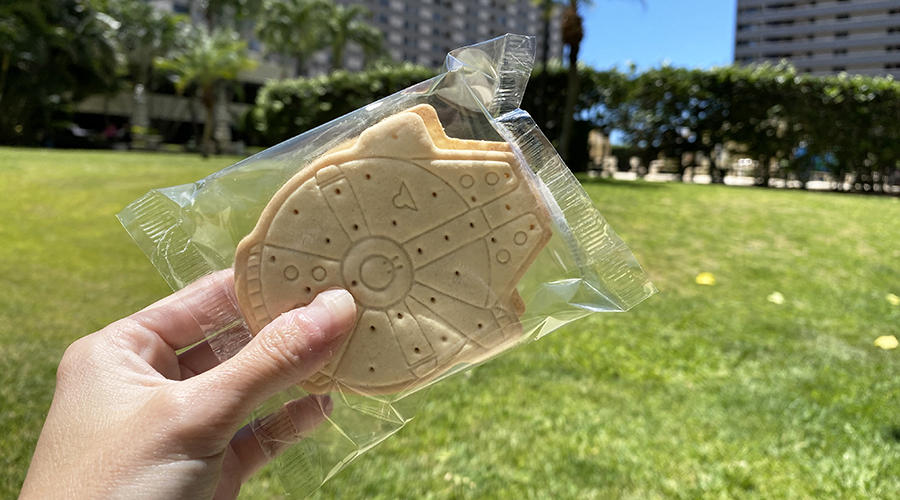 Light vanilla ice cream comes sandwiched between delicate vanilla cookies. These crack easily and are on the thinner side.
It's fun to pretend your Millennium Falcon is jumping to light speed in hyperspace, but don't play with them too long before eating them. These sammies melt fast.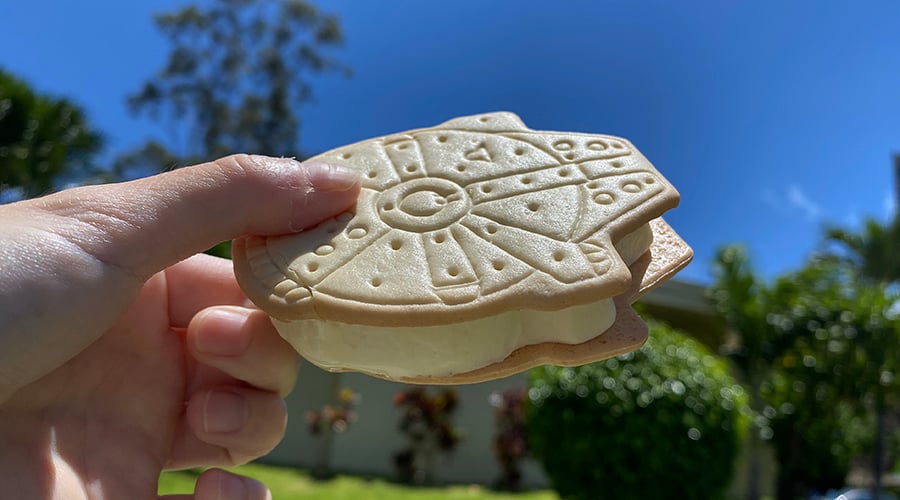 At first bite, this reminds me of Golden Oreos in ice cream form. The vanilla flavor is subtle, and the ice cream's lighter texture makes it the perfect post-meal treat. It's not the typical super chocolaty dessert I often go for, but it's a welcome addition to our freezer and the entire Millennium Falcon-ness of it makes it fun to eat.
A: Sort of …
If you like your desserts extra sweet, this probably won't satisfy your craving. These are made with skim milk and the box's fine print notes that "2/3 cup of vanilla light ice cream contains 4g of fat and 150 calories compared to 14g of fat and 250 calories in full-fat ice cream." In other words, they're not as indulgently creamy. If you're looking for a slightly sweet treat on a hot day without much guilt, this hits the spot. And there's no better way to celebrate National Star Wars Day. May the force be with you!
Hungry for more finds? Here's the rest of the series:
What I found at Palama Market: Brown sugar boba ice cream bars
What I found at Costco: Tiramisu cake
What I found at Safeway: Mickey Mouse ice cream bars
What I found at Costco: Herdez guacamole salsa
What I found at Costco: Keto-friendly egg bites
What I found at Foodland: Detroit-style pizza
What I found at Costco: Cheeseburger
What I found at Jack in the Box: Teriyaki steak bowls
What I found at Costco: Sous vide pork belly
What I found at Costco: Beef bulgogi mandoo
What I found at Target: Museum of Ice Cream pints
What I found at Costco: 505 Southwestern street tacos
What I found at Costco: Acai bowl
What I found at Zippy's: Mochiko chicken mix
What I found at Costco: Ultimate Blueberry Margarita
What I found at Burger King: Flamin' Hot Mac n' Cheetos
What I found at Costco: Chocolate lava cake
What I found at Marukai: Milk tea that looks like water
What I found at Costco: Microwave pho
What I found at Costco: Raoh tonkotsu ramen