What $10 Gets You: Downtown Honolulu
Downtown has tons of affordable lunch options if you know where to go.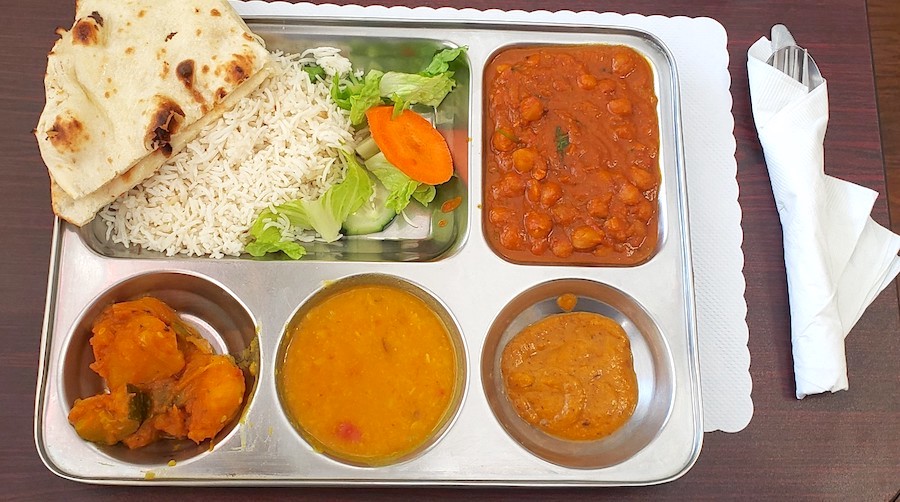 Part 2 of Frolic's series sent team members to all corners of downtown Honolulu. Their mission: Satisfy lunchtime hunger pangs with $10 before tax. Spring intern Erika Huang, a senior at UH-Manoa, was so excited to try different places in her new work hood that she posted seven of her lunches.
---
SEE ALSO: What $10 Gets You: Ala Moana Center
---
Here's what everyone got.
Melissa Chang's lunch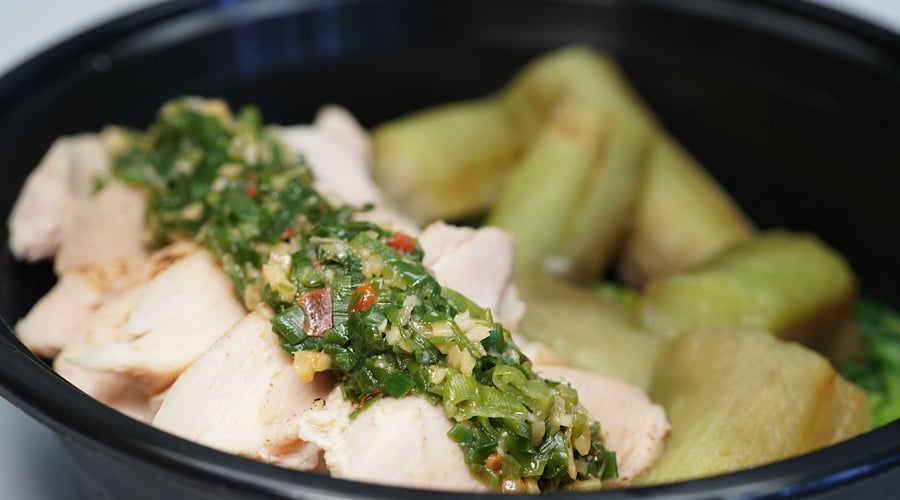 What: Cold ginger chicken
Where: Gochi Grill
Where's that: 1111 Bishop St., 585-8558
Price: $8.75
What's in it: Cold poached chicken with a housemade ginger-scallion sauce and a side of choi sum and grilled eggplant, plus a container of soy dashi to add however you like. Chef John Iha created this tasty bowl for the many people Downtown who are on the keto diet, but you don't have to be on a lowfat, low-carb regimen to love this. It's not on the printed or blackboard menu; you can just grab it from the fridge on the side of the cash register.
---
SEE ALSO: Gochi Grill to Bring Upscale Bentos to Bishop Street
---
Eric Baranda's lunch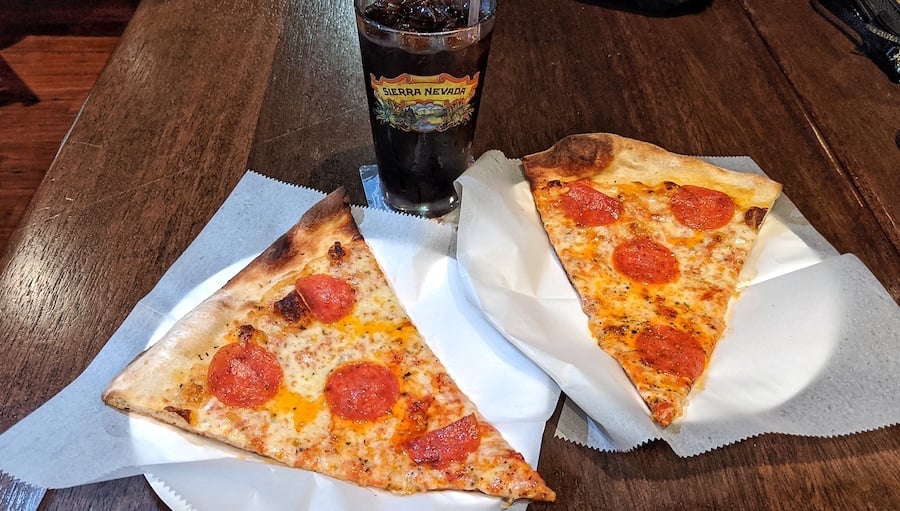 What: Pepperoni pizza and RC Cola
Where: J. Dolan's
Where's that: 1147 Bethel St., 537-4992
Price: $3.50 a slice for pepperoni pizza, $3 for RC Cola
What's in it:  Generous slices of thin-crust pizza topped with pepperoni and mozarella cheese. A crispy texture married to cheesy goodness. Hold the slice in one hand and fold it slightly so that it forms a U. This will give you the maximum munch of cheese, pepproni and crispy crust. Wash down with an old-school RC Cola for a sastisfying finish.
---
Thomas Obungen's lunch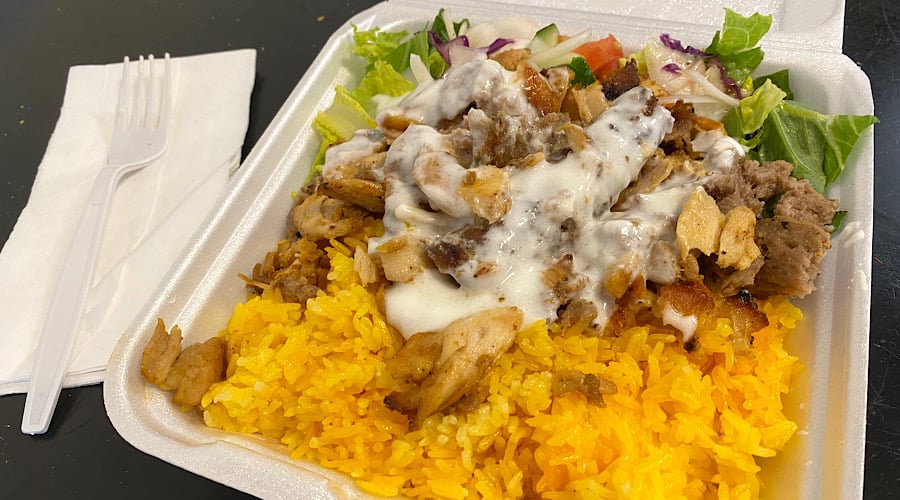 What: Doner rice plate
Where: Doner Shack
Where's that: 79 S. Pauahi St., 744-4784
Price: $9.75
What's in it: A bed of yellow-hued rice lays the foundation for a hefty lunch of spit-roasted chicken, beef and lamb. The streams of office workers, deliverymen and police officers that line up at this Downtown institution know it satisfies more than its price tag would suggest. My favorite parts are the crispy bits covered with the yogurt sauce. Kick it up a notch—ask the cashier for a tub of spicy sauce on the side.
---
Christi Young's lunch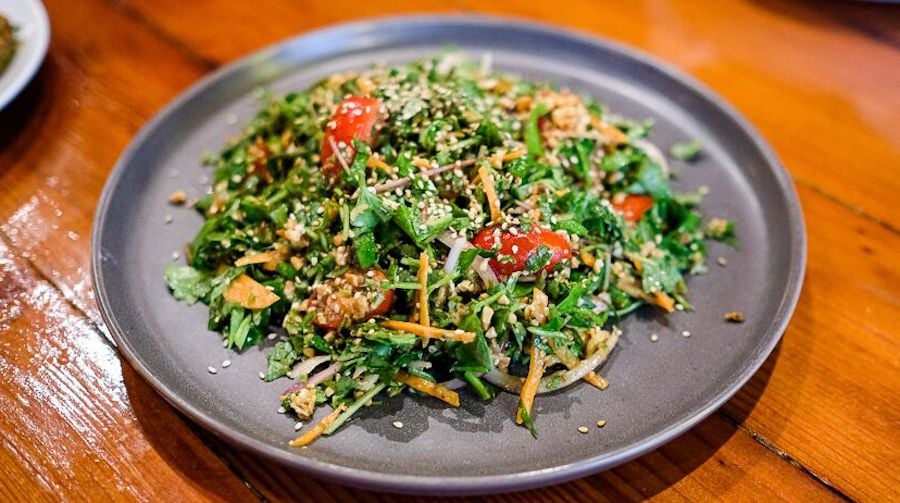 What: Pennywort salad
Where: Rangoon Burmese Kitchen
Where's that: 1131 Nu'uanu Ave., 367-0645
Price: $10
What's in it: Tender, fresh pennywort leaves tossed with slivers of onion and carrot in a nutty, tangy sesame dressing. The generous portion is for sharing but makes for a satisfying yet light lunch.
---
SEE ALSO: Best Downtown Power Salads: Our Top 5 
---
Kelli Shiroma's lunch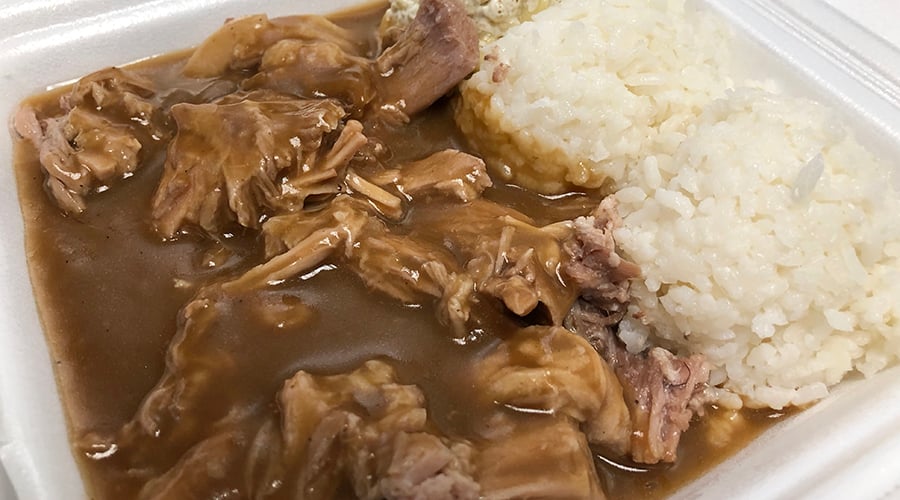 What: Roast pork plate lunch
Where: Tsukenjo
Where's that: 1148 Bishop St., 597-8151
Price: $9.50 regular (in photo), $7.50 mini
What's in it: The regular roast pork plate lunch is one of my faves because the roast pork is so tender and flavorful. Plus I can always save the leftovers for dinner. Other popular entrees include pastele stew, Korean chicken, house-made chili, hamburger steak and oven-baked chicken. Be sure to check out the daily specials. Regular plate lunches come with an entrée, two scoops of rice and your choice of mac or tossed salad; mini plates have an entrée, one scoop of rice and mac or tossed salad.
---
SEE ALSO: Attention, Downtown: Tsukenojo's Just Opened on Bishop Street
---
Gregg Hoshida's lunch
What: Chana masala lunch
Where: New Kamana Kitchen
Where's that: 1102 Bishop St., 537-5309
Price: $9.99
What's in it: Kamana Kitchen offers a selection of vegetarian mixed plates exploding with flavor and spices including aloo mattar, saag paneer and my favorite chana masala, a curried stew of chickpeas swimming in lusciousness. Each plate comes with yellow dal, achar, naan, basmati rice and green salad. When I eat in downtown this is always my first, second and last choice for lunch.
---
Tracy Chan's lunch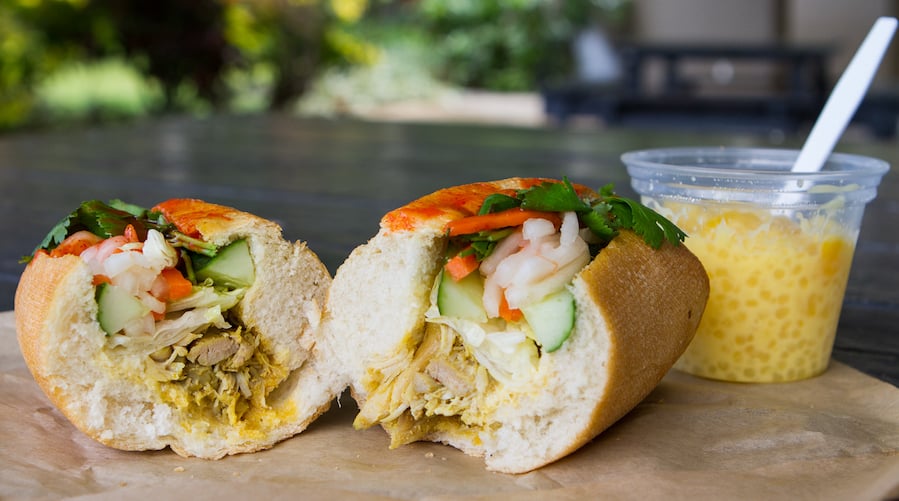 What: Lemongrass chicken banh mi and mango tapioca pudding
Where: Ba-Le Sandwich Shop inside Pacific Liquor & Grocery
Where's that: 1158 Fort Street Mall, 526-2896
Price: $6.50 banh mi, $2.50 pudding
What's in it: Savory, mouthwatering lemongrass chicken, Vietnamese pickled vegetables and cilantro (the spicy sauce is optional) inside a crispy-on-the-outside, fluffy-on-the-inside baguette that crunches when you bite in. The family-run convenience store is, despite its location, one of Downtown's best-kept secrets for cheap, delicious Ba-Le sandwiches that start at $6.
Tracy Chan's second lunch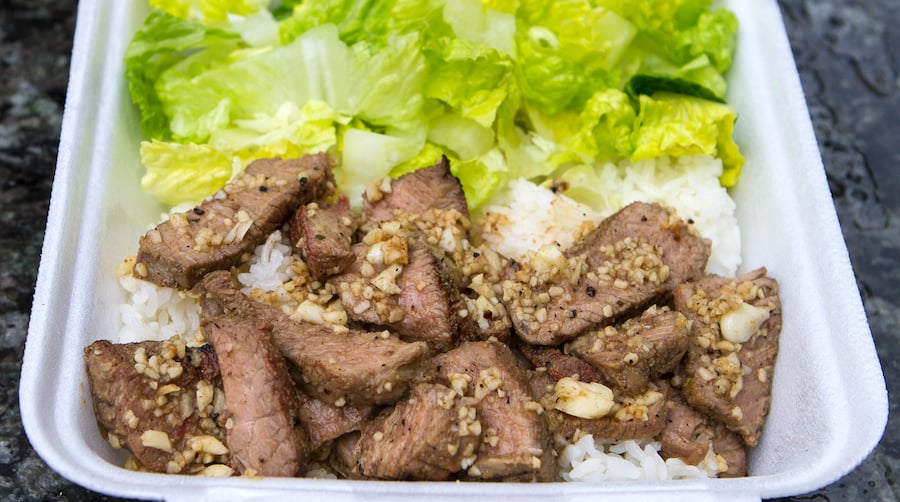 What: Garlic steak plate
Where: Alakea Steak
Where's that: 201 S. King St., 533-4666
Price: $8.63
What's in it: Your choice of mac or tossed salad, two scoops rice and a filling portion of juicy seasoned steak slices, generously topped with sauteed garlic and accompanied by a fresh salad. No frills, but so 'ono.
---
Erika Huang's lunches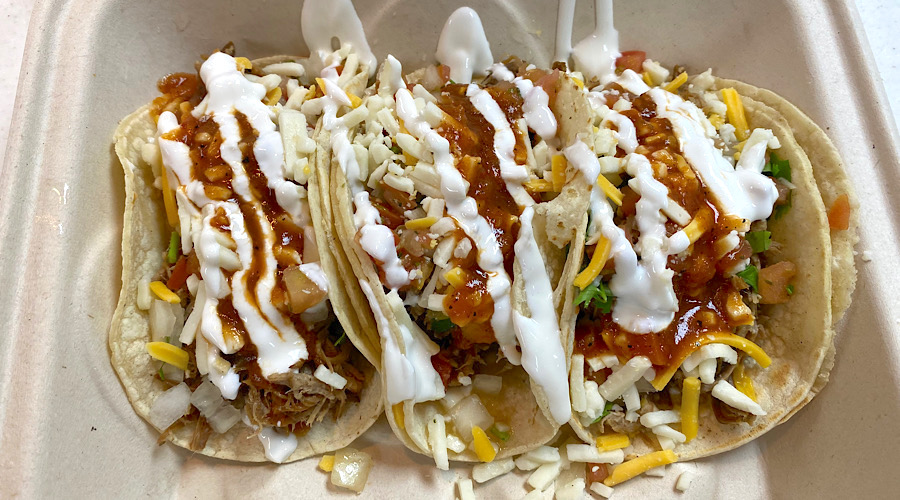 What: Three tacos
Where: BIC Tacos
Where's that: 841 Bishop St., 260-4040
Price: $8.99
What's in it: Your choice of meat includes carne asada beef, grilled chicken, house-made chorizo or roasted pork. BIC Tacos always has a rush during peak lunch hour so I try to go before or after that. They also have carne asada fries for $9.99 and a side of plain waffle fries for $5. I love it that carne asada comes with no extra charge, which is rare on O'ahu.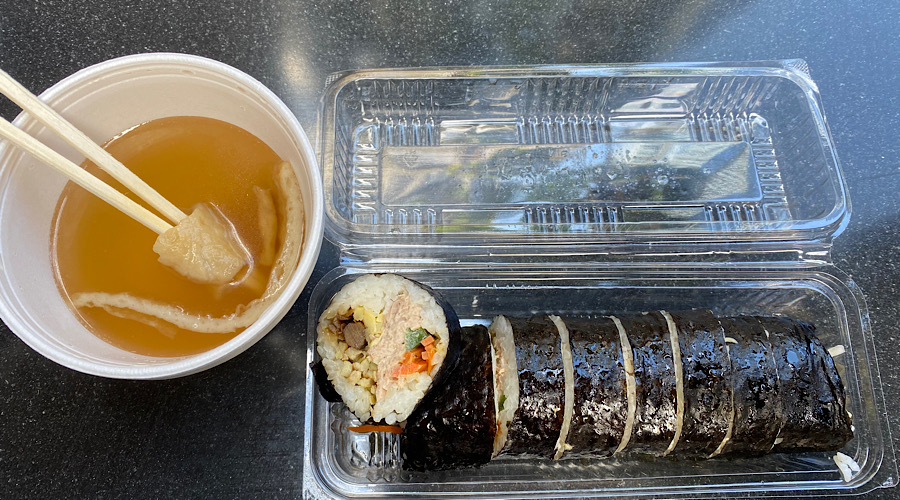 What: Kimbap
Where: Seoul Kimbap
Where's that: 1111 Bishop St Suite 4
Price: $5.90
What's in it: Korean sushi rolls here come with different fillings such as fried tofu, bulgogi, spicy pork and tuna. It also comes with a side of fish cake soup. These are on the counter for a quick grab-and-go lunch along with bibimbap bowls for $9.50 if you're after something more filling.
---
SEE ALSO: Seoul Delicious: Korean Sushi Shop Rolls Up in Downtown 
---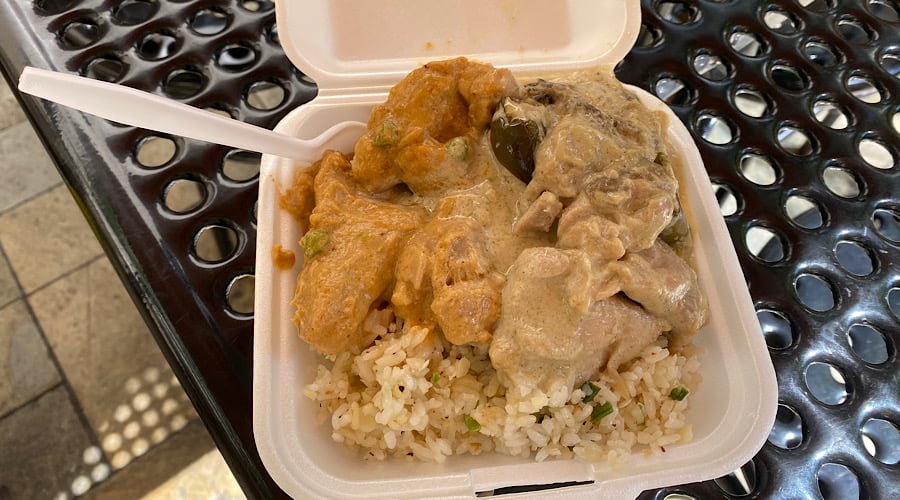 What: Mini plate
Where: MME Saigon
Where's that: 1111 Bishop St. , 534-4000
Price: $9.25
What's in it: Two side choices of Thai curries, eggplant tofu, garlic chicken or daily specials and two entree choices from garlic rice, pad thai or white and brown rice. This spot sells Thai and Vietnamese dishes including banh mi sandwiches for $8.25, but they sell out quickly so go early.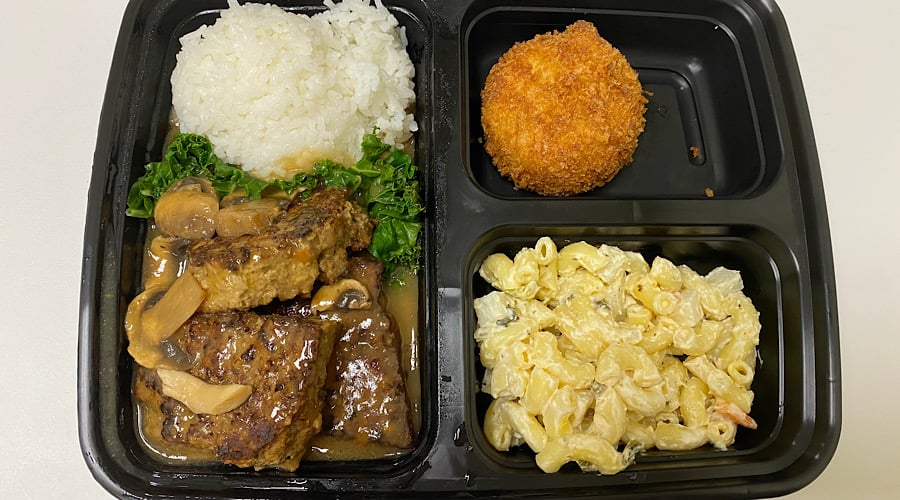 What: Seared meatloaf
Where: Gochi Grill
Where's that: 1111 Bishop St Suite 112, 585-8558
Price: $10.50 regular (in photo), $7.50 mini
What's in it: Meatloaf, side of rice, croquette, mac salad. Gochi Grill was No. 1 on my list of places to try when I first started interning in Downtown. I heard a lot about them through word of mouth. So I splurged an extra 50 cents on this meatloaf, one of my favorite go-to dishes, instead of opting for the $7.50 mini version, and I was not disappointed!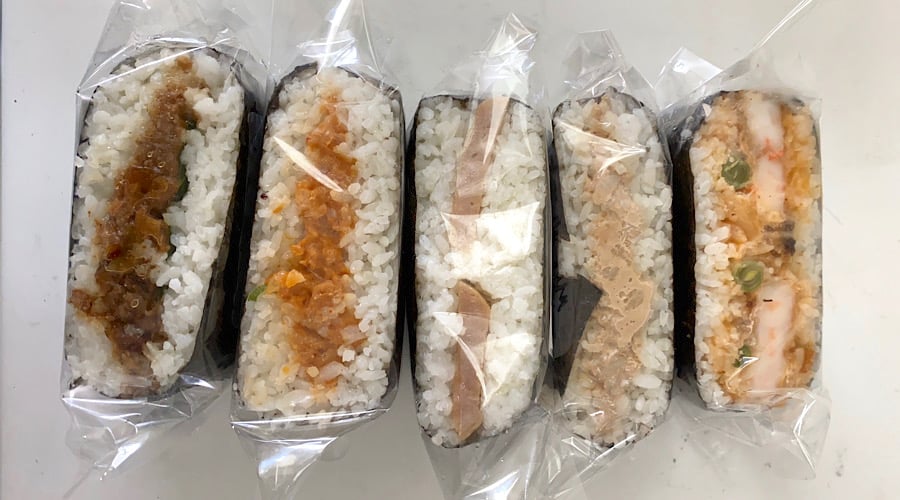 What: Musubis
Where: Ma'ona Musubi
Where's that: 921 Alakea St., 536-8009 , https://maonamusubi.com/
Price: $1.49 to $2.49
What's in it: You can choose about five musubis for under $10! Who could go wrong with fillings inside rice and nori? My favorites are classic Spam, tuna mayo and mayo shrimp. Also pictured are soboro pork and spicy tuna.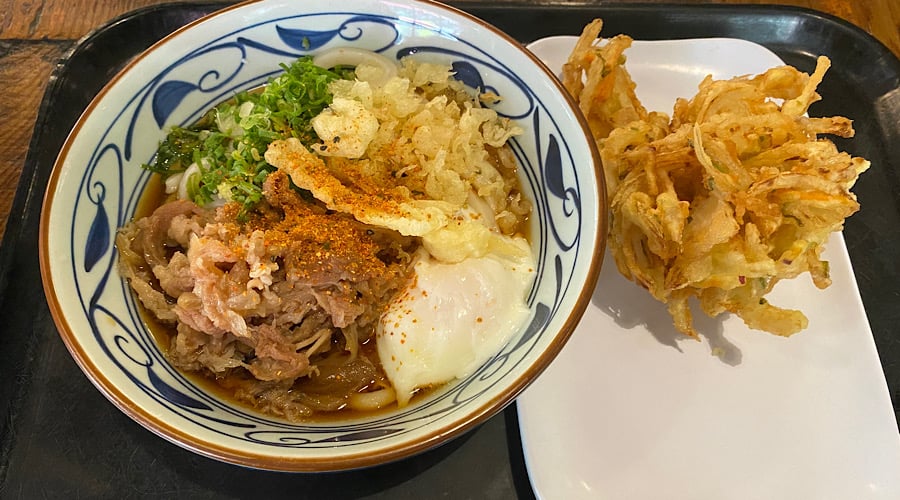 What: Nikutama udon and Onion Bomb
Where: Marukame Udon
Where's that: 1104 Fort Street Mall
Price: Nikutama (beef and egg) udon $6.80, Onion Bomb $1.80
What's in it: Sweet beef and a soft boiled egg udon with your choice of hot or cold bukkake broth. The Onion Bomb is actually made up of various root vegetables but mainly onions, of course. Marukame was go-to spot even before I started working in Downtown. Their prices are always amazing and the fresh udon that you can watch them make is so bouncy. The sweet beef bowl it reminds me of Japan's fast-food gyudon. They also have 10% off for students with student ID and a takeout window connected to the kitchen during the busy lunch hours.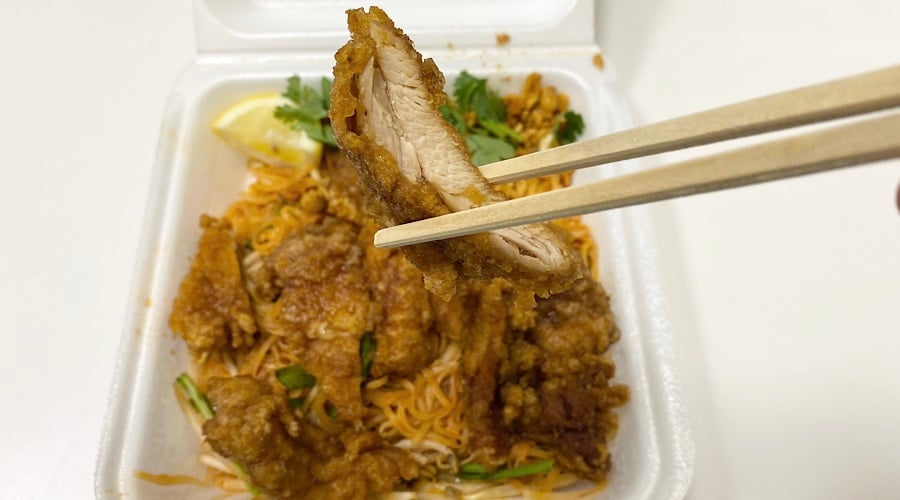 What: Pad Thai with garlic chicken
Where: Fort Street Cafe
Where's that: 1152 Fort Street Mall, 536-0455
Price: $8.25
What's in it: Pad Thai with their famous garlic chicken, which I also love getting with the Penang curry. Other choices to go with the noodles include beef and pork. Portions are so filling, I can eat their plates over two meals. They're open til 7 p.m. most days so it's convenient to go after work too.