Weird name, good grub: Grubus food truck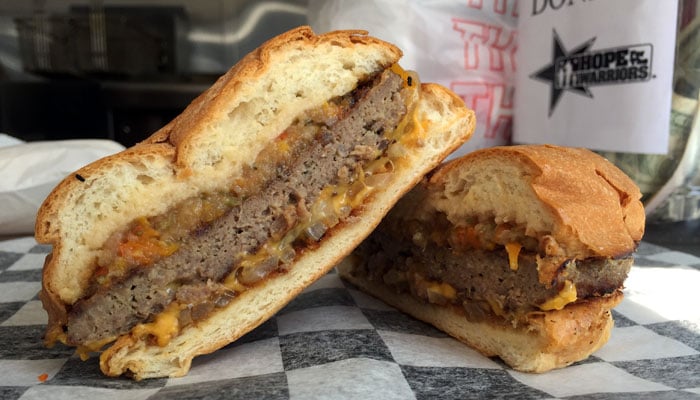 When I first heard of Grubus, I thought it sounded like some kind of disease. But after eating at this food truck, I'll be darned. If Grubus is some kind of epidemic, I've caught the bug.
Grubus — get it? like a bus with grub? — opened two months ago. Their specialty: Chicago fare served with a dash of aloha. The bright yellow-and-red colors make it easy to spot.
You can find Grubus parked on Koapaka Street in the industrial area by Keehi Lagoon on weekdays. Food-wise, that's pretty much in the middle of nowhere. There's no seating, so it's perfect for grab-and-go.
I initially go because I heard about their theme days (e.g. Shrimp Taco Tuesday), but they recently changed things up. Instead, these specials are now available daily. So you can get shrimp tacos any day of the week. No need wait for Taco Tuesday.
Oh yeah. Did I mention all these specials are only $6? Talk about dirt cheap. All items are made to order, but the wait time is short.
The menu has several categories: Chicago-style dogs, beef and sausage, chicken, burgers and sliders, burritos and bowls, and salads. Immediately disregard the salads. Let's be real, if you're stopping at this bus, salads will probably be the furthest from your mind.
I want a good variety, so I go for the highly recommended items in each category.
Since the homemade pineapple salsa is a signature item, I have to get something that includes it. For $7, the Hawaiian bus burger is a deal of a meal. The meaty patty is succulent, and the pineapple salsa has a sweet subtlety. I like how the salsa isn't spicy and leaves a lingering sweetness long after my burger is gone.
If you don't like pineapple, go for the popular Bus burger ($6). Every burger on the menu is made with Angus beef.
The Chicago Dog comes loaded with "the works" — mustard, relish, freshly chopped onions, tomatoes, kosher pickle, peppers and salt piled onto a steamed poppy seed bun. It sounds gigantic, but it's a pretty small wiener that tastes ordinary. One of the Grubus' owners is from the Windy City, and the Chicago dog reigns as the most popular order. Perhaps they were having an off day?
This Buffalo ranch chicken wrap is a refreshing choice if you want something that's tasty but not super meaty. I love the sauce — the grilled chicken bits are swimming in it — and the kick is mild. It's gone in about five minutes.
Yeah, you read that right. This option comes with four sliders instead of the usual three. Are they life-changing? No. Would I order them again? Absolutely. Seriously, where else can you get four sliders — with fries — for $6?! Great deal if you're starving.
By the way, almost everything on the menu comes with a side of crinkle-cut fries (exceptions: beef and sausage items).
Grubus just added burritos and bowls to their menu, giving customers a Chipotle-style option for just $8. Cheap food and good grub? Count me in. I'm always a sucker for good deals.
I'm not sure if it's a good or bad thing, but this bus stop is dangerously close to where I live.
Grubus
2835 Koapaka St.
465-5999
grubus.com