Wearing support for Japan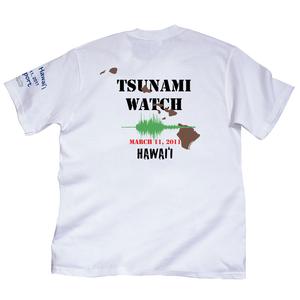 With the tragedy unfolding in Japan, many people in Hawaii are trying to help by gathering canned goods, raising money and volunteering to spread the word. Several clothing companies also wanted to pitch in and designed clothes with a cause.
Grp Home, an organization made up of Butigroove, Fitted Hawaii, In4mation and Barefoot League, created a concept during its recent bi-weekly meeting. Spokesperson Lanai Tabura said the organization knew that it was an opportunity for them to demonstrate the true meaning of aloha. In one day, Grp Home printed over 600 shirts to kick off its "Aloha for Japan" fundraiser.
"Our organization's logo of palaka represents us as being woven together," Tabura said. "Here in Hawaii, we are woven through culture, and it's important to know your roots of what aloha really means."
Longtime t-shirt company Crazy Shirts is also selling a special commemorative t-shirt to help the American Red Cross disaster relief fund.
Evan Lessler, owner and lead designer of the Bay Area-based Adapt Clothing, also felt the impact of recent events in Japan. He's in the midst of launching a new spring line, but he decided to create a design to help raise money for earthquake and tsunami victims. "The events that have occurred… are catastrophic and will have decades of repercussions for Japan," he said. "It's sad to watch the news and see the death toll rise and the general destruction that has taken place. I think what we have learned over the past few days is to never underestimate the generosity of people."
Lessler and the others hope to remind and teach the younger generation just how powerful things can be when people unite and work together.
"Aloha for Japan" T-shirts can be found at:
Fitted Hawaii
1438 Kona St.
808-942-3100
www.fittedhawaii.com
Butigroove
500 Piikoi St.
808-589-2884
www.shopbutigroove.com
In4mation – Ward Warehouse
1050 Ala Moana Blvd.
808-597-1447
www.in4mants.com
Barefoot League
880 Kapahulu Ave.
808-734-0200
www.barefootleague.com
The Crooks and Castle's Hawaii store has also created a Japan Relief t-shirt. Shirts are $36 and can only be purchased at the store or over the phone:
641 Keeaumoku St. Suite 1
Honolulu, HI, 96814
808-955-7007
www.crooksncastles.com
Adapt's Japan relief t-shirts can be found here.
Crazy Shirt's Tsunami 2011 T-shirts can be found here.