We want miso-tchup!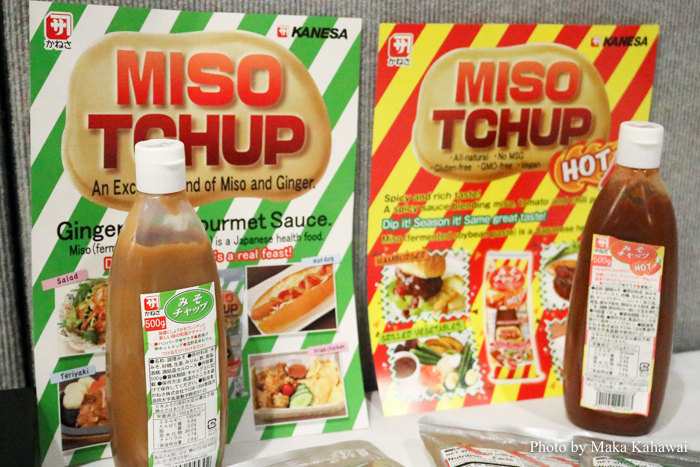 What the heck is miso-tchup? Until we attended the Japanese Food Trade Fair at the Japanese Cultural Center on a recent weekday, we didn't know either. Now that we do know, we. must. have. miso-tchup. Except it's not available in Hawaii.
Yet. That was the whole point of the fair: to introduce local shops and restaurants to the latest and greatest products coming out of Japan's food industry. Manufacturers came in the hope that some business would order their items to serve or sell to customers.
Of the ton of different foods we sampled, here are three products we definitely want to see here in Hawaii soon.
Miso-tchup
We know ketchup and we know miso. But what is miso-tchup?
We found out when we were handed a cucumber sushi roll to dip. We kept coming back for more: Miso-tchup turns out to be an umami-rich condiment with rich miso flavor and a hint of ginger. Chuggy preferred the hot version, while Maka loved the original flavor.
According to a company representative, just like ketchup, miso-tchup can be used as a salad dressing, marinade or topping.
Spicy tuna sticks
These individually wrapped sticks of delicious spicy tuna (previously frozen) would make sushi night a breeze. We tried spicy ahi and salmon. The ahi was much better seasoned and had a generous helping of spice.
Black sugar kinako mochi
We loved this extra-soft black sugar mochi coated in kinako. Think boba, but in a mochi form that melts away after each bite. The earthy, nutty kinako powder provided a balance to the sweetness of the dark sugar.
Those were our favorite bites from the Japanese Food Trade Fair. Now, cross your fingers and say it with us: We want miso-tchup!