We Tried It: My Treehouse Club in Kakaʻako
From fitness to Japanese language, there's plenty to explore at My Treehouse Club.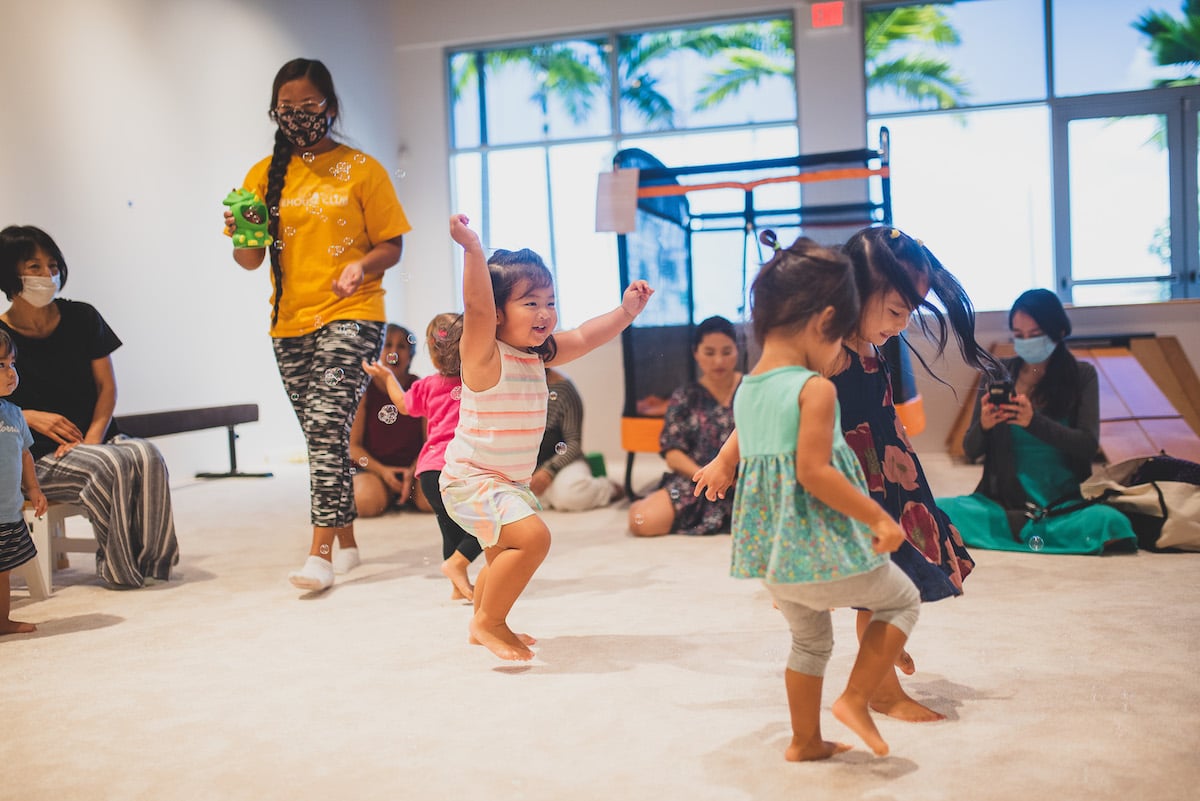 When we saw pictures on My Treehouse Club's Instagram of its newly opened space on 600 Ala Moana Boulevard, I was intrigued. It offered everything from fitness classes, open play on fun equipment, Japanese language class and preschool prep. There are birthday party packages, tutoring options, babysitting services, study clubs and—amazing!—parents' night out events where you can drop off the kids at the facility for date night.
---
SEE ALSO: 🧪 We Tried It: MadSci Lab at Ala Moana Center
---
We were thrilled to get an invite from owner Mina Akamu for an open play time slot on Friday at 3 p.m. She was the director of MyGym in ʻĀina Haina, which closed last year due to COVID-19 hardships, along with the Kailua location. She's been running My Treehouse Club online as virtual Japanese, preschool prep and art class, but it had always been her dream to open an in-person learning center.
Many of the equipment here is actually from MyGym, but My Treehouse Club has a calmer, minimalist vibe with a white and beige clean color palette. I loved how the floor-to-ceiling windows by the entrance let in plenty of natural light. Two wooden beams support two swings. There are two main play structures – the larger one has a blue slide, a climbing equipment, steps and a long plank to balance and walk across. Landing mats and soft carpets make the space feel extra keiki-safe. The smaller one has steps, a smaller plank and climbing rungs. Across the way, there's a small and colorful rock climbing wall. There's a clean bathroom in the back and another room for Akamu's language classes. We were the only family for the slot, so we had the space all to ourselves.
View this post on Instagram
My 5-year-old daughter Anna went straight for the swings while my 3-year-old son Noah started jumping on the trampoline. Both of them attempted the rock climbing wall and got stuck halfway, so we had to help them down. Akamu brought out colorful balls which my two kids tossed around for a while and then threw into the trampoline pit. She even turned on a bubble machine, to the delight of both my kids. We spent nearly 45 minutes there and the kids didn't get tired of playing and did not want to leave. I eventually had to coax them out in order to allow the next few families who were waiting to play for the next time slot at 4 p.m.
Right now, Akamu shares that she's offering free trial signups where you can try out a class for free and if you enroll the day of, you can get your yearly membership for half off at $40 instead of the regular $80. Membership to the club gives you access to tuition-based classes, priority enrollment, discounted event prices, free membership events and credits for open play that you can give to friends. The monthly tuition for the classes ranges from $160 to $200, depending on the class, and online classes range from $75 to $150 a month. Akamu says there are still plenty of people who are joining her online for the convenience of learning from home.
Our 5 Tips
Adults need to wear socks; kids go barefoot inside. There's also a waiting area by the entrance if you prefer to wait there.
Parking is easy to find—and free! When you turn into South Street, there's a separate parking lot on your first right. You can park at any of the five stalls on the immediate left that are designated for My Treehouse Club parking or any of the three covered parking stalls to the left of the garage.
Check out the upcoming Father's Day virtual party on Saturday, June 11 from 9 a.m. Keiki can do arts and crafts with Dad, play games and listen to storytime. You can sign up online at mytreehouseclub808.com and use the code fathersday—it's free for both members and nonmembers.
For the best way to stay updated on events, announcements and discounts, check out their Instagram at @mytreeclubhouse.
Open play and parents night out are available for non-members, too.
All tuition-based classes are for members only. It's $80 per family for lifetime membership. My Treehouse Club, 600 Ala Moana Blvd., #5A, Honolulu, (808) 585-0508, mytreehouseclub808.com, @mytreehouseclub.