We Tried It: MadSci Lab at Ala Moana Center
Make slime, learn to code and print a 3D creation at this community science discovery space at the O'ahu mall.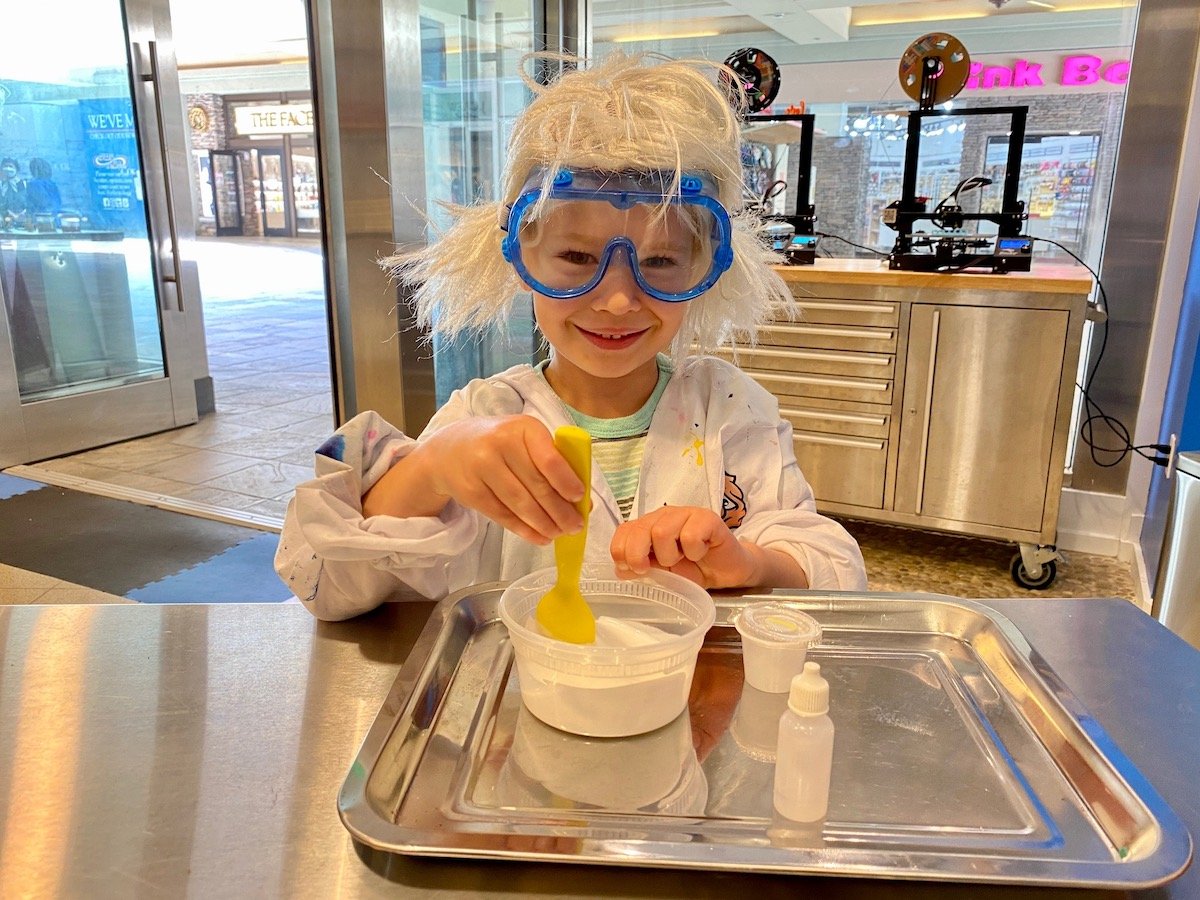 Thanks to my 5-year-old son's obsession with science projects and slime, I had heard about MadSci Lab when they were located at Windward Mall and Pearlridge Center, but never visited. Now that they have moved closer to us at Ala Moana Center in the Target wing, Duke was thrilled to check it out, and I was thrilled for him to make a mess somewhere other than my kitchen counter.
At the lab, keiki can channel their inner Albert Einstein, complete with mad scientist costumes. Duke didn't hesitate to pull on the frizzy white wig, protective googles and lab coat to play the part. The most age-appropriate activities for young ones like Duke, are making slime ($15), playing with playdough ($5 for 30 min) or building with LEGO blocks ($5 for 30 min).
Older kids can sign up for a one-hour scratch coding class ($25), Minecraft Code 'N' Play ($20) or a PC gaming session of Minecraft or Roblox ($15 for 30 minutes). They can also work together with lab staff to design and print a 3D creation (cost varies based on time and materials used). Board games, including Dungeons & Dragons, are also available for free play.
No surprise, Duke chose to concoct slime. A young, friendly lab worker assembled all the supplies he would need and assisted him through the process. I was able to sit-down, take photos and keep my hands clean (woohoo!). I guess this was a benefit of being the only visitors there at the time!
Duke was immersed in the slime making process and took the job seriously, from choosing the color base, selecting a glitter add-in, and stirring with care. He even got to pick a scent from a huge list of kid-favorites, including cotton candy, bubble gum and chocolate. Duke's favorite part was selecting mix-ins from the extensive charm bar, including beads, confetti and foam squishables, to customize his blend.
---
SEE ALSO: 🧗🏽 We Tried It: Indoor Rock Climbing at HiClimb in Kaka'ako
---
When he was finished with his slime, Duke didn't want to leave the lab, so we stayed to play a jumbo Connect 4 game before heading out. Afterwards, we stopped at the jungle gym outside of Target where Duke proudly showed-off his slime to all his newly made friends and made sure they smelled the sweet bubble gum aroma.
Our 5 Tips
Negotiate a reward. Need to get some errands done at the mall with kids in tow? Use a visit to the lab as the end reward for being cooperative.
Plan a birthday party. Leave the planning and the party mess to the experts at the lab! Choose from a slime making party (from $400) or Minecraft/Roblox coding party (from $200).
Buy a gift. Make sure to check out the retail section which is stocked with science-y DIY kits, activity books and crafts that you can't find next door at Target.
Make a Nerf accessory. As partners of the gaming space, Pups of War Arena, also at Ala Moana Center, the lab can help your keiki design and print a 3-D Nerf accessory to customize their Nerf blaster.
Follow @madscilab808. Become a follower on Instagram to stay up to date on the latest classes, camps and workshops, including holiday activities like the recent Easter Photo Scavenger Hunt the lab hosted.
MadSci Lab is open Monday to Thursday from 11 a.m. to 7 p.m., Friday and Saturday from 10 a.m. to 8 p.m., and Sunday from 11 a.m. to 6 p.m. Reservations required for the classes only. 1450 Ala Moana Blvd. #2310, Ala Moana Center. (808) 913-3037. madscilab808.com, @madscilab808