We Tried It: Kids City Hawaiʻi in Kapolei
From ball pit safety to nursing your baby, here are six things to know about this indoor playground for keiki.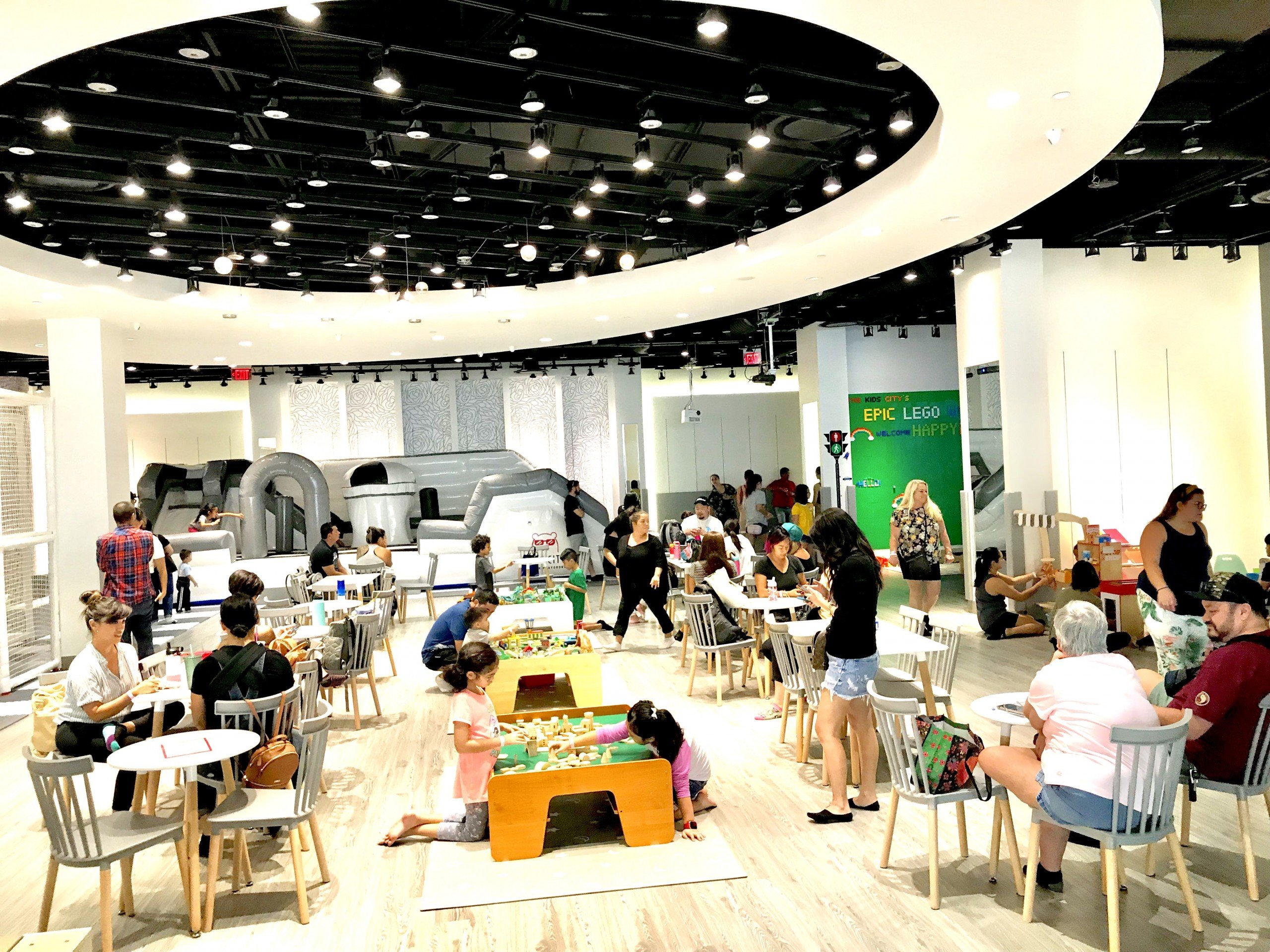 An indoor play space opened Dec. 21 in the Ka Makana Aliʻi shopping center in Kapolei. It's called Kids City, and it's the brainchild of Minko Goeun Cabuyao, a mother who got inspired by posh playgrounds she saw in Asia.
Located in the Macy's wing of the mall, Kids City has multiple play areas for children ages infant to 13. The place is immaculate. You'll see workers there consistently vacuuming floors, wiping surfaces and returning items to their place. In the back of the main room is an inflatable castle for big kids and a playroom for babies and toddlers. There also is a playground with netting and tubes, a Lego wall, costume corner and the largest keiki-sized kitchen we've ever seen on O'ahu.
What drew our children, however, was the interactive video-game wall adjacent to the main ball pit. There, little gamers can challenge one another to virtual duels—while immersed in a sea of plastic balls.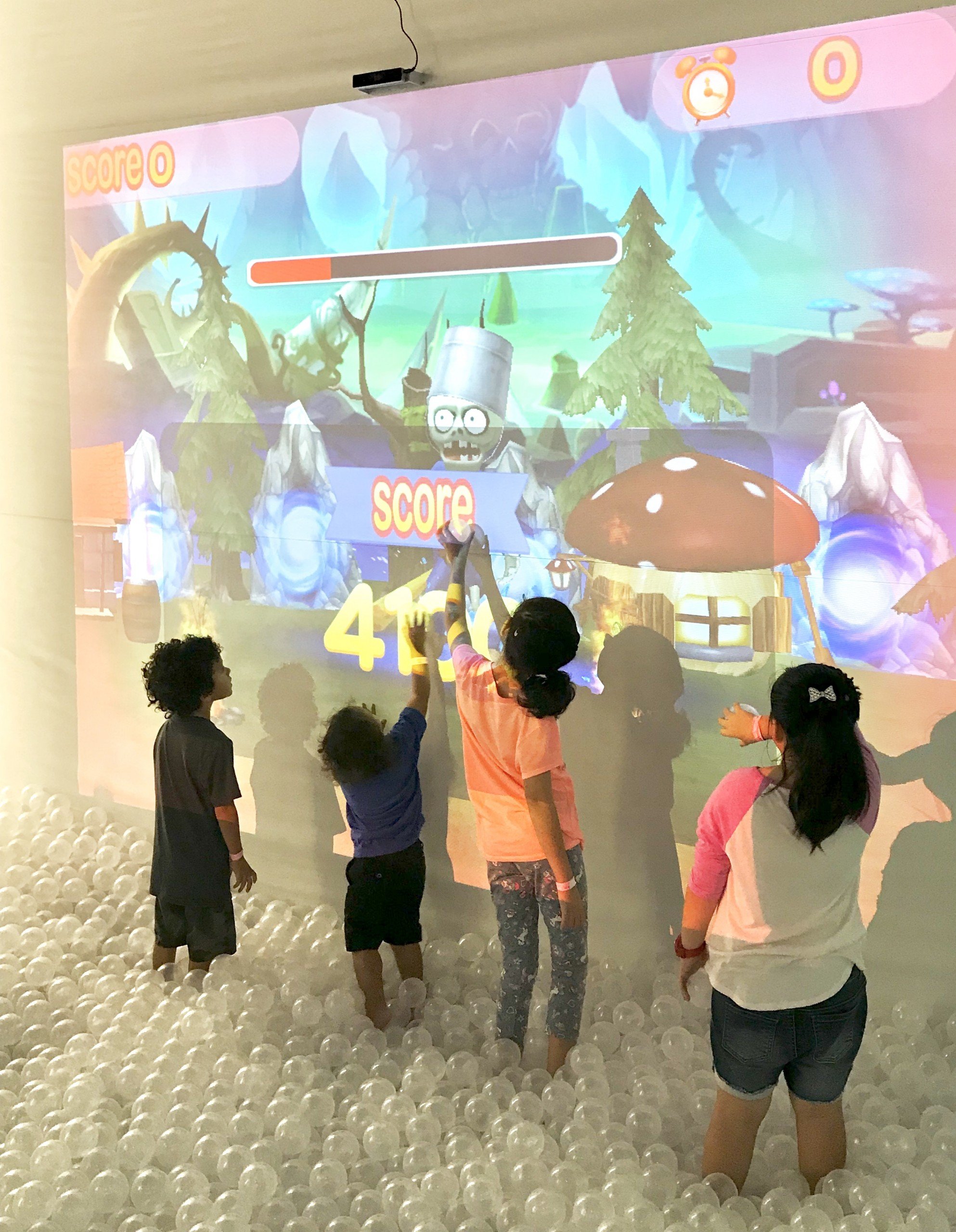 Here are six things to know before you go:
1. Allow 10 minutes to check in. Before entering the play space, you must sign an electronic waiver on a tablet at the front desk. Then you pay the entrance fee with cash or card (see pricing below) and receive a paper wristband marked with the date and time you arrived. All adults and kids in the play area must wear wristbands.
2. Wear slip-off shoes (and socks for grownups). Kids City is firm about its footwear policy—to keep keiki safe and the floors clean. Children must go bare feet. Adults must wear socks. If you forget yours, a brand-new pair costs $2 at the front desk. After you pay the entrance fee, you receive a numbered key for an assigned locker for shoes and belongings. Expect to hand over your key to a friendly staff member before entering the main gate. When we asked why, she told our party (with a huge smile!), "Because people lose their keys."
3. Leave open cups outside. Diaper bags, purses and water containers are allowed in the play space, but please leave outside drinks and coffee cups at the entrance.
4. Stay close to your keiki. On the Friday morning that we visited, we estimated 60% of the adults sat in the lounge, resting while their kids explored. The other 40% stayed close to their children or played with them. Keep in mind that the space is designed for keiki of all ages, so smaller kids may need help getting their turn or avoiding run-ins.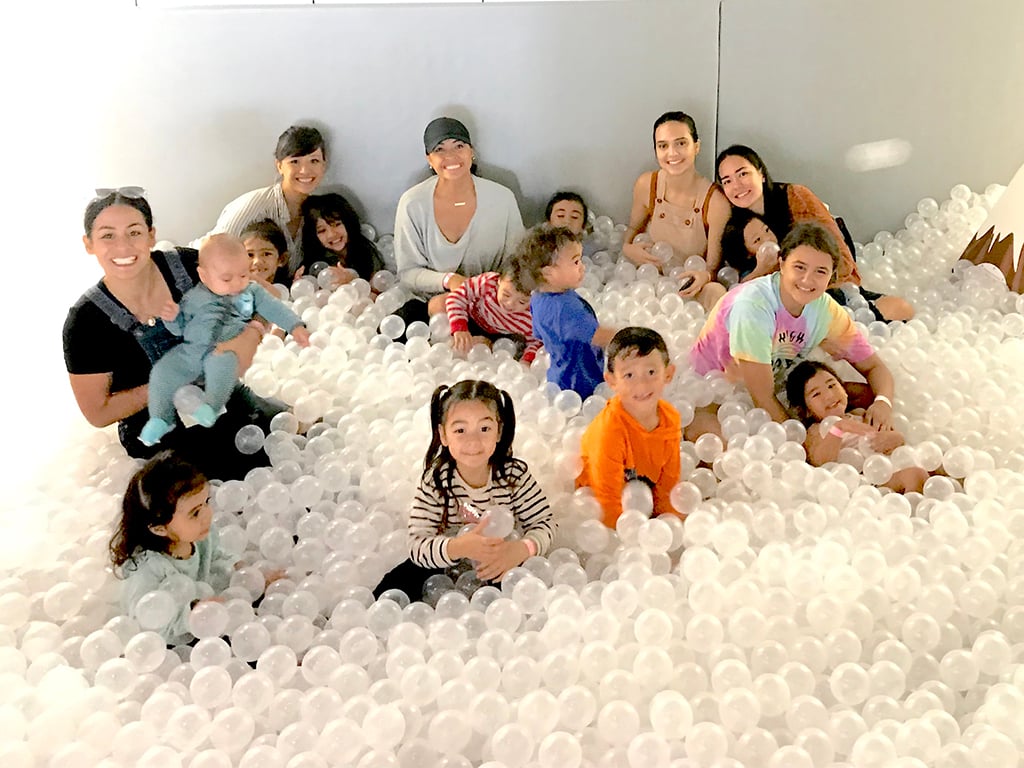 You might want to monitor your children inside the two ball pits—particularly the main pit next to the inflatable castle. We witnessed minor injuries in this area. One toddler needed a bandage after scratching her foot inside the mini ball pit for babies. An older child tumbled down the air castle's slide and collided with a preschooler who was inside the main ball pit. Then another girl slipped on a ball and landed on her pinky. Nothing broke, but she had a small sprain over the weekend. To teach kids how to walk inside the ball pits without getting hurt, remind them to "drag" their feet on the floor to avoid stepping (and rolling) on balls. That, and stay far, far away from the bottom of the slide.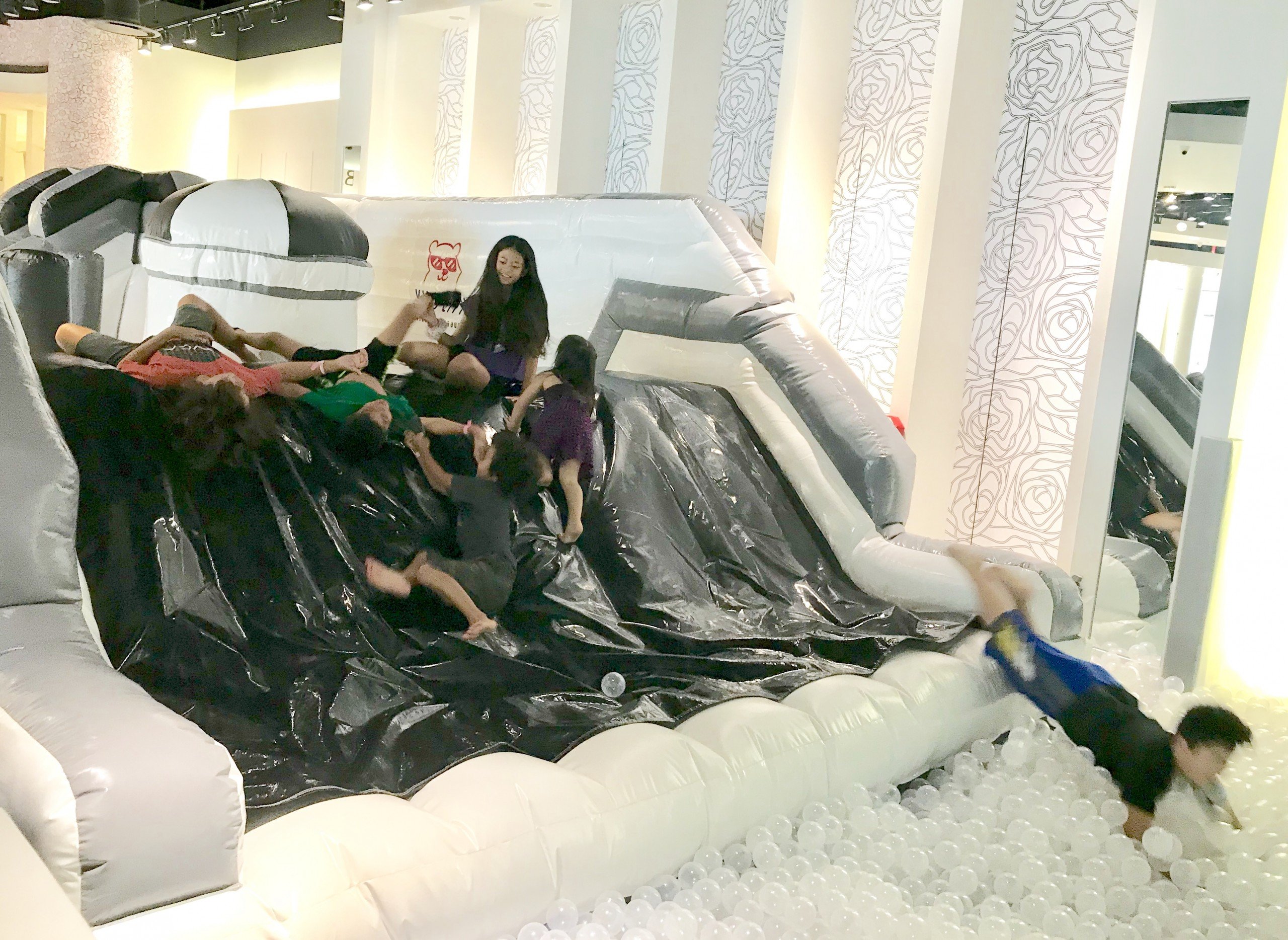 Kids jump from an inflatable slide into the ball pit.
5. Know where to go. We were thrilled to see nursing stations in the back of Kids City! Built like department store dressing rooms, each had its own lounge chair and privacy curtain. A sign on the wall reminds moms to limit their session to 30 minutes. Why didn't stores and restaurants have private nursing stations when our kids were babies? We hope this becomes a trend in Hawaiʻi (BIG HINT-HINT).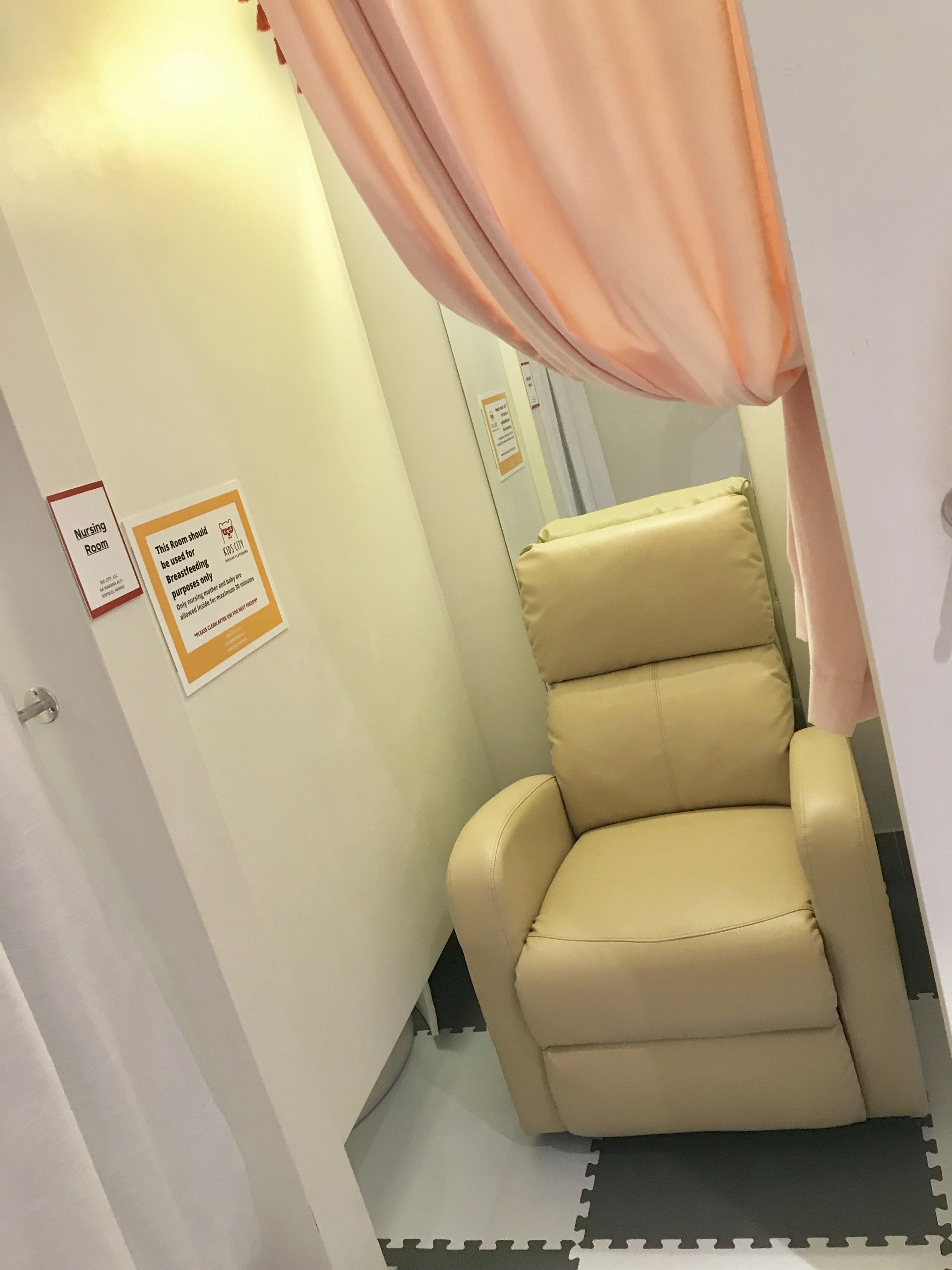 6. Know where your kids should go. Kids City does not have its own bathroom. The nearest restroom is across from the AT&T Wireless store in the Macy's wing, so visit there before going in for your two-plus hours of play time.
Bonus parent note: If your kids notice My Slime Playroom, which is adjacent to Kids City, you may be wrangled into spending time there, too.
---
Kids City is at Ka Makana Aliʻi in the Macy's wing. Daily entrance fee is $20 per child plus his/her supervising adult for two hours. Each additional hour is $10. Unlimited in-and-out is $35 per child and one adult. An additional adult accompanying a child is $5 each. Weekday membership is $120 per month. 95-5431 Kapolei Parkway, Kapolei, (808) 393-7909, kidscityhawaii.com.