We Tried It: Hawaiʻi-Made Sensory Subscription Kits
Keep keiki's hands busy with soft and squishy surprises, cool crafts and superpowered STEM projects—all created by O'ahu moms.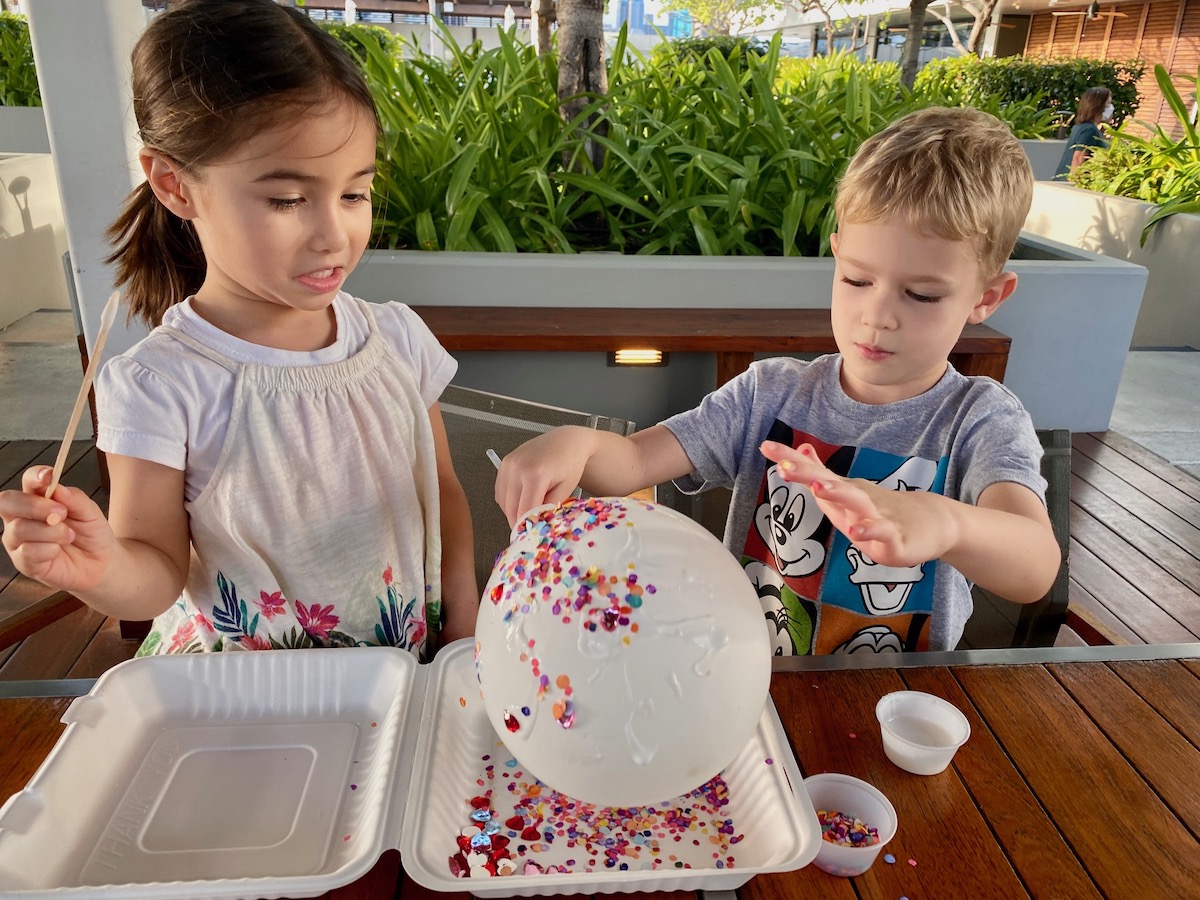 DIY craft kits and sensory boxes surged in popularity during the pandemic when families were stuck at home. They were definitely a lifesaver for us, too. Now even as more classes and activities have opened back up, the trend has held strong—and for good reason! We tested out three of these locally made sensory kits, all created by O'ahu moms, during an afternoon playdate with my 5-year-old son, Duke, and his 5-year-old friend, Sadie. Here's what we thought:
---
SEE ALSO: 🖼️ We Tried It: Self-Guided Tours at the Honolulu Museum of Art
---
Busy Keiki
So this one isn't technically a subscription, but the company offers holiday-themed play dough sensory kits that you can collect throughout the year. We tried the Valentine's Day unicorn kit which included two colors of play dough, a cookie cutter, pom poms, rings, mini unicorn figurines and a magic wand. Surprisingly, Duke had no problem with the girly theme and dug right in making a snake with his purple putty. His only balk was that his hands were sticky afterwards. Sadie loved the feathers and had fun hiding the rings inside her mound of pink dough. The kids stayed busy for about 30 minutes which gave us moms some much-needed time to catch up.
What we love: The homemade play dough is soft and smells better than the store-bought version. Plus, the kits now come in a cute organizer box which makes my type-A soul flutter.
Perfect for: Ages 3 to 7. If you have younger ones in the house, watch out for the small pieces.
$12; Purchase through Instagram at @busykeiki for pick-up on O'ahu or shipping for an additional fee.
Keiki & the Pineapple
Also themed around the holidays, these monthly activity kits include three projects for more fun and extended play. Our Valentine's Day themed kit consisted of a rice sensory bin, popsicle stick picture frame craft and confetti balloon decorating project. Of course, Duke and Sadie gravitated to the messy, rice activity first. With four hands squeezing and stirring in a Tupperware bin, you can imagine how much rice stayed inside and how much ended up on the floor! (See tip 2 below.) They calmed down though, and working as a team, meticulously glued rhinestone hearts onto the picture frame to create a cute memento from the playdate. Next-up: another messy one—decorating a confetti balloon. Although there was glue and confetti everywhere, I must say the balloon turned out adorable and served as a centerpiece on our dinner table for a week.
What we love: Giving off sustainable vibes, each kit includes a pre-owned book. It's always a surprise as to what title you will end up with! And thanks to K&P for providing all the supplies needed, even glue and an applicator stick, so I didn't have to prepare anything!
Perfect for: Ages 2 to 5. Heads-up: This is not an independent play kit, so plan to sit down with your child and work together on the projects.
$30 for a one-time box, $25/month for a monthly subscription. Purchase online and pick up at Keiki & the Pineapple (909 Kapiolani Blvd. Ste B, Honolulu). Shipping available for an additional fee. The shop is closing on May 22, but it will still offer its sensory boxes.
Superpower Academy
This monthly kit conceals STEM (science, technology, engineering and math) assignments under the guise of a superhero mission to help save the world. In each kit, kids work to earn a new superpower through projects, crafts and a comic book. Our kit focused on the superpower of flight. Sadie had to go home for dinner, but Duke and I followed the instructions to build three different glider models with the provided supplies. Next, we recorded how long each flew and how smooth the landings were in his secret booklet. The measuring tape and notes page were even included! By far our favorite of the three kits, the box also included ideas for additional extensions including art projects. Duke talked about the gliders all evening, and we ended the day reading the "Crash and Learn" comic as a bedtime story.
What we love: The Super Secret audio message choosing Duke as a Superpower Academy cadette to help save the world made the kit feel 'real' and relatable, especially to a non-reader like Duke who couldn't read the rest of the literature himself. The branding and design of the box and materials is top-notch.
Perfect for: Available in two age categories: 5-7 years old or 8-10 years old. At the low end of the age spectrum, Duke needed a lot of parental assistance, i.e. "Mom, help me!!"
$29.99 monthly, $89 for a 3-month prepaid subscription, $169 for a 6-month prepaid subscription or $325 for a 12-month prepaid subscription. Purchase online. Shipping is $2.99 per box.
---
SEE ALSO: 🤸‍♂️ We Tried It: Outdoor Parkour Class
---
Our 5 Tips
Buy one kit/box per kid. Sharing isn't caring when it comes to these activity boxes. The contents are designed for one child. Plus, you'll want to avoid any fights, tantrums or hitting, if possible.
Take it outside. Some of the projects are messier than others, so I'd recommend not risking it and setting up outdoors.
Save it for a rainy day. OK, ignore Tip 2 if it's raining, but seriously, these boxes are the perfect solution for a day stuck at home when you need to keep the kids busy. The challenge is hiding the box where it won't be found by your kiddo until that rainy day arrives!
Gift a subscription. Better than the jelly of the month club, these activity boxes are a gift that keep on giving. Ask the grandparents to gift a subscription for your child's next birthday or holiday.
Set a time to trash it. You know the feeling: your home is overflowing with random crafts, crushed coloring pages and crumbled cardboard creations. So, when is it OK to throw your child's work away? The monthly nature of these kits makes it easy to get rid of last month's projects when the next new kit arrives.