We Tried It: Outdoor Parkour Class
Ninja warriors-in-the-making learn to focus and channel their energy at an outdoor mobile gym on O'ahu.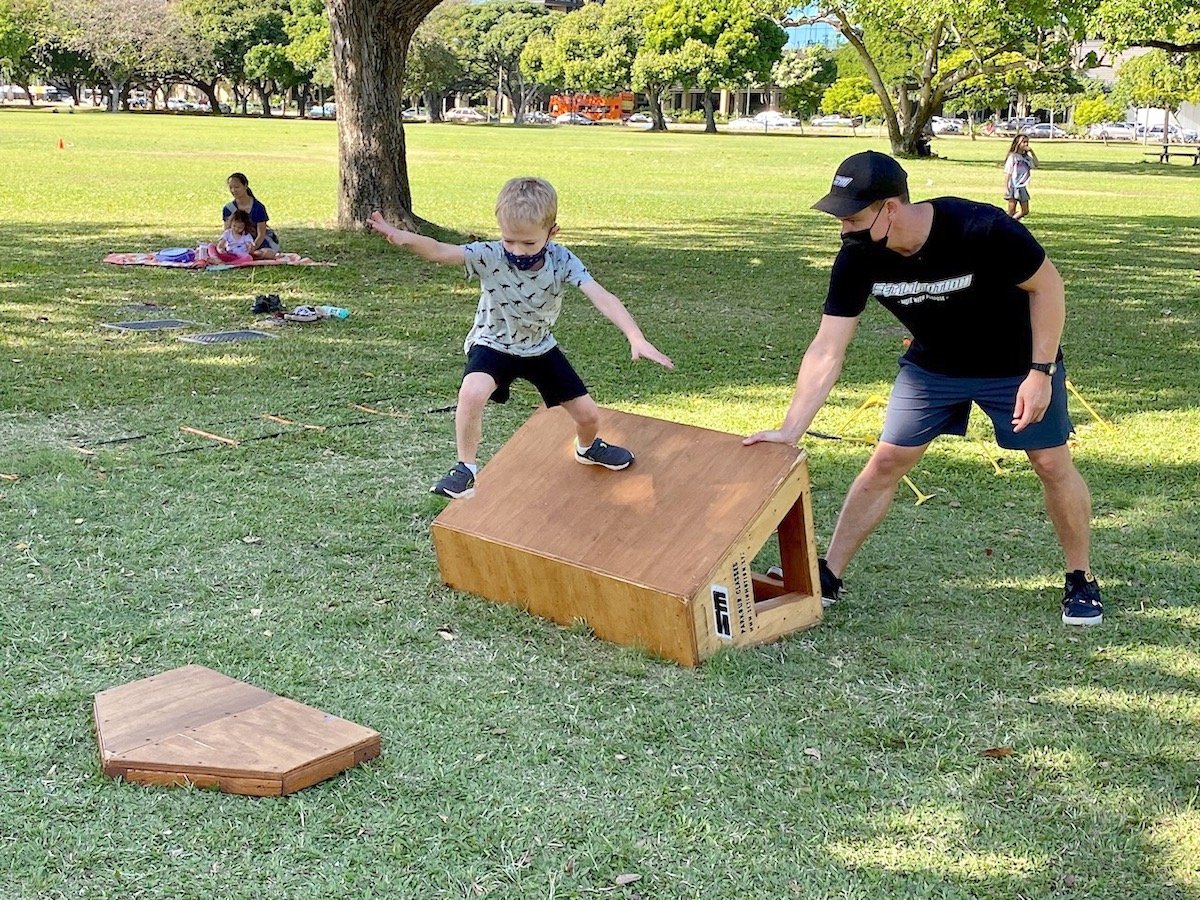 What: A 60-minute group parkour class tailored for kids
Who: 5-year-old, Duke, and his ninja clan
Where: Ala Moana Beach Park, Honolulu
When: Friday afternoon
So, you are probably wondering, what exactly is parkour? Don't worry, I had the same question. Technically it's the art of movement where athletes string moves together fluidly from point A to point B.
In Kids Speak, it is jumping, spinning and balancing through an obstacle course like a ninja.
In a desperate effort to get my 5-year-old son, Duke, to stop launching off his lofted bed and using our sofa as a jungle gym, I signed him up for a class with Set in Motion. Honestly, any activity where he can move his body and be outside is a good fit. Plus, a few of his friends were enrolled in the class, which made him feel comfortable trying something new.
We arrived at Ala Moana Beach Park on a Friday afternoon and had no trouble finding parking close to the class set-up. (Tip: The location of the class is just ʻewa of the L&L Hawaiian Barbecue fronting the parking lot for Magic Island.) I was so glad to see that the class equipment was positioned in the shade! After meeting coach Roland Turner and turning in a waiver form, I sat down to watch the action.
To kick off the class, Turner had the kids bring their hands together in a prayer position and said, "Ninjas, assemble!" That got Duke's attention! Then the group of nine boys and one girl started with some typical warm-up exercises and stretching. (Make sure your kids wear shoes and bring water.)
Next, the group was split in half and assigned to two stations with Turner and his assistant. First up for Duke were ladder runs and hurdles, which were easy and fun for the kids. Then the challenges became a little more difficult with rail balancing and vault jumping. The vault box (handmade by the coach) was taller than Duke! You see, part of parkour is mental and works on overcoming fears. Turner showed the kids how to jump to the top of the vault and encouraged each child to try. Although not all of the keiki made it up on the first attempt, it was great to see them go back over and over to try.
Before this experience, I thought parkour was all freestyle and loosey-goosey. Boy was I wrong! As I watched the class, I was so impressed with the safety, control, focus and discipline that the coach taught these kids. Case in point: Turner caught Duke being silly by touching the boy in front of him in line. He calmly asked Duke to step aside, get some water and rejoin the group when he was ready to respect his fellow athletes. (P.S. I wish our time-outs at home went that smoothly!)
SEE ALSO: We Tried It: Indoor Rock Climbing at HiClimb in Kaka'ako
After a round of sushi rolls (a.k.a. shoulder rolls) and core exercises called "banana position" on a rainbow-colored mat, the class ended with a game of Red Light Green Light. The experience was anything but boring, and Duke was entertained by the unique challenges and creative obstacles. I love that we found an outdoor class where we feel safe and comfortable—and where I can watch in the shade! You'll definitely see us there again.
Heads-up: If your child attends Waiʻalae Elementary Public Charter School or Kāneʻohe Elementary, look for parkour after-school programs exclusively for students at these schools.
SEE ALSO: We Tried It: Horseback Riding at North Shore Stables
Our 5 Tips
Bring a chair or blanket. There is plenty of space for parents to watch at a distance, so bring something to sit on and enjoy the show.
Fill out the waiver beforehand. We were running a little late to the class, so I was glad to have downloaded and filled-out the waiver in advance. Duke didn't miss a moment of the action.
Stay and play. The location in Ala Moana Beach Park right across the street from lifeguard tower 1D is prime for a post-parkour swim, picnic or game of soccer. Pack a picnic and make an afternoon of it.
Buy in bulk. If you purchase a 10-class pack with Set in Motion online, you'll get one class free (valid for three months). Plus, gift cards are available online in case tūtū wants to sponsor this new sport.
Book a birthday party. Perfect for an energetic group of kids on a sugar high after birthday cake, Set in Motion offers private group classes with rates starting at $155 for an hour.
Set in Motion classes are $20 per one-hour class held on Tuesdays and Fridays at Ala Moana Beach Park in Honolulu. Ages 5 to 7 at 3:15 p.m. and Ages 8 to 12 at 4:30 p.m. (808) 320-4224. setinmotion.xyz, @setinmotion.xyz