We Tried It: Farm Tour at 21 Degrees Estate
We visited this charming cacao farm on Windward O'ahu—and ate lots of chocolate.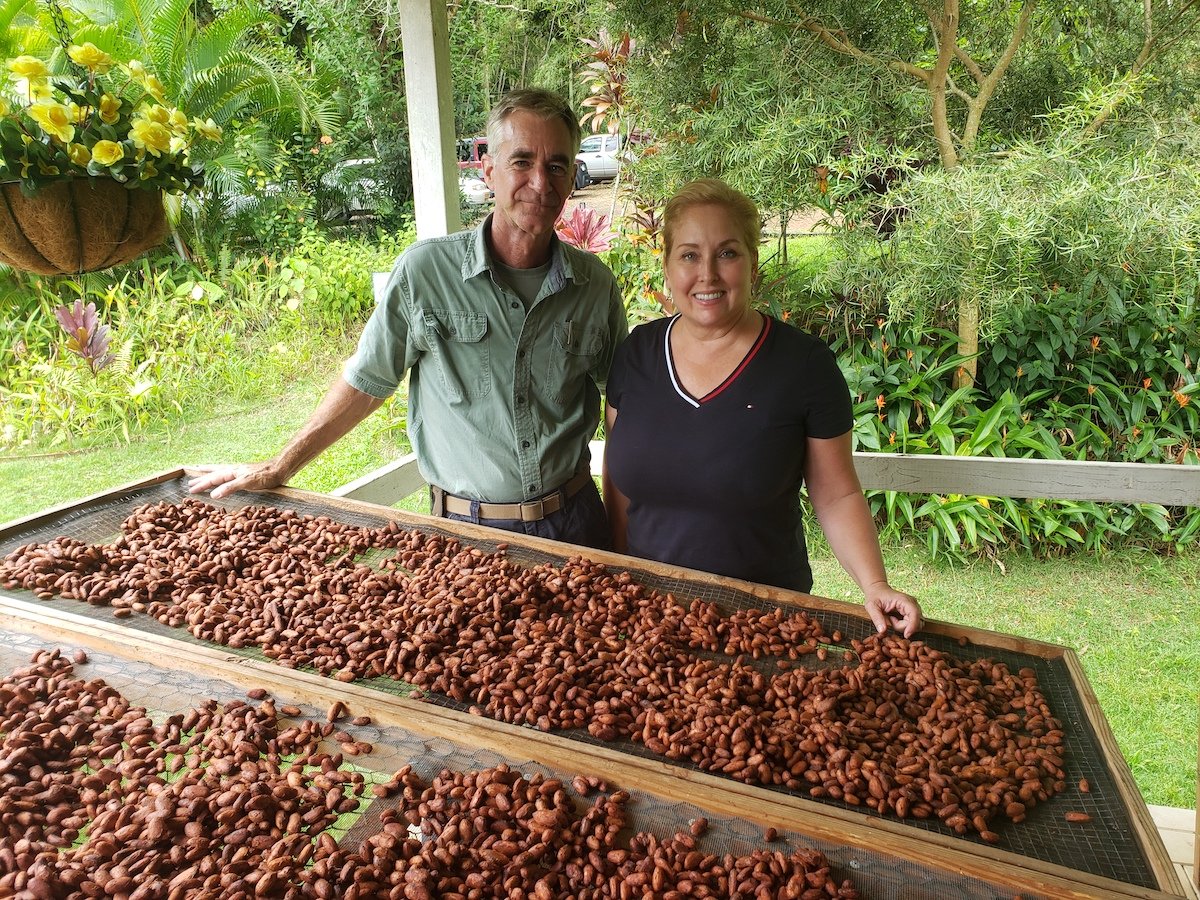 At the beginning of the 21 Degrees Estate tour, owner Michael Rogers made three promises. He said before the end of the tour visitors would have triple the cacao knowledge, a new understanding of chocolate tasting and a few bites of the best chocolate they've ever eaten. Not a bad way to spend a morning.
21 Degrees Estate is a family-owned cacao farm in Windward Oʻahu. A blue sign marks the estate's entrance off a residential street in Kahalu'u under the lush Ko'olau Mountains. On the morning I visited, about a dozen of us spent our time waiting for the tour to start by chatting and meeting a couple of very charming miniature goats.
The tour was led by owners Michael and Maria. Both are retired military servicemembers who purchased the property in 2014 after deciding to spend the next phase of their lives building and running a family farm. They quickly settled on cacao "I said, OK, here's my idea. Fun, interesting, unique, and not too labor intensive," Michael says. Maria adds, "If we're going to live in Hawaiʻi and be in a tropical environment, I want to grow something that's really unique to this place."
---
SEE ALSO: 🐎 We Tried It: Horseback Riding at North Shore Stables
---
Cacao grows best in humid tropical climates, and Hawaiʻi is the only state in the U.S. where it grows commercially. Oʻahu sits close to the northern limits of cacao's range at a latitude of 21 degrees, hence the estate's name.
The tour wended through the farm at a leisurely pace. We stopped first at the boxes where the family keeps bees that produce their award-winning Kahalu'u Gold honey. Michael pointed out kukui nut, banana, ti leaf, 'ōlena, and bamboo growing around the property. All are examples of canoe plants Polynesians brought with them on voyages across the Pacific. In addition to growing cacao and sharing knowledge through agritourism, Michael and Maria say they want to be good stewards of the land.
"At some point along the way we decided that truly is our third priority—caring for the land," Michael says. In the upper portion of their property, which is not used for cacao, they removed a plot of invasive albizia trees and planted the native acacia koa in its place.
When we ventured into the rows of cacao trees, Michael explained how to identify a ripe pod based on the fruit's vibrant yellow, green and red hues. Then he pulled out a pocketknife and cut one from the tree. He held it up to his ear, gave it a shake, and nodded in satisfaction as the seeds inside rattled about.
Minutes later we were all gathered under a small shelter and Michael cut the cacao pod open. Rain from a passing shower peppered the roof while we tasted the seeds, which were surrounded by a sweet sheath and had a nutty, earthy flavor.
View this post on Instagram
Then came the chocolate.
21 Degrees partners with local chocolatiers Mānoa Chocolate and Madre Chocolate to turn their cacao into chocolate bars. Maria encouraged us to slow down and take advantage of our senses when tasting each bit of chocolate. First look at the chocolate's texture, then smell it and finally let it melt in our mouth and allow the flavor to coat all of our taste buds. The first four pieces were from the estate's inclusion chocolates, which blend cacao with ingredients like Kona coffee, rose and cardamom. The last two were dark chocolate, just a blend of cacao and cane sugar. But the two pieces tasted different. Chocolate, like wine, is influenced by the region where it grows. Cacao from the same farm will even taste different depending on the season. The summer varietal we tried had hints of citrus, and the cacao harvested in fall carried notes of caramel.
After the tour I walk with Michael and Maria up to the cottage. Tables and chairs are arranged on the wraparound deck because the next night is one of the estate's farm-to-table dinners. A few times each year, they feature Hawaiʻi chefs who create delectable multicourse meals from local ingredients, including chocolate. We talk about the nascent chocolate industry in the islands and the growing demand.
"The demand for Hawai'i cacao far outstrips the supply. Locally that's true, but even worldwide," Maria says.
In the middle of our conversation a neighbor pulls up with a bundle of greens grown in his hydroponic beds. ("Look at how beautiful this is," Michael says excitedly as he shows off the verdant leaves.) Toward the end of our chat, we're joined by someone who volunteers on the farm regularly and is there for a few hours of afternoon labor.
The drop-ins, Michael and Maria's hospitality, the genuine desire to be good neighbors and stewards of the land—it all creates a relaxed and intimate atmosphere on the farm. Despite the demand for Hawaii cacao, Michael and Maria say they have little plans for expansion because they are focused more on quality than quantity. The estate's 700 trees are young and will produce about twice as many pods when they mature in five years, but there are no plans to plant more. "We don't seek to be the largest cacao farm, but the most charming," Maria says.
Our Tips:
The tour is about two hours long and packed with information, so very young kids may not have the attention span for it. Best for kids 8 and older, though children 2 and under are free.
The farm features wide-open spaces and mini goats and bunnies—great for kids of all ages.
There's more than cacao at this farm. Depending on the season, you may see lychee, ʻulu (breadfruit), ice cream banana, starfruit, mountain apple, mango and avocado trees.
Warn your kids: Eating a cacao pod is not like eating chocolate. Cacao has a juicy, sweet white pulp that have a complex melange of fruity-but-sour flavors. Cacao beans are a lot like cacao nibs only softer, nuttier—and some may say astringent and bitter. It won't taste like sweet chocolate candy—but definitely worth trying!
Cost is $60 for adults, $38 for kids 13 to 18, $18 for kids 3 to 12 and free for kid 2 and under. 47-546D Māpele Place, Kāneʻohe, (808) 778-0308, 21degreesestate.com