We found one-pound ribeye steak bowls in Waikiki
Savage Steaks has a small but meaty menu for curbside pickup or delivery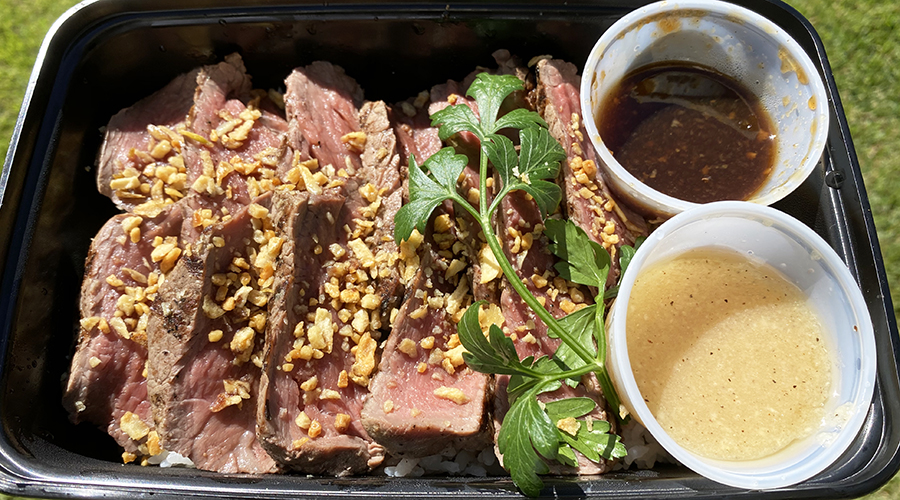 Taormina Sicilian Cuisine is known for its uni pasta, truffle carbonara and other high-end Italian fare. But what if I told you that it also sells a one-pound ribeye takeout bowl for $24.99?
Well, sort of. Taormina recently launched Savage Steaks, a virtual kitchen it bills as the 'home of the one pound steak bowl.' Taormina chefs cook the food and curbside pickup is in front of Taormina; the difference is that Savage Steaks is meat-centric, casual and 100% takeout or delivery.
The menu is small, but meaty (pun intended), with three bowls, a side and a few add-on options. Bowls come with rice, garlic chips and your choice of two sauces. With an invitation from the restaurant to taste, I check out two of the bowls.
The Alii Bowl, pictured above, comes with 8 ounces of tenderloin for $22.99. Mine, cooked medium rare, is ultra tender. I get the Savage barbecue and zesty garlic sauces and while I like the sweet, tangy barbecue, the ultra-garlicky one is my favorite. Since I'm working from home, who's going to complain?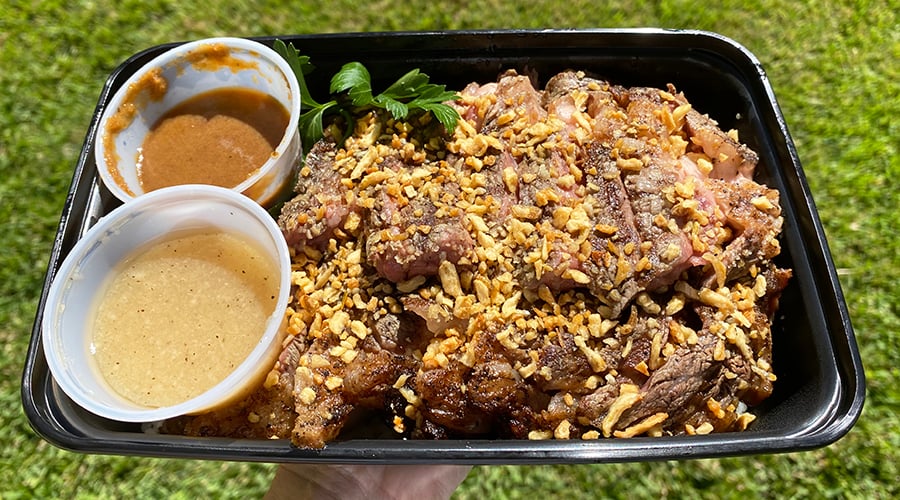 The one-pound Savage Bowl is the most popular. It's no surprise why — just look at its size and feel its weight! This is enough rib-eye for two people. But while flavorful, it's slightly tougher and chewier than the tenderloin.
Add on an onsen tamago egg for $1.50 if you want to make your takeout more luxe. It's the same poached egg that comes with Taormina's signature carbonara. I recommend keeping the egg on the side and using it as another dipping sauce: It makes each piece of meat more unctuous, and once your steak is gone, you can pour the leftover egg over the rice.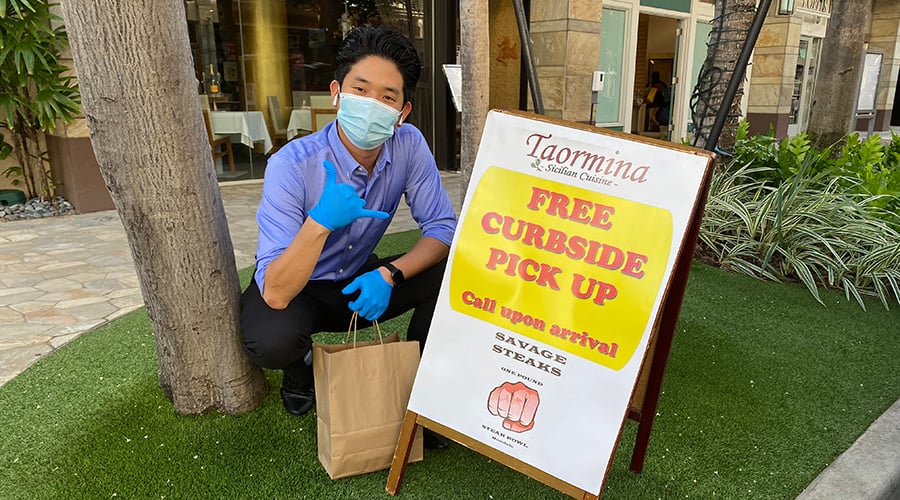 Order online via Savage Steaks' website for curbside pickup in front of Taormina and keep an eye out for this sign when you're on Lewers Street. You'll be asked to call 926-5050 when you get there. You can also get delivery via Uber Eats.
Savage Steaks
227 Lewers St.
Waikiki
926-5050
Daily 11 a.m.-8 p.m.
https://www.savagesteakswaikiki.com/
@savagesteaks_waikiki