We found Japanese-style souffle pancakes at a ramen shop
Goma Tei's breakfast menu is reason enough to start your weekend on a sweet note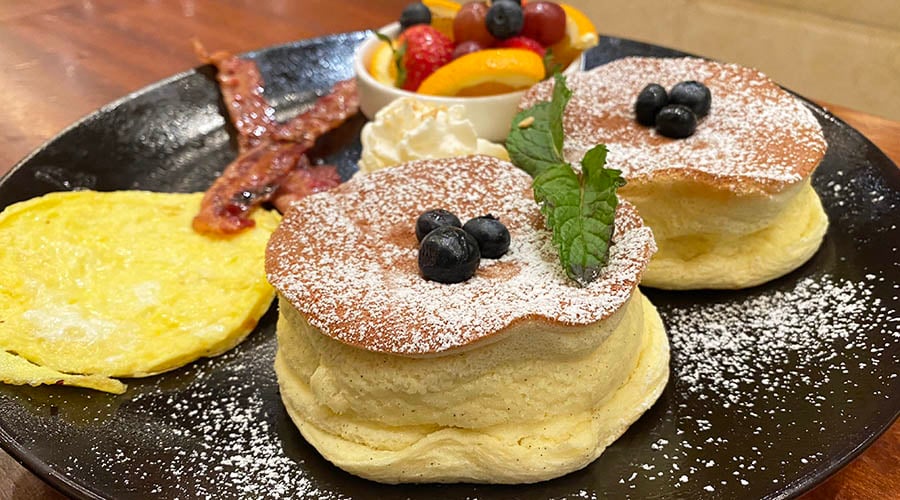 Goma Tei Ramen's weekend breakfast at Kahala is back in action. Although it debuted in July, it's still intriguing, not only because it's a ramen shop with breakfast, but rather the menu of souffle pancakes, spicy pork belly bao and more. These are what get me out of bed early on a Saturday morning.
See also: Market City's new Taiwanese cafe has fluffy souffle pancakes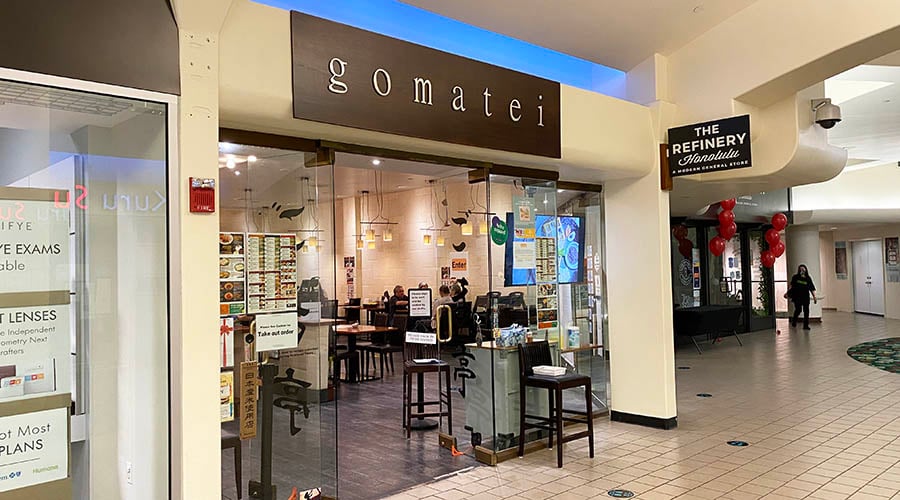 Goma Tei's Kahala branch is the lone location that serves breakfast from 7 to 10:30 a.m. on Saturdays and Sundays. Inside, a few tables are blocked off for social distancing, while counter seating is spaced out and doors are left open for increased air circulation.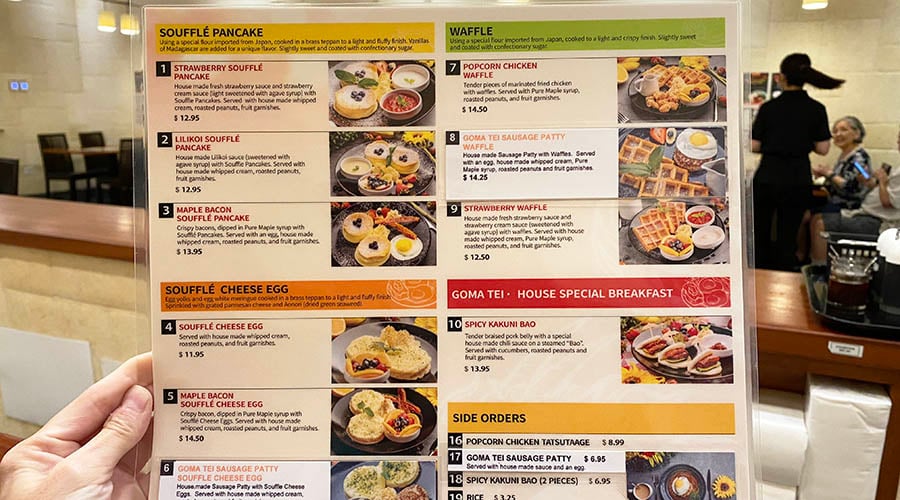 The pancake batter is made with flour imported from Japan and Madagascar vanilla. It's gently mixed with fluffy egg whites and carefully scooped out to cook slowly on a brass teppan griddle. These puffy pancakes arrive garnished with either strawberry, lilikoi or maple bacon toppings. Strawberry ($12.95), comes with fresh strawberry sauce and agave-sweetened strawberry cream sauce. Lilikoi ($12.95) features a sauce made from Maui lilikoi puree; its tartness complements the subtly sweet pancakes.
I recommend choosing one pancake flavor and ordering an additional sauce on the side for $1.95. For instance, if you order the lilikoi souffle pancakes, add on the strawberry and cream sauces a la carte. I end up with the maple bacon souffle pancakes ($13.95) and a side of lilikoi sauce.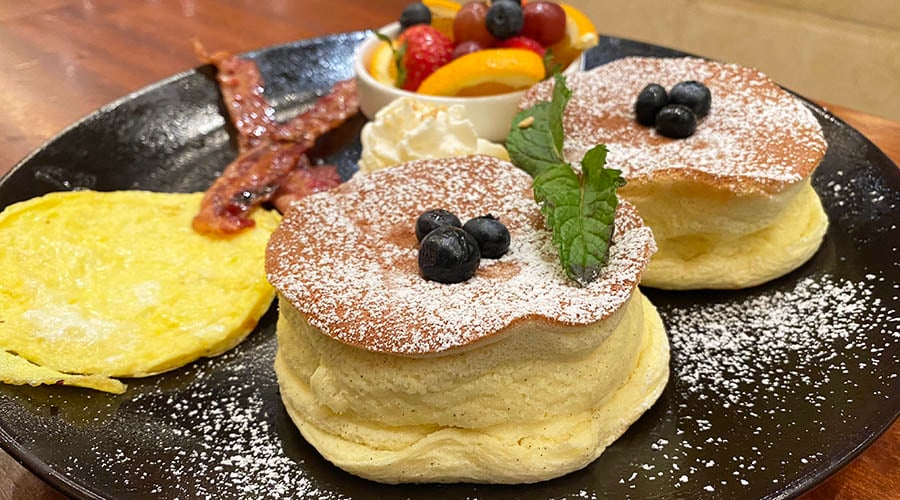 Maple bacon souffle pancakes come with an egg, fresh whipped cream, roasted peanuts, fruit and crispy bacon dipped in maple syrup. The egg is normally served over easy, but you can request it scrambled as I did.
See also: Our go-to: Ramen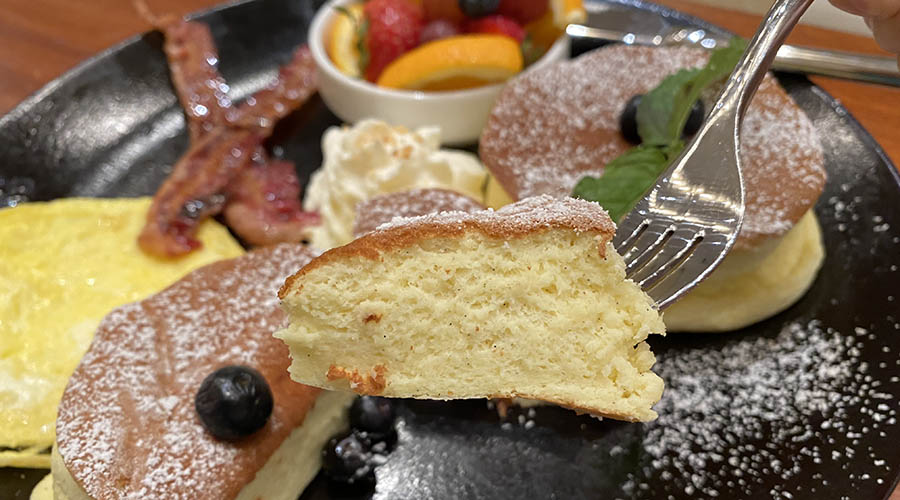 Airy and fluffy with just the right amount of sweetness, these heavenly clouds are unlike anything I've ever tasted. Our server says they should be eaten within the first 10 minutes of serving. Though after 20 minutes, I don't notice much difference.
I devour half a pancake before remembering the toppings. There's a reason these don't come with syrup — they're sweet enough on their own or just topped with whipped cream. Our server further advises alternating bites topped with whipped cream and others drizzled with lilikoi sauce. The result: A sweet-tangy one-two punch.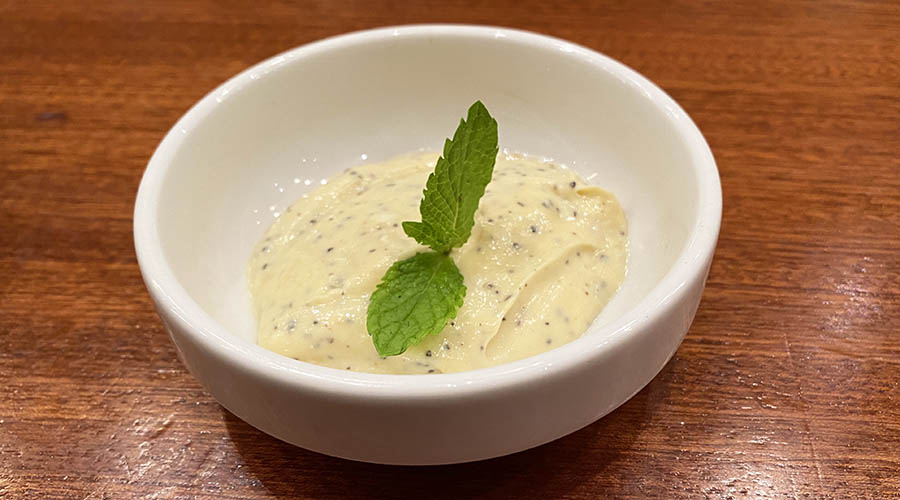 My taste buds yearn for a savory dish so we order two spicy kakuni bao ($6.95). The tender braised pork belly is served with cucumbers and roasted peanuts inside steamed bao buns, with a homemade chili sauce.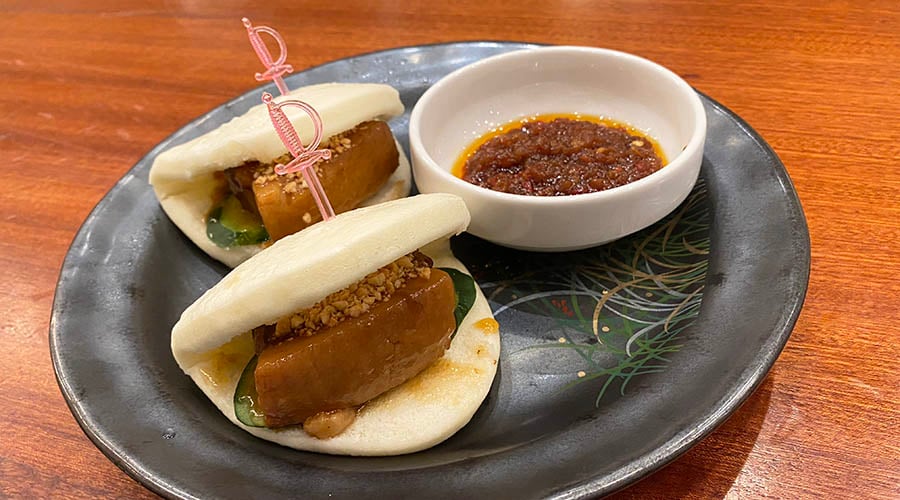 I love kakuni bao at ramen restaurants. The pork belly is unctuous and thick while the steamed buns are soft and warm. Crushed peanuts deliver a nice nutty crunch. The chili sauce is the hero. At first, it's unexpectedly sweet because of the pork base, then the fresh chiles linger with spice. I find myself obsessively dunking each bite to sop up the remnants.
Other dishes on the breakfast menu I'm eyeing for next time include the souffle cheese eggs and popcorn chicken with waffles though the souffle pancakes and kakuni bao make it difficult to stray away.
Goma Tei Ramen
4211 Waialae Avenue
Kahala Mall
732-9188
Sat-Sun, 7-10:30 a.m.