Watch the Making of Kalihi's New Bubble Waffle Sundaes
The Hong Kong-style street food dessert has arrived with a twist.
Kalihi has a new dessert shop in City Square. Its specialty: Hong Kong-style bubble waffles.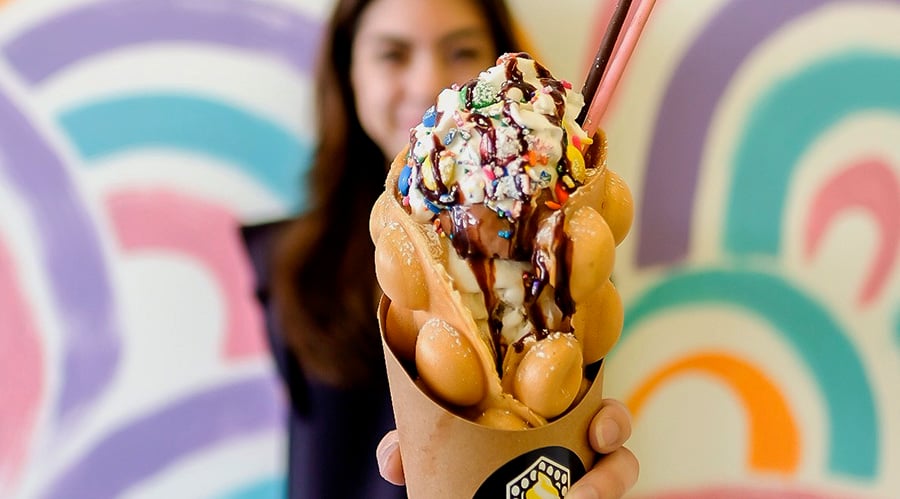 Opened just after New Year's, Double Three may not be the first Hong Kong-style bubble waffle shop in Hawai'i—now-closed Buffle Puff and Puffettes introduced them several years ago. But Double Three does have a twist: It stuffs its waffles with ice cream.
Owner Yugo Kawasaki explains that ice cream isn't typically included in the Hong Kong street food snack, so he makes his waffles less sweet to accommodate the ice cream. The loaded bubble waffle sundae cones are $7.80, or you can order plain waffles for $3.80.
The DIY (design it yourself) process is straightforward. You fill out a form:
Choose your bubble waffle flavor. Original features a vanilla milk flavor and is the most popular choice. The flavor of matcha in that waffle isn't intense, and there's a subtle green tea fragrance.
Choose your ice cream. It's nothing fancy, but sometimes simple is best. Choose vanilla, chocolate or strawberry. You can get smaller scoops of two flavors for the same price as a larger single-flavor scoop.
Choose two toppings. Any extras cost 25 cents more. Popular early choices include Pocky sticks, mini macarons (75 cents more) and Oreo cookies.
Choose a syrup. Whipped cream counts as a syrup, and it's the most Instagram-friendly option to give your sundae more height.
Once you're done ordering, expect to wait 4 to 6 minutes for your dessert since the waffles are made to order on a custom bubble waffle iron. The cooked waffles are then cooled for a minute to achieve their signature texture—crispy on the outside, chewy like mochi on the inside, and airy overall.
The juxtaposition of the hot waffle and cold ice cream is unreal. Surprisingly, the ice cream doesn't melt quickly, and the waffle's texture is definitely unique. It's as light and as puffy as I imagined, and the delicate chewiness makes me want more.
Oh, and you're probably wondering about the store's name. Kawasaki says 33 is a lucky number for the Chinese. You know what else is lucky? You can score 10 percent off your dessert if you visit before Double Three's grand opening on Jan. 26.
City Square Shopping Center, 1284 Kalani St., Kalihi, (808) 650-2733