Wanna trade? Come to Barter Bar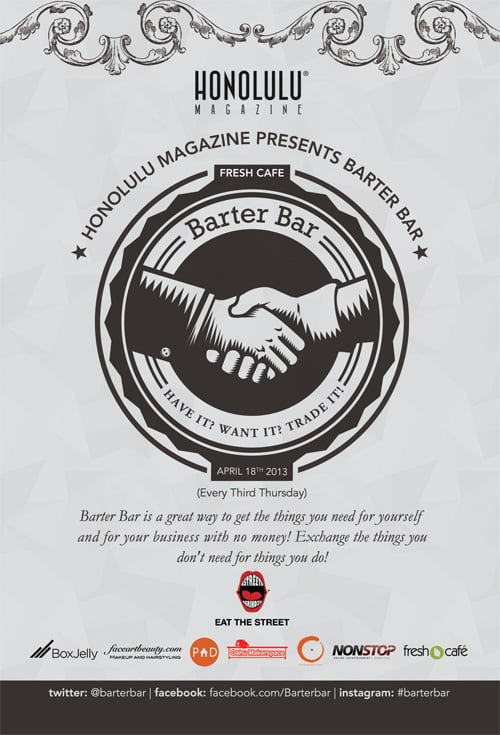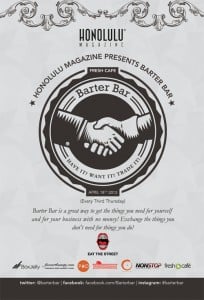 Barter Bar, an intriguing new networking event, will launch Thursday evening at Fresh Cafe. The monthly gathering — the brainchild of Fresh Cafe owner Tiffany Tanaka — is designed to help connect people interested in trading services and goods.
Every third Thursday, at 7 p.m., Barter Bar opens for business, targeting small business owners or entrepreneurs who need things and have something to offer. For instance, restaurants need photography, and photographers need to eat. Boutique owners need handymen, and handymen need clothes.
The rules are simple. Everyone brings in their cool trades to be set up on a "silent auction" style table. You'll be given a Barter Bill that you can place with your offers, and one that you can post on an adjoining table, stating what your business needs. Each bill is color coded for easy identification. For the next hour you are encouraged to enjoy a cocktail, meet other professionals, and see what's on the trading floor — but no trades are encouraged until all items have been submitted.
At 8 p.m., submissions are closed, and the featured business of the month will have a few moments to speak about what their business wants and needs. Next, the trading bell will be rung, signaling all trades to begin. For the next two hours you can write on individual barter bills, indicating what it is that you have to trade. If you see something on your own "wants" bill that you like before the event is over, you are free to remove your own item, since your trade has been satisfied.
At 10 p.m. the trading floor is closed and everyone gets to take their trades home.
Here are tips to make sure you get the most from your experience:
1. Make sure you bring clear information about what you have to offer and what you need. Promo fliers, voided gift certificates, photography or pamphlets work as great visual aids for other barterers to see what it is that you want to trader.
2. Bring plenty of business cards.
3. Make sure you've got your cell phones handy. You can make sure to get a hold of your barter buddies before the end of the event, as well as interact with our live Instagram feed. Don't forget to use #BarterBar to connect with other cool barterers as well!
4. If you've got interesting things to trade such as fresh produce, beauty products or even electronics, it's best to present them as bundle instead of individual submissions.
5. For bulkier items (larger than a shoe box), bring a visual aid or photo of the item instead of the actual item.
6. All services are bartered on an honor system. Do unto others as you would have them do unto you, and this will be a huge success for everyone.