Wandering Wahiawā: A Local's Guide to Neighborhood Eats
Explore the neighborhood in a day and gain insight into some of its most exciting small food and drink businesses.
In the shadow of the Wai'anae and Ko'olau mountain ranges, the Wahiawā of yesterday and the Wahiawā of today rub shoulders, one almost indistinguishable from the other. Tucked between pawn shops, tailors and hair salons that look like they've been here for practically forever (because they have), and next to holes in the wall like Dong Yang Inn and Shige's Saimin Stand that have been feeding local families for generations, there's a quiet bloom of new and newish neighbors settling into the nooks and dens of the old strips of town. This is not a gentrification story, a find-and-replace mission helmed by the offspring of yuppies and hipsters. At least not yet. The wealthy and development-hungry hordes haven't taken over. The aging aren't being ousted by the new and shiny. By all accounts, this is the story of the allure of a small, Central O'ahu town, its smallness being its greatest asset.
Over the past five years or so, local business owners have quietly been choosing Wahiawā. Honey farmers and mead makers, espresso pullers and surfboard shapers, taqueros and bakers—an influx of newcomers are all saying the same thing: Wahiawā is where it's at.
"I really just want to elevate O'ahu's rural communities, like Wahiawā. There's so much culture, food and history. People need to give us a chance."

— Poni Askew
Poni Askew, a born-and-raised Wahiawā girl who launched the wildly popular Eat the Street monthly truck food rallies that ran in Honolulu from 2011 until 2016, has rediscovered her hometown as a place that's, well, not Honolulu. When she and her husband decided to slow things down after almost a decade of nonstop hustling, it just made sense to go back home.
"I love Wahiawā. I always have. And yeah, it's my home, but it's also just a really great town," says Askew, chatting from behind the bar at her family's newest business venture on Kīlani Street, Hawaiian Vinegar Co., an artisan vinegar distillery (more on that later). "I really just want to elevate O'ahu's rural communities, like Wahiawā. There's so much culture, food and history. People need to give us a chance." She then rattles off a list of must-visit places that are new to the Wahiawā townscape, like the proud mayor of a hidden gem that's just begging to be discovered.
---
Seven Hours in Wahiawā
Local eaters from all sides of the island have always known that Wahiawā makes great food. We find any excuse—a first baby lū'au in Mililani, a rare trip to Hale'iwa with out-of-town guests—to dip into town for a bowl of Shige's saimin with a cheeseburger deluxe or a bag of fresh butter rolls from Kīlani Bakery. But what if we made Wahiawā the destination and not merely a pitstop on the way to somewhere else? Our itinerary for a day trip to Wahiawā, where we don't just pull over and stop, starts where all good mornings start: with coffee.
9 a.m., Craft Coffee + Community
In a bay of otherwise unremarkable warehouse spaces at the end of North Cane Street, Bizia Surf & Coffee Shop is an exercise in evolution—a something great that morphed into something more that will, when it realizes its full potential, be a lot of things that Wahiawā's never had before. Bizia started as a surfboard shaping company that makes surfboards from the invasive albizia tree. The surf and coffee shops are an extension of The Albizia Project, a sustainable building project that started as a University of Hawai'i doctorate thesis.
---
SEE ALSO: Best of HONOLULU 2023: The Best of Fitness and Outdoor on O'ahu
---
Co-owner and operations manager Christine Johnson says that the coffee shop, which shares a space with the surfboard showroom, was her answer to using the space to its fullest potential. "When we first started working in Wahiawā on the surfboard project, I was very unfamiliar with how much Central O'ahu doesn't have. Like a yoga studio, like craft coffee, like coworking spaces, like evening events. Being in Honolulu for so long, it just never occurred to me that there wouldn't be those things out here," Johnson says. "We want to create a flexible space that offers events that appeal to all kinds of different aspects of the community. We want to be able to share the space with Wahiawā. People are so hungry for a beautiful space where they can spend time and create community."
Johnson says she's already had requests to use Bizia as an event space for things like poetry nights, Saturday morning yoga sessions, live music events and coworking options. But even without the extracurriculars, Bizia's modern coffee shop, beautifully dressed in light neutrals and outfitted with handcrafted albizia wood accents, gives tranquil, surf-life vibes that invite lingering and slow sipping. No barking baristas and rushed latte orders here. This is Wahiawā, where even craft coffee—espresso meticulously pulled and served in real glass—knows how to chill.
"There is a spirit in Wahiawā that I have never felt anywhere else," Johnson says. "This place is magical. When it came to opening the shop, it was like we had to be here. We never considered being anywhere else."
---
Bizia Surf & Coffee Shop, 401 N. Cane St., A2, Wahiawā, biziasurf.com, @biziasurf
---
11 a.m., Cupcakes + Connections
Talking to local business owners, there's a consensus that Wahiawā chose them, not the other way around. Jayme Choi, a pastry chef who opened her bakery, Pua Cake Studio, in 2021 in a strip of storefronts on Kamehameha Highway, says her late father's ties to Wahiawā as an immigrant worker made her want to learn more about the town where her father started a new life for himself and his family.
Since becoming part of the community, she says she's come to realize that almost everyone she meets, whether they are from Wahiawā or not, has a connection to the town because their immigrant parents, grandparents or great-grandparents worked on nearby plantations. It's as if Wahiawā is the piko, the starting place, for so many of our life stories. "As an immigrant myself, being in Wahiawā gives me a sense of pride and understanding, and it's one of the reasons Wahiawā is very special to me," says Choi, who immigrated to Hawai'i from South Korea when she was 3 years old.
Choi's cupcake studio specializes in intricate, hand-piped buttercream floral decorations that top cakes and cupcakes. Choi is often working on large orders for weddings and other special occasions, but walk in on a Friday, Saturday or Sunday morning and pick up a half-dozen assorted cupcakes: one for now (and if you do only eat one, eat the liliko'i) and five for the drive home.
---
Pua Cake Studio, 71 S. Kamehameha Highway, Wahiawā, (808) 206-3349, puacakestudiohawaii.com, @puacakestudiohawaii
---
And since this day is quickly turning into a food-fest for the ages, a quick peek into the Uber Factory, which is in the same building as Pua Cake Studio, is a nonnegotiable. The bakery's signature sweet, an ube-filled tart, is the perfect car snack. Two bites. Pau. It's like it never happened.
---
Uber Factory, 71 S. Kamehameha Highway, Wahiawā, facebook.com/uberfactory, @uberfactory
---
Noon, Mexican Mocos + Military Appreciation
The restaurant life is in Miriam Olivas' blood. Her parents own El Palenque, Wahiawā's first and oldest Mexican restaurant, and after 25 years in the family business, and with some not-so-subtle prodding from her mom, Olivas stepped out on her own and now operates Barrio Café out of a tiny, festive space on Kīlani Avenue. She runs the whole place with just one other staff member. She is everything, all the time: owner, chef, server, caterer, social media manager, accountant, event planner.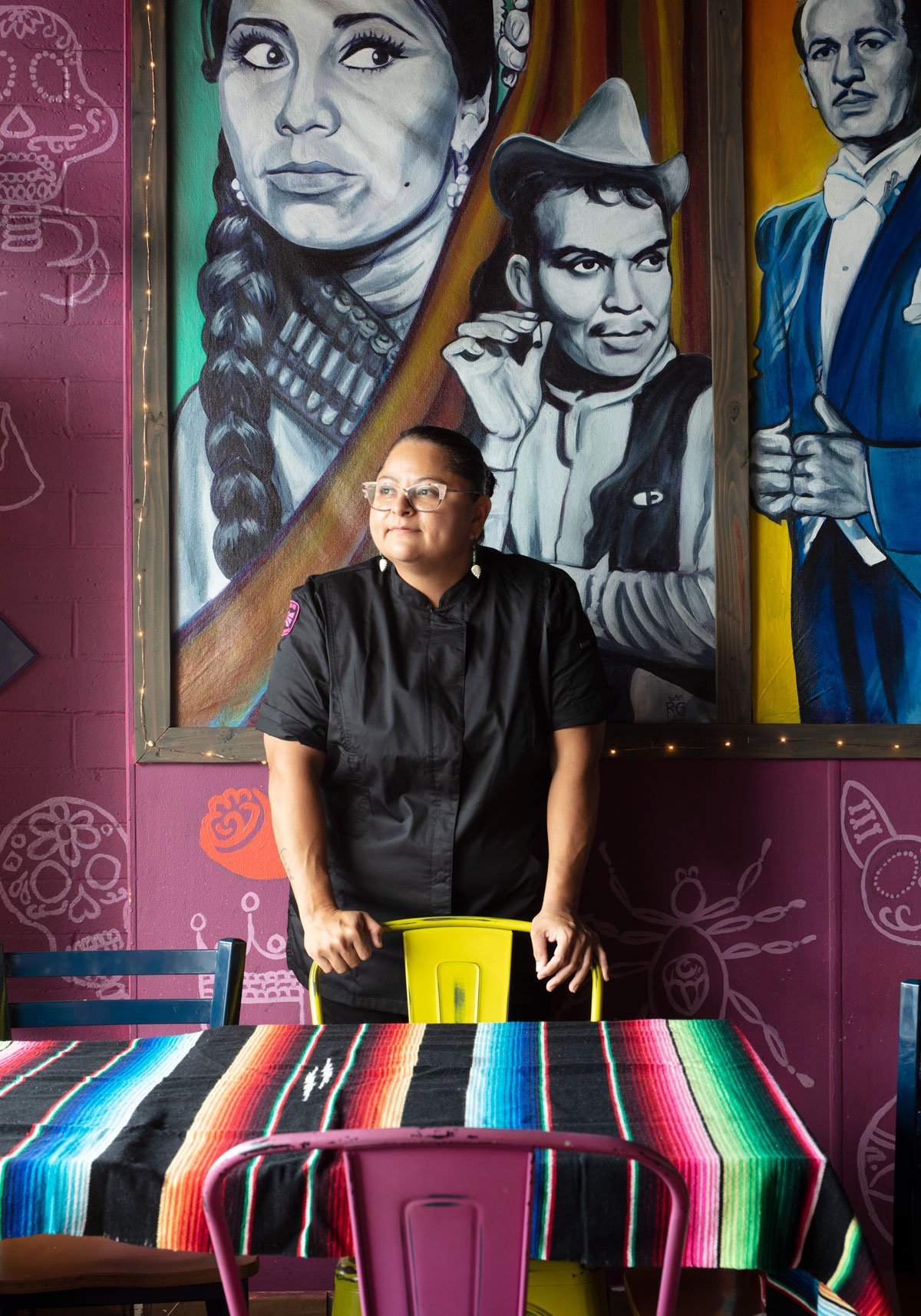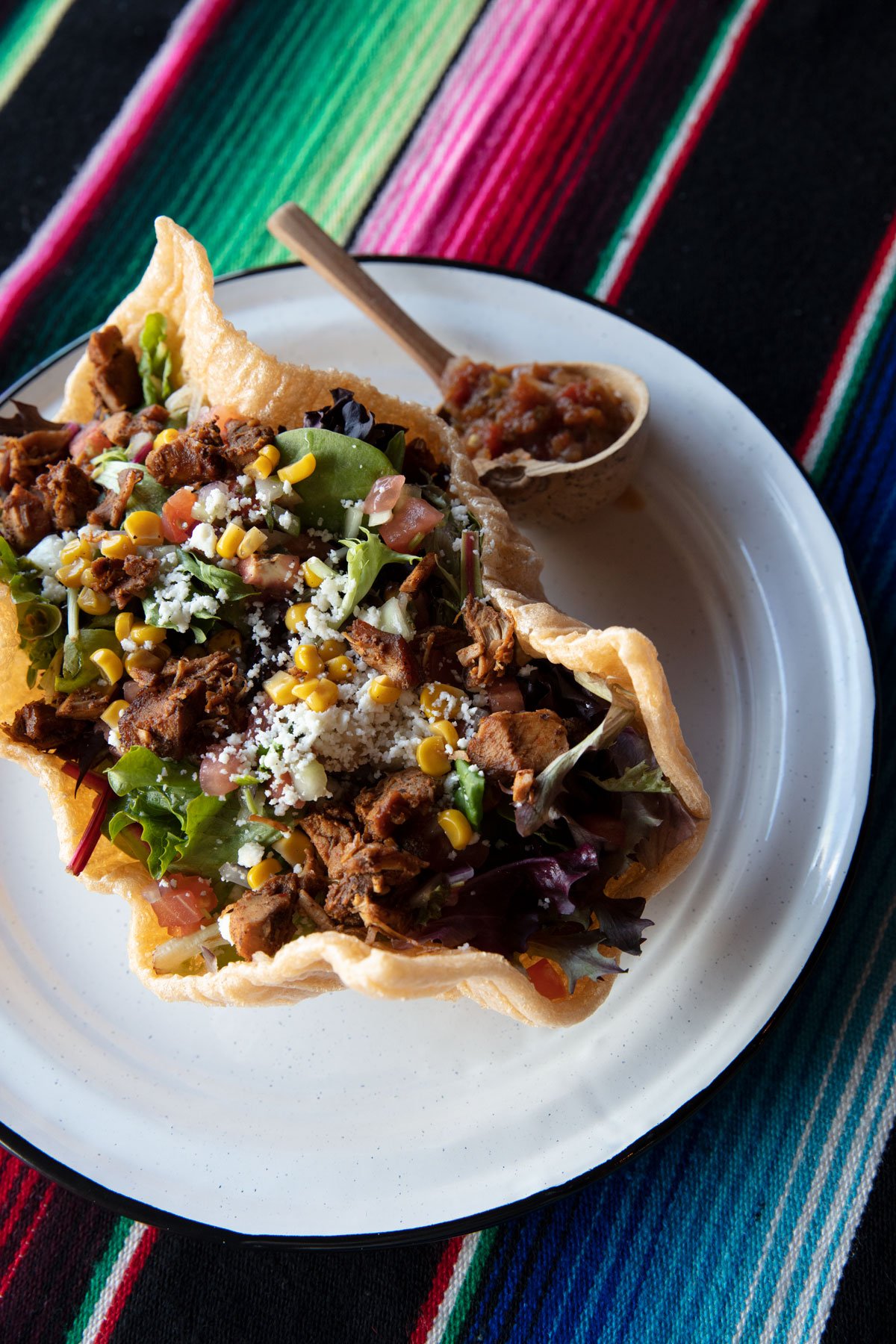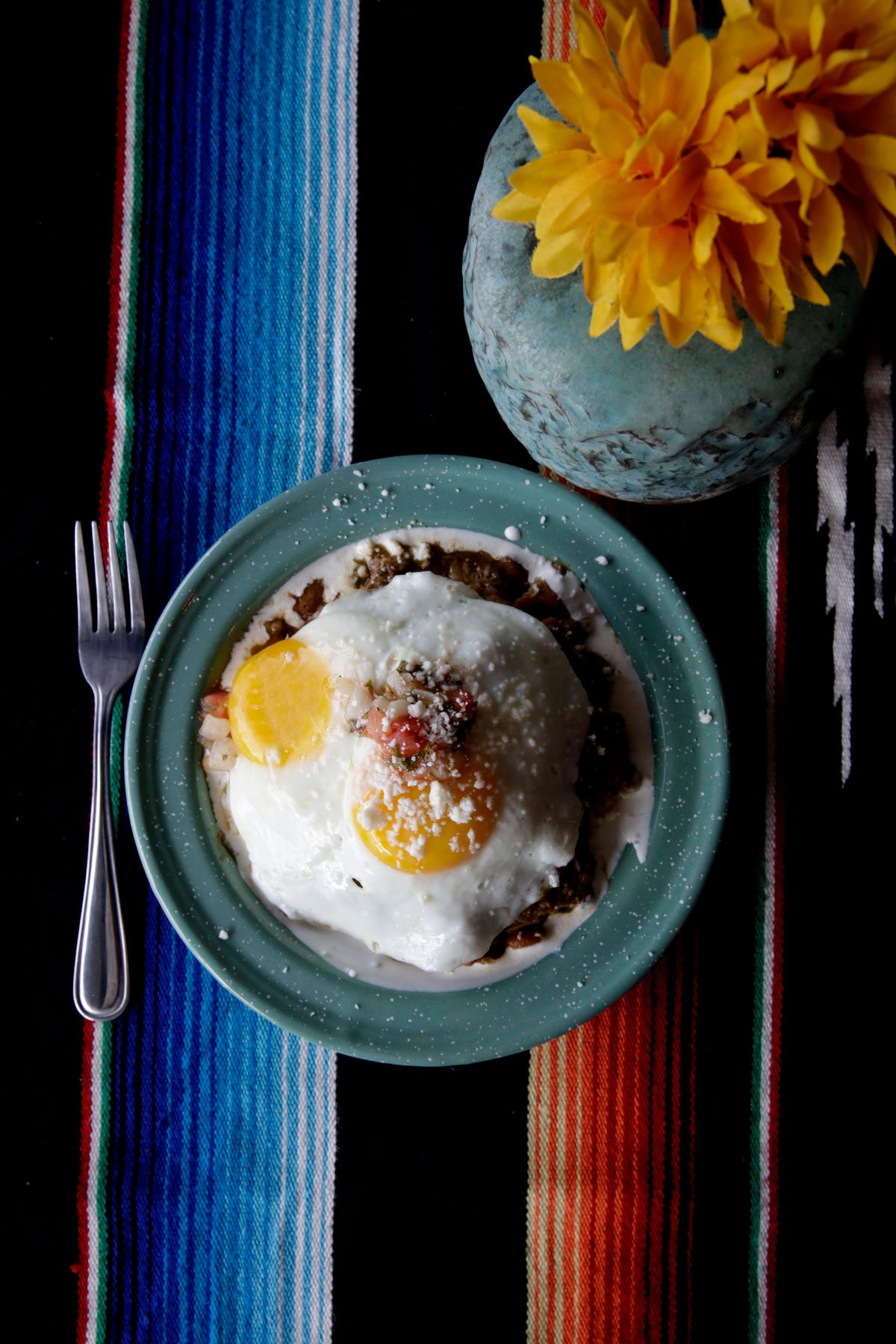 "As a business owner, it's my responsibility to take care of my community, and you know what? The community will take care of you."

— Miriam Olivas
Her family moved to Hawai'i from Los Angeles when she was a teenager; they accidentally ended up in Wahiawā and never left. Now, she's more Wahiawā girl than anything else, but her Mexican heritage runs deep.
When she opened her own place in 2017, she wanted to stay true to her Mexican roots, but she also wanted to honor this place that has been a home for her family for almost 30 years. She created a Mexican menu with a nod to Wahiawā: fried rice with house-made chorizo; a "Mexi Loco-Moco" (green chili, pork and beans on a bed of rice, with pico de gallo, over-easy eggs and queso fresco); the Leilehua Band Burrito (Spam, eggs, beans and cheese—a portion of burrito sales is donated to Leilehua High School); and the churro French toast, which is made entirely from Wahiawā products.
"It's really the community here that makes this town so great," Olivas says. "As a business owner, it's my responsibility to take care of my community, and you know what? The community will take care of you."
Just as Olivas was hitting her stride in her new place, COVID hit. Like small businesses everywhere, the danger of losing it all loomed large. Could she weather it? Did she even want to? She did. And she did.
"My community is what kept me open. People weren't coming from other parts of the island to eat here. This place was sustained by the Wahiawā community. My community kept me going," she says, adding that the military, with Schofield Barracks, Wheeler Army Airfield and Helemano Military Reservation nearby, make up a large portion of her loyal customer base. She estimates that about 70% of her lunchtime clientele is military.
The high percentage of military personnel in the area means Wahiawā is, perhaps more than many towns on the island, reliant on military business. Though there is no data available on how the military presence impacts food businesses in Wahiawā, all of the business owners we spoke to said that they count on the military to keep sales up. Some estimate that the military accounts for 30% of their sales—for others, like Olivas and her family's El Palenque restaurant, that percentage is much higher.
Still, Wahiawā doesn't feel like a military town. Everyone fits in, says Olivas, even the ones who don't have roots here. She used to be one of them. Now she's one of us.
---
Barrio Café, 672 Kīlani Ave., Wahiawā, (808) 622-3003, barriocafe808.com, @barriocafe808
---
1:30 p.m., Fermentation Stations + Talk Story Sessions
Right next door to Barrio Café is Poni and Brandon Askew's newly opened Hawaiian Vinegar Co. The Askews make and bottle their own vinegars using local overstock produce or produce that isn't pretty enough to sell on store shelves. Their vision for the vinegar distillery is to support local farmers by buying and utilizing produce that would otherwise be wasted and to create a tasting room where people can hang out and talk story. Poni is the taste maker, Brandon is the brewmaster, and together, they've created a flavor lab of artisan vinegars and shrubs, also known as drinking vinegars. Duck into their shop and let Poni guide you through a tasting flight of vinegars and shrubs to find your favorite. The Salted Lemon shrub is ours.
---
Hawaiian Vinegar Co., 672 Kīlani Ave., #102, (808) 780-1383, Wahiawā, hawaiianvinegarco.com, @hawaiianvinegar
---
The Askews share a bit of a brewmance with another couple of brewers who've been in Wahiawā for almost a decade. Together, they make up the unofficial Wahiawā brewers' club. Mānoa Honey & Mead has been harvesting and selling raw local honey since 2014. And obviously, when life gives you honey, you make mead. Husband-and-wife-team Yuki and Erika Uzuhashi chose Wahiawā for their mead distillery because the town is centrally located to their bee yards all over the island. Besides the optimal geography, Yuki, who is from Japan but now calls Wahiawā home, says that choosing to make this place his adopted hometown was a given.
"Wahiawā is very down-to-earth, and it's a great place to talk story with the community," Yuki says. "Coming from Japan, I see lots of Japanese descendants in the area, and it makes me feel at home and nostalgic. Like, I feel like I know that uncle! Maybe I've met him in a past life."
---
Mānoa Honey & Mead, 930 Palm Place, Wahiawā, (808) 493-9081, manoahoney.com, @manoahoneymead
---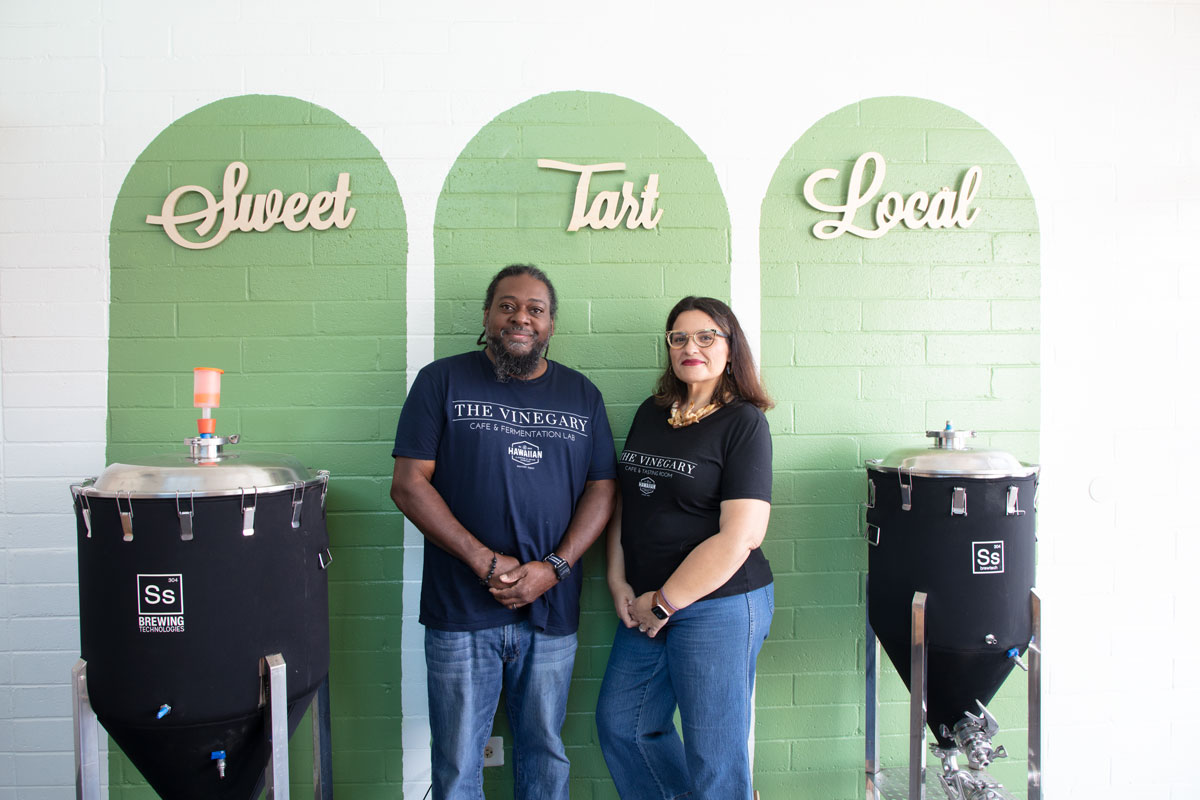 3 p.m., Bone Broth + Nostalgia
No. Not that kind of bone broth. This is a yuppie- and hipster-free town, remember? While pho is generally considered lighter fare on the food spectrum, at Ribs & Broth, a new pho shop that opened a few months ago in Wahiawā Town Center, the folks in the kitchen take pho broth—clear and clean—and toss in a couple of bone-in Fred Flintstone beef ribs: ribs and broth. (We love a straightforward and descriptive restaurant name. No surprises here.)
The place is already a staple for neighborhood pho lovers, and it fills up pretty quickly during peak meal times. Our solution: Get that mammoth bowl of pho to go. Ribs & Broth does a very brisk takeout business, and the staff seems to be specifically trained in how to perfectly pack an order of pho for the trip back to your part of the island. A French iced coffee while you wait does double duty as a kanak attack antidote and a sort of second-wind boost in anticipation of the last—and possibly the best—stop on this guided eating tour of Wahiawā.
---
Ribs & Broth, 935 California Ave., B15, Wahiawā, (808) 622-7525, ribsbrothhi.com, @ribsandbroth
---
Walk, don't drive (this is sound advice; trust us), down the block to 6Sixty Apparel where owner Justin Oho operates a shave ice counter, blending up what he calls "Shave Ice Shakes," the drink equivalent of the shave ice cone with vanilla ice cream at the bottom. There's a long list of flavors available including the usual faves, with a few ringers thrown in like Butterbeer and yuzu.
But listen: You're here for the pickled mango shave ice shake. Made from a pickled mango recipe that has been in his family for generations, Oho created a shave ice syrup that is tart and sweet and tangy and puckery and perfect. Blended with a couple of scoops of vanilla ice cream, it is ingestible nostalgia. Get a pickled mango-li hing combo shake, and it's all the flavors of a Hawai'i childhood. Hanabata glory days. The best part? The shake, unlike a cone or bowl of shave ice, fits perfectly in a car cup holder.
---
6Sixty Apparel, 670 California Ave., Wahiawā, (808) 200-2418, 6sixtyapparel.weebly.com, @6sixtyapparel
---