Waioli Grill and Cafe brings solid izakaya fare to Kapahulu
Like this bone marrow bibimbap. And the best sweet potato croquettes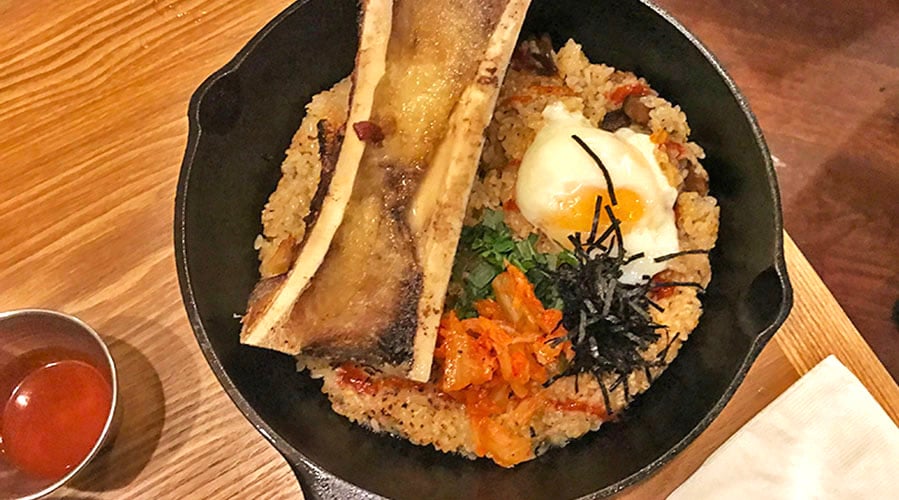 Kapahulu has always been a treasure trove of great restaurants, and Waioli Grill and Cafe is no exception. No burgers or loco mocos here: Waioli brings a bright and creative twist to Japanese fare. The restaurant occupies the old Wada (and before that, Tokkuri Tei) location near Papa John's on Kapahulu. Dishes are meant to be shared, bringing an izakaya feel to the clean, modern decor.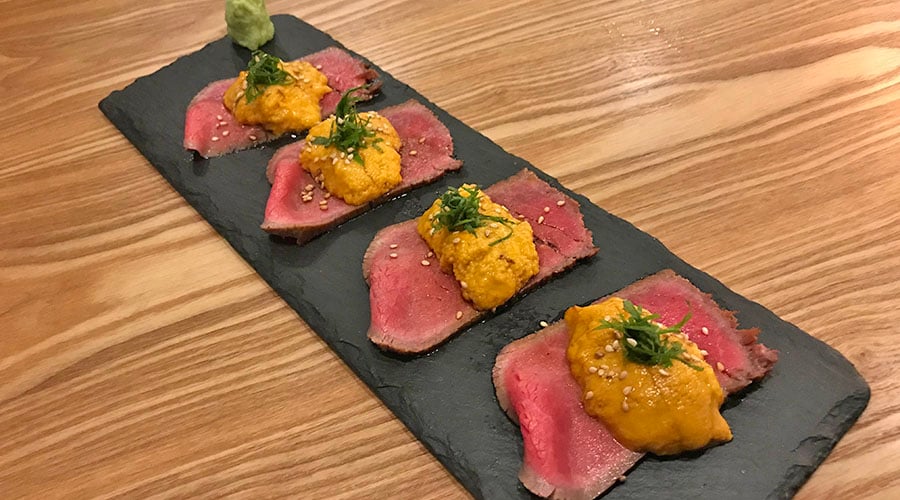 The American Wagyu roast beef topped with uni ($18) is a delightful one-bite dish that is perfectly balanced. The roast beef is served chilled, which keeps it from overpowering the flavor of the uni. It takes all my willpower not to wipe out every bite myself.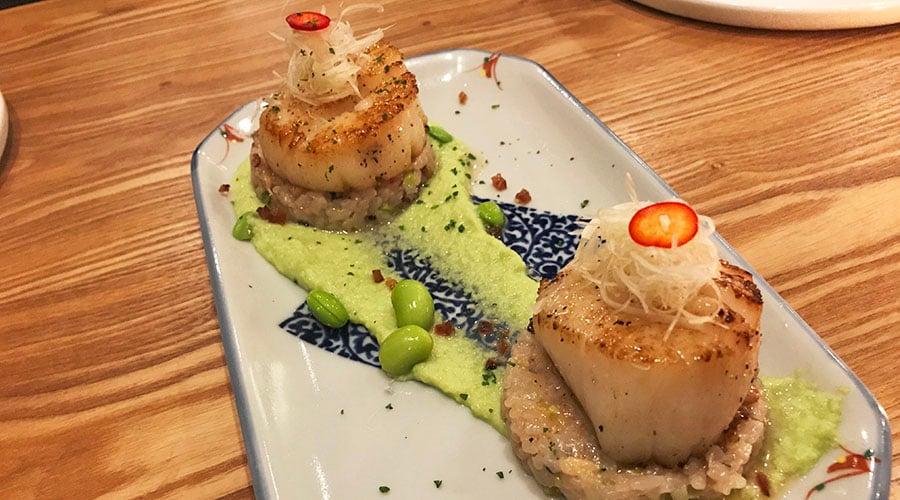 Put Hokkaido scallops ($22) on a menu and I can't resist. These are seared nicely and served over a risotto and an edamame puree. Though tasty, the risotto detracts from the true star of the dish, those tasty scallops.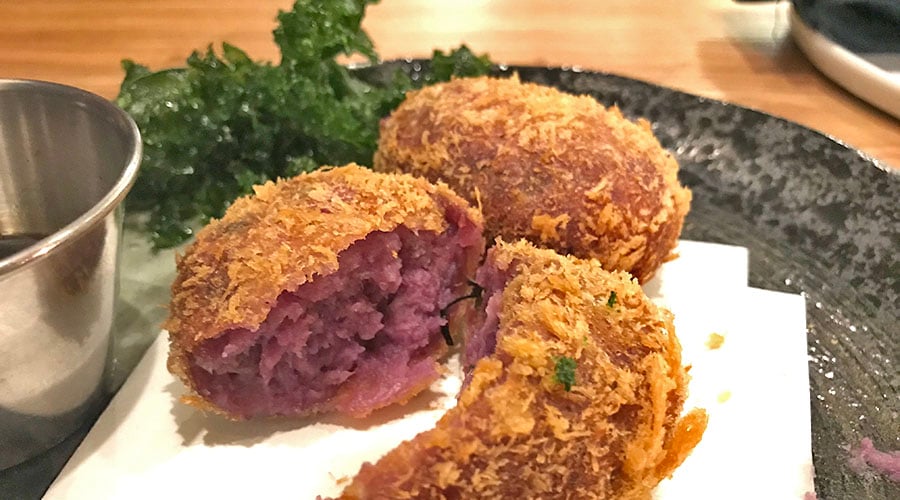 The Okinawan sweet potato croquette ($7) is delightful. The extra crisp panko exterior balances perfectly with the light, fluffy filling and tiny bits of ground pork. We're surprised by how light and well flavored it is, even without sauce, which is close to a kushikatsu-style sauce you'd find in Osaka.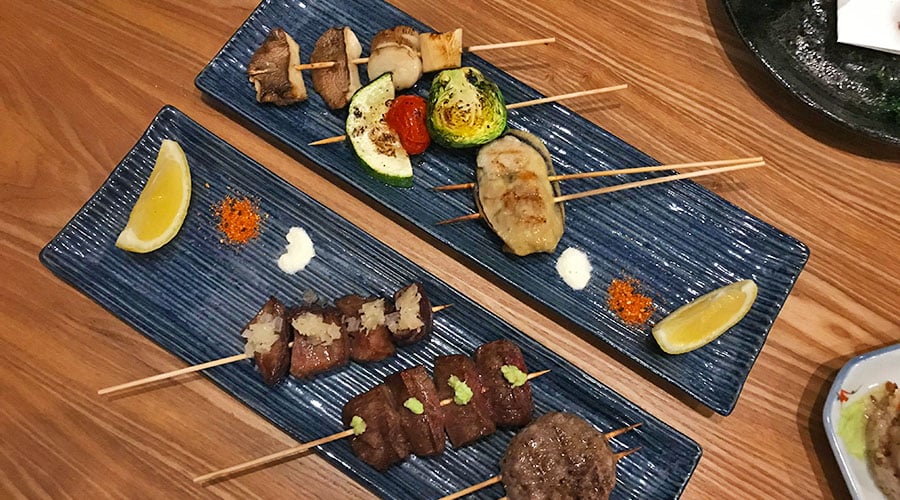 Meat on sticks? Say no more. This is a new addition to the menu as of this month. We're certainly impressed by the harami (outside skirt), gyutan (beef tongue), and oyster. Ranging from $4.50-6 per-skewer, these are a nice addition to the menu. The salt and shichimi togarashi on the side are nice customization options.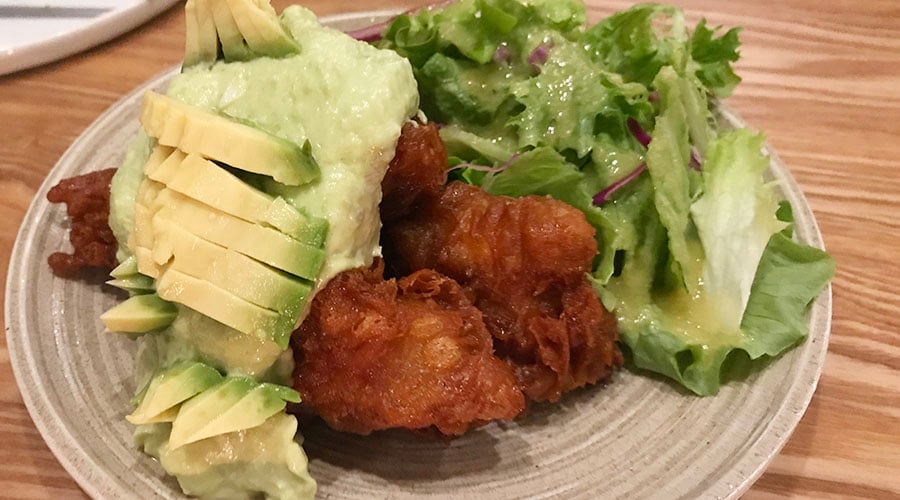 Chicken nanban ($12) is the surprise of the night. Normally served with a tartar sauce, Waioli puts a spin on the dish by using local avocados. The batter's nice crunch is reminiscent of fish and chips; it's slightly sweet and encases juicy morsels. The brightly dressed salad balances and lightens the fried chicken.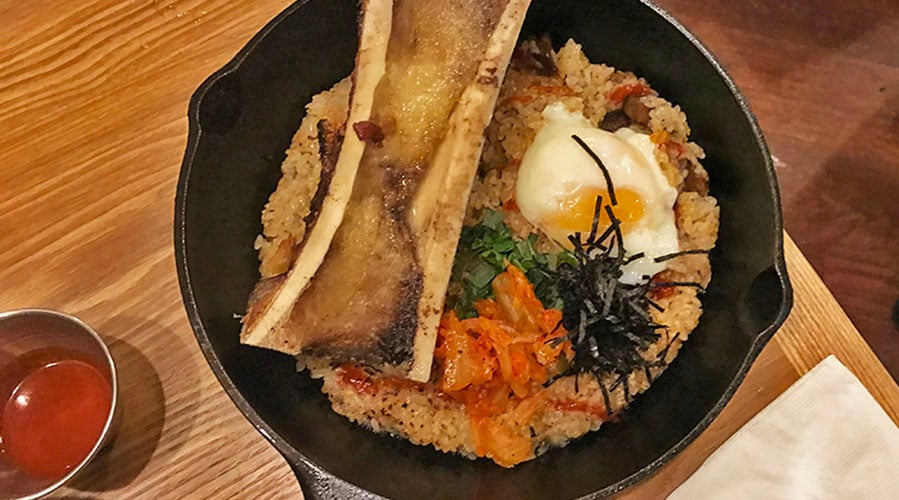 Now for the dish we came for: bone marrow bibimbap ($16). The rice is crisped up in the skillet, flipped over and served crispy side up and topped with bits of beef tongue, shiso, nori, kimchi and an easy-over egg. The dish is mixed at tableside by our server, with the gochujang on the side to be added as you like. Every bit of rice gets coated with bone marrow, giving the dish a luscious, velvety mouthfeel. I wish there were more veggies and rice, and others at the table want more of the vibrant flavor contrasts you typically get with bibimbap. But as a bone marrow fiend I'm certainly not disappointed.
If you're looking for tasty, innovative flavors, Waioli Grill and Cafe is a great choice. I'll be back for sure and next time, I'm getting an order of roast beef and uni just for myself!
Waioli Grill and Cafe
611 Kapahulu Ave.
Kapahulu
734-5298
waioligrillandcafe.com