Waikīkī's Quirky Brunch Cafe Now Serves Dinner
Now you can get Goofy Cafe & Dine's sweetbread french toasts, benedicts and loco moco after sunset.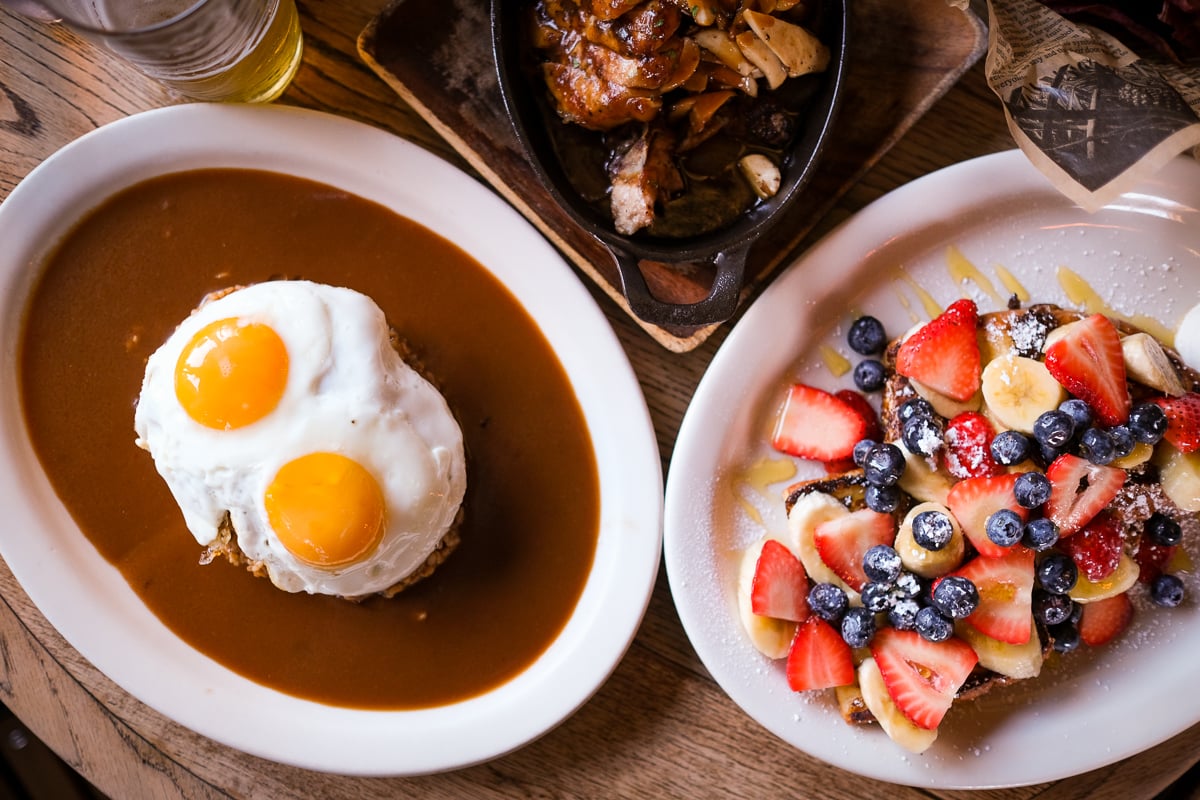 I have always had a soft spot for Goofy Cafe & Dine, a quirky brunch cafe on the northern edge of Waikīkī near the Hilton Hawaiian Village. The breezy second-floor beach house vibes and superb loco moco are hallmarks of Aloha Table and Heavenly Island Lifestyle, sister restaurants also owned by Japan's Zetton Group. But while those are often packed at dinnertime, Goofy has only catered to the brunch crowd since opening in 2013.
That changed last week with the introduction of a new dinner service from 5 p.m. The best part? You can enjoy brunchy favorites kalua pork eggs benedict on taro muffins and Very Mix Berry French Toast after the sun goes down. Or maybe the best part right now is that you don't have to wait in an hours-long line. At opening on Saturday, my friend and I were one of two parties in the open-air restaurant. Score!
As fans of other Zetton restaurants in Waikīkī, we immediately notice its influences on the dinner spread: pūpū including fresh root vegetable chips ($7) and pipikaula jerky ($8); and for entrées, a crispy fried garlic shrimp plate ($22) and a thick 9-ounce pork chop ($27) smothered in Hawaiian ginger sauce and mushrooms in a cast-iron skillet. We also contemplate the rib eye steak with onion rings and baked potato ($34) or the grilled mahimahi ($29), but yearning for a classic Goofy experience, we order the Big Island beef loco moco ($18.80).
An ocean of rich, house-made brown gravy surrounds an island of brown rice tucked under two local beef patties and two Waimana TKG eggs. This moco is tender enough to cut with a spoon—along with Aloha Table's loco moco, it's one of the best versions you'll find on O'ahu.
---
SEE ALSO: Best Loco Mocos in Hawaiʻi: Our Top 5
---
The pork chop is a tender marriage of American pork and Japanese shogayaki pork ginger, with loads of sweet ginger sauce and king oyster mushrooms—the only thing missing is a starch to soak it all up. French toast fiends, we whack the platter of patriotic hues in no time at all. We love that it's sweetened with honey in lieu of maple syrup; pillowy Punalu'u Bake Shop sweetbread mops it up well.
Save for the occasional traffic rumblings on Ala Moana Boulevard, our perch in the corner is cozy and quiet, good for conversation. With the windows cracked open, we chill in our seats until last call around 8 p.m. when the staff drops off a complimentary ube ice cream cone to share. It's not as alluring as Aloha Steak House's watermelon soft serve, but I eat my bites atop our leftover taro chips and leave with no regrets.
---
SEE ALSO: Tomahawks and Tees: Aloha Steak House in Waikīkī Has a Beachy Vibe
---
Named not after the affable Disney character but for the right-foot-forward surf stance, Goofy's portions and location are prime for the post-surf crowd. Parking is easy at the nearby the Hilton lagoon and Ala Wai Boat Harbor.
Dinner nightly (except Tuesdays) from 5 to 9 p.m., 1831 Ala Moana Blvd #201, (808) 943-0077, goofy-honolulu.com, @goofy.hi