Tomahawks and Tees: Aloha Steak House in Waikīkī Has a Beachy Vibe
This is the Zetto Restaurant Group's budget-friendly take on North Shore grub.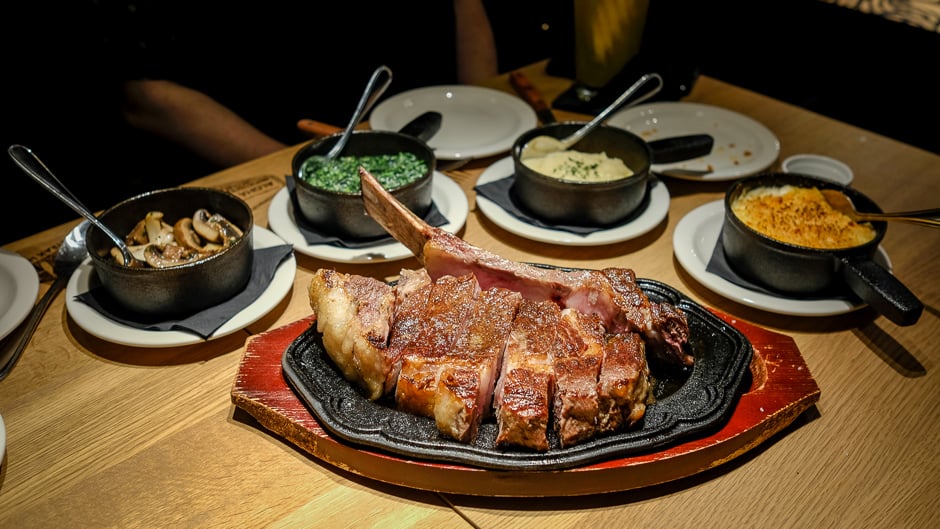 "Beach and beef" are two things you normally wouldn't find in the same sentence. But on each of my visits to Aloha Steak House, beach and beef was all I could think about each time a sizzling steak wafted by. There's a quirky Nihon-esque quality to it, but it doesn't end there.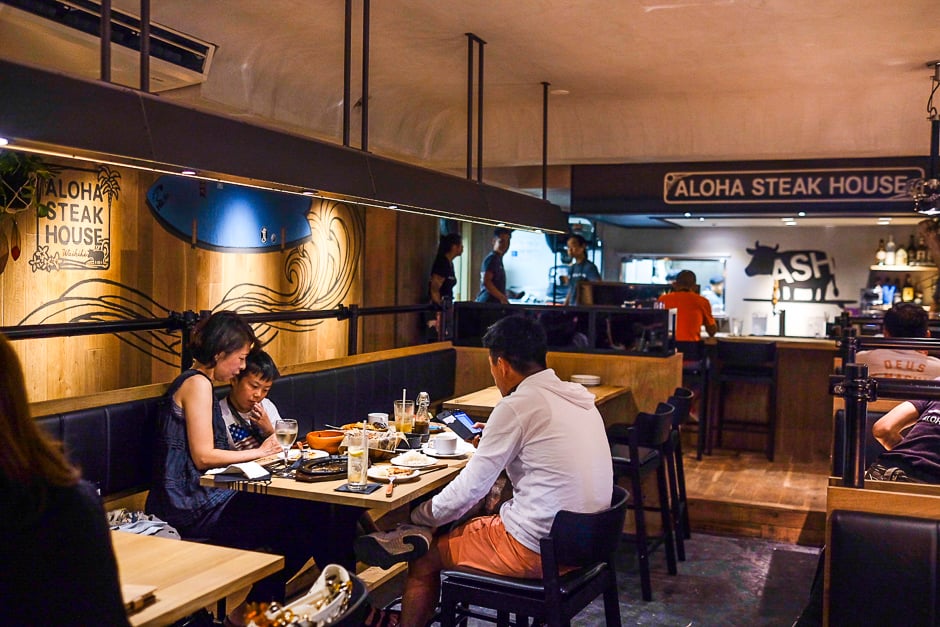 Opened in early May, ASH serves mid-grade cuts of steak on searing hot cast iron plates in a casual, just-off-the-beach atmosphere. It's the sixth and latest Waikīkī restaurant from Japan's Zetton Inc. after Zigu, Paris.Hawai'i, Aloha Table, Heavenly, and Goofy Cafe and Dine. Aloha Steak House, in the old Kimukatsu spot on Lewers Street, continues Zetton's locavore theme. Although the beef isn't local or dry-aged, it is prepared to bring out the most flavor and texture, and many of the sides and appetizers are locally sourced.
---
SEE ALSO: How Did a Japanese Restaurant Group Invade Hawai'i Cuisine Without Anyone Noticing?
---
Japanese quirk No. 1: In additon to utensils and napkins in a box at the table, ASH provides black aprons to protect your clothes from splattering steaks and onion sauce. It's reminicent of Ikinari Steak, a standing-only restaurant chain that serves steaks the same exact way.
The cozy loft space with industrial touches seats 63. ASH's signature 2-pound-plus "super vigorous" tomahawk ribeye is only $88 and sells out well before the 7 p.m. dinner rush. It's sliced up tableside with a pinch of #SaltBae pizzazz, sunglasses and all, and generously feeds two or three with sides.
Japanese quirk No. 2: The menu has Nihonglish descriptions of each item, accompanied by droolworthy pictures. While the staff is bilingual, all you need to do is just point!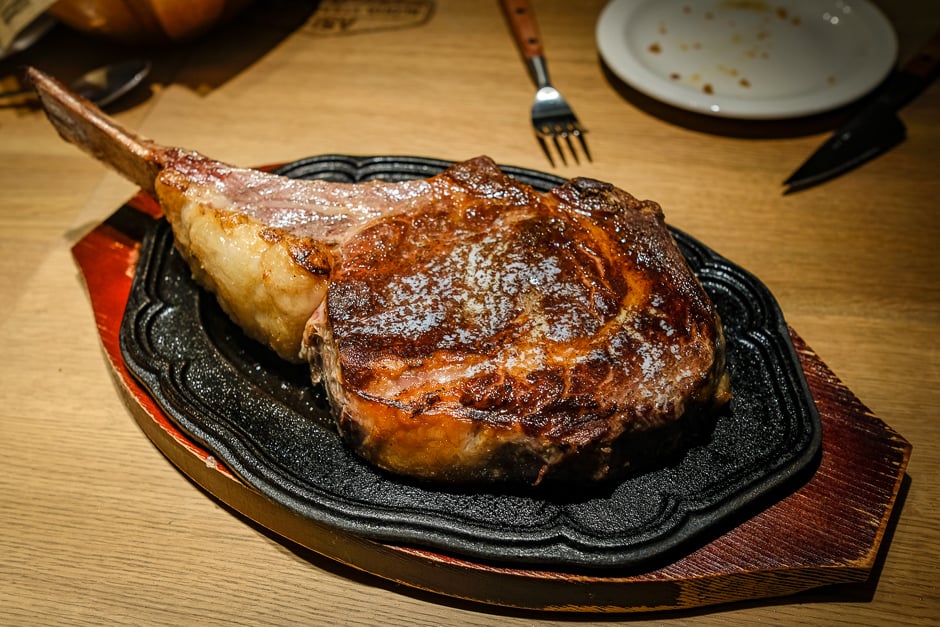 Although the tomahawk gets the spotlight, there are plenty of alternative steaks just as worthy of posting on your Instagram feed. The $26 8-ounce, $39 16-ounce and the $69 24-ounce ribeye steaks are served with knobs of butter, corn nibblets and sweet Maui onion sauce. It's quite a spectacle when your medium rare steak arrives searing on a cast iron plate. It will continue to cook as long as it's left on the plate. If you like your steak medium rare, move it over to a share plate to rest before tucking in. And don't forget to give it a dunk or two in the addictive Maui onion sauce.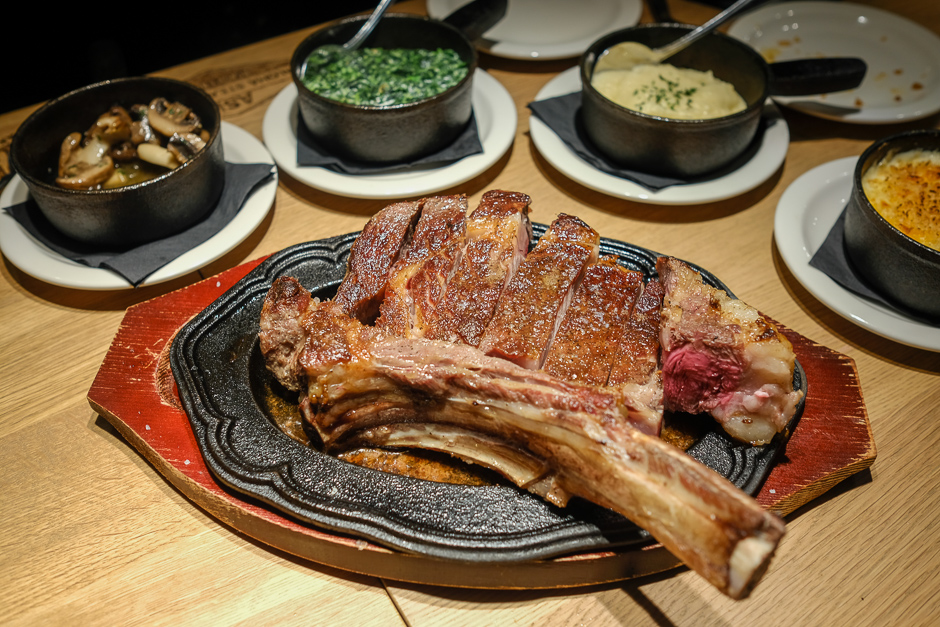 ASH recommends eating your steak one of two ways: either "on-the-rice" or "on-the-salad." The upgraded combo includes unlimited rice, a small bowl of local mixed greens salad and a cup of cold corn soup for $9 more. Sides include mashed potatoes, sauteed mushrooms, creamed spinach and mac and cheese, all $6 each. They're all pretty solid but the creamed spinach and mac and cheese stand out above the others.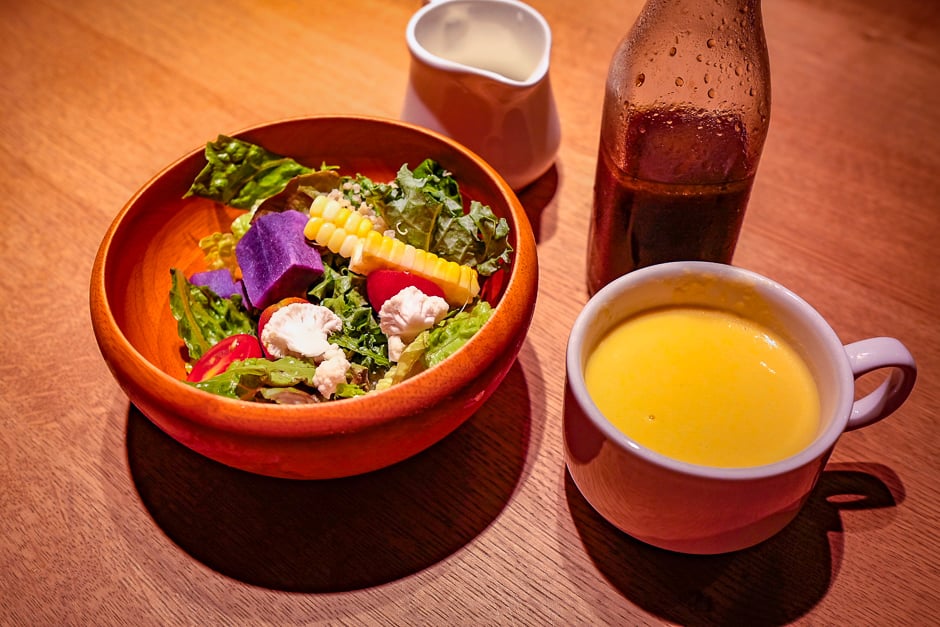 Japanese quirk No. 3: Small dishes and plateware take over the entire table.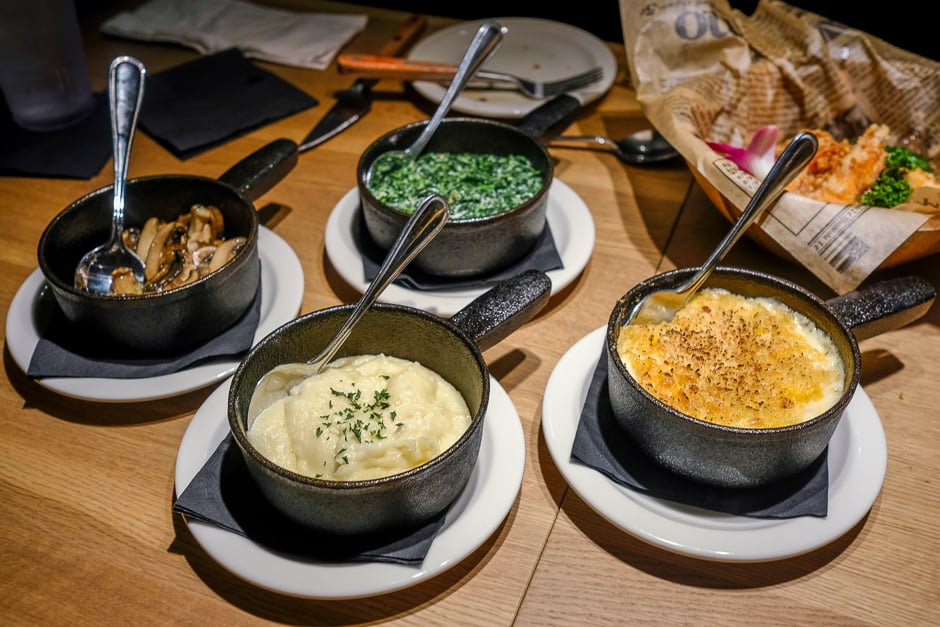 If you're in the mood for some seafood with your beach and beef, the surf and turf pairs four large garlic shrimps with an eight-ounce ribeye for $33. If you missed the boat on a tomahawk, this is what you'll want. The garlic shrimps are crispy-fried whole and can be eaten head to tail—they're a little sweet with that ultra shrimpy umami packed in every bite, and better than what you can get from a truck.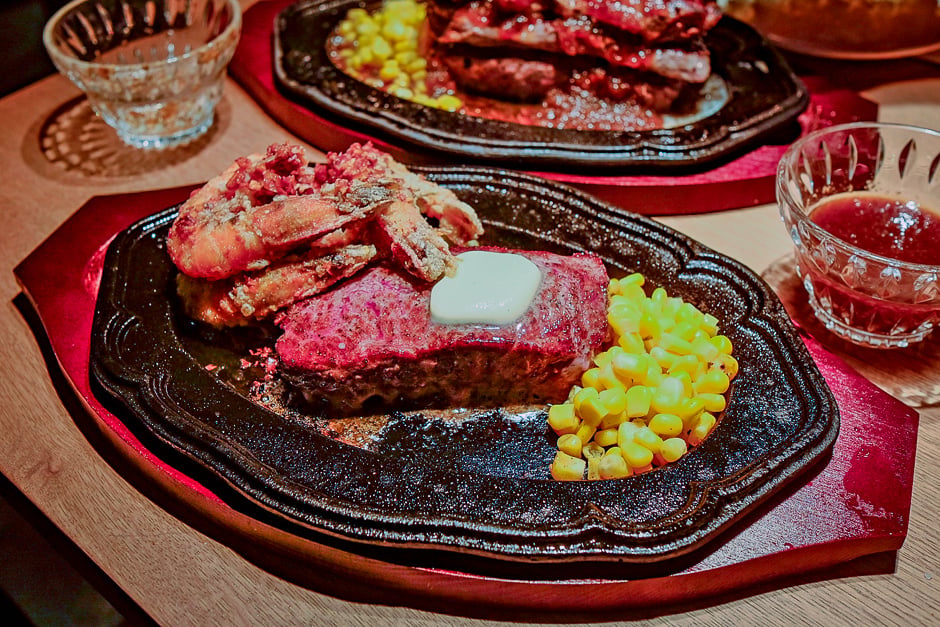 I like the shrimps so much, I follow up the surf and turf by ordering them as an eight-piece appetizer for $14. The fried spicy Aloha wings come six pieces to an order for $10. They're decent and worth a try.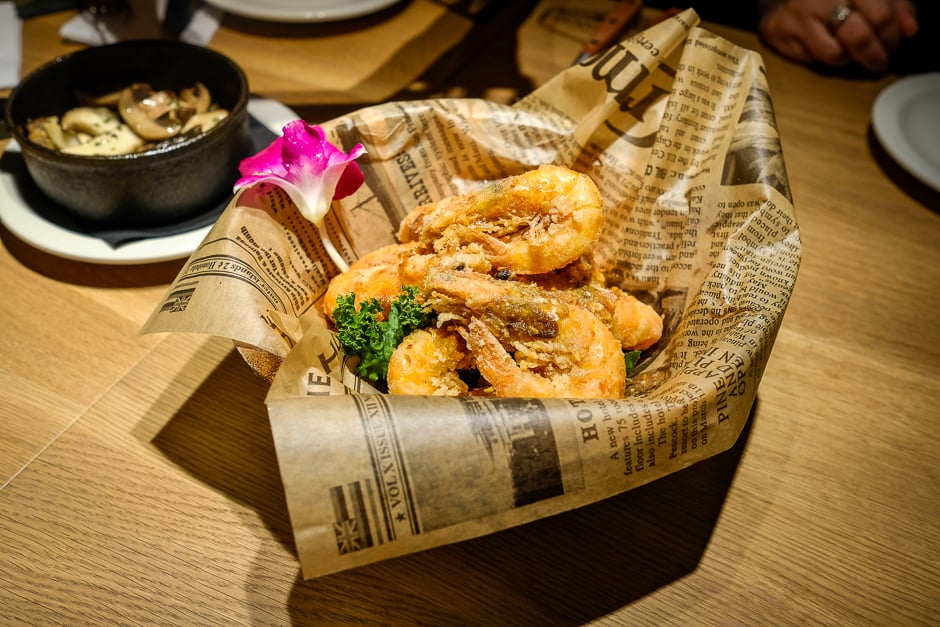 Japanese quirk No. 4: They serve many shochu and whiskey highball drinks. As a highball drinker, the one I repeatedly return to is made with Old Pali Road Whiskey ($9), a new one from Koolau Distillery. There's also a North Shore-style honey lemonade that comes in a cute honey bear bottle ($7.50) that you can take home.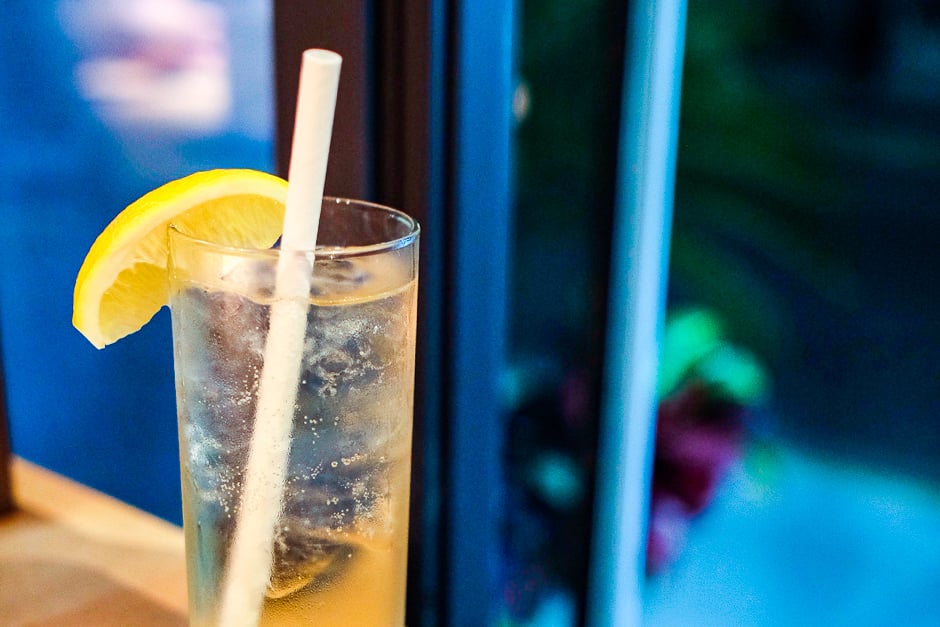 Japanese quirk No. 5: The show-stopping watermelon soft cream ($6). Fresh watermelon is blended with cream, swirled into a green waffle cone and topped with chocolate chip "seeds" for ultra-cuteness. After a scorching hot steak meal, you're going to need one of these to cool off. I love that they even come in cone holders so you can snap away.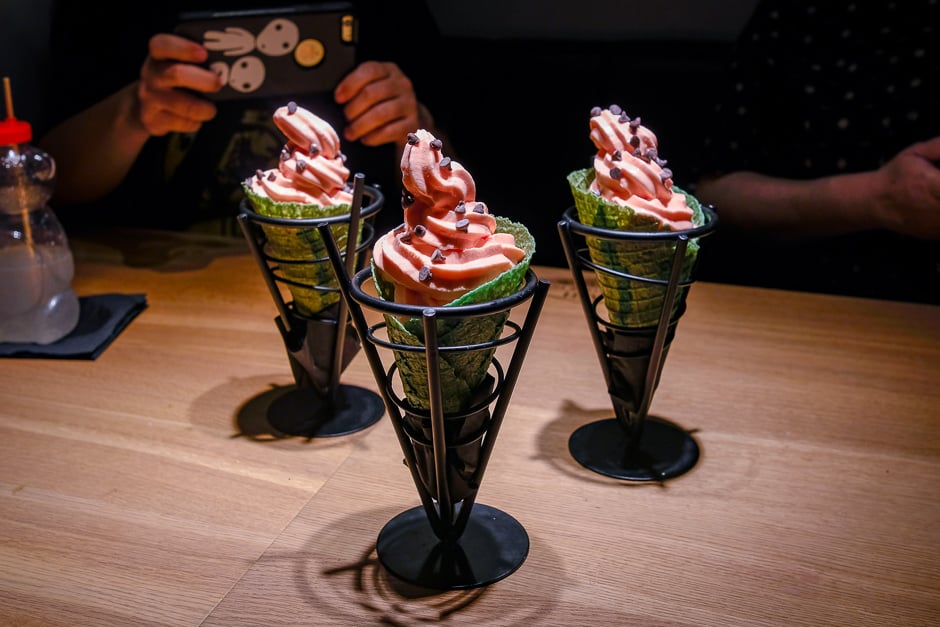 With more than 170 restaurants spanning Asia, Oceania and Hawaii, Zetton's Kenichi Inamoto is a bonafide restaurant mogul. His Tokyo-based company has a chain of tiki-themed Aloha Table restaurants in Japan and Korea. Inamoto, who lives in Hawaii part-time, has a track record of success with his Hawaii operations, which cater to different mixes of locals and Japanese.
It has been a few years since Michael Mina's Strip Steak, the last new steakhouse, opened in Honolulu. What I appreciate most about ASH is that it brings a more wallet-friendly option to Waikīkī. For the everyday steak lover, that's a winner winner beach and beef dinner.
320 Lewers St., (808) 600-3431, alohasteakhousewaikiki.com