Viva Las Vegas: Golden Nugget's famous bread pudding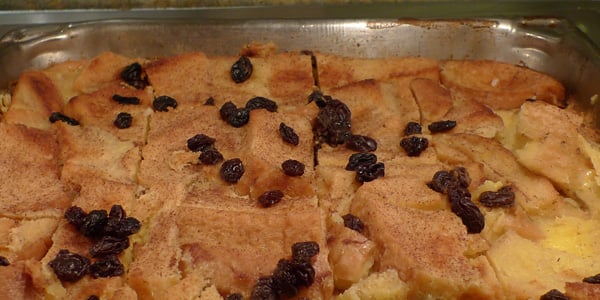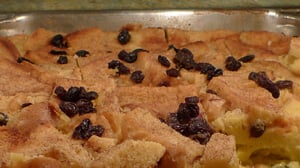 I'm not a big fan of buffets, although I always feel compelled to eat at one while I'm in Las Vegas … and if I do, it's going to be a good one on The Strip. If you hit a Downtown buffet, however, you're probably doing it for a specific thing, like Main Street's oxtail soup or California's, uh, great value. For many at the Golden Nugget, it's for their (allegedly) world-famous bread pudding.
The Golden Nugget was once owned by hotel mogul Steve Wynn and its famous bread pudding was supposedly made according to his mother's recipe, below. Although the property has changed hands several times, the recipe has remained the same and is still served on the buffet line. I'm told you can call the hotel for the recipe, which is what I think what my cousin Karen Peterson did when she submitted this to our Chang Family cookbook several years ago.
Some friends asked for this recipe before I left on my trip, so I stayed in the Golden Nugget, ate the bread pudding, and dug up the recipe. I've also included the recipe for the optional bourbon sauce, which they now serve on the side. (I usually prefer creme anglaise on bread pudding, but this one can stand on its own.)
Golden Nugget's World-Famous Bread Pudding
Serves 12; Yields: one 10 x 12-inch pan
16 oz. Half and Half
8 oz. whipping cream
8 eggs
1-1/4 cup sugar
1/4 tsp. vanilla
4-1/2 slices white bread
1/2 tsp cinnamon
1 tsp sugar
2 tbs. raisins
Mix well: half and half, whipping cream, eggs, sugar, and vanilla.
Arrange bread on bottom of pan. Pour liquid mix over bread. Mix cinnamon and 1 teaspoon sugar together and sprinkle over bread. Spread raisins over the top. Cover with foil and bake in water bath at 400 degrees for 75 to 90 minutes.
Bourbon Sauce
8 oz. butter
1 lb. brown sugar
1/2 qt. heavy cream
1/2 cup Bourbon liquor
Melt butter and brown sugar. When it is completely melted and sugar is dissolved, turn off the heat. Add and stir heavy whipping cream, then add and stir Bourbon.
Enjoy!
Up next: dinner at Andiamo at The D. Do you know what The D used to be?