Ultimate ube roundup
Purple treats are having a moment. Here's where to find them around Honolulu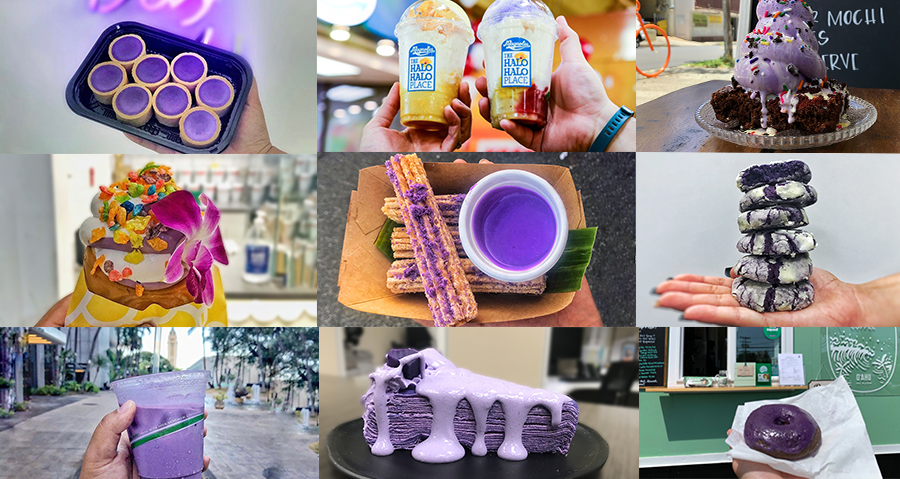 Ube. Some know it as the thing that give desserts a pretty purple color. Others know it as the tuberous root Dioscorea alata. Filipinos know it as the pride and joy of the Philippines, alongside Manny Pacquiao.
Whatever you know it as, ube seems to be everywhere lately and it's trending hard. Here are some of Honolulu's newer ube concoctions and where you can find them.
DRINKS
Taro and ube latte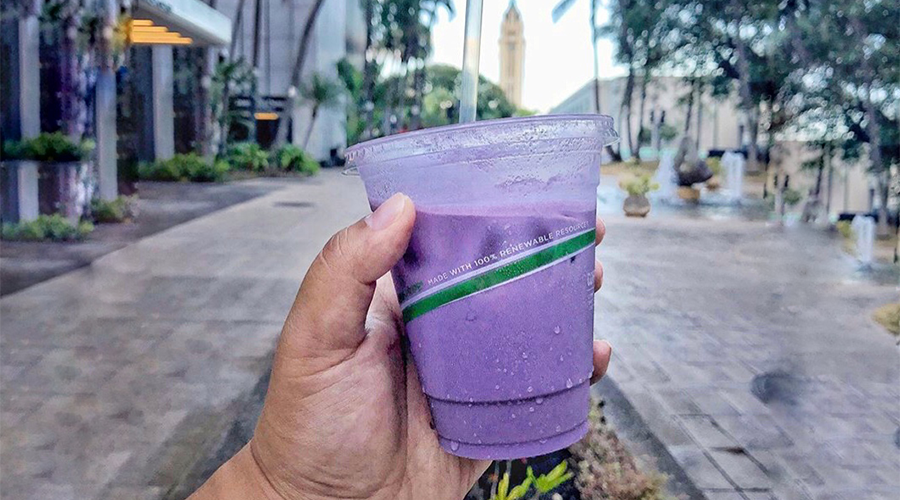 Available daily at Alii Coffee, the Taro and Ube Latte ($4.60 to $5.20) combines taro creme, ube extract, espresso and steamed milk, giving it a soothing light purple hue. To cool down on a hot day, get it iced. If the weather drops below 80 degrees, you can get it hot.
Alii Coffee • 35 S. Beretania St. • Downtown • 532-7928 • www.aliicoffee.com
Ube latte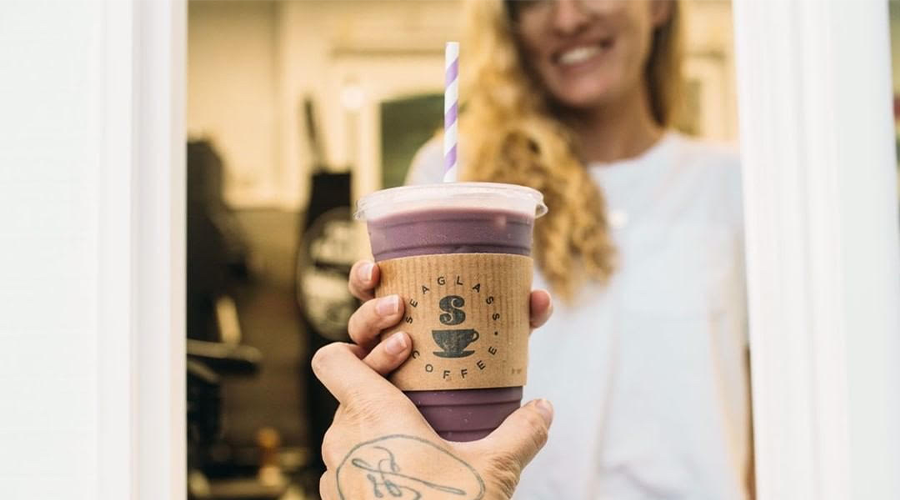 For the dairy-sensitive, Seaglass Coffee offers a vegan ube latte ($4.75 to $5.75) with macadamia nut, coconut or almond milk. If you're a fan of ube but not of coffee, opt for no espresso.
Seaglass Coffee • 33 Oneawa St. • Kailua • www.seaglass-coffee.com
BITES
Ube churros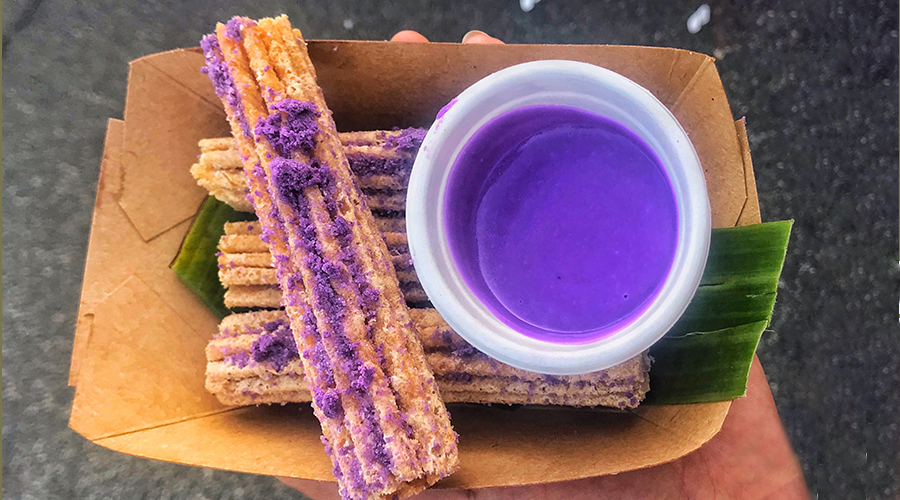 Ube Purple Love ($10) is Minasa's twist on classic churros. The churros are dusted with housemade ube sugar; to up the ube flavor, dunk them in the signature ube butter dipping sauce. For a grander experience, get it a la mode with a scoop of ube ice cream. You can find Minasa's food truck at pop-up events like Eat the Street, New Wave Friday and Art + Flea.
Minasa Hawaii • www.instagram.com/minasahawaii/?hl=en
Ube crepe cake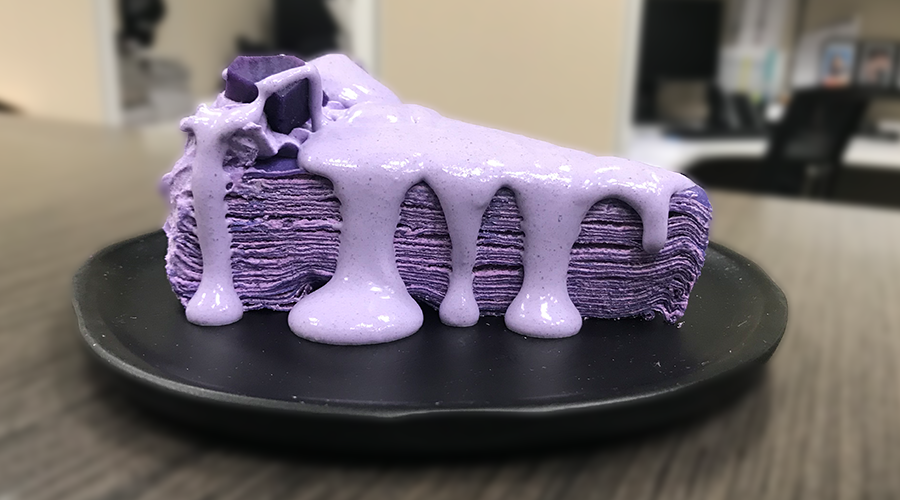 If you ever wondered what biting into a purple cloud is like, try the ube crepe cake ($7.50) at Miss Chen's Cake. It's stacked 23 layers high and adorned with pieces of sweet potato around the edge. For the grand finale, drizzle the ube cream sauce and watch it flow down the sides, creating an Insta-worthy dessert.
Miss Chen's Cake • 808 Sheridan St. • Pawaa • 492-1723 • www.misschenscake.com
Ube donut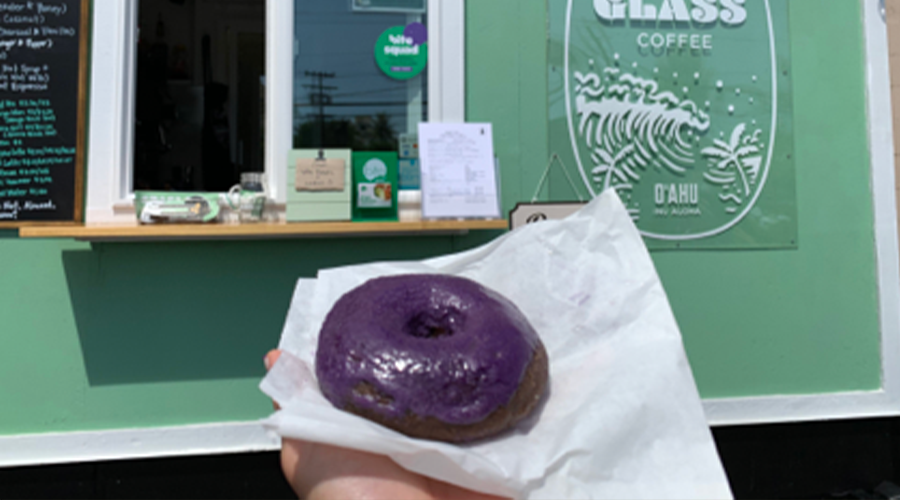 For a semi-guilt-free way to indulge in ube, try these donuts ($3.50) by Shortcakes Hawaii. The vegan cake donut is topped with a housemade ube halaya glaze. You can cop this dessert at the Seaglass Coffee trailer or order from Shortcakes Hawaii.
Seaglass Coffee • 33 Oneawa St. • Kailua • www.seaglass-coffee.com
Crinkle cookies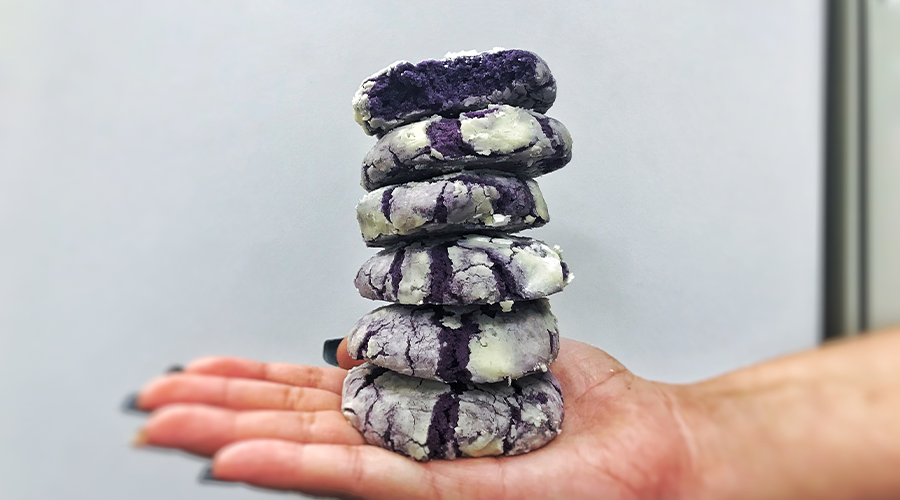 You'll find ube crinkle cookies (6 pieces for $10) on the shelf at UBAE daily. The light and fluffy cookie gets its color from the tuberous root and is baked with a powdered sugar, giving it that crinkled look. Make sure to grab a fistful of napkins, because one bite and the powdered sugar gets everywhere.
UBAE • 1284 Kalani St. • Kalihi • 439-3224 • www.ubaehawaii.com
Ube cheesecake tarts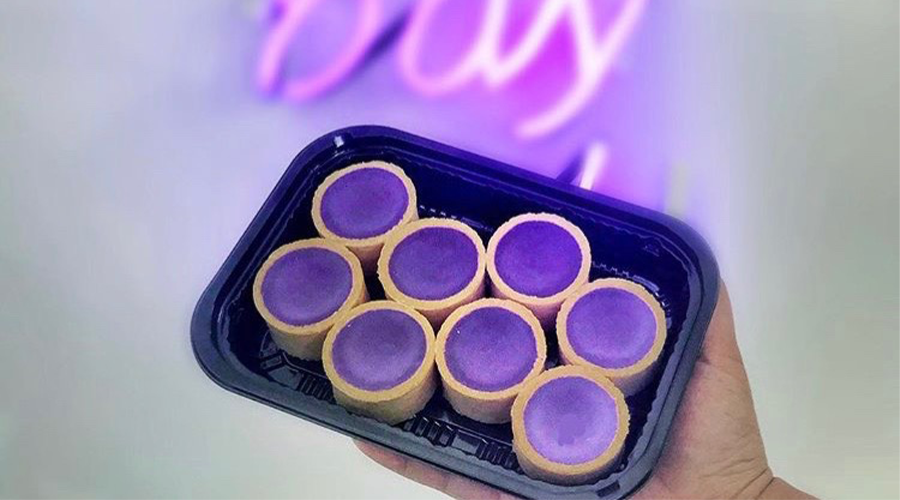 The ube cheesecake tart (8 pieces for $10) is a miniature version of UBAE's signature ube cheesecake. Creamy, ube cheesecake filling is baked in little tart shells, making for a photogenic treat. Be careful with the smaller size — it makes it easier to eat and before you know it, it's all gone.
UBAE • 1284 Kalani St. • Kalihi • 439-3224 • www.ubaehawaii.com
Ube tarts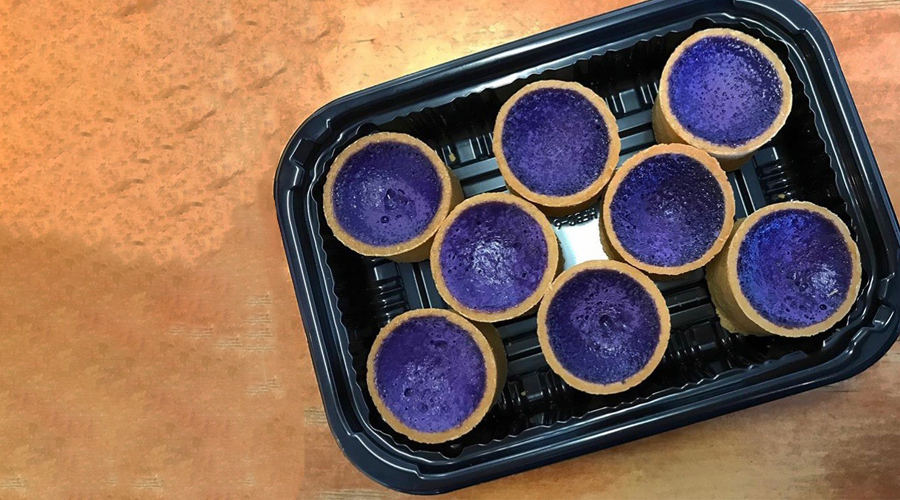 Uber Factory in Wahiawa also dishes out ube tarts (8 pieces for $10). The ube tarts fall more on the custardy side, with a deep violet color. The bakery sells ube tarts every day along with their special flavor of the day. The line is always out the door, so come in earlier to secure your tarts.
Uber Factory • 71 S. Kamehameha Hwy. • Wahiawa • www.facebook.com/UberFactory/
CHILLS
Halo halo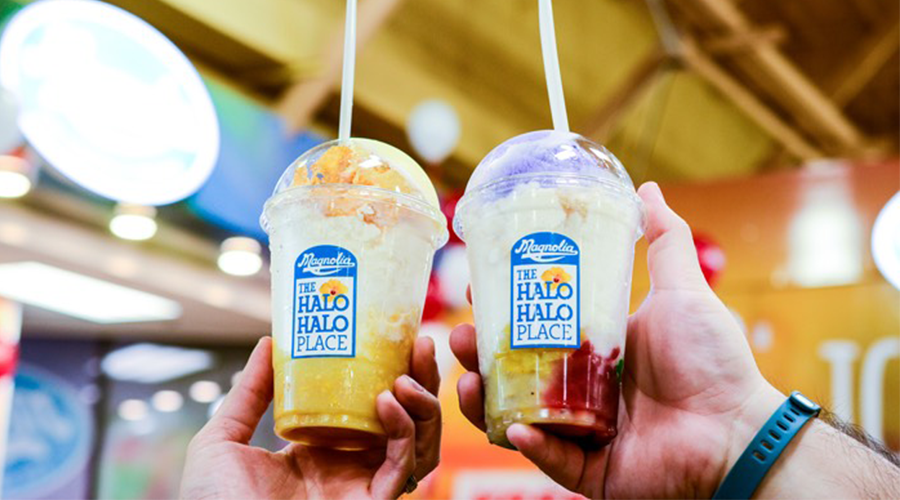 The Mahalo-halo ($6.49) is a staple Filipino dessert: It starts with a base of jellies, sweet beans and fruits. Next, shaved ice is packed in and doused with condensed milk. Last, a scoop of ube ice cream is added to crown the dessert. Use the special long-handled spoon to mix all the layers together.
Magnolia Ice Cream and Treats • 94-050 Farrington Hwy. • Waipahu • 680-0590 • www.magnoliaicecream.com
Ube taiyaki soft serve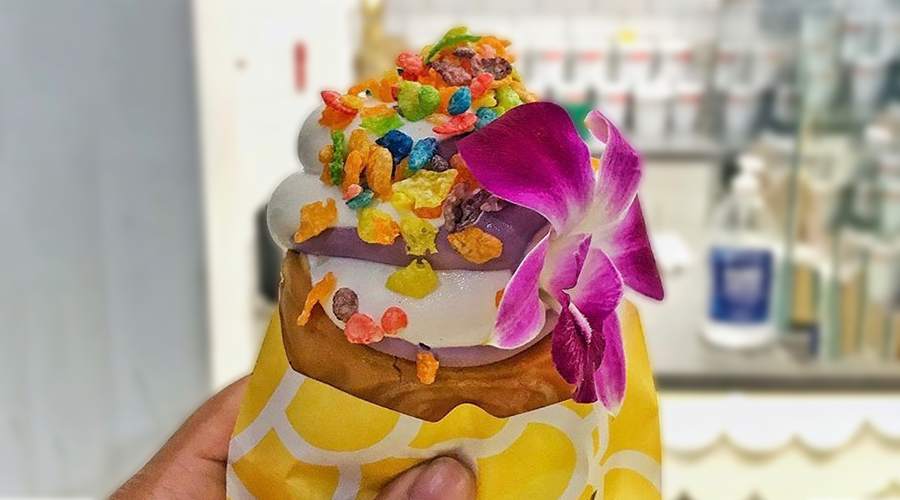 Somi Somi transforms ube into ice cream and serves it in an ah boong ($5.95) — a Korean-style taiyaki. You can fill it with Nutella, custard, red bean or taro. For more variation, get the ube swirled with one of the other featured flavors. If you're feeling extra, take advantage of the unlimited toppings.
Somi Somi • 1450 Ala Moana Blvd. • Ala Moana • 206-8997 • www.somisomi.com
Ube soft serve sundae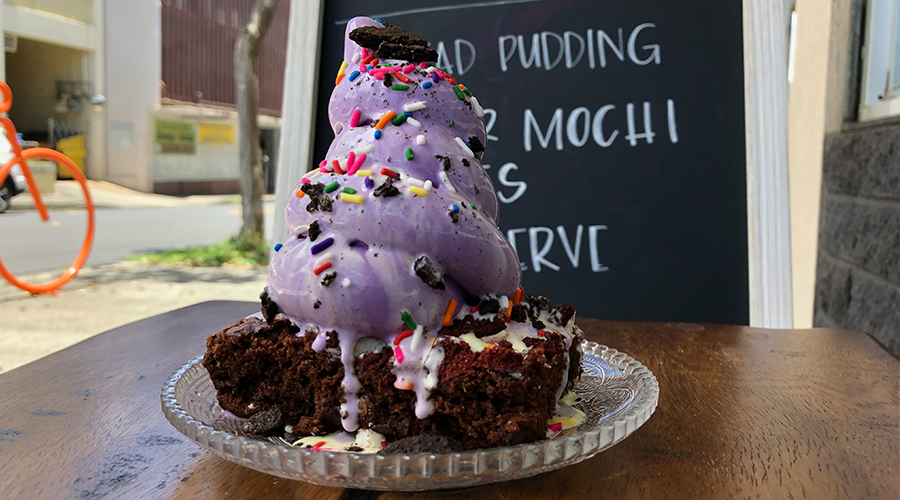 Chocolate + Vanilla Bakery's red velvet Oreo sundae starts with a base of fudgy brownie mixed with pieces of red velvet Oreo cookies and tops it off with a swirl of ube soft serve. Eat it quickly, because it melts quickly. The ube soft serve is available every day, but the sundae base changes, meaning there's no one price. Check with the bakery before you go.
Chocolate + Vanilla Bakery • 115 12th Ave. • Kaimuki • 737-2462 • www.facebook.com/chocolateandvanilla808/