Try these crazy taiyaki snacks from Yoloha Cafe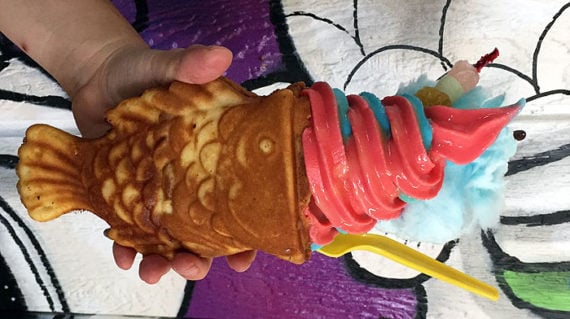 I'm sure I'm not the only one who's been drooling over all the recent taiyaki posts on Instagram.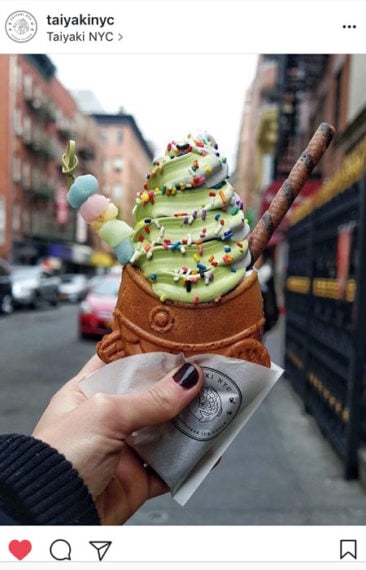 Here's my taiyaki pic, from Yoloha Cafe in Waipahu: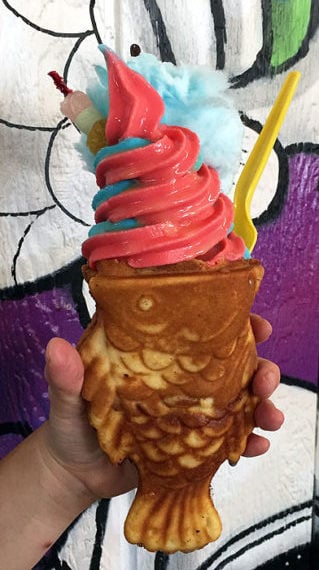 For those who don't know about this trendy snack that's become popular from places like Taiyaki NYC to SomiSomi in L.A., taiyaki actually hails from Japan as common street food fare. This fish-shaped cake is symbolic of the sea bream (tai), a well-loved fish served at celebrations. And yaki means grilled (think yakitori or yakiniku). Thankfully, this version is a sweet that's stuffed with a variety of fillings.
At Yoloha Café there's an ever-expanding menu of sweet and savory taiyaki, meaning I don't need to cross the ocean to get my fix. This Cafe is living proof that a little fish can go a long way.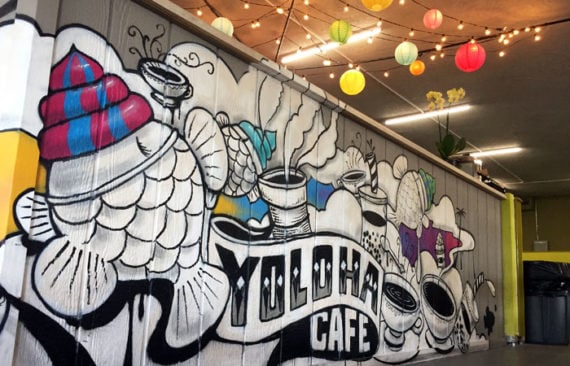 Owner Ann Inouye opened Yoloha — a mashup of "YOLO" and "aloha" — at the beginning of February. While there's boba and coffee, it's famous for the taiyaki ($5). I've been to Yoloha four times … and each time, the menu featured something new.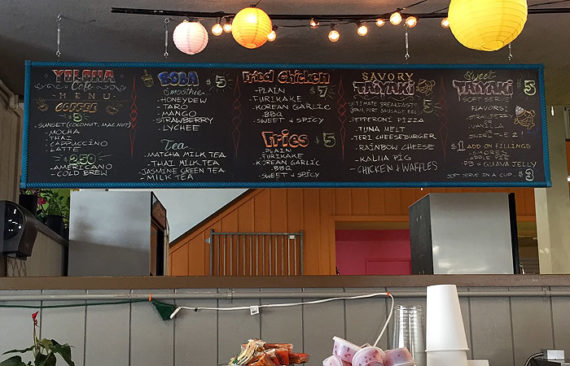 Inouye originally made her taiyaki with mochi, but it was flimsy and deflated. Now she makes waffle and croissant taiyaki. The sturdier waffle taiyaki holds the soft serve. Savory options use the buttery, light croissant taiyaki.
How is it made? Traditionally, a cast iron mold in the shape of a fish is filled with batter and a dollop of azuki is placed in the middle. Then it's turned over, cooked on the other side and served piping hot. Yoloha sticks very close to this process with an actual taiyaki machine. They make the batter from scratch daily.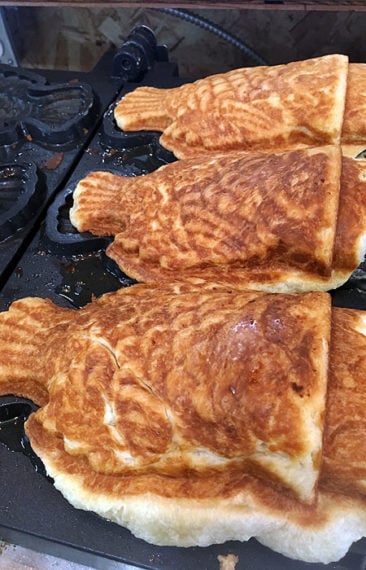 The original taiyaki is still the best seller. The Samurai treat is especially popular in the afternoon, when hangry kids are done with school.
If you want something even sweeter, you can get a taiyaki with s'mores, apple pie or PB&J filling for $1 more. S'mores features the traditional marshmallow, graham crackers and chocolate; apple pie is real apple pie filling topped with cinnamon toast crunch, and PB&J consists of crunchy peanut butter and guava jelly. For 50 cents more you can add azuki beans, coffee jelly, an espresso shot, mochi balls, marshamallows or whatever else your heart desires.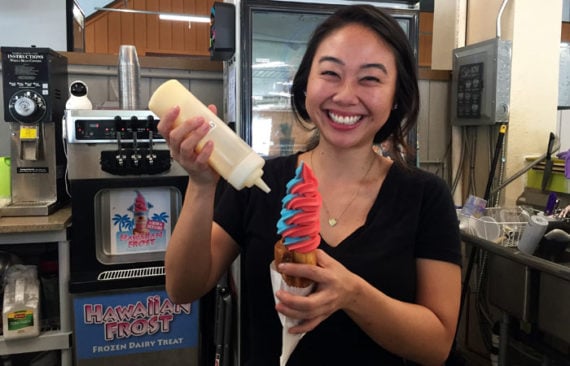 When I'm handed my original soft serve taiyaki, I feel the warm, fresh waffle through the wrapper. The Samurai soft serve is swirled perfectly to a staggering height — check it out next to my face!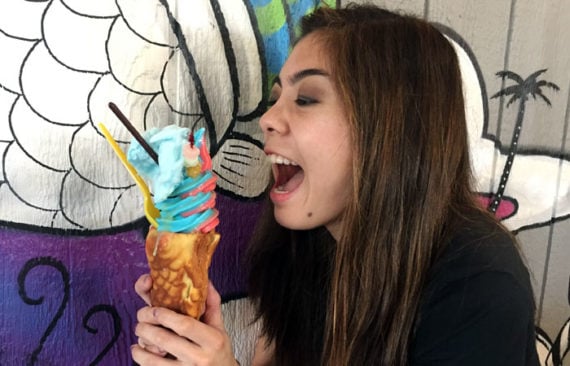 The blend of strawberry and vanilla is refreshing and the soft serve doesn't melt too quickly, considering how warm the waffle is. It's bready — especially as I get down to the tail end (pun intended) — but I like that. It soaks up part of the soft serve, but is strong enough to keep it from leaking through. The chocolate Pocky stick provides crunchy relief. And the mochi balls and cotton candy — talk about whimsical flair! I like my plain taiyaki, but apparently adding li hing, matcha or cinnamon powder gives it more zing. I'll try that next time.
But wait, there's more. Yoloha's newest savory option is like unicorn grilled cheese on steroids.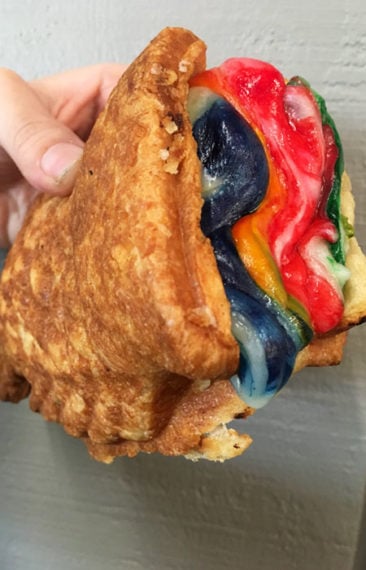 The Rainbow cheese ($5) is simple in concept: a croissant taiyaki filled with globs of colored mozzarella cheese. It's not quite a grilled cheese, but it's simple but comforting. I'm just thrilled with the gooey mozzarella that oozes out with each bite.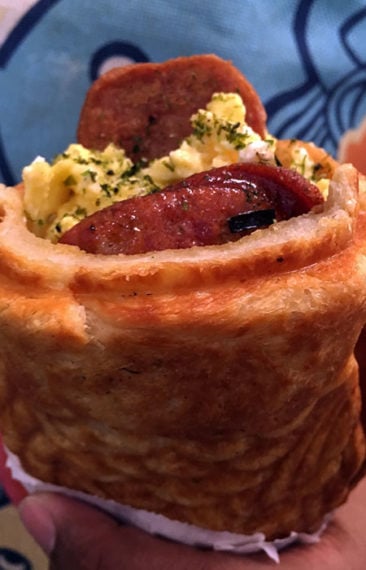 Since brunch is my favorite meal, I'm always looking for breakfast options that are available at any time of the day. The Ultimate Breakfast taiyaki has a huge slice of Spam and hearty sausage slices. Fluffy scrambled eggs balance everything out and furikake provides extra crunch and saltiness. Think of your favorite breakfast sandwich, but in a funner fish shape.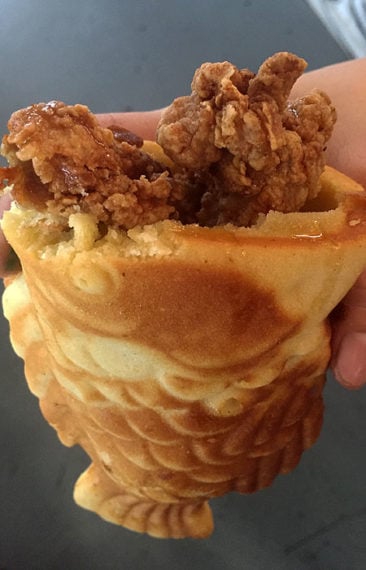 The Chicken & Waffle taiyaki is the only savory option to use the waffle taiyaki because of course! The crispy chicken is the perfect counterpart to the chewy, moist waffle. The honey drizzle on top makes this complete and reminiscent of one of my favorite breakfast dishes.
Every trip to Yoloha is a unique experience, since I never know what outrageous new taiyaki I'll find. No matter what kind of day I'm having, I always leave feeling happy and ready to keep swimming through life.
Yoloha Café
94-333 Waipahu Depot St.