#TrashyGourmet: Furikake Spam, chicken pot pie, youtiao shoyu hot dog
Part 2 of our zhuzzed-up pantry staple series because after a month at home we're so over plain fried Spam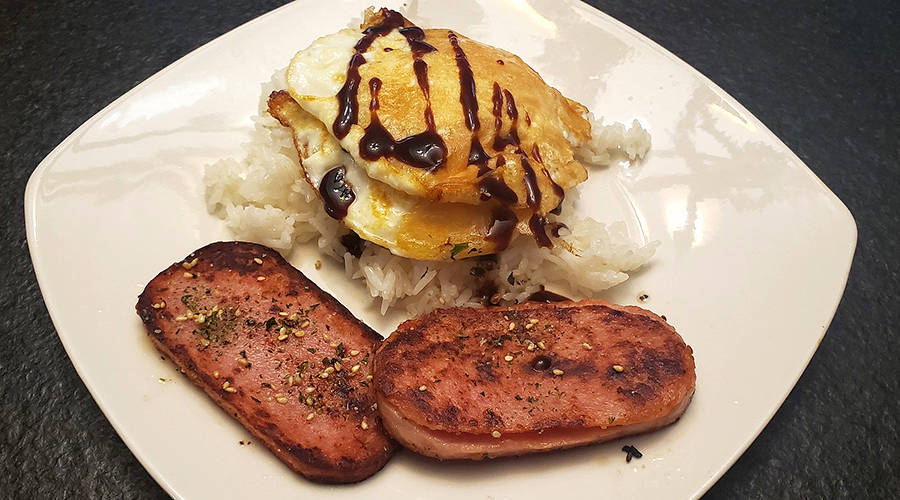 Week 5 of stay-at-home and we've been cooking the same things over and over. Wait, not! When Frolickers Jason Chin, Thomas Obungen and Gregg Hoshida started taking everyday foods, elevating them through fancy plating or the addition of higher-end ingredients and posting their dishes on social media under the hashtag #TrashyGourmet, the idea took off. After all, who doesn't have Spam, Vienna sausage and canned corn in the pantry? Hot dogs in the freezer? Kraft singles in the fridge?
Have a #TrashyGourmet creation you want to share? Use the hashtag #TrashyGourmet and tag us on Instagram. We may be contacting you about your recipe!
See also: #TrashyGourmet: Bougie Spam, Vienna sausage & tater tots
Furikake Spam and eggs with tonkatsu sauce reduction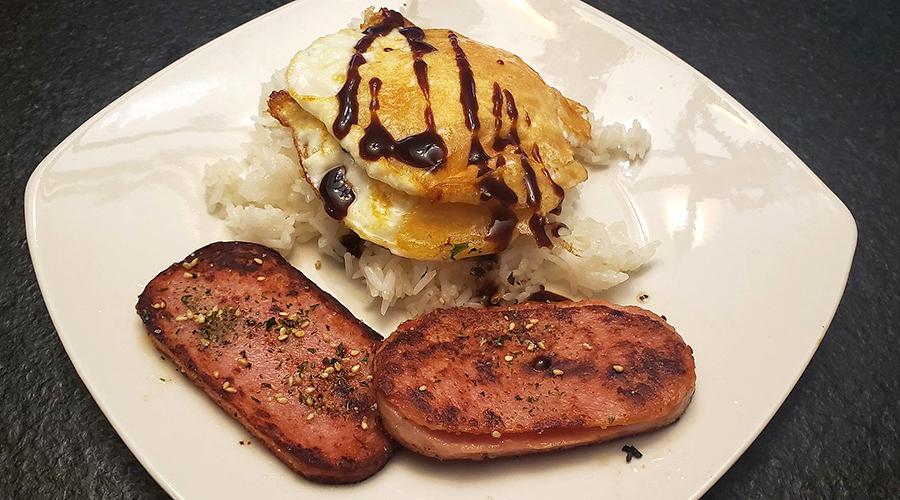 By Gregg Hoshida
I have loved Spam and eggs since I was a wee lad growing up in Kalihi. So when Jason presented the opportunity to make a trashy gourmet dish, this needed to be my first foray into a whole new culinary challenge.
Ingredients
2 slices Spam
Furikake
About 2 Tablespoons tonkatsu sauce (I prefer the Bulldog brand)
1 egg
Generous scoop of rice
Instructions
Fry the Spam on medium heat for 1 minute
Turn over Spam slices and sprinkle a generous coating of furikake
After 1 minute, turn over again and add furikake to the other side
Cook for another 30 seconds and plate
Drain fry pan of all but 1 tablespoon of oil and add egg
After egg is cooked to your liking, add 2 tablespoons of tonkatsu sauce
On low heat, simmer down the sauce until it resembles a very thick syrup
Plate up furikake Spam and rice, top rice with egg and use a spoon to drizzle tonkatsu sauce reduction over your egg
See also: Local comfort: The perfect boiled peanuts
Chicken pot pie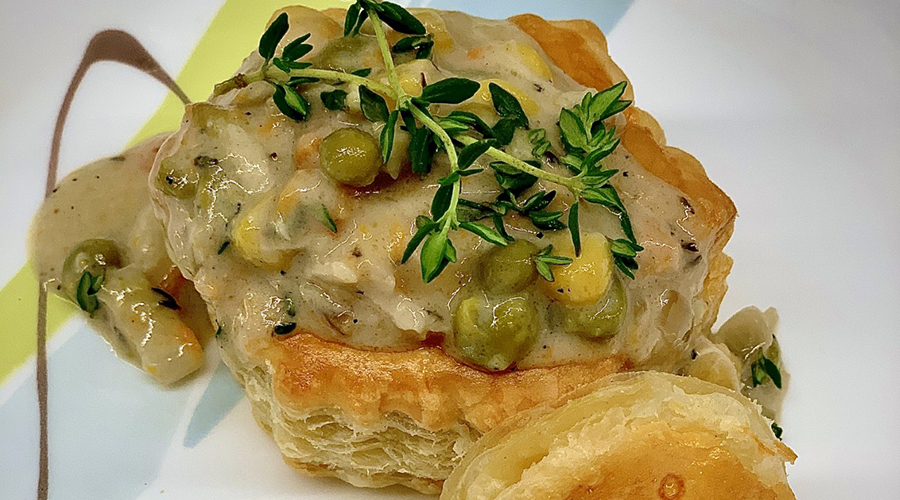 By Joanna Justo
I'm cooking American-themed foods this week and I needed something that's quick and easy. I had all these canned goods and they just so happened to be the ingredients for chicken pot pie. Since it's canned foods, I thought, 'How can I elevate this dish?' Puff pastry and fresh thyme came to mind and the rest is history! The show Chopped also played a big role in inspiring me.
Makes 6 servings | Prep time: 20 minutes | Cook time: 20 minutes
Ingredients for chicken filling
1 can of chicken
1 can of peas and carrots
1/4 cup canned corn
1 teaspoon dry thyme
1/2 stick unsalted butter
3/4 cup chicken broth
3/4 cup whole milk
2 Tablespoons flour
1/2 cup chopped onions
2 cloves of garlic
salt and pepper to taste
Ingredients for puff pastry
1 package Pepperidge Farm puff pastry
1 egg
1 Tablespoon water
Instructions
Prepare puff pastry according to package instructions. To achieve golden brown crust, brush puff pastry with egg wash prior to baking
While puff pastry is baking, cook butter, onions and garlic in a pan on medium heat until translucent
Add peas, carrots and corn and cook for 2 minutes
Add flour and cook flour through
Once flour is cooked through, add chicken broth and milk
When the sauce forms into a gravy, toss in canned chicken
Season with dry thyme; add salt and pepper to taste
You can add additional chicken broth to thin the gravy if it's too thick
Allow puff pastry to cool for 4 minutes. Remove the puff pastry top and spoon chicken filling into puff pastry
Top with fresh thyme as desired and enjoy
Youtiao shoyu hot dog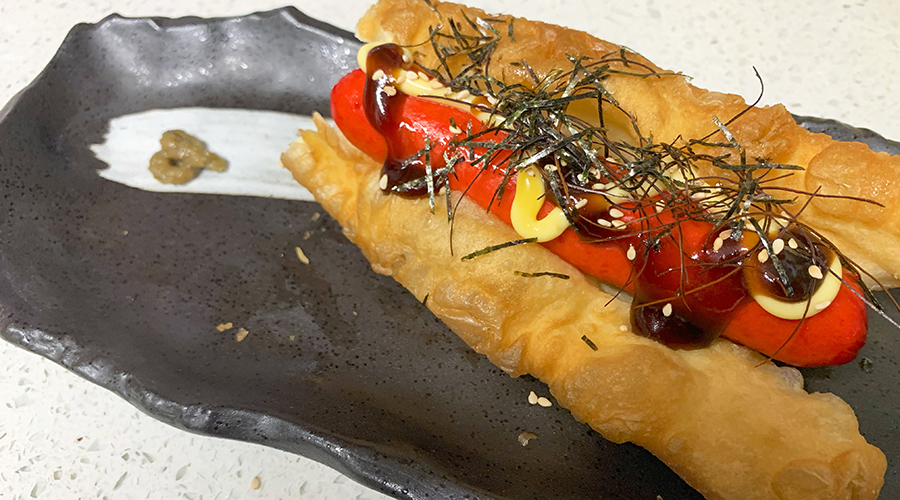 By Jason Chin
Youtiao is the classic Chinese stick donut found all over China, Hong Kong and parts of Southeast Asia. It's popular dipped in soy milk for breakfast, as an accompaniment to jook or congee, or as a dim sum staple. Be warned that making your own youtiao is a two-day process, but I guess many of us have more time on our hands than we used to. I've purchased this in the freezer section of 88 Pal Pal Supermarket and it's not bad heated up in the toaster oven.
I had some leftover youtiao, so I decided to see if it would make a decent hot dog bun. I made a simple shoyu hot dog with Redondo's Hawaiian Winners and topped it with some Kewpie mayo, hoisin, nori and sesame seeds. You could certainly use furikake, but I didn't have any at the time. This was really one of those 'something out of nothing' dishes.
I just eyeball the ingredienrts when I'm making a shoyu hot dog, so here's an approximation.
Ingredients
1 cup shoyu
1 cup sugar (I prefer using turbinado raw sugar)
1/4 cup mirin (optional, but if you leave it out, add a bit more sugar if you like it sweeter)
1 pack of Redondo's Hawaiian Winners
Instructions
Pour everything in a small saucepan
Bring to a boil and reduce to a simmer
Let it simmer for about 3-4 min
Shut off the heat and serve with youtiao and your favorite condiments
See also: Breakfast in Taiwan