Townies' Loss Is Windward's Gain: Ganesh Dosa Moves to Kailua
The journey over the Pali is worth it for dosas both savory and sweet.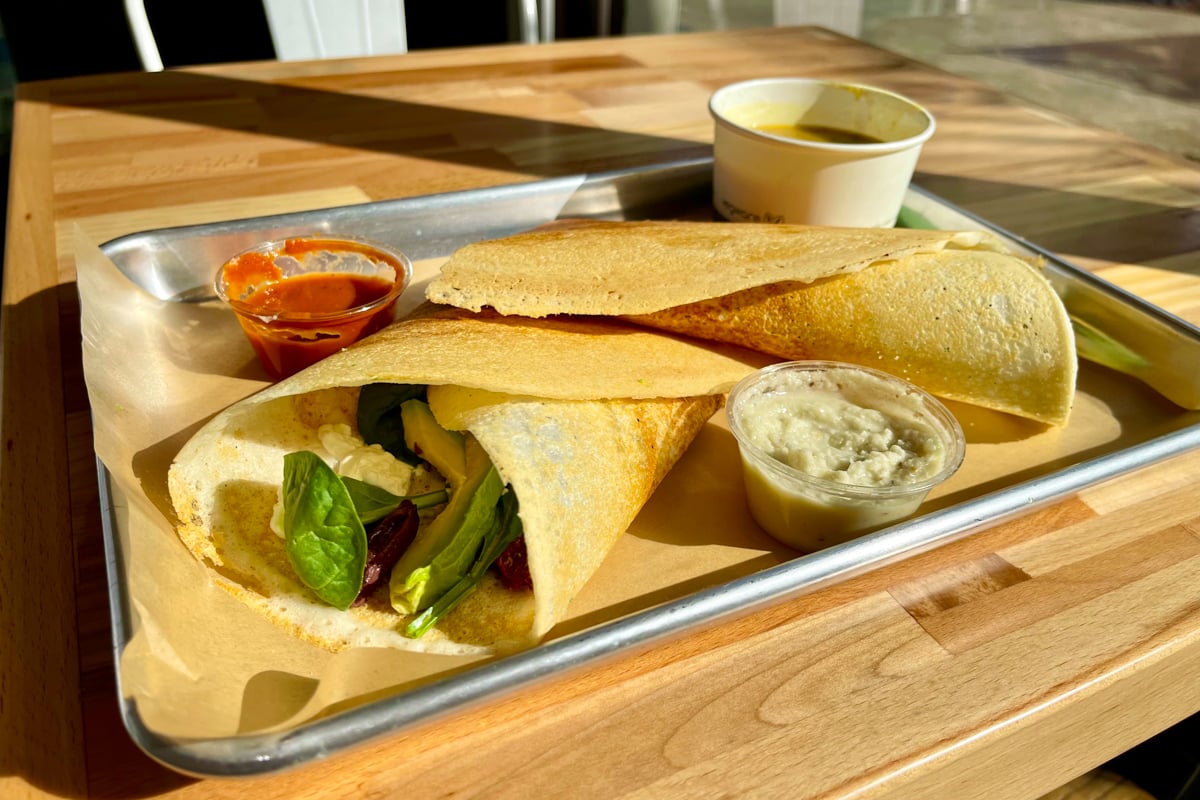 It was exciting when Ganesh Dosa opened at 'Ohana Hale Marketplace a couple of years ago, bringing the crisp, tangy South Indian crêpes to town. Now the news is even more exciting for Windward residents like me: Owners Pablo and Moe Muller have moved Ganesh over the Pali to Kailua. The new location, to the left of Cinnamon's in Kailua Square, bears a serene ambiance and new menu items. There's a build-your-own option where you can choose from over 10 vegetarian toppings including avocado, spinach and cheese, as well as salads, drinks and a dessert dosa filled with Nutella and drizzled with dulce de leche, nuts or coconut.
Because I usually order the classic with potato masala ($11), I happily go with Moe's suggestion to try the less traditional Mediterranean ($11), a holdover from 'Ohana Hale. My excitement grows as I watch her spread a thin layer of batter on the hot circular griddle and pile on fresh spinach, goat cheese, sun-dried tomatoes and kalamata olives. The batter cooks quickly as its edges take on the toasty flavor of crispy rice. As she folds the dosa over on itself and cuts it in two, there is a loud crunch. This is the part where I love that it's not a crêpe. I'm literally salivating as Moe loads my dosa onto a plate. Dosas come with a chutney of your choice, either coconut ginger or tomato sambar, both of which have a slight sweetness and heat. Don't expect anything like Punahou Carnival mango chutney—in India most sauces are referred to as chutney. I go for both because #sauceislife and am pleased when my dosa also comes with a warm cup of sambar soup, a homestyle combination of cabbage, potatoes and lentils with a light tamarind flavor.
View this post on Instagram
Curious about the origin story, I instead get two—about dosas and the makers of the one in my hands. Almost 20 years ago, Pablo, who is originally from Argentina, attended an intense yoga ashram in upstate New York. Members were given tasks when the ashram hosted large yoga gatherings; Pablo was tasked with making dosas for meals. He marveled at the crispy crepe cousin's ability to be both intensely flavored and light with a tantalizing crunch. Traditional dosas are also gluten-free and can easily be made vegan. Pablo's dream of making and feeding people dosas was born. Along the way he met Moe, and the two have been making dosa magic ever since.
In India there are many kinds of dosa. Ganesh makes a variation of a masala dosa, filled with potatoes mixed with Indian spices and seeds, and less traditional ones. The batter is created by soaking basmati rice and black gram (also known as urad dal, a type of black bean) in water and then blending the mixture together. A fermentation period before and after blending yields a slightly tart, bright finish—a process that harks back to an ayurvedic foundation of naturally fermented breads to aid in digestion. The spices that make up masala seasoning are also ancient blends that support the proper functioning of the digestive fire or ugni.
As I fold half of my dosa in half again, I create a well where I pour my sauce and dig in. Every bite is a texture and flavor bomb. The sweet and tangy tomato chutney brings out the sweetness of the goat cheese; wilted spinach provides a base for intense pops of briny, buttery kalamata olives. I finish my dosa bite by bite, taking pauses for my warm chai and soup in between.
---
SEE ALSO: The Story Behind the "Swap Meet With Upgrades" That Has Become a Destination for Local Entrepreneurs Looking to Set Up (a Small) Shop
---
On my way home Frolic's Mari Taketa asks me an unexpected question. "How did you eat it?" Now I have questions! Am I doing it right? Am I missing a serious hack? So after some intensive YouTube research, I've narrowed it down to a few pointers because as it turns out, there is a right way to eat a dosa. First, and this is a no-brainer, wash your hands. Dosa is meant to be eaten with your hands. Then, starting from the outer edges and working towards the center, tear off bite-size pieces and dip them in creamy chutney or the sambar kind. Then again, my motto is live your life and mix sauces if you want. Or tear off parts of the crispy ends and use them to sandwich chunks of filling. My crunchy origami sauce bowl technique is nowhere to be found.
Afterward, I feel deeply nourished and at the same time light and energized. I can't ignore how vegan and vegetarian food feels cleaner in my body, easier to digest. If Ganesh Dosa is trying to bring its customers to some plane of higher consciousness, it's not doing it in a dogmatic way. But with dosas like these, it's likely that the result will be just that.
Open Tuesday to Saturday from 10 a.m. to 7 p.m., Sunday from 10 a.m. to 3 p.m. 315 Uluniu St., (808) 762-7517, ganeshdosa.com, @ganeshdosa