Top 10 downtown lunch picks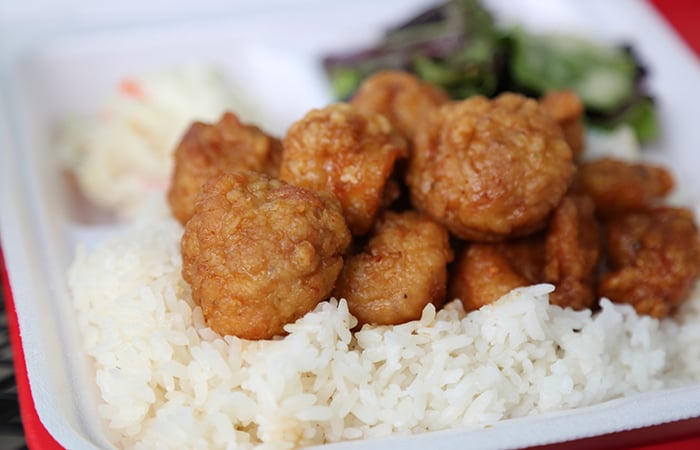 You've heard of ladies who lunch? Frolic's Grant "Chuggy Bear" Shindo and Thomas Obungen are dudes who lunch — just a couple of hungry guys with appetites for everything under the sun. The midday meal is sacred to them, a chance to discuss worldly matters, wala'au, and eat like kings. And since they work downtown, all this happens within a few-block radius of Bishop Street.
From local restaurants with national buzz to holes-in-the-wall, here are Chuggy and Thomas' 10 downtown lunch picks that will have you keeping that home lunch at home.
If the boss is paying: The Pig and the Lady
Thomas: There's an exorbitant number of dishes to choose from, but my tried-and-true favorite is the P&L Mazemen ($15). Chef Andrew Le's take on the dry style ramen is an explosion of herbs and spices tangled in ropes of rippled temomi noodles (made in house no less), which do a good job of soaking up the sweet peanut satay sauce. The added pieces of Big Island Lowline beef and tendon make for a hearty meal well worth the wait for a table.
Chuggy: We used to go to the Honolulu Farmers Market every week just to eat at the Pig and the Lady, so when they opened in downtown we knew we would be regulars. I tend to stick to basics like the 12-hour brisket pho French dip ($14) and smoky chicken pho ($14), but once in a while a dish really hits a high note and I'm ordering one after another. The Laotian fried pork lechon and spicy ahi negitoro donburi ($16) is my current obsession: crispy pork skin with a melt-in-your-mouth layer of fat on top of finely chopped ahi on a bed of rice. It's worth the extra gym time.
The Pig & The Lady • 83 North King St. • 585-8255
In the mood for a serious sandwich: Bethel Street Tap Room
Thomas: IMHO, the most efficient way to stuff your face is with a fully loaded hoagie roll, and Bethel Street Tap knows how to fill these. Their list of hoagies runs 10 deep, but I like to wrap my mouth around the Italian Stallion ($9), which stars capicola, salami, ham and provolone in addition to shredded lettuce, tomato and a twangy house vinaigrette. Pull it all together with homemade dill pickle spear and you're in business.
Chuggy: Once in a while I need a tightly rolled, expertly packed sandwich like the ones I used to enjoy from Potbelly's in Chicago. The BIG Bird sandwich ($9) satisfies with thick slices of turkey breast, muenster cheese and a housemade vinaigrette whose dill makes your mouth water with every bite. This is the grownup version of that sack lunch sandwich you had in school (or yesterday at your desk). Request a pickle on the side.
Bethel Street Tap Room • 1153 Bethel St. • 524-0920
For a Friday when work's not insane: Döner Shack
Thomas: Our relatively small downtown has three options for the Turkish delicacy known as the döner kebab (or gyros). When my tasks wind down on a Friday and I'm craving something meaty, Döner Shack's lamb and rice plate ($7.25) with a tub of hot sauce satisfies. The creamy yogurt sauce is the perfect yin to the spicy red sauce's yang. You will not accomplish much afterward, except maybe for a nap under your desk.
Chuggy: On days when I miss breakfast and am grasping at anything edible by 10 a.m., I crave Doner Shack for the sheer amount of meat. Although their meats come in wraps, sandwiches, salads and rice plates, let's be honest, no one comes here for a lamb salad, they come here for a heaping rice plate ($7.25 and comes with greens). Request double meat (+$2.50), get an extra hot sauce and call your order in if you'll be picking up in the middle of the lunch rush.
Doner Shack • 79 Pauahi St. • 286-0110
Power lunch with a client: Grondin French + Latin Kitchen
Thomas: Whether you need a spot to talk business or just want to show off your affinity for Chinatown's hidden gems, Grondin French-Latin Kitchen seals the deal. The three-course prix-fixe lunch ($22) includes a salad, sandwich and sorbet or ice cream. My go-to combo is the salade frisée with crispy lardon and soft poached egg with the mild chicken sofrito sandwich and apple banana ice cream.
The relaxed atmosphere lends itself to an extended lunch hour so be sure to #GSD when you're lunching.
Chuggy: Grondin transports you to a hideaway with a New York City bistro feel. It also has the best charcuterie in Hawaii. No one comes close to their preparation of pate, house-cured ham and gateau de foie. At lunch it all comes neatly stacked on a lightly toasted ciabatta bun ($12). Order some cornichons with it; the chef said he knows when I'm there because I need my side of pickles.
Grondin: French-Latin Kitchen • 62 North Hotel St. • 566-6768
When you crave a steaming bowl of soup: Lam's Kitchen
Thomas: In one of the farther stretches of Chinatown, Lam's Kitchen boasts the best bowl of noodle soup. I won't turn down the beef string bean over rice and the chow fun, but when it's chilly out I'm ordering the beef and tendon mien with extra won tons ($7.25). The thin egg noodles are cooked al dente and the beef and tendon practically fall apart in your mouth. Sprinkle some chili black bean sauce, slurp and discover a happy place.
Chuggy: There's only one dish to get here because they do it better than anyone else: braised beef brisket and tendon with look fun noodles in soup ($7.25). The workers know my order already and bring out a bowl with won tons added shortly after I sit down. The broth is flavorful and the beef extra tender after braising for hours. It's perfection in a bowl.
Lam's Kitchen • 1152 Maunakea St. • 536-6222
Quick and dirty lunch at your desk: Marukame Udon
Thomas: When I'm swamped with work and can't enjoy a meal out, Marukame Udon's takeout window is where I'm headed. I bypass the thick udon noodles for two sweet beef musubi ($2.45 ea) and a couple of freshly fried tempura veggies. Most side items are only $2!
Chuggy: I was first in line when Marukame opened downtown. My fave is the sweet beef bowl ($5.20) with green onion, tempura flakes, nori, a soft-boiled egg and pickled red ginger. I always get an extra ontama egg and ginger. I like to mix it all up and enjoy the perfect consistency.
Marukame Udon • 1104 Fort St. Mall • 545-3000
Home-cooked meal without the dishes: OEC Café
Thomas: Despite being a nine-minute walk with traffic signals, OEC Café's chicken nanban, complete with signature homemade sauce, is well-portioned for under $9. The couple that runs OEC are the sweetest people and passionate about their food. Chuggy says they have the best gohan, and I agree. Their creamy Japanese-style mac salad with potato is also worth savoring. Check their Facebook (OEC Cafe) for specials that rotate semi-weekly.
Chuggy: OEC Cafe has the best rice in town. I don't know if it's the fancy water purification system or the high-grade rice they use, but if I'm in the mood for good rice, OEC Cafe is the answer. With only a handful of daily specials and a limited regular menu, I always opt for the savory chicken nanban, crispy pork with red chili sauce or tonkatsu with pink tartare sauce (all $8). The plate lunches are super simple and cooked perfectly.
OEC Cafe • 345 Queen St. • 888-9328
It's 10:30, I skipped breakfast and I'm hangry: Scratch Kitchen and Bake Shop
Thomas: Everything at Scratch has that stick-to-your ribs quality, so satisfying your ravenous inner beast is no problem. I nostalgically order the chilaquiles ($12), a brunch staple across California and the Southwest: Shredded chicken mingles with crispy tortilla chips, roasted tomato-chipotle sauce and queso fresco on a skillet with a perfectly fried egg. Ask for homemade hot sauce to kick it up a notch. And be warned that the scones, cookies and muffins almost always sell out before noon.
Chuggy: The lunch rush at this brunch spot starts earlier than anywhere else. You won't leave hungry after a tall stack of milk and cereal pancakes ($10) and a huge pork adobo loco moco ($14), both comfort food done well. The pancakes are thick but not doughy, the milk is not too sweet and the fresh berries and cereal make me hungry as I write this. The adobo moco's nicely acidic pork and crispy tortilla strips make for perfect bites that keep me digging in.
Scratch Kitchen and Bake Shop • 1030 Smith St. • 536-1669
When you need to eat your feelings: Café 8 1/2
Thomas: Downtown's best-kept secret is hidden in plain sight on Alakea. Café 8 1/2's simple menu features San Francisco Italian-style pastas, salads (pro tip: don't get the "Small Boring Salad") and sandwiches. When I'm drowning in woes, the radiatore verde's ($15) hearty al dente penne dressed with tender chunks of grilled steak and homemade pesto screams, "All is right in the world because you have this delicious bowl of pasta to plow through right now."
Chuggy: When I'm having a tough week, I head to Cafe 8 1/2 for consistent, simple Italian food. My favorite is "the special." It changes day to day, week to week and sometimes doesn't exist. If they have a special, I get it without asking what it is. Some of my favorites are the lasagna, porchetta and confit chicken ($12-16). If there's no special I grab the chicken sandwich ($14), a full breast of chicken cooked absolutely perfectly and always moist between housemade bread.
Cafe 8 1/2 • 1067 Alakea St. • 524-4064
Bang for your buck: Maguro Brothers
Thomas: Fresh chutoro sashimi on the cheap? I never knew those words could exist in the same sentence. When i get Maguro's chutoro donburi for under $11, my wallet and heart breathe a collective sigh of relief. It's fresh, it's fast and you basically burn off all the calories by the time you've walked back to the office.
Chuggy: Maguro Brothers is the healthiest lunch on our list not only for their fresh fish, sashimi and poke but also the substantial walk to get there. You know the pedestrian mall in Chinatown with all the bananas? That's where Maguro Brothers is, inside Kekaulike Mall. These Japanese brothers serve up some of the best poke bowls for $7.75. Uniform cubes of ahi tossed in their sauces are always a good way to reward yourself for the walk. My usual order is creamy spicy ahi over a bed of sushi rice and a bowl of miso soup.
Maguro Brothers Hawaii • Kekaulike Market Place 1039 Kekaulike St. • 259-7100

Map