Tonight: Latte art at The Curb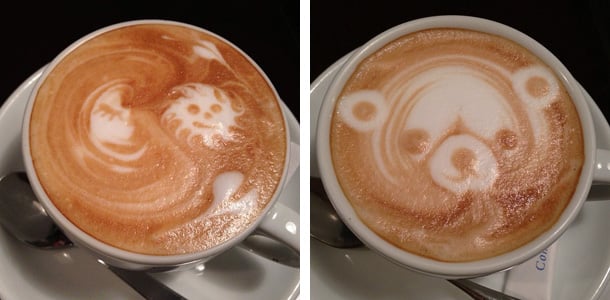 If you're a coffee drinker, you're probably delighted when you get a latte with a cute design in the milk foam. It's like a bonus in your cup…but did you know that there is an actual science to freehand latte art?
A few months ago, Sumner Ohye of The Curb asked me to be a judge at his first big latte art competition, with baristas from all over the island. I didn't want to do it because I felt like such a newbie and didn't know the rules. You mean kawaii bears don't count in big competitions? He broke it down for me, and I was surprised to learn the main criteria:
Balance and symmetry (dividing lines are even and show no hesitation)
Clarity of design (contrast)
Harmony (between the size of the cup and the size and position of the design)
Quality of milk texture (I don't know how one achieves this)
The first two criteria listed surprised me, because I thought the super fancy designs I've had at Japanese coffee shops (like the ones below) were winners. As it turns out, designs like these are enhanced using toothpicks and can't be done in a freehand pour.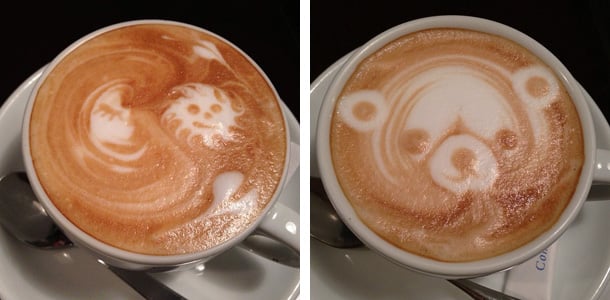 It was a lot of fun judging that last one, and I'm excited to be judging again tonight at The Curb at Paradise Palms Cafe at the University of Hawaii. It's free to attend, KTUH will provide music, and Domino's will be giving away pizza. The event starts at 7 p.m. and parking is free. Baristas from all over the island will be competing, and you get to drink the non-finalist entries (if you're fast enough).
Here's a peek at the last latte competition.
Latte art at The Curb
Follow me or @Nonstophonolulu on Instagram and Twitter, or better yet, come by and see the baristas in action.
Latte art throwdown
The Curb at UH
August 25, 7 p.m.
Free Admission