'Tis the season: The Christmas Bar is now open at Bloomingdale's
The seasonal pop-up takes over Forty Carrots with holiday-themed food and drink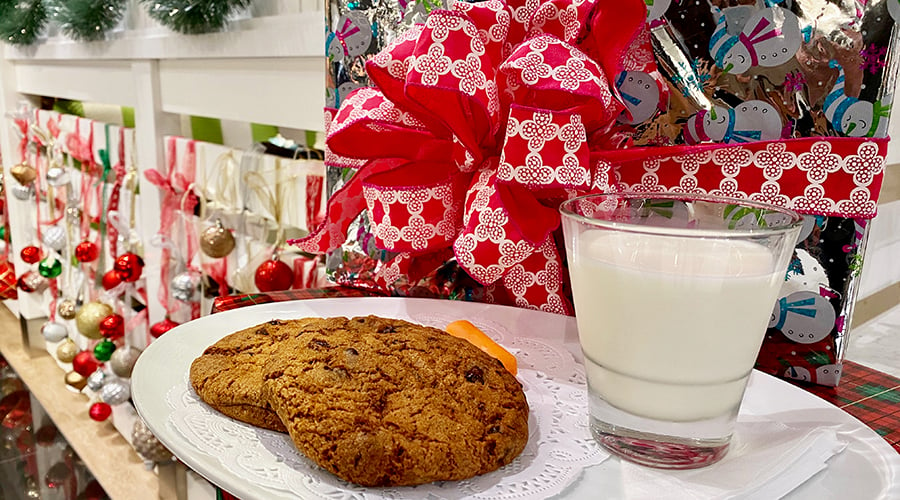 It's been quite a year and we could all use some extra holiday cheer. Right on cue, Tiki's Grill & Bar reopened The Christmas Bar Hawaii on Black Friday, but this time it's on the third floor of Bloomingdale's at Ala Moana Center.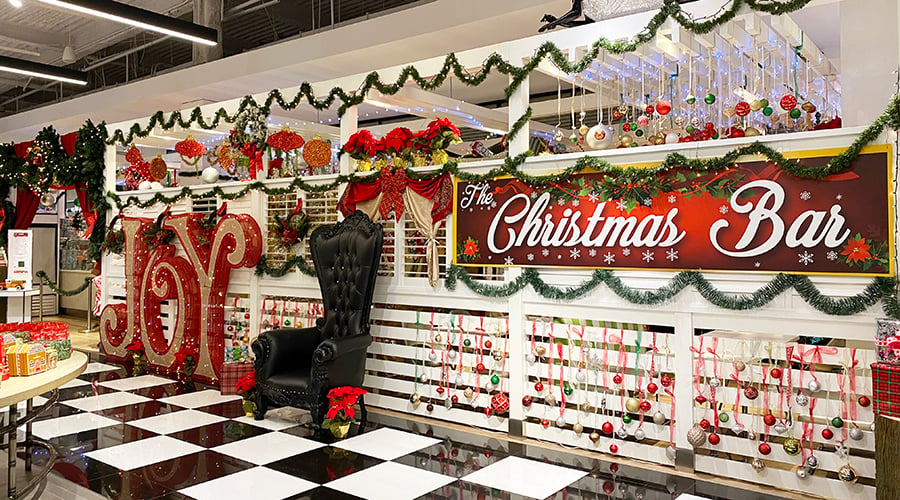 See also: Christmas Bar is open already at Ward
New for 2020: Cookies and milk, a set of two chewy chocolate chip cookies and a glass of milk with a carrot for the reindeer. There's also a candy cane iced cocoa with peppermint schnapps, chocolate liqueur, candy cane dust and whipped cream. Peppermint dominates the drink, so it's perfect if you really love mint. Most drinks can be made without alcohol and the kids can also enjoy classics like hot cocoa with a mountain of whipped cream and marshmallows.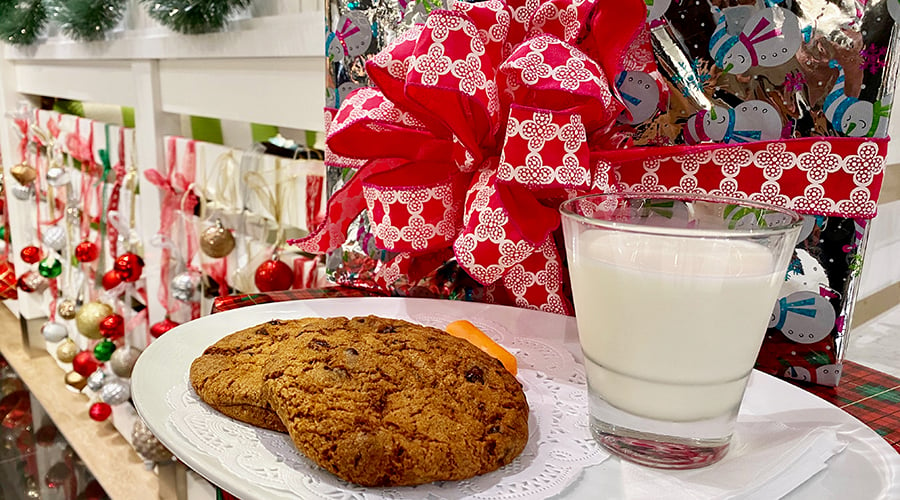 The menu is pared down from years past while maintaining its festive spirit. You'll recognize popular items like Kris Kringle's Kim Chee Grilled Cheese with smoked gouda and sharp cheddar and the Insta-worthy Clause-mopolitan cocktail with berry vodka, cranberry and pomegranate juice. Of course, the crowd favorite Butter Beer — made with vanilla vodka, butterscotch schnapps, cream soda and whipped cream — is back as well.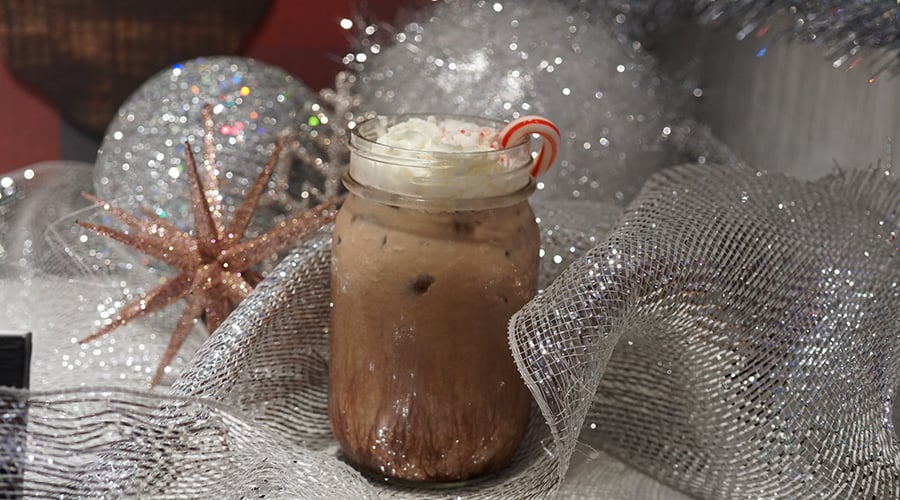 Of the drinks we order, I like the Wonderland Sangria best. It features citrus and berry vodkas, wine, brandy, cranberry and orange juices. I like the berry flavors and it's mild compared to others like the Boozy Eggnog and Apple Pie Moonshine.
See also: More butter beer: Holiday Bar pops up at Ala Moana
Size-wise, the footprint is also smaller than last year's pop-up in Big City Diner at Ward Village, but the Christmas lights and over-the-top holiday decor won't let you forget where you're at.
Even in a cozier space, The Christmas Bar adheres to Centers for Disease Control recommended guidelines. Despite its name, The Christmas Bar is classified as a restaurant: groups must order at least one food item to enjoy their iconic boozy beverages.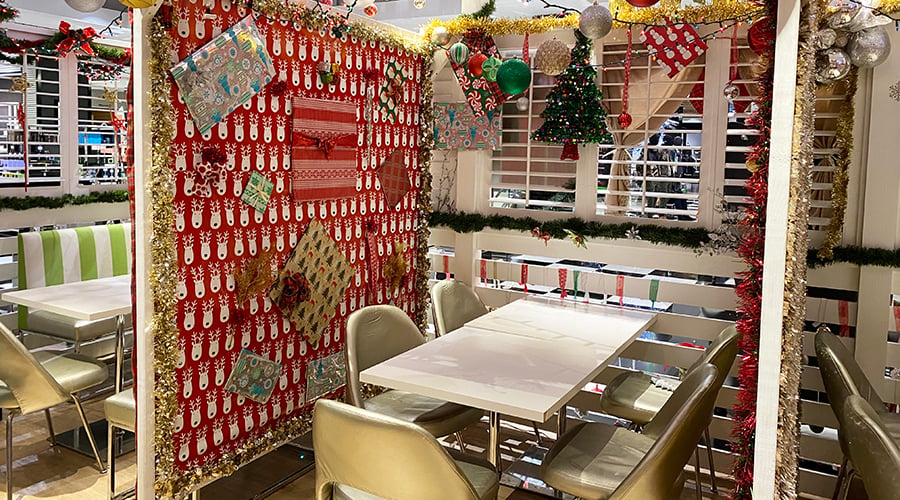 Upon arrival, you'll scan the QR code at the entrance to enter your information for contact tracing and to be added to a waitlist if needed. Next, you'll order your food and drinks from the counter, pay and be directed to one of the decorated booths. All booths are positioned at least six feet apart or have barriers between them and are sanitized regularly.
Reservations are not accepted, so seating is on a first-come, first-served basis. Due to the limited spacing, groups are limited to 45 minutes to one hour for dine-in.
Although it's a little out of the way, spending a few moments reveling in the holiday cheer with a strong drink at hand takes the edge off shopping during these difficult times.
The Christmas Bar Hawaii
Ala Moana Center – Bloomingdale's, 3rd Fl
1450 Ala Moana Blvd.
Sun-Wed 11 a.m. to 7 p.m., Thurs-Sat 11 a.m.-8 p.m.
Last call is 30 minutes before closing
Holiday hours subject to change
@thechristmasbarhawaii