This hidden gem has freshly fried taro and sweet potato chips
Those in the know go to Hawaiian Chip Co.'s factory in Kalihi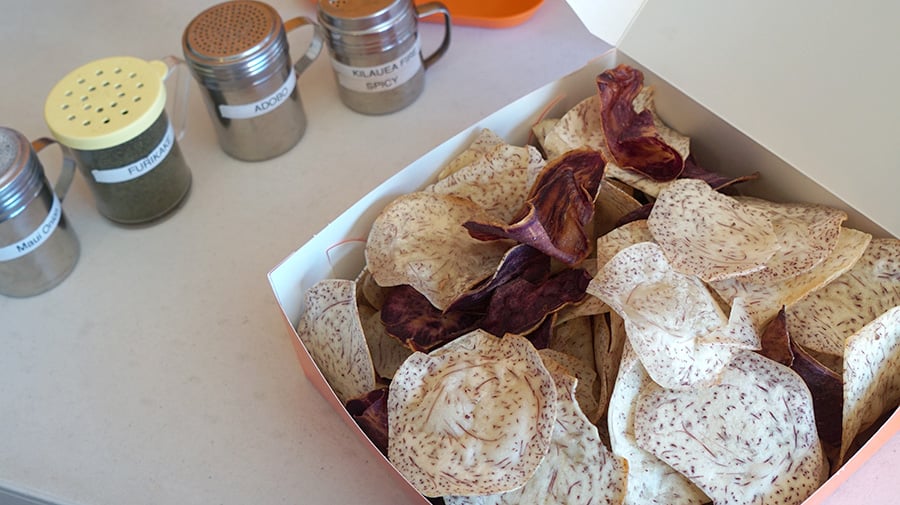 A lot of you already know about the Hawaiian Chip Company's fresh, made-to-order chips at their Kalihi factory, and I had heard about it, but only recently was able to try it for myself. I'll never eat chips the same way again!
You can access the Hawaiian Chip Company factory Monday through Friday from 9 a.m. to 5 p.m. and Saturdays from 10 a.m. to 3 p.m. Just walk right in and order a bag for $6 or a 1-pound box for $15. You can choose all taro, all sweet potato or mixed. In about 10 minutes, the staff hands you your order, fresh out of the cooker: Hot, fresh, crispy and not greasy. (Before you place your order or while you wait, you can try some chip samples at the register.)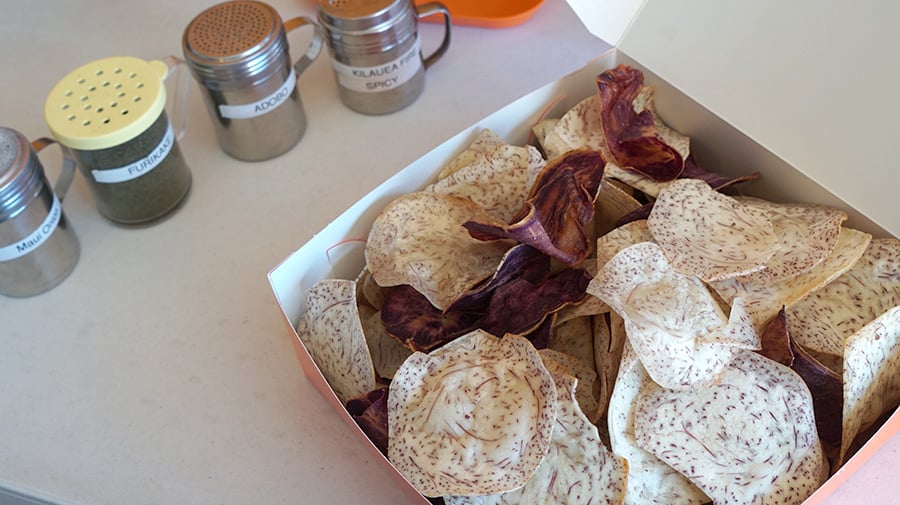 From there, take your order to the table outside, where they have a variety of seasonings: Kiawe BBQ, furikake, Kilauea Fire, zesty garlic, adobo and the new Maui onion, to name a few. The beauty of this is the ability to customize your order with just your favorite flavor, or combine them for a new flavor. Owner Jimmy Chan suggested different combinations to me, each ending with "and a touch of Kilauea Fire!" Or you can be like the woman in the room with me, who put a lot of Kilauea Fire on each of her combo boxes.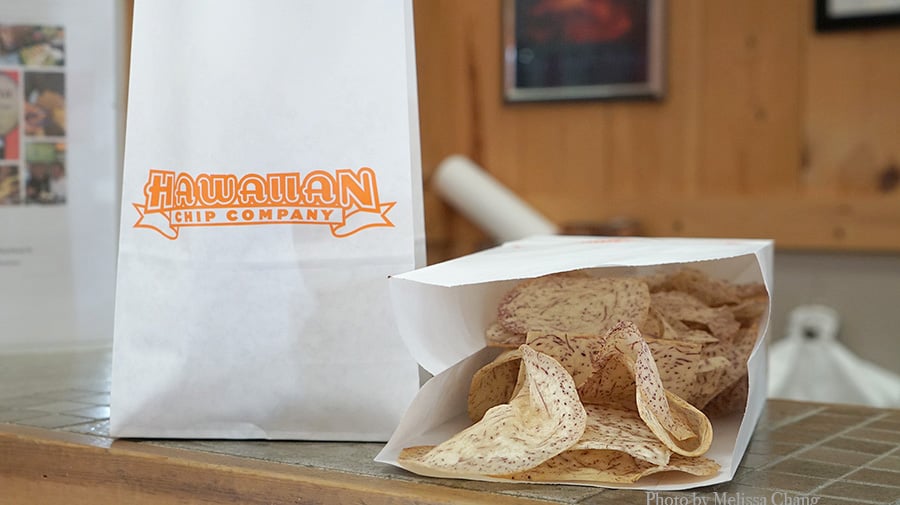 I had never been to the Hawaiian Chip Company factory, so I didn't realize that Chan had also bought and renovated two lots across the street. He said he will use one as his main headquarters for making his signature sauces, and hopes to add local tenants to offer food and gift items that will make this piece of Kalihi a destination. He's already installed his first tenant, Olena by Chef Ron Simon (more on that soon).
One last thing, something he doesn't push but I heard about through a friend: Hawaiian Chip Company donates a portion of their sales to fund research for a cure for Rett Syndrome through a program called Holly's Fountain of Hope. I won't go into it as you can see on the link what it's about, but Chan's daughter Holly was diagnosed with Rett Syndrome and the fund helps to raise awareness — and donations — to eventually find a cure. So the next time you buy a bag or a box, just remember, those chips are helping to do good, too.
Hawaiian Chip Company
1928 Republican St.
Kalihi
845-9868