These Oahu restaurants are reopening for dine-in
Hours after they got the green light, dozens of eateries are moving ahead with measures for social distancing, sanitizing and safety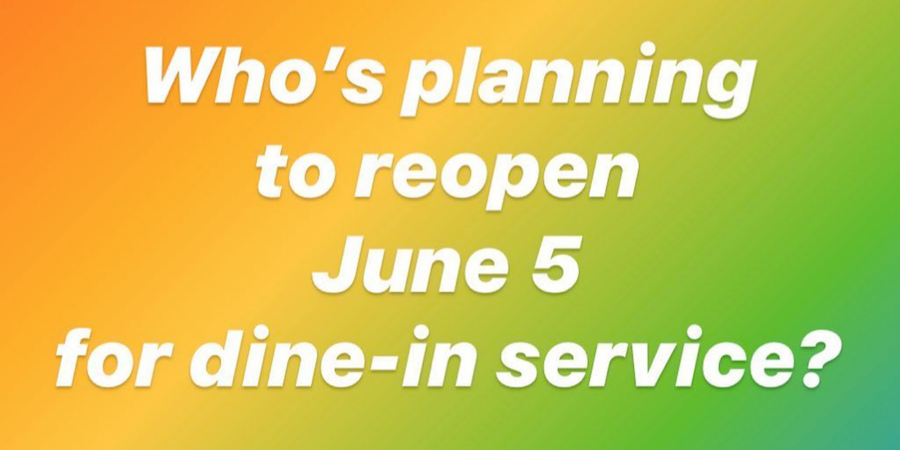 Editor's note: We did our best, but we had to stop updating this list on June 4, the night before Oahu restaurants reopened their dining rooms, when announcements from eateries started coming in too fast for us to keep up. For the latest on who's open for dine-in on Oahu, Maui, Big Island and Kauai, check out the updated Food-A-Go-Go site.
More than two months after a government order forced them to close their dining rooms and switch to takeout only, Oahu restaurants on Thursday afternoon finally got the conditional green light to reopen. New rules include spacing tables at least six feet apart, masks for all diners and front-of-house staff except when seated at tables, and hourly sanitizing of surfaces and menus.
We immediately put out a call on Instagram to see who would be reopening; within minutes restaurants started responding. Here's a preliminary list of where you can go back to eat in on Oahu starting June 5.
See also: Changes you'll see when you eat at restaurants again
12th Ave Grill, Kaimuki
22 Kailua, Kailua
3660 on the Rise, Kaimuki
53 by the Sea, Kakaako
Alii Coffee Co., Downtown
Alan Wong's Restaurant, McCully
Aloha Poke Shop, Chinatown
Aloha Steak House, Waikiki
Amuse Wine Bar, Ala Moana
Angelo Pietro, Kaimuki
Anytime Cafe, Kapahulu
Arancino on Beachwalk, Waikiki
Arvo, Kakaako
Asuka Nabe + Shabu Shabu, Kaimuki
Asahi Grill, Ward
Asian Mix, Makiki
Auntie Pastos, Kunia and Beretania
Atsushi, Ward
Barefoot Beach Cafe, Waikiki
Basalt, Waikiki
Beer Lab HI, all locations
Bernini, Ala Moana
Big City Diner, Kaimuki, Kailua, Pearlridge, Waipio
Big Kahuna's Pizza, Honolulu
Bills Hawaii, Waikiki
Blazin Steaks, Manoa
Boots & Kimo's Homestyle Kitchen, Kailua
Bogart's Cafe, Monsarrat, June 10
Boiling Crab Hawaii, Kakaako
Brick Oven Pizza, all locations
Butcher & Bird, Kakaako; outdoor seating only
Cafe Kaila, Kapahulu
Cafe Kalawe, Kaneohe
California Pizza Kitchen, all locations
Carp Dori Hawaii, McCully
Chart House Waikiki, Waikiki
Chef Chai, Kakaako
Cholo's Mexican Restaurant, Haleiwa
Chopchop Rotisserie, Waikiki
Chubbies Burgers, Kakaako
Cloud 9 Cafe, Kapahulu
Coffee Talk, Kaimuki
Crackin Kitchen, Waikiki
DB Grill, Kapolei
Deck, Waikiki
Dixie Grill, Aiea
Doner Shack, Downtown
Doraku Sushi, Waikiki
Dowon Chinese Restaurant, Ala Moana
Duke's Waikiki, Waikiki
Eastern Paradise Restaurant, Kaimuki
Easy Que, Kailua; limited seating, mostly outdoors
Egghead Cafe & Espresso Bar, Kalihi location only
Eggs 'n Things, Ala Moana only
El Charro Mexicano, Aiea
Encore Saloon, Chinatown
Ezogiku, Pearl City
Fete, Chinatown
Five Guys, all locations
Formaggio, Kapahulu
Fujiyama Texas, McCully
Gen Korean BBQ, Ala Moana and Pearlridge
Genki Sushi, all locations
Ginza Sushi, Ward
Giovanni Pastrami, Waikiki
Golden Pork Tonkotsu Ramen Bar, Makiki
Goma Tei, all locations except Waikiki
Growler USA, Kapahulu
Guava Smoked, Kapahulu
Guieb Cafe, Kalihi
Gyotaku, all locations
Gyu-Kaku, Kalihi, Kapolei, Mililani, Windward Mall
Ha Long Pho Noodle Bar, Kalihi
Hanakoa Brewing, Kakaako
Hank's Haute Dogs, Kakaako
Harbor Pub, Alamoana
Hau Tree Lanai Restaurant, Waikiki
Hawaii Kai Gold Course Restaurant, Hawaii Kai
Heavenly Island Lifestyle, Waikiki
Helena's Hawaiian Food, Kalihi
Hibachi Honolulu Market, Kakaako
HICraft Kitchen, Kakaako
Highway Inn, both locations
Hihimanu Sushi, Kaimuki, reopening July 1
Hoku's at The Kahala, Kahala
Honolulu Beerworks, Kakaako
Hot Pot Heaven, McCully and Kapolei
House of Wong Restaurant, Kapahuluu
Hukilau Marketplace, Laie, inside Polynesian Cultural Center, from June 8
Hula's Waikiki, reopening as Hula's Beach Bites
Hy's Steak House, Waikiki
Ichifuji, Moilili
Ichiriki, all locations
IHOP Hawaii, all Oahu locations except Pearl City
Il Lupino Trattoria & Wine Bar, Waikiki
See also: Waikiki parking deals just in time for Friday's restaurant reopenings
Imanas Tei, Moiliili
Inaba, McCully
Insomnia, Kakaako
Island Brew Coffehouse, all locations
Island Vintage Coffee, all locations
Island Vintage Shave Ice, Waikiki
Island Vintage Wine Bar, Waikiki
It's Tea Hawaii, Kakaako
Izakaya Danji, Makiki
Izakaya Nonbei, Kapahulu
Izakaya Torae Torae, McCully
J's BBQ, Kakaako
J. Dolan's, Downtown; limited capacity
Jack's Restaurant, Aina Haina
Jade Dynasty Seafood Restaurant, Ala Moana
Japanese BBQ Yoshi, Ala Moana
Jolene's Market, Chinatown
Jose's Mexican Cafe & Cantina, Kaimuki
Junpuu, Ala Moana
Kahai Street Kitchen, Moilili
Kaimana Farm Cafe, Kapahulu
Kaimuki Superette, Kaimuki
Kaneohe Kikuya Restaurant, Kaneohe
Kaneohe Pancake House, Kaneohe
Kaohao Country Store and Deli, Kailua
Kapiolani Spaghetti House, Ala Moana
Karai Crab, Makiki
Kenekes Grill, Kaaawa and Waimanalo
Koa Pancake House, all locations except Aiea
Koko Head Cafe, Kaimuki
Kona Coffee Purveyors, Waikiki, June 6
Kono's Northshore, Haleiwa
La Ciccia, Manoa
La Gelateria, Makiki
La Vie, Waikiki
Lei Lei's Bar and Grill, North Shore
Liko's Tap & Table, Hawaii Kai
Liliha Bakery, all locations
Lisa's House, Kalihi
Little Italy Hawaii, Kakaako
Little Joe's Steakhouse, Nimitz
Livestock Tavern, Chinatown, reopening June 8
Lucky Belly, Chinatown (sister restaurant Livestock Tavern will reopen for dine-in on June 8)
Mad Bene, Kapolei
Maguro-Ya, Kaimuki
Maile's Thai, Ward and Hawaii Kai
Malu Honolulu, Keeaumoku
Manichi Ramen, Ala Moana
Manifest, Chinatown
Maru Sushi, Ala Moana, July 16
Maui Tacos, Kailua and Pearlhighlands
Max's of Manila, Kalihi and Waipahu
Menchanko-Tei, Keeaumoku
Mexico Lindo, Kailua
Menya Le Nood, Ala Moana
Mike's Huli Chicken, North Shore
Million Restaurant, Ala Moana
Miro Kaimuki, opening June 10
Mitch Sushi, Mapunapuna
Moani Island Bistro & Bar, Kapolei
Moena Cafe, Hawaii Kai
Mokes Bread and Breakfast, Kailua and Kaimuki; with the option to wait in your car and receive a text when your table is ready
Morning Brew Kakaako, Kakaako
Mother Bake Shop, Kailua
Mud Hen Water, Kaimuki
Murphy's Bar and Grill, Downtown
MW, Ala Moana
Nalu Health Bar & Cafe, all locations
Nanzan Giro Giro, Ala Moana
New Eagle Cafe, Kalihi
New Shilawon Korean Restaurant, Alamoana
Nice Day Chinese Seafood Restaurant, Chinatown
Nico's Pier 38, Nimitz and Kailua
Noi Thai Cuisine, Waikiki
Noods Ramen Bar, Kaimuki
Oahu Grill, Kaimuki
Oahu Mexican Grill, Kaimuki location only
Odori-ko Japanese Restaurant, Kapiolani
Off The Wall Craft Beer & Wine, Kakaako
Okonomiyaki Chibo, Waikiki
Olay's Thai Lao Cuisine, Chinatown
ono2guys, Kaneohe
Outback Steakhouse, all locations
Over Easy, Kailua; limited seating, mostly outdoors
PAI Honolulu, Downtown
Palace Saimin, Kalihi
Pancakes & Waffles, Waimalu and Kalihi
Panya Bistro, Kakaako
Pho 97, Chinatown
Pho Minh Thu, Waikiki
Pho One, Ala Moana
Phot Viet Thien Hong, Manoa
Pieology Pizzeria, all locations
Piggy Smalls, Kakaako
Pinoy's Best, Waipahu
Pioneer Saloon, Kakaako and Diamond Head
Pizza Press, Pearl City
Plumeria Beach House, Kahala
Proof Social Club, Downtown
Quiora, Waikiki
Rajanee Thai, Mililani and Haleiwa
Raintree Bakery Coffeehouse, Downtown
Ramen Nakamura, Waikiki
Red Lobster, Waikiki
Redfish Poke, Kakaako
Ressie's Kusina, Kaneohe
Restaurant Kuni, Waipahu
Restaurant Suntory, Waikiki
Restaurant XO, Kaimuki
Rigo Hawaii, Kapahulu
Rock Island Cafe, Waikiki
Rokaru Shabu Shabu, Pearl City
Royal Thai Garden, Ewa Beach
Ruby Tuesday Hawaii, all locations; salad bar not open
Seaside Grill, Kahala
Seoul Tofu House, Waikiki
Shiro's Saimin, Ewa Beach and Waimalu
Shokudo Japanese, Ala Moana
Signature Prime Steak and Seafood, Ala Moana
Siam Paradise, Kalihi
Sikdorak III, Aiea
So Gong Dong Restaurant, Keeaumoku
Soffritto, Chinatown
Square Barrels, Downtown
Stage Restaurant, Ala Moana
Sura Hawaii, Kapiolani
Sushi Ginza Onodera, Kapahulu
Sushi Ii, Keeaumoku
Sushi King, Manoa
Sushi Izakaya Gaku, Makiki, June 8
Sushi Murayama, Keeaumoku
Sushi Sasabune, Makiki
Sushi Sho, Waikiki
Sushi You, Makiki
Sweet E's Cafe, Kapahulu
Sweet Home Cafe, Moiliili
Tai Pan Dim Sum, Chinatown
Tanaka Ramen and Izakaya, Kapolei
Tanaka Saimin, Iwilei
Tango Cafe, Kakaako
Taormina Sicilian Cuisine, Waikiki
Taps and Apps Brewpub, Mililani Mauka
TBD…Hawaii, Waikiki
Tea at 1024, Downtown
Teapresso Bar Hawaii, all locations
Teddy's Bigger Burgers, all locations
Tex 808 BBQ + Brews, Hawaii Kai
Thai Cuisine Express, Pearl City
The Alley Restaurant at Aiea Bowl, Aiea
The Beet Box Cafe, Haleiwa and Kailua
The Boiling Crab, Kakaako
The Counter Custom Built Burgers, Kahala
The Cove Cafe, North Shore
The Daley Burger, Downtown
The Dominican Kitchen, Waimanalo
The Hau Tree Lanai Restaurant, Waikiki
The Lunch Bar, Kapiolani
The Nighthawk, Chinatown
The Pig & the Lady, Chinatown, late July
The Pizza Press Pearl City, Pearl City
The Shack, Kailua
The Signature Prime Steak & Seafood, Ala Moana
The Surfing Pig Hawaii, Kaimuki; already taking reservations
The Veranda, Kahala
Times Coffee Shop, Kailua and Temple Valley
Tokkuri Tei, Kapahulu
Tommy Bahama, Waikiki
Tonkatsu Ginza Bairin, Waikiki
Tonkatsu Tamafuji, Kapahulu
Tony Roma's, Waikiki
Tori Ton, Moiliili
Torikyu, Moiliili
town, Kaimuki
Tropics Ale House, Waikiki
Tsukuneya, University
Uahi Island Grill, Kailua
Umeke Market, Downtown
Uncle's Fish Market, Pearlridge
Up Roll Cafe, Kailua and Honolulu
Vein Kakaako, Kakaako
Via Gelato, Kaimuki
Vino Italian Tapas & Wine Bar, Kakaako
Wagaya, Moiliili
Waikiki Brewing Co., Kakaako
Wang Chung's Karaoke Bar, Waikiki
We Heart Cake Company, Kaimuki
Wendy's, all locations
Win-Spuntino, Kapahulu
Wolfgang's Steakhouse, Waikiki, will operate in Il Lupino Trattoria & Wine Bar
XO Restaurant, Kaimuki
Yaki Yaki Miwa, Keeaumoku
Yakiniku Seoul Restaurant, Ala Moana
Yanagi Sushi, Kakaako
Yen Yen Chinese Cuisine, Kailua
Yohei Sushi, Kalihi
Yoshitsune Restaurant, Waikiki
Zigu, Waikiki
Zippy's, Maikiki and Vineyard