These Maui restaurants are open for dine-in and takeout
Eateries have reopened dine-in tables across the Valley Island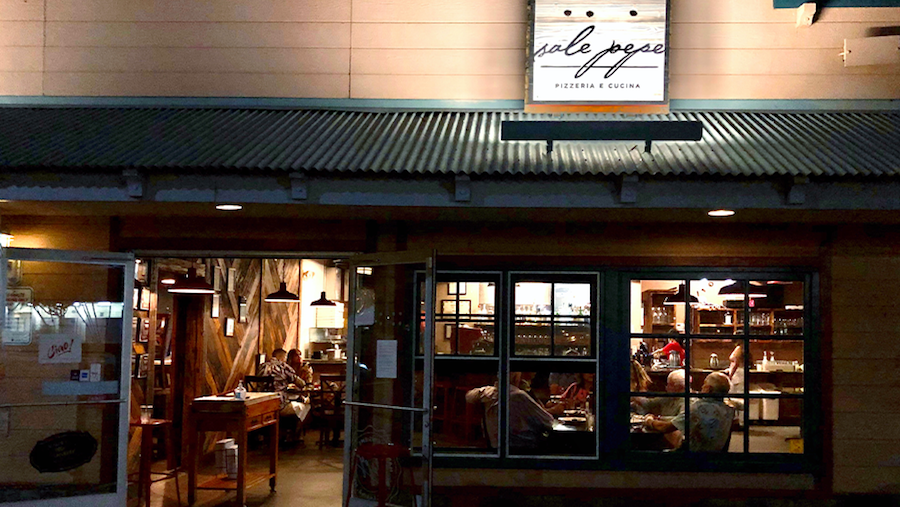 When Oahu restaurants got the green light to reopen their dining areas for eat-in customers in late May, we immediately published a list of who was reopening. That list started with around 80 early announcers but as the June 5 reopening date neared, ballooned to 200, after which we could not keep up. Still, These Oahu restaurants are reopening for dine-in became our most-viewed post of this year.
One who saw it was Frolic reader Chefshoyu on Maui. We lacked the manpower to put together neighbor island reopenings, so Chef Shoyu, who was furloughed from his restaurant job, took it upon himself to help his industry. He reached out to Maui restaurants and sent us this list of who's open for dine-in and takeout on the Valley Isle. Mahalo, Chef Shoyu!
Note: For the latest on who's open for dine-in on Oahu, Maui, Big Island and Kauai, check out the updated Food-A-Go-Go site.
Lahaina
Fond Maui, Napili, Tuesday-Sunday 11 a.m.-9 p.m.
Taverna Maui, Kapalua, Dinner only, 5:30p.m.-8p.m.
Teddy's Bigger Burger Lahaina, Daily 10 a.m.-8 p.m., Curbside pick-up available
Paradiso Maui, Daily 10 a.m.-9 p.m.
Down the Hatch Maui, Daily 8a.m.-10 p.m.
Moku Roots, Daily 10:30 a.m.-3 p.m., Take-out available
Captain Jacks Island Grill, Daily 11a.m.-8 p.m., happy hour 2-5 p.m., dine-in, takeout, delivery, curbside available
Sale Pepe Pizzeria e Cucina, Monday-Saturday 5 p.m.-8 p.m.
Penne Pasta Cafe, Daily 11a.m.-8 p.m., Take-out available
Maui Brewing Co., Monday-Saturday 12 p.m.-8 p.m., Take-out available
CJ's Deli & Diner, Ddaily, 10 a.m.-7 p.m.
Sea House Restaurant, Napili Kai
Mala Ocean Tavern, Daily 9 a.m.-9 p.m.
Paia Fish Market, Daily 11 a.m.-9 p.m., take-out available
Amigo's Restaurant, Sun-Thurs 8 a.m.-9 p.m., Friday & Saturday 8 a.m.-10 p.m.
Dollie's Pub, 11 a.m.-midnight, dine-in and takeout
Betty's Beach Cafe, Sun-Tues 8 a.m.-2 p.m., Wed-Sat 8 a.m.-8 p.m., dine-in
Pi Artisan Pizzeria, Daily 12-8 p.m., dine-in
Coffee Store Napili, Daily 7 a.m.-2 p.m.
Westside Bagel, Tues-Sat 8 a.m.-12 p.m.
Gazebo Restaurant, Napili, Daily 7:30 a.m.-2 p.m., Dine-in and takeout
Lahaina Pizza Company, Daily 11 a.m.-9 p.m., Dine-in and takeout
The Beach House, Kahana, Daily 11 a.m.-8 p.m., Dine-in and takeout
Joey's Kitchen, Napili, Daily 8:30 a.m.-8 p.m.
Roy's Ka'anapali, Wednesday-Saturday 3:30-7:30 p.m., Snack Shack Starter Box open daily 10:30 a.m.-2 p.m.
Maui Stea.m.er Pots, Wednesday-Saturday 11 a.m.-5 p.m.
Aá Roots, Daily, except Wednesday 8 a.m.-4 p.m.
Kobe Maui, Friday-Sunday 4:30 p.m.-8:30 p.m.
Aloha Braised, LLC food truck, 10 a.m.-2 p.m., call for pick-up, free delivery in Lahaina
Wailuku
Maui Fresh Streatery, Maui Trampoline Park, Fridays 5-7 p.m. or until sold out, Takeout
Umi Sushi Maui, Monday-Saturday 5 p.m.-9 p.m., Dine-in
SixtyTwo Marcket, Mon-Fri 8 a.m.-2 p.m., Sun- 9 a.m.-1 p.m., Dine-in and takeout
Waikapu on 30, Monday-Friday 7 a.m.-2 p.m., Takeout
Coppa's Maui Bakery, Daily, 9 a.m.-5 p.m
Ogo Maui, Maui Lani Lot, Tuesday-Friday 11 a.m.-7 p.m., Takeout
Kaohu Store, Breakfast 6:30 a.m., Lunch- 10 a.m., Close at 5:30 p.m., Friday 6 p.m., Takeout
Cafe O'Lei, Daily 11 a.m.-8 p.m., Dine-in
Maui Coffee Attic, Daily 6 a.m.-4 p.m., Dine-in; kitchen closes at 3 p.m.
808 on Main, Mon-Tues 10 a.m.-3 p.m., Wed-Fri 10 a.m.-8 p.m., Sat 11 a.m.-3 p.m., Dine-in and takeout
Fatt Chicks Burgers Hawaii food truck, Mon, Wed, Fri 10 a.m.-2 p.m.
Kalei's Lunch Box, Wailuku: Mon-Fri 10 a.m.-3 p.m., Kahului: Mon-Fri 10 a.m.-3 p.m.
Tasty Crust, Mon 6 a.m.-3 p.m., Tues-Sun 6 a.m.-8 p.m., Dine-in
Tokyo Tei Restaurant, Daily 10 a.m.-2 p.m., Dine-in and takeout

Kahului
Tin Roof Maui, Monday-Saturday 10 a.m.-8 p.m., Takeout
Tight Tacos Maui, Monday-Saturday 11 a.m.-6 p.m., Takeout
Restaurant Matsu, Monday-Wednesday 10 a.m.-3 p.m., Thursday and Friday 10 a.m.-6 p.m., Saturday 10 a.m.-2 p.m., Takeout
Ramen-Ya, Queen Kaahumanu Center, Open daily 10:30 a.m.-9 p.m., Dine-in and takeout
Bistro Casanova, Monday-Saturday 5-9 p.m., Dine-in
Marco's Grill & Deli, Daily 8 a.m.-8 p.m., Dine-in
Akamai Coffee, Daily 6 a.m.-6 p.m, Dine-in and takeout
Amigos Maui, Sun-Thurs 8 a.m. – 9 p.m., Friday & Saturday 8 a.m.-10 p.m., Dine-in
Thai Mee Up, 10 a.m.-8 p.m., Kula location 11 a.m.-8 p.m., Takeout
Poi by the Pound, 10a.m.-9 p.m., Dine-in and takeout
Kamaole Poolside Cafe, Daily, except Mondays 11 a.m.-7 p.m, Dine-in
Cafe O'Le at the Dunes, Daily, except Mondays 11 a.m.-8 p.m., Dine-in
Fork & Salad Maui, Kahului only, Daily 11 a.m.-8 p.m., Dine-in only
See also: Changes you'll see when you eat at restaurants again
Kihei
Nalu's South Shore Grill, Breakfast 8 a.m.-2:30 p.m., Lunch/Dinner 11 a.m.-6 p.m., Curbside pick-up and delivery available
Isana Maui, Tuesday-Sunday 3 p.m.-10 p.m., Curbside pick-up available
Maui Thai Bistro, Lunch 11-2:30 p.m., Dinner 4 p.m.-9:15 p.m., Dine-in and takeout
Akamai Coffee, Daily 6 a.m.-6 p.m, Dine-in and takeout
Paia Fish Market, Daily 11 a.m.-9 p.m., takeout only
Amigos Maui, Sun-Thurs 8 a.m. – 9 p.m., Friday & Saturday 8 a.m. – 10 p.m., Dine-in
Cafe O'Lei, Daily, except Mondays 11 a.m.-8 p.m, Dine-in
The Maui Pie, Mon-Sat 12-6 p.m., Takeout
Penny's Pizza & Pasta, Brunch 10 a.m.-3 p.m., pizza and pasta 3-8 p.m., Takeout
808 Deli, Daily 9 a.m.-5 p.m., Takeout
That's A Wrap Cafe, Mon-Sat 9 a.m.-5 p.m., Takeout
Maui Tanpopo, Tues-Sat 11:30 a.m.-5 p.m., Dine-in and takeout
Kihei Caffe, Tues-Sun 7 a.m.-2 p.m., Dine-in
Fabiani's Bakery and Pizzeria, 10 a.m.-8 p.m, Dine-in
Dog and Duck Maui, Daily 11 a.m.-8 p.m., Dine-in
South Shore Tiki Lounge, outdoor lanai only, 12-9 p.m., Dine-in
Eskimo Candy, Inc., Mon-Fri 10:30 a.m.-3:30 p.m., Dine-in and takeout
Amigo's Restaurant, Daily 8 a.m.-10 p.m., Dine-in and takeout
Java Cafe, Daily 6:30 a.m.-4 p.m.
Maui Gelato, 8 a.m.-8 p.m.
Outback Steakhouse, Daily 11 a.m.-9 p.m., Dine-in, takeout and curbside available
Wailea
Five Palms, Tuesday-Sunday 8 a.m.-9 p.m., after 7/1 Monday-Sunday, Dine-in and curbside pick-up
Mulligans Pub Maui, Tuesday-Friday 12 p.m.-10 p.m., Saturday 12-10 p.m., Sunday 2-10 p.m., Takeout
Akamai Coffee, Daily 6 a.m.-6 p.m., Dine-in and takeout
Manoli's Pizza Company, Daily 12-10 p.m., Dine-in and takeout
Pita Paradise, Daily 11 a.m.-9:30 p.m., Dine-in
Tommy Bahama Restaurant, Mon-Sat 12-6 p.m., Takeout and curbside pickup
Ma'alaea
Tante's Fish Market, Daily 10:30 a.m.-8:30 p.m., Dine-in
Maalaea General Store, Daily 10 a.m.-5 p.m., Dine-in
Upcountry
All Kaina Grindzzz, Kulamalu Town Center Lot, 11 a.m. to 7 p.m., Takeout
Alba's Cuban Coladas, Kulamalu Town Center Lot, 7 a.m.-12 p.m., Takeout
Pollis Maui, Makawao, Monday-Friday 4 p.m.-8 p.m., Saturday/Sunday 12 p.m.-8 p.m., Dine-in and takeout available
Paia Fish Market, Daily 11 a.m.-9 p.m., Takeout only
Flatbread Company Paia, Fri 3-9 p.m, Sat-Sun 11:30 a.m.-9 p.m., Dine-in
Island Fresh Cafe, Mon-Sat 8:30 a.m.-2:30 p.m., Dine-in and takeout