There's an icy new cherry blossom drink and we like it
Rabbit Rabbit Tea's sakura drink celebrates our emergence from strictly staying at home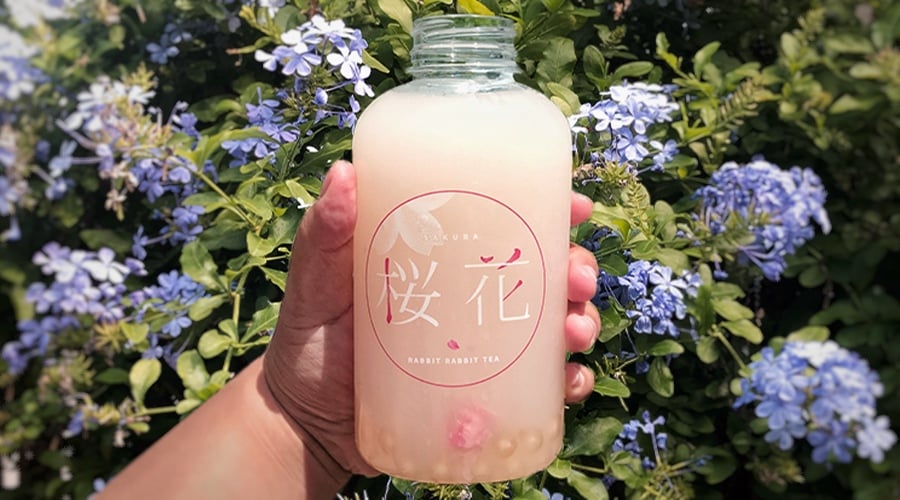 As my usual food adventures go down, this one began on Instagram. I was browsing through my feed when I came across a countdown to the launch of Rabbit Rabbit Tea's Cherry Blossom drink on June 1. Wait, it's cherry blossom season? Isn't that in the spring? I knew staying at home for months had altered my perception of time, but I didn't think I was this bad.
To my relief, I was not losing my mind. Rabbit Rabbit Tea launched the drink because cherry blossoms are a symbol of renewal. In Japan they are the first flowers to appear on bare branches after winter, so they signal the coming of spring. The drink is an ode to what's happening in Hawaii as we shift from a predominant stay-at-home lifestyle to increased outings — our own time for renewal.
So what does sakura taste like? I was intrigued and fascinated by the drink's pleasing colors. This was worth leaving home for. When June 1 came, I placed my order online and made my way to Aiea.
See also: New bubble tea places around town
Inside the bottle sits golden boba, which is sweeter than typical black boba pearls, and two cherry blossom petals. Surprisingly, the drink contains no caffeine; rather, it's a blend of different ingredients that emulates the taste of cherry blossoms. The barista tells me to shake it well before drinking.
See also: Essential eats: 26 boba shops around Oahu
This is one of the few "teas" I've had where the flavor matches its aesthetic. Just looking at the subtle pink color brings a sense of calmness and tranquility. As I sip, I enjoy notes of floral essence. The drink is on the sweeter side, which is to my liking, but its sweetness is not overpowering. I recommend drinking it immediately to fully enjoy its refreshing flavors. If you plan to drink it later, refrigerate it for an hour or so.
Overall, this sakura drink is a welcome and much-needed respite against the summer heat. It costs a pretty penny at $6.89, or $7.21 after tax. This is definitely one of the priciest boba drinks I've had, but worth trying, especially since it comes in a reusable plastic bottle decorated with a custom label that has Japanese kanji for sakura flowers.
Rabbit Rabbit Tea's Cherry Blossom drink is available until the end of June or until supplies last.
Rabbit Rabbit Tea
Aiea Shopping Center
99-115 Aiea Heights Dr.
Aiea
488-8811
Mon-Thurs 11 a.m.-7 p.m., Fri-Sat 11 a.m.-8 p.m