The Nonprofit Institute for Human Services Takes on Ownership of Honolulu's Kahauiki Village
Once-houseless residents describe how their lives have changed and what's next.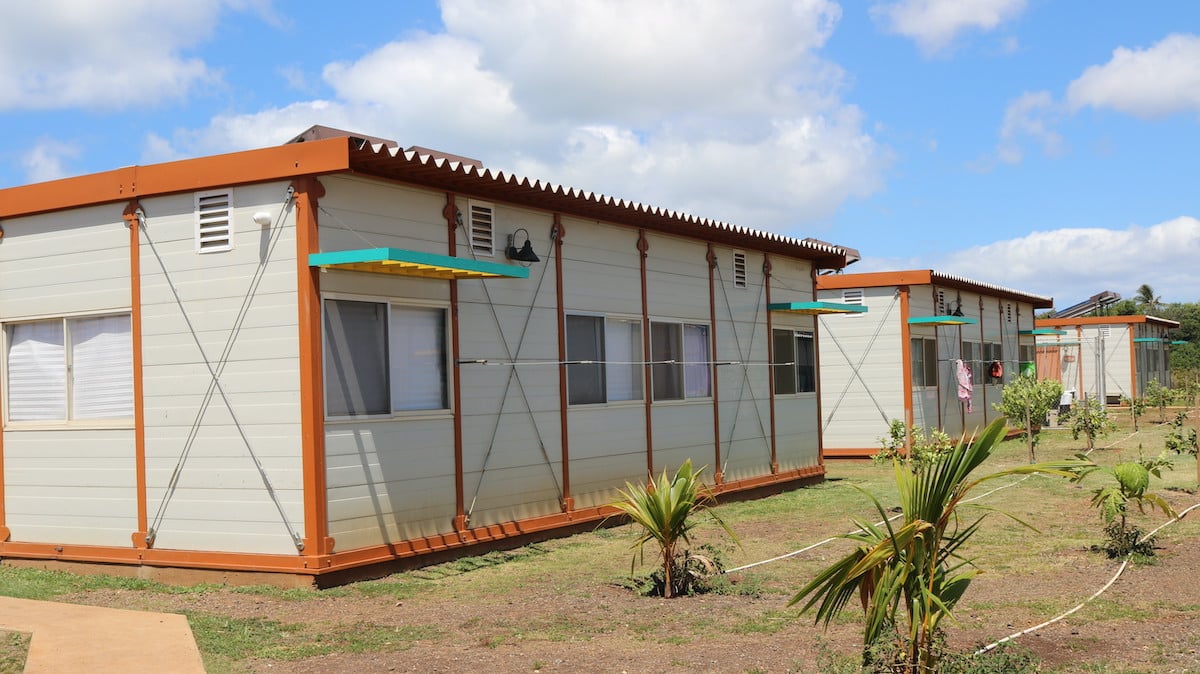 Before Fern Moniz moved into Kahauiki Village, her struggles with drug addiction led Child Protective Services to take away her children. But through the village, as well as services and job opportunities provided by the nonprofit Institute for Human Services, she says she was able to grow, get her life together and slowly reunite her family.
She says the village gave her the security and stability she needed to bring her family together—including one child she had lost legal parental rights to but was able to adopt back after she proved herself ready. She credits Kahauiki Village: "This was the first place I have ever rented. Having this home, I had stability, it was affordable, and I had school for my daughter. It changed my life," Moniz says.
She has since moved out of Kahauiki and into a two-bedroom apartment with three of her children. In August she says her son on the Big Island will move in too. "This is the blessing that I have been waiting for. He is going to move here and go to UH Mānoa, so I'll finally have all my children together."
Moniz told her story this week at Kahauiki Village, which rose from a barren lot along Nimitz Highway to become a permanent supportive community that welcomes formerly houseless people. It was created through a private-public partnership aimed at addressing Hawai'i's affordable housing crisis.
On Wednesday, May 25, the Institute for Human Services formally marked the turnover of ownership of the village from the aio Foundation, effective in April. The project was the vision of business entrepreneur and aio founder Duane Kurisu (aio is the parent company of HONOLULU Magazine). Along the way, Kurisu donated land, helped repurpose shelters used after a Japan earthquake and accepted help from people throughout the community to build and nurture the village.
While IHS was involved throughout the project, Connie Mitchell, the nonprofit's executive director, says her agency now can provide wraparound services to residents and other clients.
"After spending sometimes years on the streets or in shelters, families often lack basic skills," from making a grocery list to budgeting for rent and other expenses, Mitchell says. She says IHS is building a team of specialists to expand those services at other IHS-run affordable housing communities, including those that assist kūpuna in crisis to exit a cycle of homelessness permanently. "Giving people access to an affordable place to live is a critical first step," Mitchell says. "Our goal is to help them take the additional steps forward on their own."
SEE ALSO: Once-Homeless Families Move into Sand Island's New Kahauiki Village
Since 2018, the Kahauiki community has grown to 294 children and 278 adults, including 10 kūpuna . Most of the families—about 180 of them—have made Kahauiki Village their home for the entire four years. Monthly rents have crept up only $50 a month: to $775 for a one-bedroom; and $950 a month for a two-bedroom unit.
To come up with the Kahauiki Village concept, Kurisu drew from his memories of growing up in a plantation-style community on Hawai'i Island where members of various ethnic groups shared what they had and helped one another. Mitchell says what grabbed her about Kurisu's vision was a chance to develop community. "It was really about how do we bring people together so that they're stronger together, and they're stronger with other people that they get connected up with while they're at Kahauiki Village."
Mitchell says the village has grown to include a child care center, a community center, youth center and gardens. It's off the electric grid, powered by photovoltaic panels and batteries. She says a vital part of the community is connecting with different businesses, schools and other nonprofits to bring opportunities to families.
Kurisu says he's learned many lessons from the project: "It takes a clear common vision and undying commitment from many to solve our homeless and affordable housing issues," calling workers from IHS and other agencies the "real angels" working hard on the ground while showing compassion without expectations of accolades from others. And he notes the generosity of people who donated large and small: helping to build, plant trees, tutor children and teach karate.
Since Kahauiki opened four years ago, it's helped many families to reunite, says Jill Wright, director of philanthropy and community relations at IHS. Some who had been living in their cars were able to move into their rented homes; others had a stable home to start over again with their families after incarceration.
An average of about 10 families move out each year, Wright says, some to reunify with family elsewhere, some to find bigger houses. But no one is pressured to leave: "I've spoken to some families that say this is our forever home, you know, we want to stay here for a long time," she says. Some move to larger homes within the village.
Kurisu says he pulled people together to help after reading about the homeless crisis in a package of stories in the April 2015 issue of HONOLULU Magazine. Mitchell says the village continues to draw donations and volunteers to lead classes for keiki. And she says that Kurisu and three of the other founders will remain on the community's nine-member board of directors.
SEE ALSO: Kahauiki Village Gets 3 Million Dollar Donation and Wins Award
Kurisu says the team hopes that others can use the Kahauiki model as a template in other places and is willing to help with planning. He says solving Hawai'i's homeless crisis is "about focusing on things like dignity, compassion, love for our children; it's about building homes instead of houses."
Ask Tagiralani "Lani" Luafalealo, a Kahauiki resident who once lived with her family of seven in two small cars. "Every day we would have to get up at 4 to brush our teeth and get ready. We would then drop our mom off to work and we would go park at a park where we would wait for the sunrise … in order for us to go to school and be safe."
Luafalealo credits Kahauiki with introducing her to money management and supporting her education, which helped her to earn a full-ride scholarship to Grand Canyon University. Her message to others who might be embarrassed by their tough times: "You will prevail through the challenges so do not give up."
Kaimbrea Vance, another fellow resident, was working at a burrito shop and living in transitional housing with her newborn son when she heard about Kahauiki.
Vance, who now works for IHS, says the Kahauiki staff and neighbors made all the difference for her. "I honestly do not know what we would have done or where we would have gone if this place was not built," she says. "I'm so grateful to be a part of this village and the more places like this that can be replicated around the Islands and the world is going to change."
Mitchell sums it up: "It took a village to build the village."
To learn more, visit ihshawaii.org