The History of Hawai'i From Our Files: The Auction of the Ward Estate
HONOLULU Magazine emerged from predecessor Paradise of the Pacific, which began in 1888, fulfilling a commission by King Kalākaua. That makes this the oldest continuously published magazine west of the Mississippi, with an enviable archive worth diving into each month. Here's a look back at March 1962.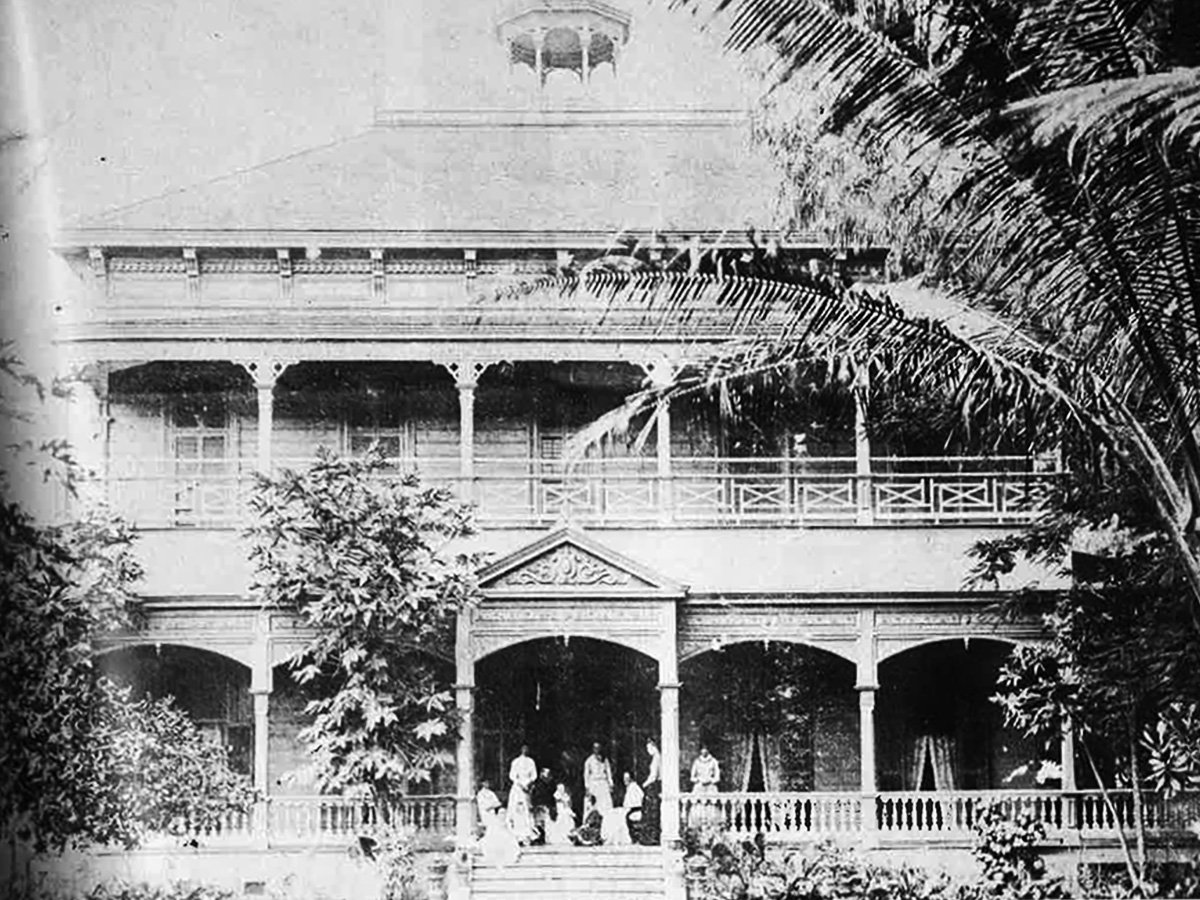 In the late 1800s, one of the centers for society gatherings was "Old Plantation." The home of Kentucky-born Curtis Perry Ward and his wife, Victoria, was a Southern-style mansion in Honolulu; the couple hosted royalty and friends there for decades until they moved out and the home was torn down to make way for the Honolulu International Center, long since renamed the Neal S. Blaisdell Center. In 1962, some of the Wards' personal belongings were sold at auction.
"The spirits of the Ward sisters—all seven of them—would have cringed at the very idea … for they were Victorian ladies who would have been horrified at the thought of a curious public poking through odds and ends of their personal belongings. …
"The big four-poster bed in which each of the Ward girls is reputed to have been born was bid for early in the auction. It went for $1,450 to Mrs. Grace Buscher, owner of the Coco Palms Hotel on Kauai, who plans to use it and numerous other pieces which she purchased as the nucleus of a Hawaiiana museum.
"Beneath the canopy of the famed bed, which was used as long as the Ward home, 'Old Plantation,' was occupied, is an old Hawaiian flag.
SEE ALSO: Hawai'i Then and Now: This is What Honolulu Used to Look Like
"One story goes that the bed was purchased by Curtis P. Ward soon after his marriage and installed in his new home, 'Dixie,' which stood near the present Theo H. Davies building in downtown Honolulu. He had come to the islands some years before and had lived at the finest boarding house in town, that maintained on Beretania Street by Mrs. John Dominis, whose seacaptain husband had been lost a short time before. …
"Mr. Ward had fled Kentucky because he could not bear the changes he saw coming to his beloved South. When the Civil War broke out, he was despondent. To cheer him up, his friend Liliuokalani made a Confederate flag—which he placed beneath the canopy of the bed so that it was hidden from public view but visible to anyone lying on the bed.
"Later the bed was moved from 'Dixie' to the family's second home, 'Sunny South' on Waikiki Road, near the present junction of Kalakaua and King Streets. Then it went with the family to 'Old Plantation', that magnificent cupola-topped residence surrounded by the broad lanais and decorated with Victorian gingerbread which stood for three quarters of a century on King Street at Thomas Square.
"The years went by … and the Hawaiian monarchy, whose members were close friends of the Ward family, was overthrown. A new law forbade the public display of the Hawaiian flag. This was when royalists developed the famous 'Ku'u Hae Aloha' flag quilts, which they could display in the privacy of their bedrooms.
"Mrs. Ward went even further. She replaced the Confederate flag with that of Hawaii, in the bed canopy.
"'I was born under the Hawaiian flag,'" she staunchly declared, "'and I shall die under it.'
"On her mother's side, the doughty Mrs. Ward was the grandchild of one of the first intermarriages in Hawaii; that of the dashing Frenchman, Marc Previer, and a pretty Maui girl.
"Her father was James Robinson, who reached Hawaii in a makeshift boat built from the broken timbers of their ship, which had been wrecked on Pearl and Hermes Reef, to the northwest of Hawaii. …
"Much of the original furniture for 'Old Plantation' came from China. Auction bidding was lively for the stout teak furniture and for several beautiful inlaid screens. A four-panel screen decorated with ivory was bought by Edwin Bauer for $1,400.
"The home also had much koa furniture, and David Watumull bought some of it for his Big Island residence.
SEE ALSO: The History of Hawai'i From Our Files: In 1946, Some Wanted Hawai'i to Be the 49th State
"Mrs. Ward added to her furnishings and jewelry by judicious purchases made at auctions of the estates of Queen Emma and Queen Liliuokalani. These items were in special demand.
"Robert Van Dyke was one of the large buyers, picking up pieces which he can use in his home now, and in a projected museum later. One of his choice buys was a carved buffet inlaid with marble, originally made for the old palace of Kamehameha III. It was used by other members of the royal family, then given to Queen Emma for her private home when the present Iolani Palace was built and refurnished.
"Other collectors of Hawaiiana found special interest in the Niihau mats, feather leis, tapa cloths and calabashes, specimens of valid old pieces seldom obtainable today. Some bid enthusiastically for saddles, lassos made of horsehair, and other gear from horse and buggy days. …
"In the latter decades of the monarchy 'Old Plantation' was a gay place. Liliuokalani, Emma and Kapiolani were frequent guests. Princess Kaiulani was a contemporary of young Kathleen Ward, and the two were close friends. There were lawn parties and balls, and much activity on the croquet and tennis courts. A rowboat provided pleasure on the tiny lake, long since filled in. 'Old Plantation's' grounds then extended all the way to the waterfront, unbroken by Kapiolani Boulevard. There were more than two thousand coconut trees on the estate and a profusion of fruit trees and flowers, not to mention vegetable gardens and an area where turkeys, chickens, pigeons and pigs were raised to supply the family table.
"Many friends shared the bounty of this produce, and Hawaiians in need were never turned away empty-handed.
"After the overthrow of the monarchy, the family became even more retiring. Behind the high hedges and luxurious gardens the three unmarried daughters resided quietly with Mrs. Ward in the old home around which grew an air of mystery. Mrs. Ward died, an octogenarian, in 1935. Two of the married girls also died many years ago, but five others lived on until eight years ago, increasingly feeble, increasingly recluse, living in their memories, seen only by intimate friends. Lucy Ward died in 1954. Her death was followed fairly rapidly by that of Mrs. Frank Hustace, the oldest daughter and of Kathleen, Kulamanu, and this year by the youngest, Mrs. R.B. Booth. With her death, an era ended."
After her husband died, Victoria and her daughters created Victoria Ward Ltd. in 1930 to handle their 100-acre estate, which stretched from Thomas Square through Kaka'ako. The company was acquired by The Howard Hughes Corp. in 2010, which named its most recent park after Victoria Ward.
Learn more about the evolution of covers in HONOLULU Magazine and Paradise of the Pacific: 125 Years of Covers, available at shop.honolulumagazine.com.
---
Find more photos from Honolulu's past every Thursday on Instagram @honolulumag.