The Hawai'i Triennial 2022 Takes Over HiSAM's Exhibition Spaces
The artists chosen for Hawai'i State Art Museum focus on Hawaiian culture and related social and environmental issues.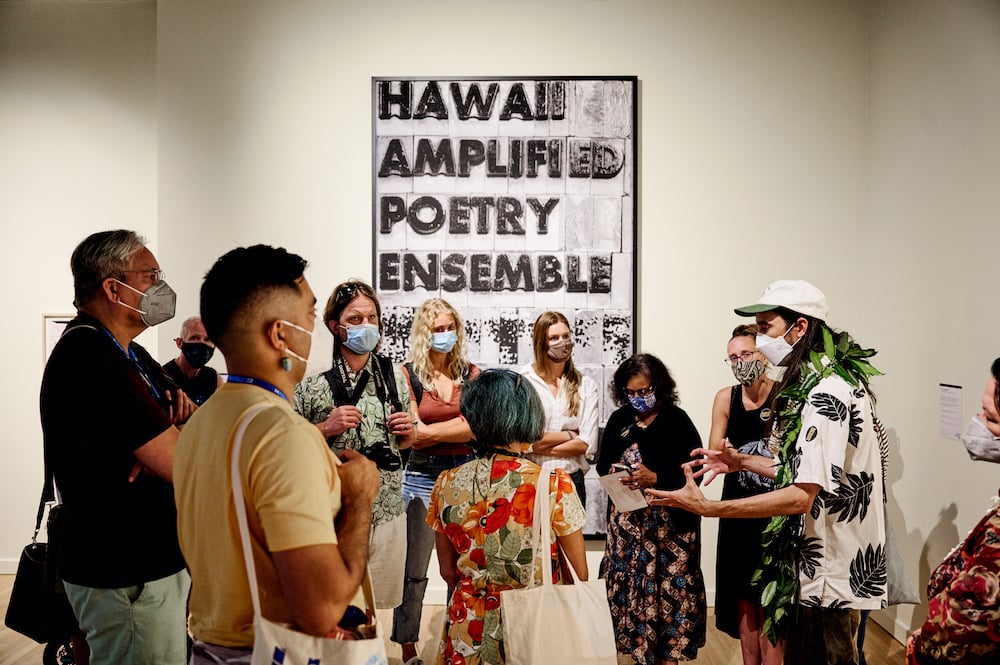 With more than 40 invited artists and collectives from Hawai'i, across Asia-Pacific and beyond, the Hawai'i Triennial 2022 is truly unique to our city and Hawai'i plays a special role as both host and representative in the world of contemporary art.
In its guidebook, Executive Director Katherine Don states: "We believe in the transformative power of art, and hope that the art and ideas in HT22 will inspire, challenge, compel, and spark curiosity within audiences." The artists and collectives were handpicked by the HT22 curators to be part of Pacific Century: E Ho'omau no Moananuiākea. Internationally renowned executive curator Melissa Chiu, together with associate curators Miwako Tezuka and Drew Broderick, carefully selected the participants and where they would be exhibiting in seven different venues across Honolulu. "We began this curatorial process, working collaboratively and with difference, at the center of Moananui, a 'Crossroads of the Pacific,' in occupied Hawai'i nei," explains the text on the wall as you enter the exhibit space at HiSAM. "This archipelago lends itself, as it has for centuries, to complex and nuanced intercultural exchanges."
SEE ALSO: Hawai'i Triennial 2022 Kicks Off Feb. 18 with Works from 45 Artists and Collectives
HiSAM's partnership with the nonprofit organizer Hawai'i Contemporary has grown stronger in recent years with shared goals within their respective organizations. HiSAM's Executive Director Karen Ewald says, "We started talking with the organizers a few years ago and took part in the Art Summit in 2021. We found that we had the same intention and priorities in serving the arts community as they did." Ewald was grateful for this opportunity to collaborate. "We were able to give our museum exhibition space as well as funding to help bring their vision to a reality. Our intention is to continue the partnership with the Hawai'i Triennial and to keep the momentum going."
As presenting sponsor HiSAM has given HT22 the entire museum's exhibition space, save for the Turn Around Gallery reserved for the annual Scholastic Art show. Featured at the Hawai'i State Art Museum are eight Hawai'i based artists: 'Ai Pōhaku Press (Maile Meyer and Barbara Pope), Richard Bell, 'Elepaio Press (Richard and Mark Hamasaki), Nā Maka O Ka ʻĀina (Joan Lander and Puhipau), Jamaica Heolimeleikalani Osorio, Piliāmoʻo (Mark Hamasaki and Kapulani Landgraf), Lawrence Seward and Tropic Editions (Marika Emi). The artists chosen for HiSAM have strong backgrounds in publishing and activism with a focus on Hawaiian culture and related social and environmental issues. 'Ai Pōhaku Press invites you to read its books on a gorgeous hand woven lau hala mat that took 40 weavers more than 300 hours to complete. Other books' words and photographs jump out of the pages and onto the walls of the galleries. Piliāmoʻo's stark black and white photography of the H3 construction is shown alongside film projections by Nā Maka O Ka 'Āina that spans four decades of social and environmental issues from across the Islands. These and other links to the past stand united alongside other creative comrades that are part of the triennial and challenge us to think about how it is all connected to a future together. Lawrence Seward's Seaward Sun is a local newspaper dated the year 2034 and imagines what may be in store for us.
On the first floor, CAFE by publisher Tropic Editions has transformed the museum's café into a multisensory experience where visitors can interact and engage. This will end with the rest of the triennial across town on May 8; however, the artwork on display upstairs will stick around through Dec. 5.
"Our exhibition at the museum is very special because it focuses on the collaborative work of artists that are of this place and practice their work here in Hawai'i," says Ewald. "The Hawai'i State Art Museum feels honored to be able to be a space to hold work from Hawai'i based artist collectives and individuals for this triennial. We hope that this is just a starting point for future exhibitions of this kind here at HiSAM."
SEE ALSO: The 2022 Hawai'i Triennial is Opening a Store Where Everything is Free
On view through Dec. 5, 250 S. Hotel St., open 10 a.m.–4 p.m., Monday to Saturday, closed on state holidays, free admission. For more information follow @hawaiicontemporary and @hawaiistateartmuseum
---
Lisa Shiroma is a correspondent for HiSAM and is an artist and art educator. Lisa is the former owner of the HiSAM Museum Gallery Shop, which she ran with partners Aly Ishikuni-Sasaki and Travis Sasaki from Mori by Art + Flea from 2017 to June 2020.