Ten Eleven Bar @ Makers & Tasters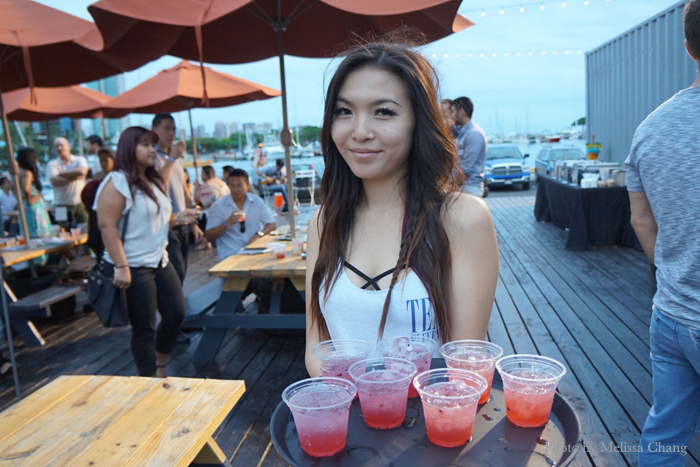 Makers & Tasters, a recently launched destination for food truck at Kewalo Basin, has added a new element — an outdoor bar with craft-your-own-cocktails, specialty drinks, beer, wine and wells.
The bar, called Ten Eleven, debuts today, and it'll be open Monday through Saturday from 11 a.m. to 10 p.m. (The address of the site is at 1011 Ala Moana Blvd, thus the name). That's right, a place in town to indulge in a custom Bloody Mary before the noon hour or linger with friends after work with a pitcher of sangria.
Melissa Chang and I attended a preview for the new bar Thursday evening, and it was the first time either of us had seen the Makers & Tasters set-up. I hadn't been to the old Fisherman's Wharf since elementary school, and when imagining food trucks and a bar in that parking lot, I was curious how the space would be transformed.
Well, the team from Street Grindz did a fantastic job. The food truck set-up is well organized and inviting, with a diverse variety of trucks selling tacos, tea, popsicles, fresh fish and more parked in a curved, well-spaced configuration. Ten Eleven is tucked further into the space on a raised platform with lots of wooden picnic benches (all with an umbrella that can be raised to shied sun).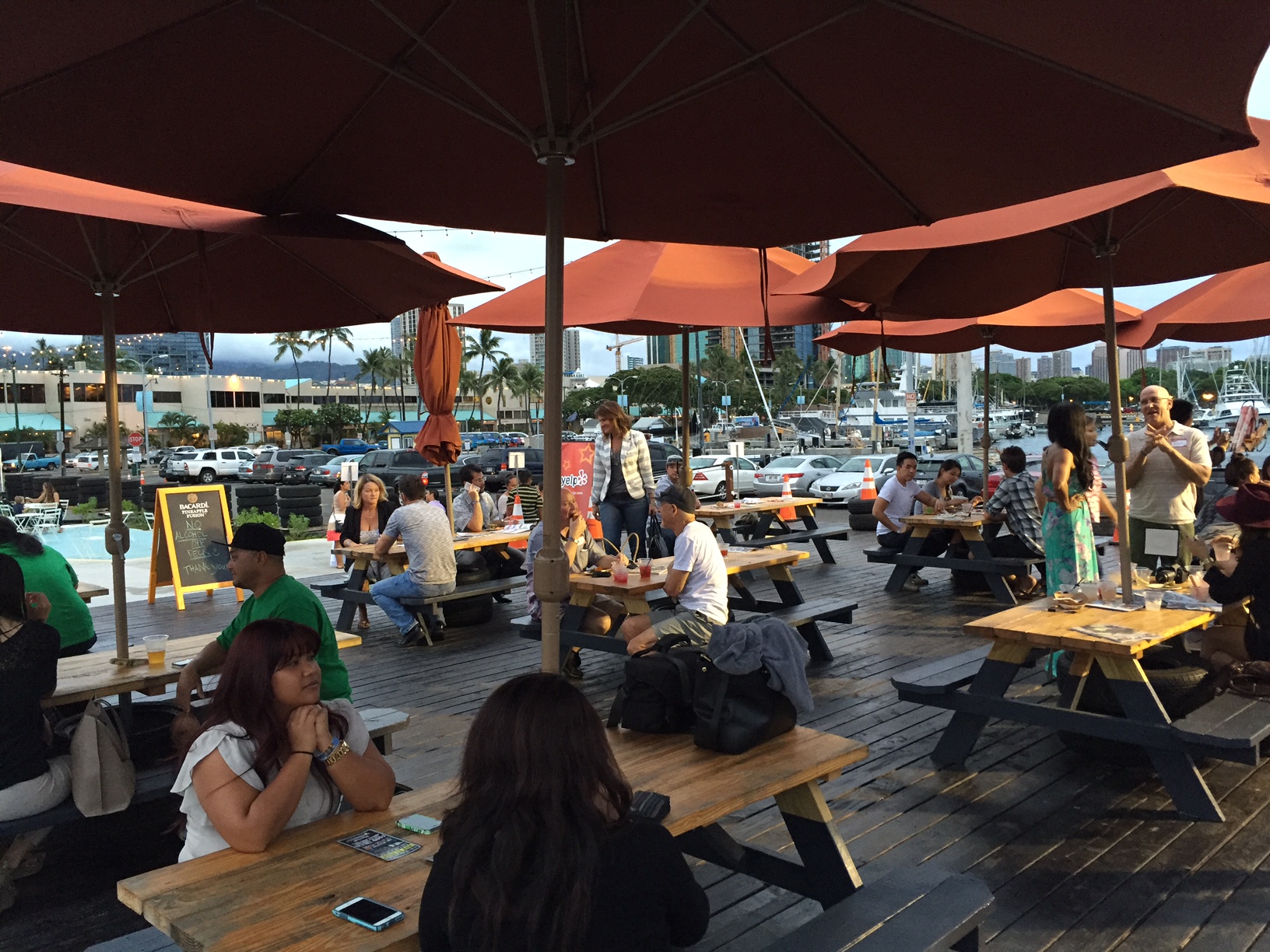 The bar itself was created out of a cargo container, giving the place a hip, industrial feel, with young bartenders and servers to provide table service. The beer and wine offerings are somewhat limited (this is not a craft brew pub or wine bar). Rather, cocktails are the focus, with such specialties as The Mariner with tequila, lime, grapefruit and li hing mui and the Stormy Seas with gin, blackberry, lime and ginger beer. All specialty cocktails run $8 per glass or $25 a pitcher.
What distinguishes the offerings is the craft-your-own-cocktail service. Bartenders roll carts tableside mixing up custom cocktails by the pitcher ($30, which serves four). Just out a form, then select your favorite liquor, mixes or syrups, rimmers, kickers, fruits and poppers. We tried it, and voila, here's our blend with watermelon, mint syrup, vodka, soda and a li hing mui rim — refreshing and tasty, albeit a little girly.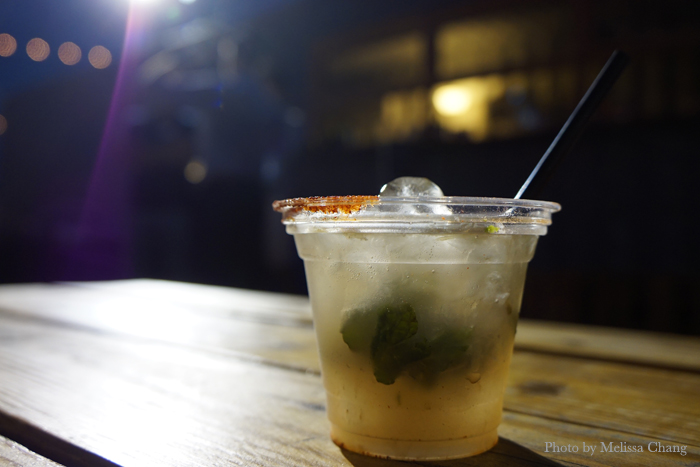 Overall, I really liked the look and feel of Ten Eleven and Makers & Tasters. As I mentioned earlier, Street Grindz gave the place an urban, cool vibe that's clean, comfortable and spacious. I felt transported. Having spent the day cooped up in an office it was great to enjoy a drink with friends outdoors in town and outside Waikiki. A male friend did point out that without TVs for sports viewing and clear ocean views, it would be less of a draw for him. But to me, Ten Eleven definitely has positioned itself as a desirable pau hana destination for either locals or visitors. There will be return visits, especially with the ever-changing offerings from the nearby food trucks.
Makers & Tasters Kewalo
Ten Eleven
Kewalo Basin (old Fisherman's Wharf site)
1011 Ala Moana Blvd.