Take-Out Trash
Styrophobia is one reason you shouldn't feel guilty about that plate lunch.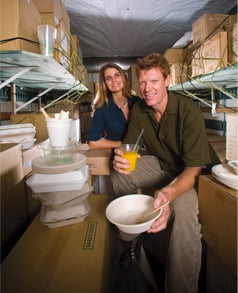 Fears come in different shapes and sizes. Some aren't too helpful—koumpounophobia, the fear of buttons, for example. Others, such as styrophobia, the fear of styrofoam, could do a world of good. Every year, Honolulu residents and businesses throw away nearly 12,000 tons of plastic, including 1,371 tons of polystyrene, best known by the brand name Styrofoam. Not only does the packaging stick around for hundreds, if not thousands of years, it also poisons or chokes birds, fish and other animals that mistake it for food.
That's where Mike Elhoff and Krista Ruchaber step in. Eschewing eco-seductive monikers, they took the direct approach in naming their company Styrophobia, which aims to replace polystyrene products by offering biodegradable products made from bagasse, or sugar cane fiber, and cornstarch.
"Anything you take to a picnic at the beach that could blow out into the ocean, we wanted to target," says Elhoff. "We want to stop that madness."
Styrophobia imports almost 80 products, such as plates and cups, froma California-based company, but is now negotiating with Hawaiian Commercial & Sugar Co. to manufacture items locally.
Styrophobia's wares work just like those made from Styrofoam, but, unlike their nondegradable counterparts, won't leech toxins into your food when heated.
The company caters to establishments like Town, Hokulani Bake Shop and Kalapawai Café and organizations such as Assets School and Parker School on the Big Island. Styrophobia client Kaleo Schneider, owner of Buzz's Steak House in Kailua, says customers have begun to ask for more eco-friendly packaging, which can cost up to 80 percent more than traditional products. Schneider doesn't plan to pass on the costs to her customers, though.
"If it's good for the planet, it's good for everyone," she says. "It just makes sense."


FAST FACTS: Nationwide, dozens of cities, such as Portland, OR. and Berkeley, CA have banned Styrofoam.
---
TheBoat: All Wet?
A. Kam Napier
In September, the city launched TheBoat, a fleet of two ferries that shuttles people from Kalaeloa to Aloha Tower three times a day, Monday through Friday. On opening day, the 5 a.m. boat ride to town took an hour and 43 minutes, according to the Honolulu Star-Bulletin—while driving in from Makakilo took just 28 minutes—and choppy seas had some passengers green in the gills.
The city is selling TheBoat as an alternative to driving. The Star-Bulletin editorialized that similar ferries have been tried before, without luck, and encouraged the city to survey riders to make sure the ferry succeeds by meeting their needs.
What neither the city nor the media have said out loud is that, even if the ferry succeeds, it's a staggeringly expensive way to get drivers off the road. The ferry makes three trips into town, each trip holding as many as 149 passengers. That's a maximum of 447 round trips per day.
Let's say the ferry works perfectly, and each seat gets filled by someone who has left their automobile behind and has now become a full-time ferry commuter. That's 447 cars taken off the road. But this one-year pilot program costs $6 million. Each devoted ferry convert will cost $13,423 to acquire. These same riders qualify for the lowest fare, an annual pass priced at just $440.
Best case scenario—TheBoat loses almost $13,000 per passenger in the first year alone. That's before the city throws in free WiFi to make the long commute more appealing.
What's this familiar, sinking feeling we're getting?