TacoCat HI launches its fusion pop-up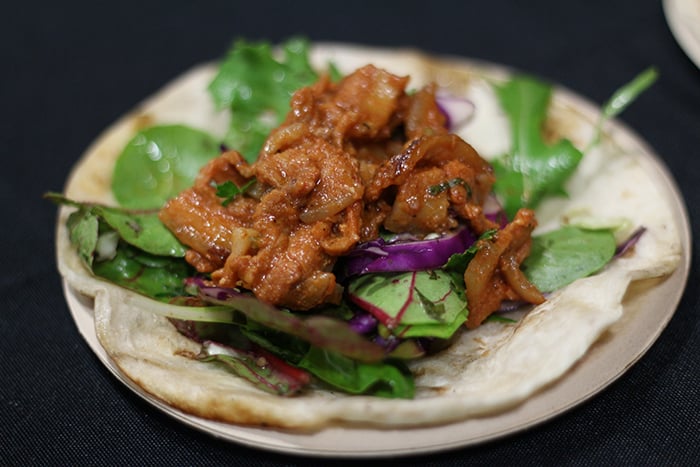 Has it really been that long? Korean fusion tacos blew up the street food scene seven years ago, and food trucks haven't been the same since. As with all fads, the new fusion ran its course, with the cream of the crop surviving and thriving throughout the country.
Well, the cycle is circling back. Kat Araujo and Joseph Lee met while working at Seed restaurant in Kaimuki, and decided to put their skills toward forming a pop-up company. TacoCat HI uses Joseph's Korean mother's recipes for taco fillings, and desserts from Kat's childhood. By the way, the name was chosen because it's a palindrome, and they love plays on words.
They officially launched TacoCat HI to the public last night with an event at Kakaako Agora, where 100 attendees paid $25 for all the tacos and desserts they could eat. The large, tasty tacos had chicken, pork, beef and tofu fillings; the tres leches and cookies were a big hit. Judging from the rate at which fillings ran out, pork and chicken were probably the crowd favorites. (Joseph's mom was on hand to help out and laughed that one of the tres leches would be her dinner, since the tacos went so quickly.)
You can catch TacoCat HI at the next Eat the Street in Kakaako.
Photos by Eric Baranda: