Sweet Revenge is making Halloween mochi and pot pies
Baker Kathy Masunaga is returning to her mochi-making roots for the ghoulish day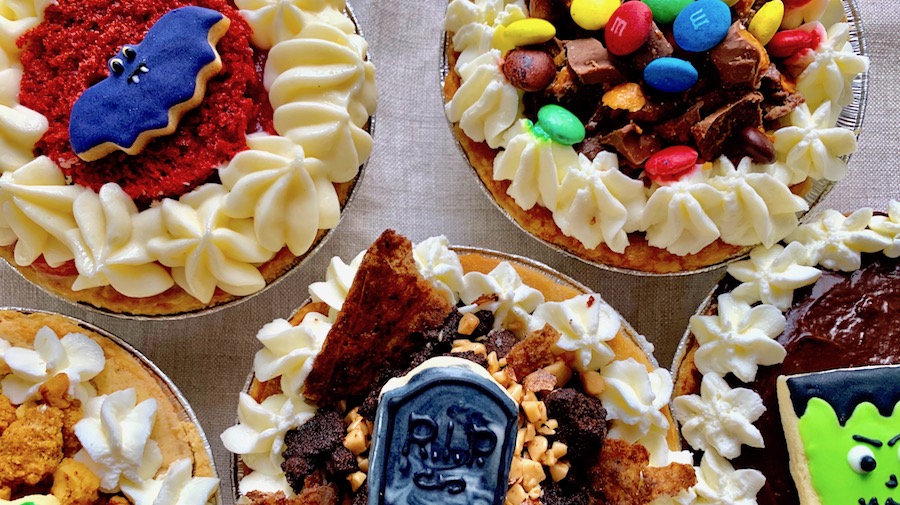 Don't underestimate things that come in small packages. Kathy Masunaga's baked goods are prime examples of that. As the owner of Sweet Revenge, a bakery/food truck that sells oven-fresh, sweet and savory mini pies, Masunaga wakes up in the wee hours of the morning to get things rolling in her Kalihi kitchen. Lucky for us, during holiday months, she puts even more time, creativity and love into a second menu that celebrates the season.
When we met up with her to see (and taste) what she's conjuring up for Halloween, we were floored by all the devilishly good flavors she packed in her pot pie tins. Ganache! Mousse! Chantilly! Reese's Peanut Butter Cups! M&Ms! So many indulgences that had us ooo-ing and swooning. If you're not into getting sugar high, the Raven and Toadstool pie is loaded with juicy chicken pieces and tender mushrooms in a comforting wine mushroom gravy. We dug our tines into this one and imagined this is what heaven tastes like. Check out below for the full list of pies.
See also: 30 local sweet and savory treats for Halloween 2020
And, if you're not a pie hard fan, there's mochi. Lots of it. It turns out Masunaga grew up in the Fujiya Hawaii mochi family when the Japanese sweets shop was in Kalihi. Ask and you'll get stories of days on end between Christmas and New Year's when the entire extended family pitched in to make mochi. As in, morning to night, day after day, to help satisfy Honolulu's appetite for mochi for New Year's Eve ozoni soup and as holiday offerings on family shrines and altars. After all that, Masunaga headed in another direction, becoming an ace baker, and didn't make mochi again for decades.
Until recently. Now you know why her mochi is not only scary good, it's also filled with baker's treats. Red velvet! Chocolate walnut brownies! Pumpkin crunch! Masunaga's Halloween mochi comes in a six-pack; you'll find details just below the Halloween pies.
See also: Fujiya Hawaii's mochi and snacks are now in McCully
Halloween pies
Something Chocolately This Way Comes, $9: Chocolate mousse topped with browned butter brownie bits, toffee bits, chocolate ganache, chocolate phyllo, whipped cream and mini cookie tombstones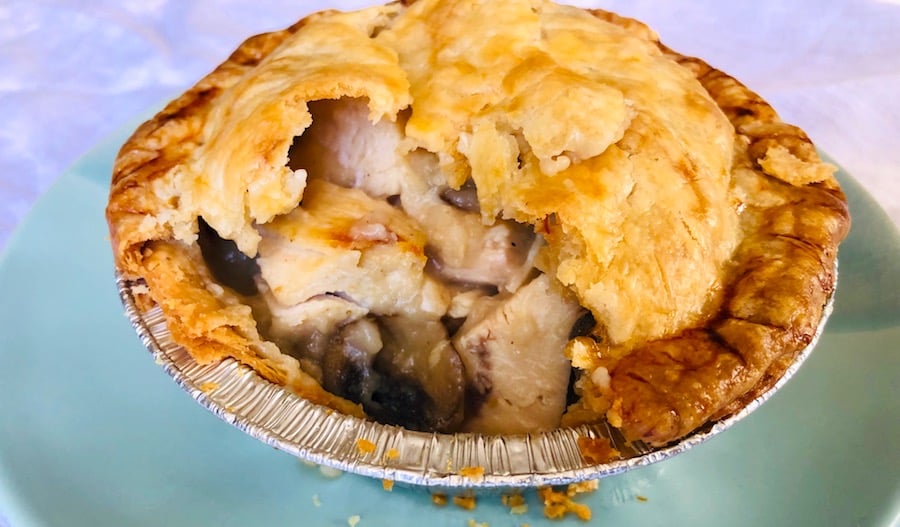 Toadstool and Raven Pie, $10: Chicken in a mushroom  garlic white wine gravy in a butter crust
Darkside (vegetarian), $9: Quinoa, basmati, kale, sweet corn,  brussel sprouts, caramelized onions, roasted garlic, cheese, crispy topping, in a butter crust
Ghost Pepper, $9: Cheesecake mousse topped with sliced bananas and toasted walnuts, drizzled with ghost pepper infused honey (or plain honey, if you like) finished with local whipped cream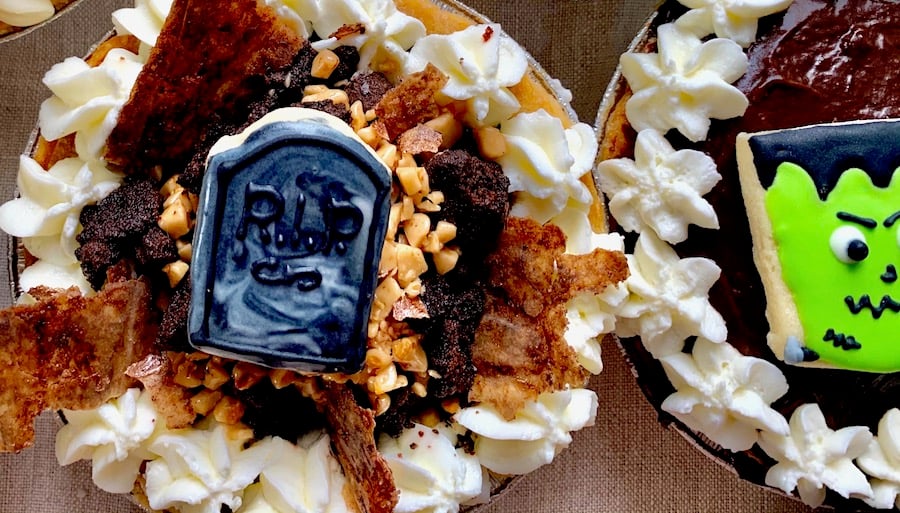 Frankenpie, $9: Chocolate cake, browned butter chantilly mousse topped with Dobash frosting in a butter crust, finished with local whipped cream
Pumpkin Patch, $9: Aloun Farm pumpkin mousse in a butter crust. topped with a handful of yummy crunch topping, finished with whipped cream
Trick or Treat, $9: Peanut butter mousse topped with chopped Reese's peanut butter cups, Butterfinger bits, M&Ms and a drizzle of chocolate ganache, finished with local whipped cream in a butter crust
Blood Velvet, $9: Red velvet cake, cream cheese frosting mousse, strawberries and strawberry puree, and cream cheese frosting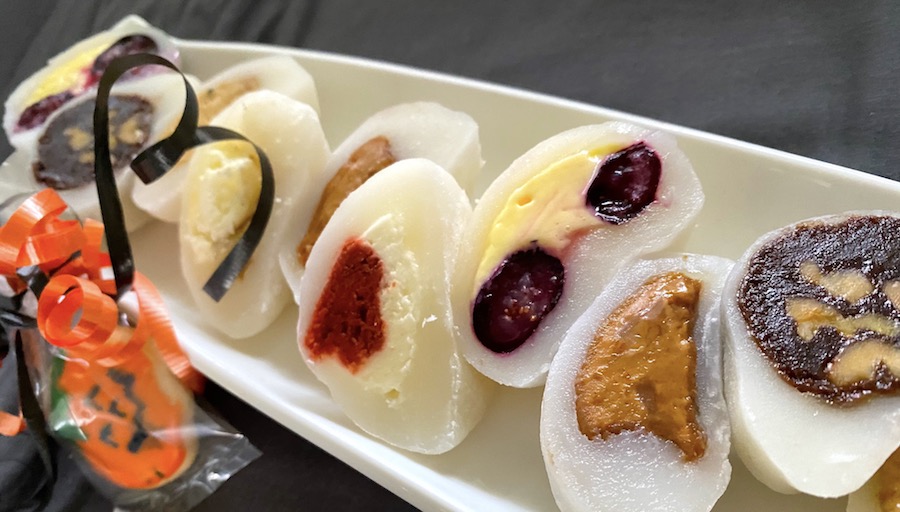 Halloween mochi
Bento, $15: 6 pieces of handmade mochi festively wrapped
Monster Munch (peanut butter crunch)

Floating Eyeballs (lilikoi butter with fresh blueberries)

Blood Velvet (red velvet )

Poison Apple (caramel green apple)

Graveyard Dirt (browned butter brownie with or without walnuts)

Pumpkin Patch (pumpkin crunch)
Your best bet is to preorder at sweetrevengehonolulu@gmail.com or text (808) 282-0234. Earlier in the day, walk-ins are welcome at the Kalihi kitchen at 979 Robello Lane. You can also find Sweet Revenge at this week's Hawaii Farm Bureau farmers market at Blaisdell Center on the Concert Hall steps on Wednesday from 4 to 7 p.m., the Makiki farmers market at St. Clement's Episcopal Church on Thursday from 4 to 7 p.m., and at the Fort Street Mall farmers market from 10 a.m. to 1 p.m. in front of Walmart.