Sushi Sho has a new lunch chirashi set at Dean & Deluca
For when you don't have $300 to splurge on the sushi bar's omakase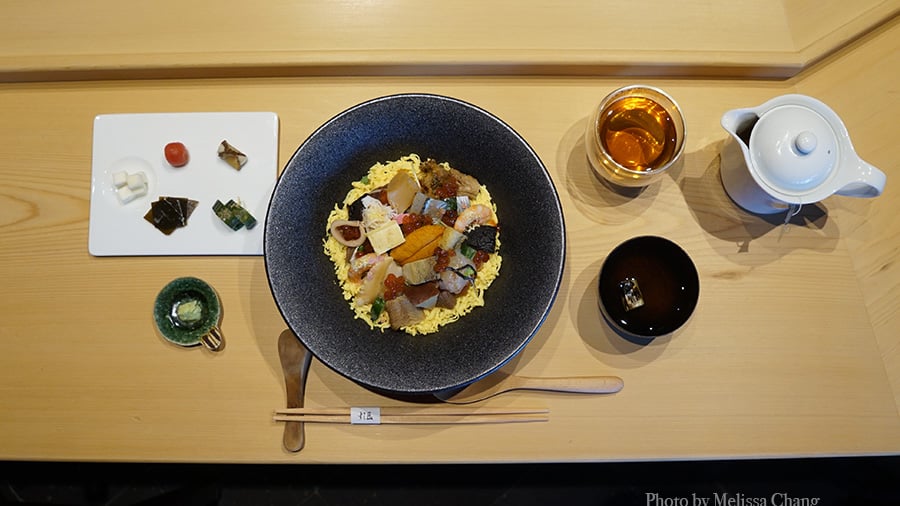 If you've been dying to try Sushi Sho but couldn't afford it or get a reservation, you can get a taste via their new bara chirashi lunch set. And get this: it's only $35.
Starting Tuesday, you can get this lunch deal from the famous Sushi Sho on the second floor of Dean & Deluca Hawaii in the Ritz-Carlton Waikiki. There will only be 10 sets made per day, and no reservations will be taken — you just have to be first in line when Dean & Deluca's upstairs dining area opens at 10 a.m. Each lunch set is served with mulberry tea from Hawaii Island, since it's good for digestion and pairs well with the chirashi. You also get a bowl of broth painstakingly made from dried ahi bones, a broth as clear as glass with a piece of charred local negi. The set is accompanied by pickled cucumbers, local cherry tomato, hearts of palm, konbu and fermented sushi rice called Shari-cheese.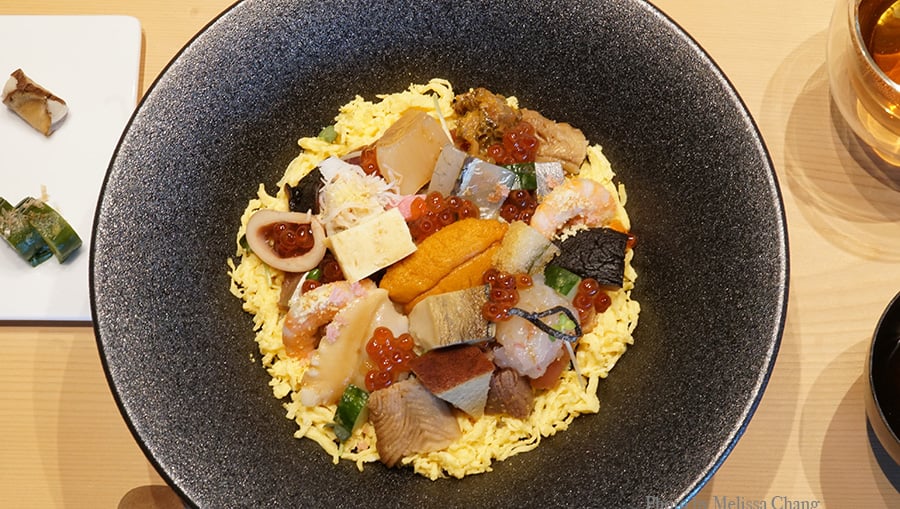 The bowl itself is a work of art: There are about 30 ingredients, prepared Edomae style, a more ancient method of making sushi in which the seafood is cured in salt, miso, shoyu or konbu. This draws impurities out of the fish, making it better to eat, and of course flavors it in the process. As with the Nordic gravlax, Edomae-style fish seems raw, but it's not. And here, even the uni is steamed, so it looks raw and imparts buttery, briny flavor, but it's firm enough to pass with chopsticks. And, since most of the ingredients aren't raw, this style of bowl is called bara chirashi.
All of this science behind the art is very labor intensive, so Sushi Sho chef-owner Keiji Nakazawa will be bringing two staff members from Japan to ensure that these 10 daily lunch sets are up to his standards.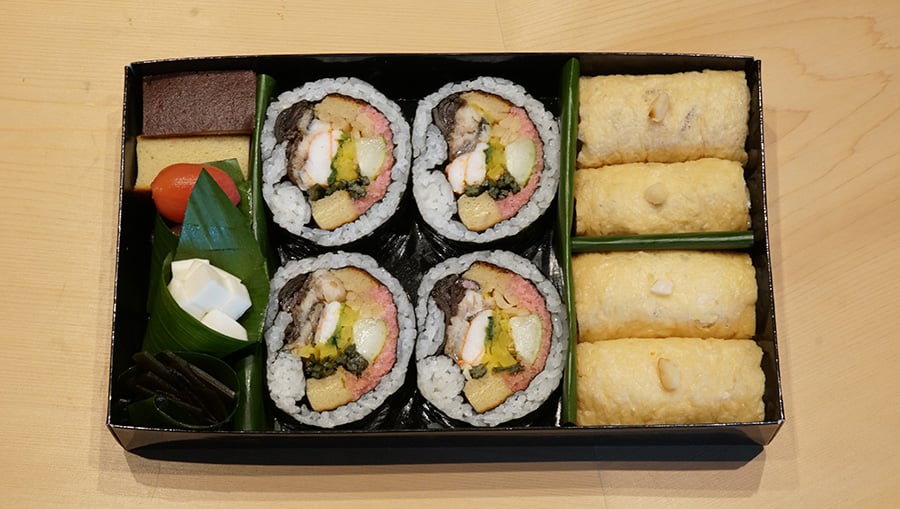 If you can't get a bara chirashi lunch set, you can always get one of Sushi Sho's sukeroku boxes, which have been popular since Dean & Deluca Hawaii launched them last month. The full-sized box for two people is $30; the slender box for one person is $16. Each is made to order (about 8 to 10 minutes) and is ideal for takeout. In fact, many of Dean & Deluca's customers have been buying sukeroku boxes on their way to the airport, to serve as their airplane meal.
The box for one contains two large futomaki slices and two Sushi Sho-style inari. The tofu skin in the inari is juicy and more flavorful. Whereas people like me save inari for last, it's recommended you eat those first to get the best flavor. The sushi is accompanied by local hearts of palm, pickled local cherry tomato and cubes of egg cake made with Molokai shrimp and grated taro.
Sukeroku is available at Dean & Deluca Hawaii in the Ritz-Carlton Waikiki from 11:30 a.m. to 10 p.m, but from Dec. 10, they will be available from 7:30 a.m. to 3:30 p.m. The bara chirashi lunch sets are available from Dec. 10 on the second floor of Dean & Deluca Hawaii from 10 a.m. until they sell out.
Dean & DeLuca Hawaii
The Ritz-Carlton Residences, Waikiki Beach
383 Kalaimoku St.
Waikiki
729-9720
Validated parking for three hours