Square Barrels debuts its own beers — with free samples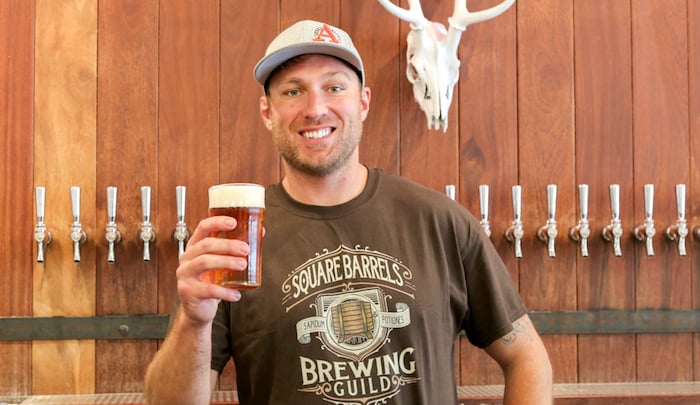 By Will McGough
Special to Frolic Hawaii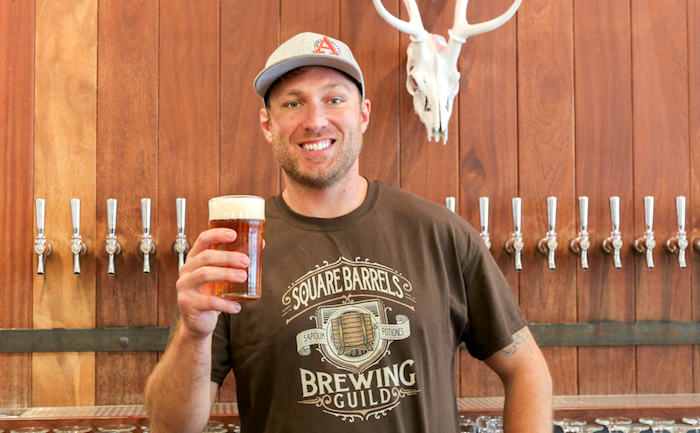 Might Oahu be on the verge of getting another brewery?
Beer drinkers know Square Barrels as one of downtown's go-to spots with about two dozen craft beers on tap. Tonight, you can taste something they've never poured before: their own beer.
In celebration of its two-year anniversary, and as a tryout for a potential future as a standalone brewery, Square Barrels will release two of its own house brews, the 4-1-1 Golden Ale and the My Korean Wife IPA. The Golden Ale was brewed using Lanikai Brewing Co. equipment according to Square Barrels' recipe. The IPA was brewed onsite.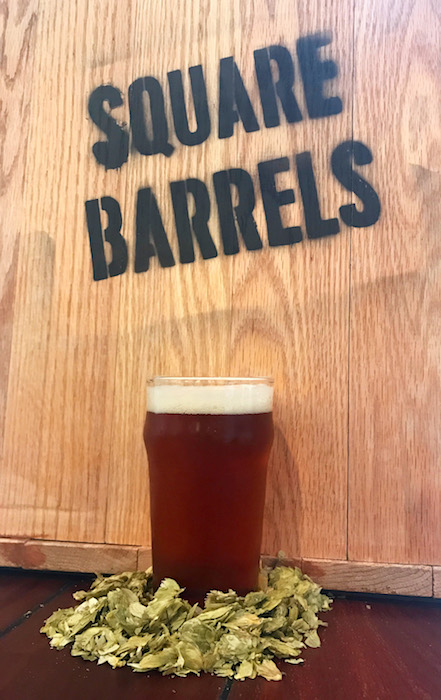 There's a lot to digest there, but let's start with the beers:
The Golden Ale will begin as Square Barrels' flagship brew and will cost $6 a pint at tonight's anniversary party ($7.50 going forward, while supplies last).
"The beer was well done," says Tim Golden, a Certified Cicerone or beer sommelier and co-owner of Village Bottle Shop & Tasting Room. "It seems more like a Pale Ale than a Golden Ale. The bitterness was a bit high for a Golden, but as a Pale Ale it was the perfect amount. Very clean, pretty dry finish, and just a touch of malt biscuit flavor. It's a good pale hoppy beer."
Indeed, the color is a bit darker than what you would typically see from a Golden Ale and the flavors are more on the malty side, so Golden's assessment is spot on. Thomas Ray, Square Barrels co-owner and bar manager, agrees that the styles crossed over a little bit, but thinks that's okay, and part of Square Barrels' "unique identity." What's in a name?
Speaking of names … My Korean Wife IPA is named after Ray's wife, and he playfully describes the beer as "bitter, boozy and packing a punch." It's a small batch, limited-quantity release, so it will never be on the beer list. Instead, Ray will offer complimentary 8-ounce tastings to attendees at the party tonight.
Unlike the Golden Ale, which was available for a preview last week, this beer will see the light of day for the first time on Tuesday, so get there early before it runs out. There will also be a free raffle with prizes, including gift cards and bottles of Knob Creek Whiskey.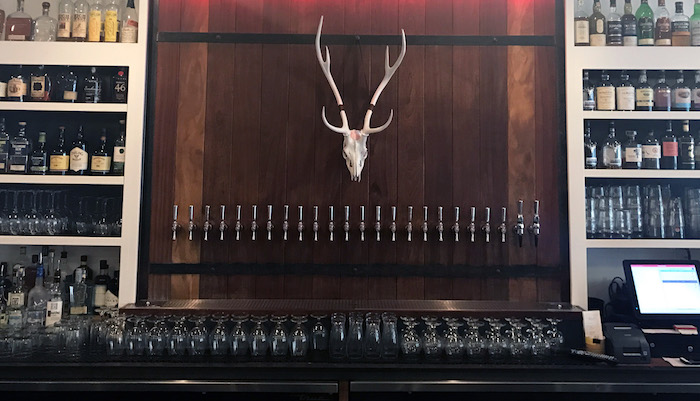 Ray says these two beers are the first wave of what could become a regular thing. He already has plans to make a double IPA called My Korean Mother-in-Law (which I'm guessing is extra bitter and boozy), and he said it's even possible that Square Barrels makes a full transition from a beer bar to a brewery somewhere down the line.
It's too soon to tell how it will pan out, Ray says, as he's still considering all the logistics.
Given what I've tasted so far, I'm excited for the possibility. Count me in for another round, if and when it happens.
Square Barrels Two-Year Anniversary Party
Tuesday, April 11
5 – 11 p.m.
1001 Bishop St.
524-2747
squarebarrels.com
Parking: Bishop Square parking garage with validation is $2 for 2 hours before 5 p.m. and $2 for the night after 5 p.m.
– Top photo of Thomas Ray by Grant Shindo